Spotted: Best Dressed in Honolulu
Meet Michelle Stofle, a.k.a. the Mu'umu'u Maven.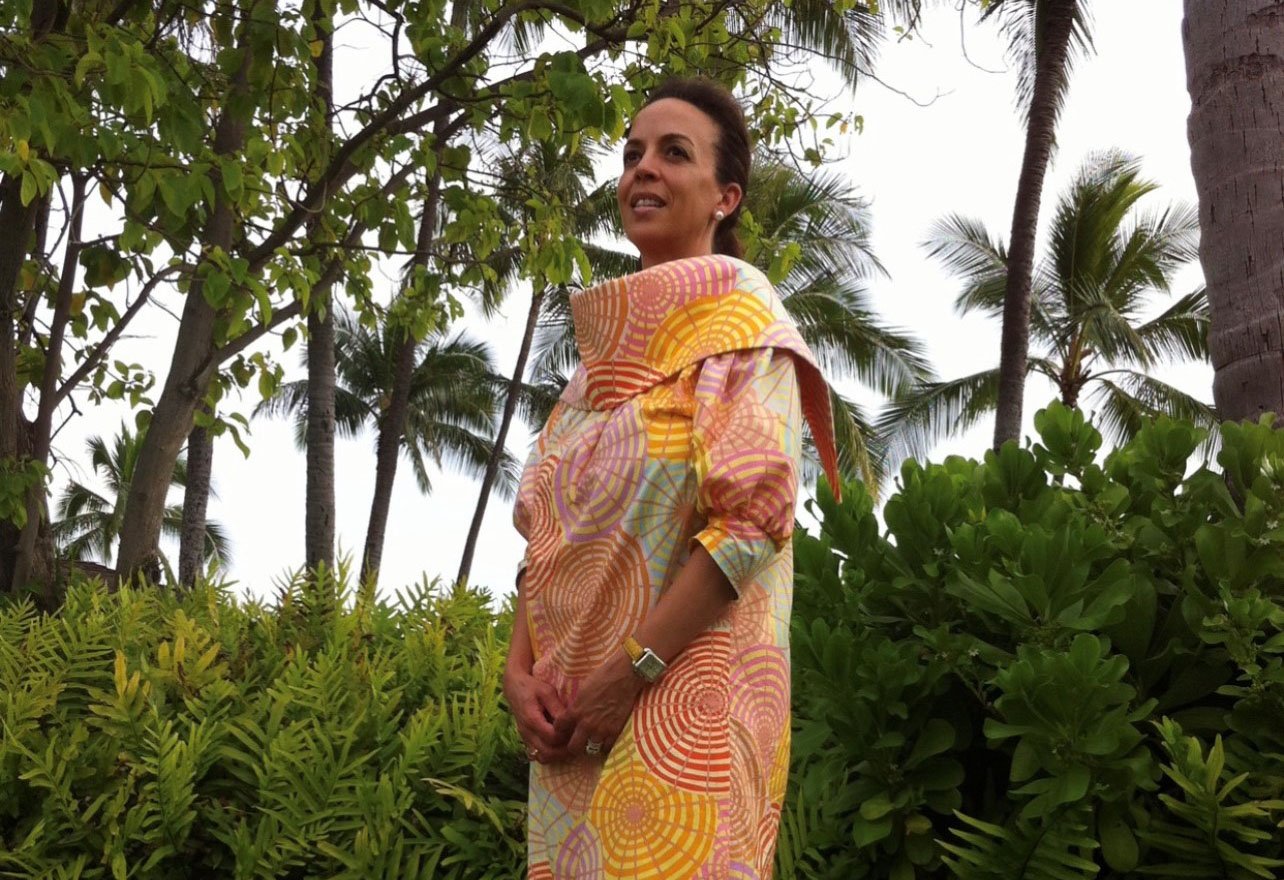 A look at style ambassadors in our city who put it all out there, fashionably.
We're sitting in Et Al in Kāhala, and other patrons would most likely assume that Michelle Stofle is the fashion editor among us. She's dressed in one of her eye-catching, custom-designed gowns that marries the length and looseness of a mu'umu'u with an oversized shawl-slash-Mandarin collar and slightly exaggerated puff sleeves. The pattern on today's fab frock is big, exotic blooms in brilliant pinks, oranges and purples that standout against a black background. She says the dotted outlines around the petals are a form of Batik design which is common in South Africa where the textile is from. All of it reads drama, drama, drama … in the best way.
However, as head-turning as the dress is, Stofle is the star. Her inviting smile is heightened by a perfect pout glammed up with a shade of burgundy lipstick—a Stila number that she buys by the case at Nordstrom Rack. Bold, black-framed glasses enhance the sparkle of her deep-set eyes and are there to support her lengthy, wispy lashes. Flawless skin that would make a K-pop star jealous, plus a sleek pulled-back hairstyle offset by a loose tita bun on top, all of it comes together for a look that is a style above the rest.
Although Stofle has attended many events as the strategic partnership's front-woman for HONOLULU Magazine and fielded a lot of questions about her unique style, here, she gives more in-depth answers to the one person she hopes to attend Paris Fashion Week with—me! And I don't doubt her front-row attire will outshine mine.

How would you describe your style?
Michelle Stofle: Jackie Onassis meets Oscar de la Renta meets Cyndi Lauper (sometimes).
What inspired the "dress?"
MS: My grandmother. She was a fashionista in her own right. She was very good friends with a lot of New York designers and invested in high-quality clothes. She had a place in the Ilikai in the '50s, and knew Hilo Hattie personally and would wear the bold, neon, day-glow mu'umu'us all the time. I grew up surrounded by her impeccable style. She would say, "always wear lipstick, even when you're taking a nap." Which I do, ask my husband, Mark.
When did you create your first design?
MS: In junior high school. Growing up in Hong Kong we had access to a lot of seamstresses, tailors, fabrics, factories. There was a junior high dance, but I didn't want to wear a typical Chinese-inspired dress (no disrespect), so my grandmother told me to make one. I sewed it and it looked like I was in kindergarten. It was terrible and I wore it.
How many dresses do you own?
MS: Close to 500, I think.
You buy all your fabrics when you travel; what places have the best options?
MS: Singapore—you got a lot of Chinese, Japanese, Thai and Korean influences. South Africa, lots of beautiful Batik designs. New Orleans, I will always shop Magazine Street. Flea markets and estate sales in Santa Monica and La Jolla, they'll have amazing fabrics that can be upcycled for a dress.
HM: What are your top three favorite dresses?
MS: Hmm, the ones I can eat a lot in. Hahaha. I love the loose fit of all the dresses. I could lounge in them all day. The ones that I can wear to special occasions that are inspired by unknown, up-and-coming designers—some that I discovered on Instagram.
How much does it cost to make one design?
MS: Depends on the fabric. It can run from $200 for a blouse to $1,500 for a full-length dress.
Who makes your dresses?
MS: Great question. This is going to come full circle. My number one seamstress, I found her 15 years ago from reading a Lei Chic post saying she could do alterations. A lady by the name of Susan, and she is perfection. I also have two other ladies that I work with—Jenny in Waikīkī and Ah Soon in Chinatown. Each woman works well with a particular fabric.
Who created the pattern for the dress?
MS: Susan and Jenny, they can draft. They create patterns based on my explanations and directions. I take a lot of styles from the '50s and '60s and marry them together, but often the fabric dictates how the final design comes out.
What advice will you give to people looking to define their own style?
MS: My style was never for anyone else—it's my story and what brings me joy and confidence. If it makes you feel happy, strong and fearless, then wear it!