Something to see: 2016 Improvaganza Festival of Improv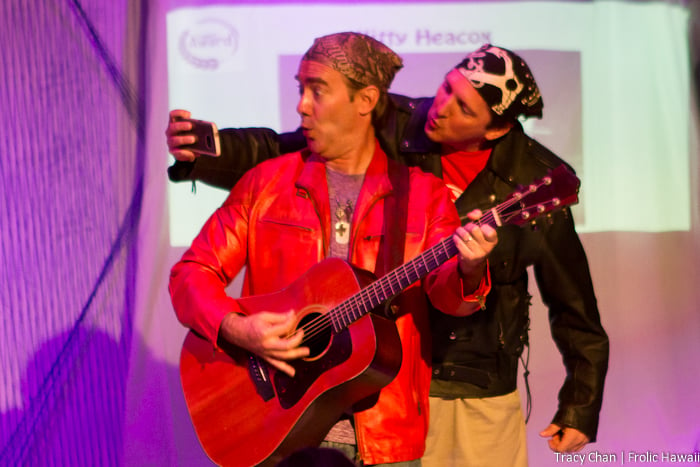 If you're not familiar with improv comedy, it is exactly what it sounds like: unscripted. The actors get up onstage without lines or places, often without knowing where their skit is going to go. Acting on input from the audience and playing off their cohorts, they make up a story on the fly, improvising a creative art form with often hilarious results.
The 11th Annual Improvaganza Festival of Improv runs through this weekend. It kicked off Wednesday night with something new: A "Legacy Awards" ceremony at The ARTS at Marks Garage honoring individuals who have shaped Hawaii's unique improv comedy scene. This year, the honorees (LCC Drama instructor Paul Cravath, the late great Ray Bumatai, older brother of local standup comedian Andy Bumatai, Kumu Kahua Theatre pioneer Kitty Heacox, who brought Hawaii's first improvised play to the stage in 1973, and Chicago Improv Productions' Jonathan Pitts, who mentored many in the Hawaii improv scene) got both a fancy award crafted by Oahu Makerspace and an improv skit performed in their honor.
Improvaganza includes workshops and performances for four more days; here's a few of our don't-miss picks. For the entire schedule and tickets, please visit Improvaganza.com.
Boy Howdy (Austin, TX)
Thursday, Sept. 22 at 7 p.m.
The ARTS at Marks Garage
Boy Howdy is an hour-long improvised play set in 1960s-style TV Westerns like "Bonanza" and "Gunsmoke." You'd better believe things get crazy!

Cogs and Goggles (Juneau, AK)
Friday, Sept. 23 at 7:30 p.m. at Kumu Kahua Theatre
Saturday, Sept. 24 at 7:30 p.m. at The ARTS at Marks Garage
An improvised steampunk play with a full cast of zany characters including Vic, the sentient airship; Ada Sparkle, the adorable anarchist; Col. Samuel Tanner, the bumbling hunter; Dock Heyward, the interloping inventor, and Aurora, the not-so-innocent automaton.
Screwbuki (Honolulu, HI)
Saturday, Sept. 24 at 10:30 p.m.
The ARTS at Marks Garage
On the Spot's famous kabuki parody troupe is not to be missed! Using traditional kabuki costumes, makeup, movement, voice, combat and music, this award-winning act never fails to wow.
Storybox (Chicago, IL)
Friday, Sept. 23 at 9 p.m. at The ARTS at Marks Garage
Saturday, Sept. 24 at 7:30 p.m. at Kumu Kahua Theatre
An innovative long-form storytelling presentation, the talented cast takes suggestions from the audience, then uses sticks, cloths and a variety of artistic disciplines to create the story of a protagonist and transform that lead character's arc into a one-act play.
The Indie Improv Showcase
Friday, Sept. 23 at 7:30 p.m. at The ARTS at Marks Garage
Saturday, Sept. 24 at 7:30 p.m., 9 p.m. and 10:30 p.m. at Kumu Kahua Theatre
New this year, the Indie Improv Showcase is an individual submission showcase in which any of the visiting or host performers can create a team with each other and collaborate on a creative piece.
Improv as Heightened Acting workshop with Jonathan Pitts
Saturday, Sept. 24 at 2:30 p.m. Cost: $60
The ARTS at Marks Garage
Taught by master of improv Jonathan Pitts, one of this year's Legacy Awards honorees, this workshop focuses on the need for listening. True listening is a whole-body activity requiring constant engagement in the improviser's body, brain, heart and spirit of play. This process results in improv as heightened acting, where every choice matters and means something creatively, emotionally and psychologically. This workshop utilizes a unique two-person scenic exercise called "The Marty" (named after the late Martin DeMaat) to help players hear their scene partner and themselves.