Something new: Yakiniku Yoshi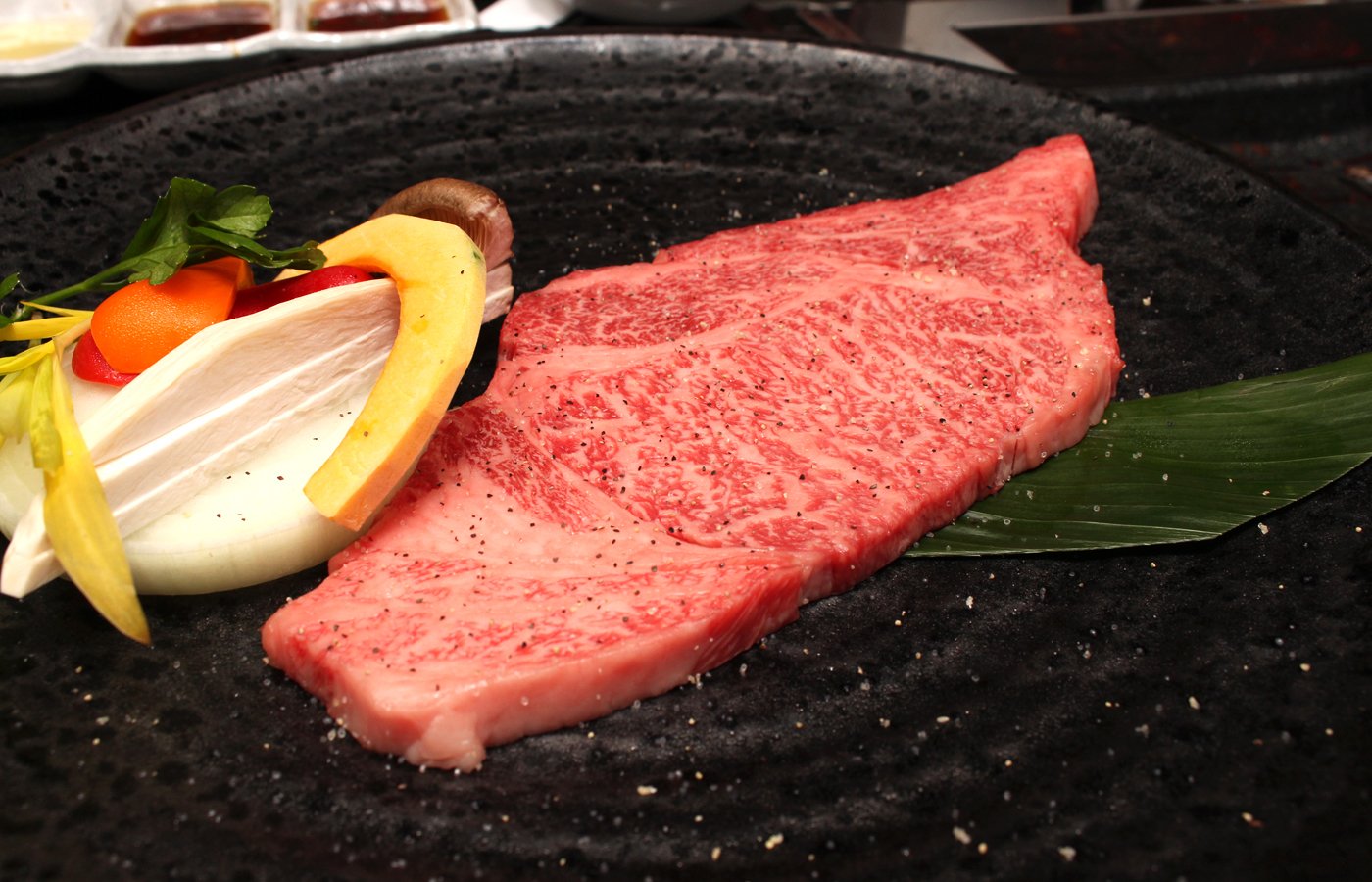 See that marbling? That is the prized A5 Miyazaki wagyu beef that we found at Yakiniku Yoshi, newly opened on Young Street.
A5 wagyu is the highest grade of Japanese beef, from carefully raised cattle who are raised on high-quality feed. As you can see, it is fantastically marbled, giving it a smooth texture and juiciness. And the menu at Yoshi has a lot of it.
General manager Hajime Saito knows his beef. He worked at Yakiniku Hiroshi in Waikiki for over 10 years and was scouted by a longtime customer for this new venture. Sent to Japan for research, Saito found not only a smokeless infrared grill, but also sources of A4 and A5 wagyu beef in Miyazaki and Gunma prefectures as well as Snake River Farms in the United States.
My first visit took place before Yoshi's grand opening on Jan. 31. Unaware that it had not officially opened, I was offered a chance to sample a cross-section of the menu including shrimp, beef tongue, kurobuta pork and Japanese and American wagyu. Then, because the restaurant was still in soft-opening mode, it turned out that everyone's meal was on the house.
To get a more accurate assessment, I returned as a paying customer and ordered one each of their Japanese and U.S. wagyu sets for two (an extensive a la carte menu has USDA prime beef, kurobuta pork, jidori chicken and seafood).
Each set includes an organic salad, kimchi, namul, crispy nori sheets, wakame soup, toro sandwich, chef's choice noodle and dessert. The toro sandwich was a brilliant start to the meal. Marinated meat is layered on a super soft bun and topped with cool lettuce. This slider-sized sandwich awakened my taste buds and I encouraged Saito to include this on the regular menu as well.
The A4 & A5 Japanese wagyu set is $140 for two. It has:
• Choice of scallops or shrimp – I opted for the scallops, which are poached in butter and miso for a rich, luxurious experience.
• A-grade chuck tataki or zuke – The tataki was sliced thin, each slice tender and flavorful.
• A-grade sampler
• A-grade rib steak – This highly marbled steak is the prized piece for any wagyu lover. Each piece barely touched the grill and was served very rare. The lightly warmed cuts melted in my mouth.
• A-grade yakisuki with yamaimo and egg
The gold grade U.S. wagyu set is $110 for two and includes:
• Fried intestine
• Squid geso – The squid legs are covered in tasty garlic; you grill them until tender.
• Kurobuta pork – The prized Japanese black pig produces tender, marbled pork.
• Skirt steak – Nice, thick slices.
• Gold rib eye steak
• Gold rib eye yaki shabu – A paper-thin slice of U.S. wagyu that you grill just a few seconds before eating.
Both sets have a decent portion of food. Here's how I break down the relative value. If I were to go to a Japanese yakiniku spot that serves decent quality beef (USDA prime), I could expect to pay between $40 and $75 per person ordering a la carte. The gold grade U.S. wagyu from Snake River Farms is above the USDA prime grade in marbling, and at $55 per person is a fair price for all the meat and sides you receive.
But the real value is the Japanese wagyu set for $70 per person. If you've ever been to a restaurant that offers an A5 Miyazaki wagyu supplement in place of a prime steak or U.S. wagyu, you're looking at anywhere from $40 to $100 tacked onto your bill.
An entire "tasting menu" of all this Japanese beef is a very good deal and I plan on going back and ordering it again.
An a la carte meal at Yakiniku Yoshi will run you anywhere from $40 to $100 depending on the grade and quality of meat.
Yakiniku Yoshi Honolulu
1316 Young St.
808-784-0067
Daily 5:30 p.m. to 11 p.m.
yakinikutokyo@gmail.com