Something new: Yacchaba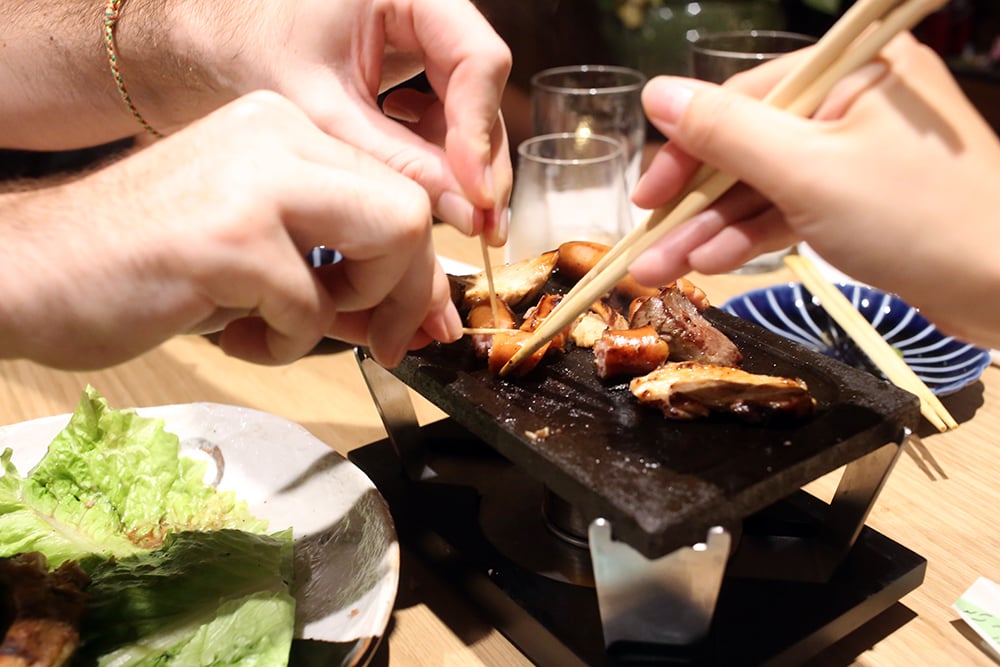 What does a Japanese fisherman say to get attention? "Yacchaba!" That's according to the owners of the newest Japanese izakaya in town, Yacchaba. And get my attention, Yacchaba did.
I'm a fan of Japanese anime, dramas and food. Especially food. Lucky me. When I was invited to preview the new spot at the corner of Kapiolani and Kalakaua where Izakaya Mai and Ojiya Restuarant used to be, I couldn't say no.
I arrived a little early and scored a parking stall. The lot next to Yacchaba has free parking, but be prepared to pay or look for street parking if the lot is full.
The interior is impressive. Based on my one trip to Japan, I would have to say Yacchaba took me back. Clean wooden floors, walls and furniture. Red and white highlights. The smell of sizzling food paired with golden light filtered through pitchers of beer. I miss Japan. But Yacchaba can take its place for now.
I had lots of options for where to sit. There was the bar on the side, the main eating area next to it, or what looked like the VIP lounge: two long tables, surrounded by cushions, fenced off from the rest of the world. I opted for the VIP lounge. We had to remove our shoes before entering. As I was gently reminded when I walked in with my shoes. Whoops.
Word on the street is that the team behind Yacchaba bring a lot of experience from the local Japanese food scene. One team member owned the now closed Choco House in the Hawaiian Monarch Hotel. Another managed Manichi Ramen. They wanted to bring something new to Honolulu: Iburi or smoked dishes.
Iburi is fun and similar to grilling yakiniku style. Except with less smoke in your face and more smoke flavor in your mouth. Four flavor salts are provided to enhance the smoky flavors: Plum, curry, yuzu and sansho, which is a Japanese pepper. A stone slab for grilling is heated by a flame and brought to the table.
We tossed some iburi salmon, saba and octopus onto the plate and let them grill for a few minutes. A deep, rich smoke flavor permeated the seafood. This was my first time eating smoked seafood from the grill.
The next batch was meat: steak, chicken and sausages. These were also smoked. Which means they were delicious. And tender and juicy too. A few stray spatters of oil assaulted my hands, but the delicious taste of the meat made up for it. Portions are pupu-sized, so be prepared to order more if your appetite is large.
I heard the stone plate was made from Mt. Fuji stone. So we were cooking our food on a piece of Japan. I also heard that Iburi at Yacchaba can be grilled over cherry and apple wood chips. Speaking of which, if you need to cut your iburi, ask for a knife. We didn't and ended up using toothpicks. I have to say it added to the experience.
We also sampled standard izakaya fare like edamame, fried potatoes, cheese on nori, udon and somen. Everything was light, flavorful and refreshing. It went well with our Kirin Ichiban. Yacchaba offers a good selection of beer and sake. Kampai.
I left feeling comfortable. I like being comfortable. And I like Japan. So Yacchaba gives me a taste of two of my favorite things.
Yacchaba is open Tuesday through Sunday from 5 p.m. to 11 p.m. There are plans for lunchtime hours in the future. For my future, I see another trip to Yacchaba.
Yacchaba
1718 Kapiolani Blvd.
945-0108
Open Tue-Sun, 5-11 p.m.