Something new: The Dumb Coq
Lunch, for most of the downtown workforce, is a time to grab some food. To me, lunch is sacred. I make the time to sit down, regroup my thoughts and prepare myself for the afternoon.
So when I stumbled across a new restaurant with a questionable name at the edge of Chinatown, I had to duck in to get a peek. The interior has a modern, minimalist feel with signature Chinatown brick walls, beige booths, finished wood floor and a long, hand-shaped bar.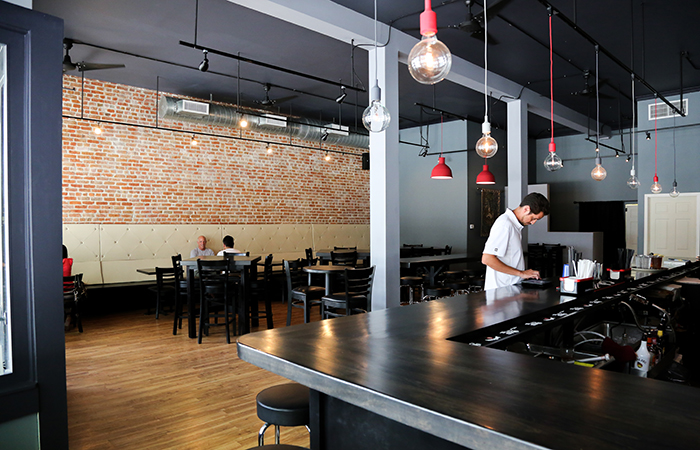 Located on King between Nuuanu and Bethel, the Dumb Coq is in prime real estate for the downtown lunch and pau hana crowds.
Owner Yoon Kim's mother runs a Korean restaurant in Connecticut. Kim came to Hawaii to help open a second location of the now closed Soul de Cuba. A couple of years ago he sold his stake in the restaurant, worked briefly at the legislature and decided to return to food.
After two years of renovation and permitting, Kim peeled back the brown butcher paper that covered the windows and started serving a small menu. Nearly the entire interior, woodwork and carpentry included, was done by Yoon and his operations manager, Ricky Chavez.
The bar with rounded edges is inspired by sport coats with elbow patches. Hand-sanded and -finished, it has tiny imperfections that Kim has come to accept, much like the patched coat. Everything is meticulously selected, including finishes that will prevent water rings.
I asked Yoon about the tongue-in-cheek name. "Coq," he points out, is French for rooster, the animal sign of his birth year. He thought about naming the restaurant the Fe Coq in honor of a high school jam session band name referring to the sturdiness of a male organ, but decided it was too confusing.
Then he became enthralled by the idea of a rooster sitting on a bunch of eggs, a fruitless gesture to most, but a signal to hens of a rooster's worthiness as a potential mate. The gesture is not only responsible but chivalrous. So the dumb coq is actually a smart coq.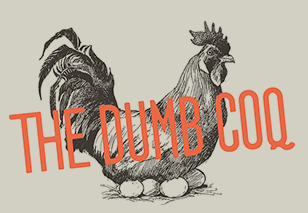 The soft-opening menu has nine items: pork belly sliders, tacos, French onion soup, three salads, croque monsieur, chicken saltimbucca and steak and potatoes. Much of the dishes and specials incorporate flavors of Kim's childhood in Connecticut. He recently served a special of mussels, a New England staple. Be on the lookout for more standard American fare as the menu expands.
The Dumb Coq
12 South King St.
808-585-5999
TheDumbCoq.com
Monday-Saturday 11 a.m.-11 p.m.