Something new: Thai Lao Pearl City
Growing up on Kauai, I wasn't really into ethnic foods. When I say ethnic, I mean that aside from Kountry Kitchen, Bull Shed, Dukes, the always popular Kintaro and the traditional Chinese restaurant, I wasn't all that diverse in my childhood culinary adventures. The first time my mom took me to eat Thai food was Christmas Day and we were going to watch Titanic. I had spring rolls and loved it. After moving to Honolulu, the chance to seek out new and tasty dishes from places like Vietnam, Korea, Mexico, Greece, India and more opened up to me.
But I had never had Lao cuisine before a new restaurant in Pearl City opened in February serving a combination of Thai, Vietnamese and Laotian dishes. Thai Lao Pearl City is from the same family that owns Thai Lao in Kapolei and also Fort Street Cafe in downtown Honolulu (which is hands-down my favorite place for Panang curry, garlic chicken and pad thai). So I was happy to be invited to experience authentic Laotian food.
Influenced by French, Japanese, Thai and Chinese cooking, Lao food is different from other Southeast Asian cuisines. The flavors are very earthy, with a lot of spices, herbs, chili and fish sauce. Sticky rice is a staple, but the combination of fresh vegetables with noodles, fish, meats and earthy seasonings is unique and perhaps an acquired taste if you're not used to it.
Here's a look at some of the dishes on the diverse menu: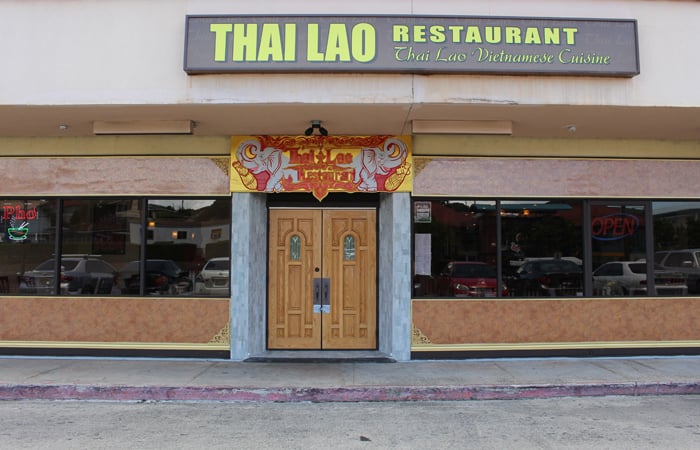 Thai Lao Pearl City is in the former Souvaly Thai Cuisine spot. I would definitely order some of the traditional Lao dishes along with some Lao-inspired eats, but my heart remains with the Thai curries and treats that I have come to love.
Oh, and they don't sell any alcohol so feel free to BYOB!
Thai Lao Pearl City
803 Kamehameha Highway, Suite 203
Pearl City, HI 96782
(808) 456-8088
11 a.m.-9:30 p.m.