Something new: Shimazu Shave Ice on Kapahulu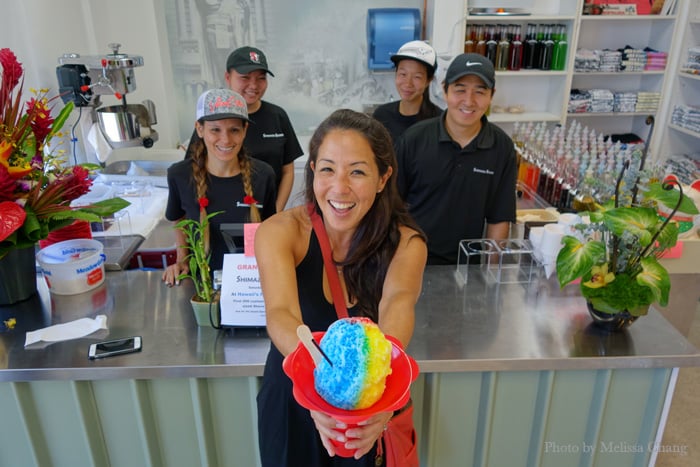 As the temps start inching upwards of 90 degrees, it's only natural that Shimazu Store, the popular shave ice spot on School Street, would branch out with a second location to cool us off. And, since it is a local favorite, it's only natural that it open in Hawaii's Favorite Kitchens on Kapahulu, where you can get a bite of other nostalgic goodies, as well.
Blogger Catherine Toth suggested to Rainbow Drive-In's Jim Gusukuma and Shimazu's Kendall Shimazu that they develop flavors that are unique to this shave ice stand. So, with a little R & D, they have come up with a true taste of Kapahulu. Not only can you not get these at Shimazu on School Street, I don't think you'll get these anywhere else in the world!
We got a first taste last week, and now you can have them, too. Here, Kendall is pouring Kapahulu Common Mango, an idea from KINE radio DJ Sam Kapu. It tastes more like a half-ripe mango, so it's not the strong, candy-sweet flavor that you may find in other mango syrups — it's more subdued, kind of sweet-sour but not tart. It's good! I could probably commit to a whole cone of it; next time I'll try it with some kind of topping.
What the! That's not root beer shave ice. It's — are you ready for this? — Rainbow Drive-In Chili flavor! Close your eyes, take a bite, and you'll be able to taste a little meatiness, a little garlic, and then the kick of chili spice. Jim made a syrup out of their famous chili mix!
I think people will be willing to buy a little cone out of curiosity, but I'm not sure if they'll dig a whole regular-sized cone. I should have ordered one with mochi balls to see how it worked with "rice." Ah, well, next time! Cat suggested a hulihuli chicken flavor shave ice while we were eating it, too. I'd try that.
Here's Jim making Cat and a random customer try the new Rainbow Chili shave ice: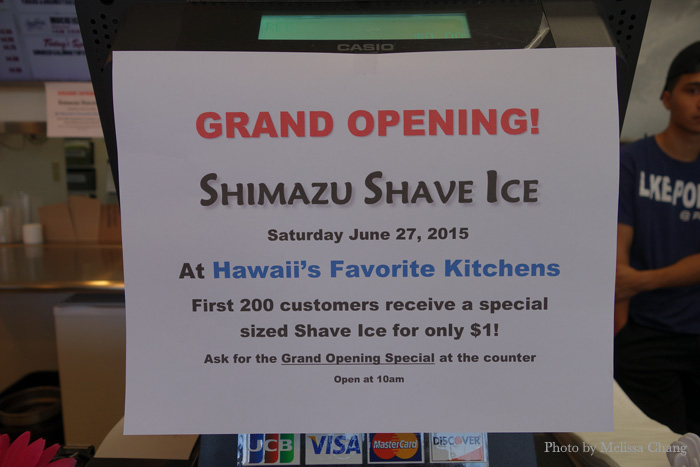 Shimazu has been operating at Hawaii's Favorite Kitchens for a couple of weeks now, but their grand opening is this Saturday, June 27. The first 200 customers (who ask for the grand opening special at the counter) can get a special sized shave ice for only a dollar. They open at 10 a.m. so set your alarm!
Let me know in the comments below if you try one of these new flavors, and what you thought of them.
Shimazu Shave Ice ~ in Hawaii's Favorite Kitchens
Open daily from 10 a.m. to 7 p.m.
3111 Castle St.
808-744-0465