Something new: Saturday brunch at Mud Hen Water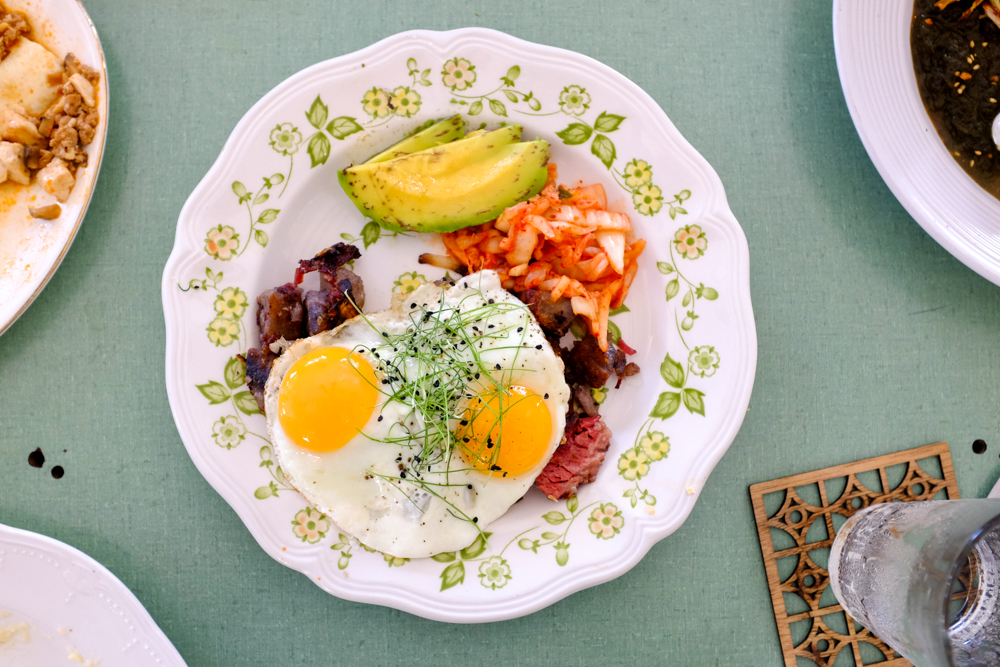 Note: The restaurant now serves brunch Saturdays and Sundays from 9:30 a.m. to 2 p.m.
Just over a year has passed since James Beard-nominated chef Ed Kenney opened Mud Hen Water, the third restaurant of his four restaurants in Kaimuki and Waikiki. We were treated to a taste of his new brunch program, which starts this Saturday, Aug. 6.
What is brunch without a sparkling mimosa? Mud Hen Water lays out what they call a cava bar, an extensive spread of locally sourced fruit ('cept the cute champagne grapes), purees, syrups, juices and accoutrements to dress up your glass of cava. Its name, of course, is a play on kava, the Polynesian mouth-numbing drink.
To customize my cava, I went the subtle route with a few drops of hibiscus syrup, a dash of ginger and a handful of champagne grapes with a mini hibiscus garnish.
You'll appreciate the attention to detail that goes into the bar with as many ingredients to get yourself into trouble rather quickly. By the way, brunch without a cava mimosa in hand is just breakfast: the cava bar operates from 11 a.m. to 1:30 p.m. As with the menu, the fruit and mixers will change seasonally.
Any great brunch in my book involves a balance of sweet and savory dishes. Cue the warm u'ala doughnuts with coconut rum icing.
The Sea Board ($22) is Kenney's take on seafood charcuterie. With portions of smoked a'u ku (broadbill swordfish), preserved akule, walu brandade fritter (which we've seen on TOWN's late night menu), fresh basket cheese, pickles, soda bread, soda crackers and a refreshing limu butter, there's a lot to tide you over before the main event.
Despite their premium price point, the waffle fried chicken wings ($12) with a spicy guava coating and side of lacinato kale slaw warrant a try. Why? Well, instead of serving a waffle piled with pieces of chicken, they take whole wings and dunk them in waffle batter before frying in hot oil. The result is an addictive, delicately crisp wing with a hint of sweet-spice from the guava coating.
A surprising favorite of mine was the hunger-suppressing biscuit and mapo gravy ($13). A twist on comforting, porky mapo tofu served with a fresh baked biscuit, sauteed bok choy and crispy shallots, this dish may not be the prettiest of the brunch, but it sure makes up for its looks in flavor.
You've never had polenta like the one here. It's topped with Sweetland Farms goat cheese, local honey and a smattering of strawberry jam. Whether mixed together or spooned in separate components, you'll find yourself wondering why polenta doesn't get more time in the spotlight.
Kenney makes his lu'au twice over with coconut milk grated and squeezed in-house, resulting in creamy, earthy goodness that coats the egg, fish and vegetables on the plate. Fans of Hawaiian food will find comfort in this entree.
I recommend you not skip over corned beef hash ($15). The tender corned beef is hashed with kalo instead of potatoes, and the variety of textures – creamy avocado, runny sunnyside up eggs and crunchy kim chee – keeps you interested.
Overall, the brunch game is strong at Mud Hen Water. It's outside the box of what I consider brunch to be, but honestly, that's just Kenney's way.
Mud Hen Water
3452 Waialae Ave.
Kaimuki
737-6000
Saturday and Sunday brunch 9:30 a.m. – 2 p.m.
Dinner 5:30 – 9:30 p.m.