Something new: Residence Inn Maui Wailea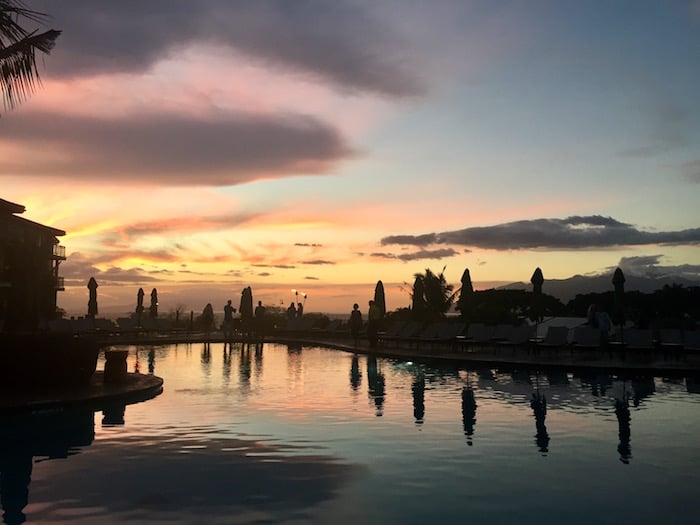 By Rebecca Pang
Special to Frolic Hawaii
When I tell friends I'm going to Wailea, I usually get the response, "Hmm, must be nice." Well, it IS nice, and beautiful, and everything everyone says. And since last week, the luxe destination just got more affordable.
I was lucky enough to be invited to the grand opening of the Residence Inn Maui Wailea. It's at the top of Wailea Ike Drive near the Wailea Gateway Center, and it's new from the ground up. According to my quick online search, it's currently $100 to $200 less overall per night than other Wailea properties.
While not beachfront, it still has great ocean views. I could see Molokini Crater and Lanai from my guest room (513) without stretching my neck. Views from the pool are lovely, too.
The rooms are spacious studios or one- or two-bedroom suites with kitchen or kitchenette, living room and sofa bed. With only 200 rooms, you don't get lost in different wings and towers. I'd describe the décor as simple island chic.
I've always been a fan of Residence Inn. Why?
They offer inclusions you rarely, if ever, see in Hawaii, like full American breakfast with a rotating selection of breakfast meats, grocery delivery service with no mark-up or delivery fee, and shuttle service around Wailea. Finally, they have free Wi-Fi!
There is no resort fee, but they do charge $20 a night for parking, which I think is a steal since you get free breakfast. I'm seriously plotting the next time I can come back.
The staff was really friendly and accommodating, and general manager Kaleo Kenui is originally from Waipahu and loves to eat pork skin.
To celebrate its grand opening, Residence Inn is offering a special nightly rate of $195 plus tax. The offer is valid through October 30. If you miss this deal, kamaaina rates are offered year-round.
Residence Inn Maui Wailea
75 Wailea Ike Drive
Wailea, HI 96753
808-891-7460
http://www.marriott.com/hotels/travel/hnmri-residence-inn-maui-wailea/