Something new: Mahina & Sun's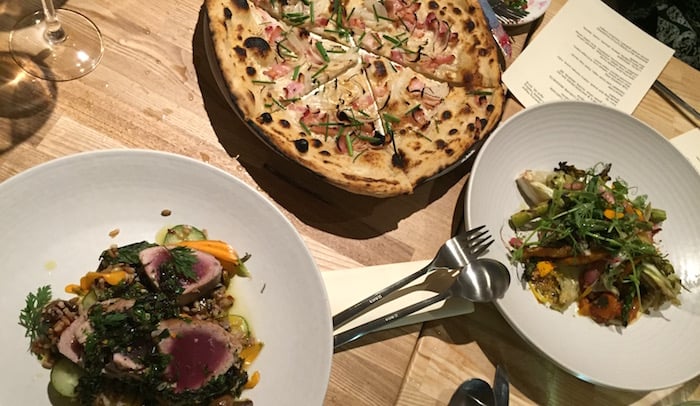 By Kelli Shiroma
Mahina & Sun's, chef Ed Kenney's fourth restaurant and his first in Waikiki, opened Thursday night in the Surfjack Hotel & Swim Club. Like Kenney's Town, Mud Hen Water and Kaimuki Superette, Mahina will use sustainably sourced seafood and local, organic produce whenever possible. It's an all-star cast: Kenney, nominated for another James Beard award this year, is host of PBS Hawaii's upcoming "Family Ingredients." In the kitchen is Sean Priester, known to fans of his Soul Patrol truck, and popular mixologist Alicia Yamachika is behind the bar.
The restaurant's ambiance and menu reflect the Surfjack's vintage beach culture vibe. It pays homage to Waikiki of the 1960s, mixing period architecture with current influences. Local artisans and farmers are featured: Ceramic bowls were made for the restaurant by the Hawaii Potter's Guild, and custom Tori Richards prints cover guestroom headboards and Mahina's banquette cushions.
We scored seats at an opening-night media dinner. The menu is something of a blend of Town's rustic modern American and Mud Hen Water's contemporary spins on local favorites. Prices run about $12 to $15 for appetizers and $17 to $32 for entrees. If you go, get the aku tartare, grilled he'e (octopus) and watercress salad, Sweet Land Farm chevre beignets and 'ahi palaha (white tuna).
Mahina & Sun's
Surfjack Hotel & Swim Club
412 Lewers St.
748-1503
Valet or street parking
On Facebook at Mahina and Sun's