Something new: Lucy's Lab Creamery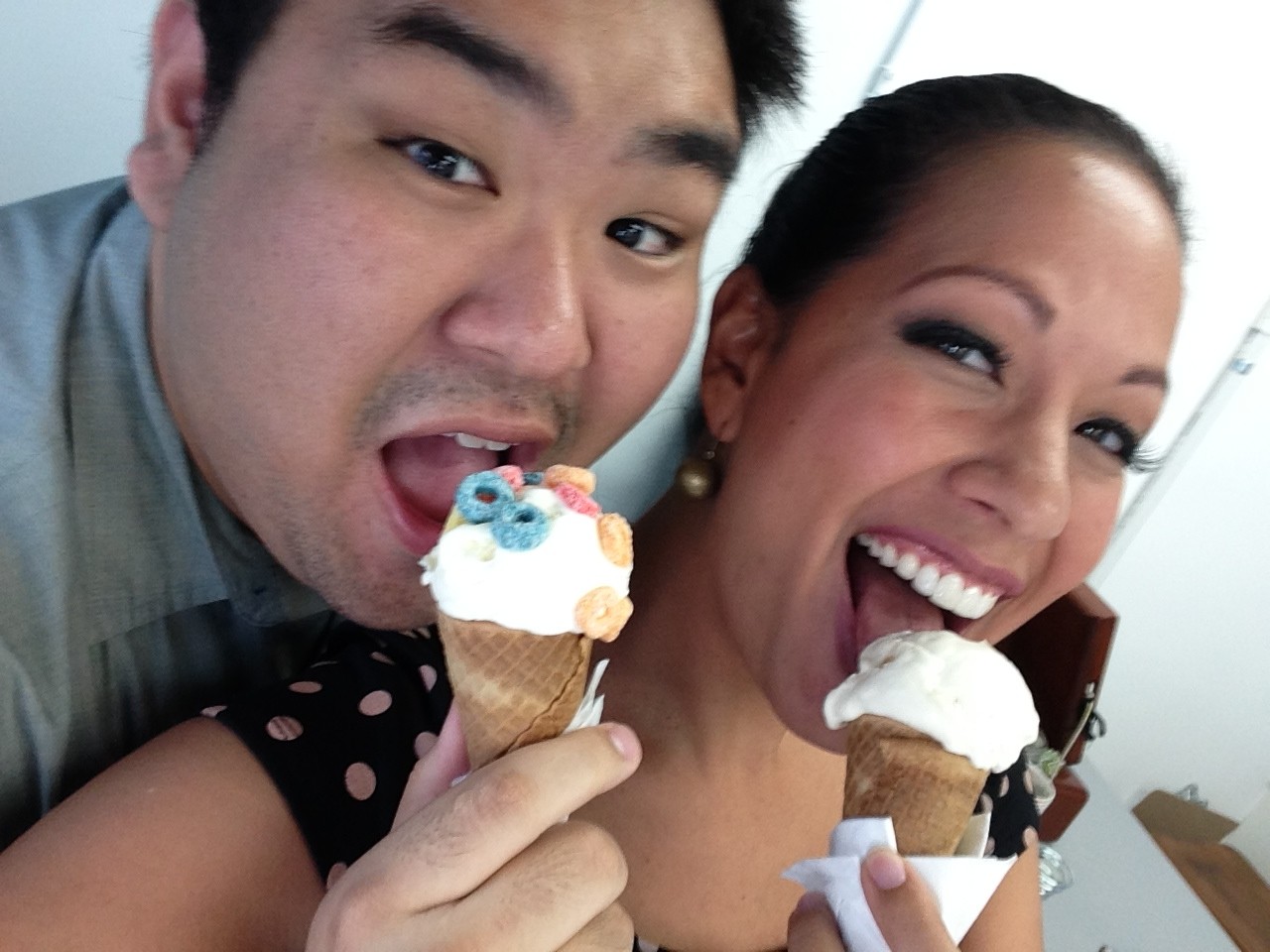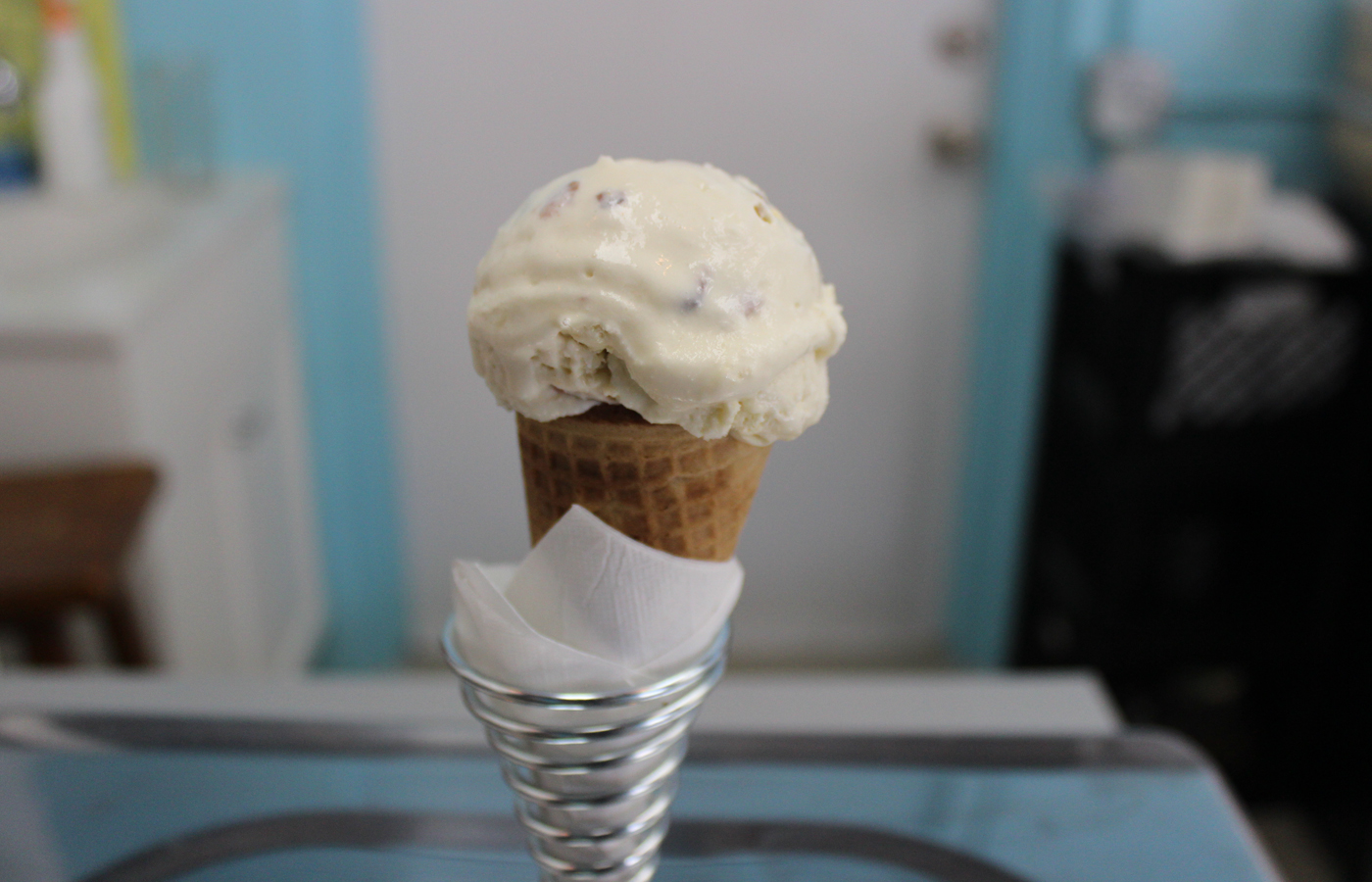 When we first heard about Lucy's Lab Creamery and its creative assortment of ice cream flavors, we knew we had to try it. So on Friday, when the shop opened to the public, we stopped by for a taste.
What we found were seven housemade ice cream flavors, including Fruit Loops vodka, honey lavender, Earl Grey, bacon whiskey, sea salted caramel, Tahitian vanilla and Nutella, along with ice cream sandwiches. The flavors will change every month.
Located across the street from World Gym on Kamakee Street in the Ward area, Lucy's Lab is owned by real estate agent Lee Wang, who launched the desserterie as a way to indulge his passion for ice cream and science. He creates all the flavors from scratch, inventing new ones regularly. Wang opened the shop in dedication to his mom, Lucy, who passed away in 2012 from breast cancer. A portion of the shop's proceeds will be donated to various breast cancer charities.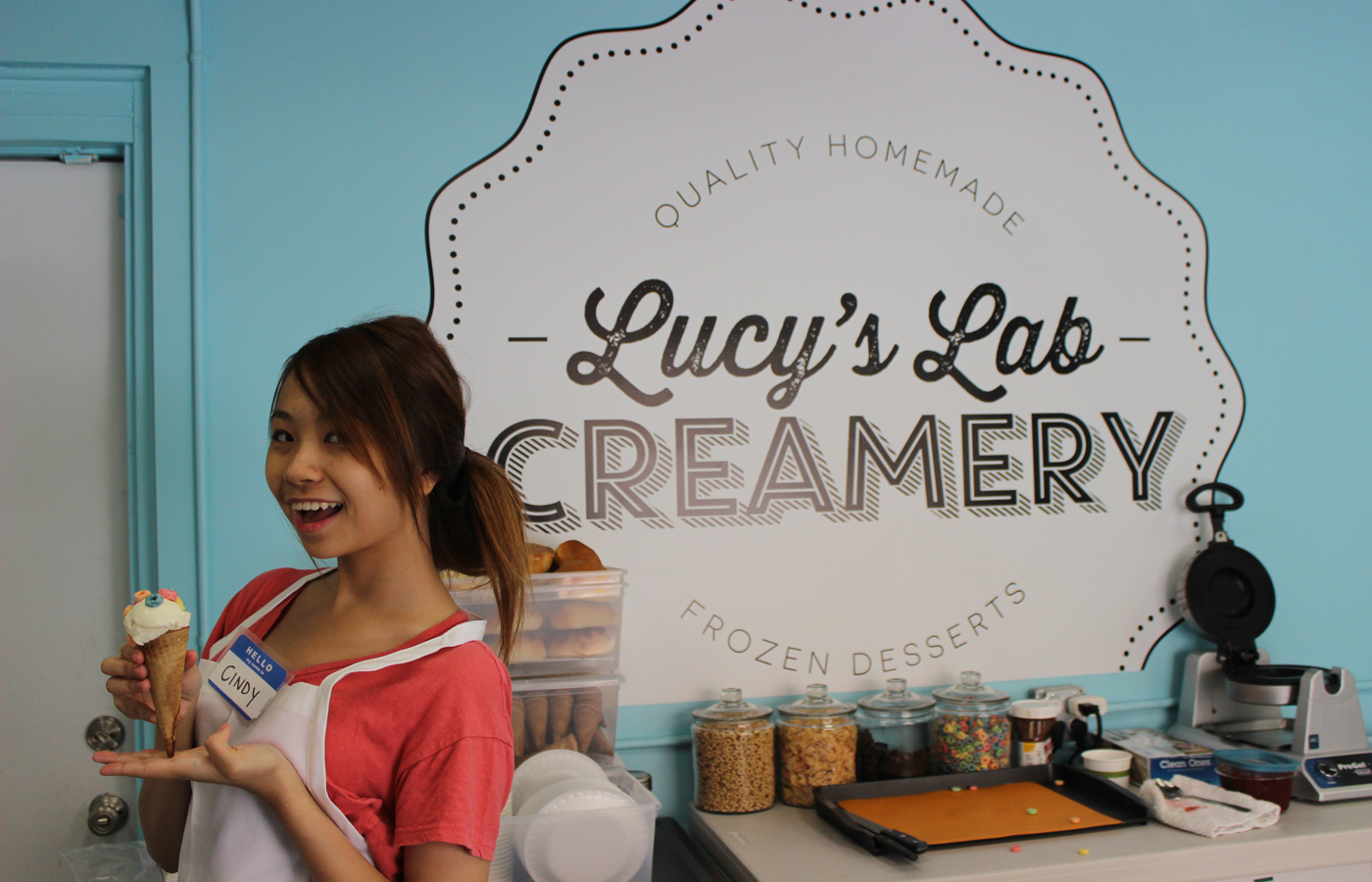 Lucy's Lab offers wafer cones, sugar cones and cups, and the ice cream is sold for $1 per ounce. During our visit, we sampled all the flavors and menu items. Overall, we enjoyed the creamy texture of the ice cream, indicating a strong proportion of heavy cream or whole milk. The downside to this is that the ice cream will melt very quickly.
Here's a quick summary of the flavors we tried:
Whiskey bacon: Small bits of bacon dot this ice cream, and the whiskey comes across as a natural flavor pairing. This was our favorite flavor, but note that the whiskey taste is prominent.
Sea salted caramel: Very strong flavor, as if you're licking a spatula coated with sticky caramel. For those looking for something intensely sweet, this is for you.
Fruit Loops vodka: Another one of our favorites. Fruit Loops are whimsically mixed into a satisfying vanilla ice cream base with a hint of vodka. The liquor wasn't overpowering, and the three flavors were nicely balanced. But again, it may not be the best choice for kids with its strong alcohol flavor.
Tahitian vanilla: We were excited to try this after tasting the vanilla ice cream in the Fruit Loops vodka selection, but were disappointed with the lack of vanilla bean flavor.
Honey lavender: Much like the caramel, this was too sweet. The intense honey flavor masks any nuance the normally floral lavender would provide.
Earl Grey: Deep, satisfying tea flavor with a hint of citrus. Nice balance of tea and lemon.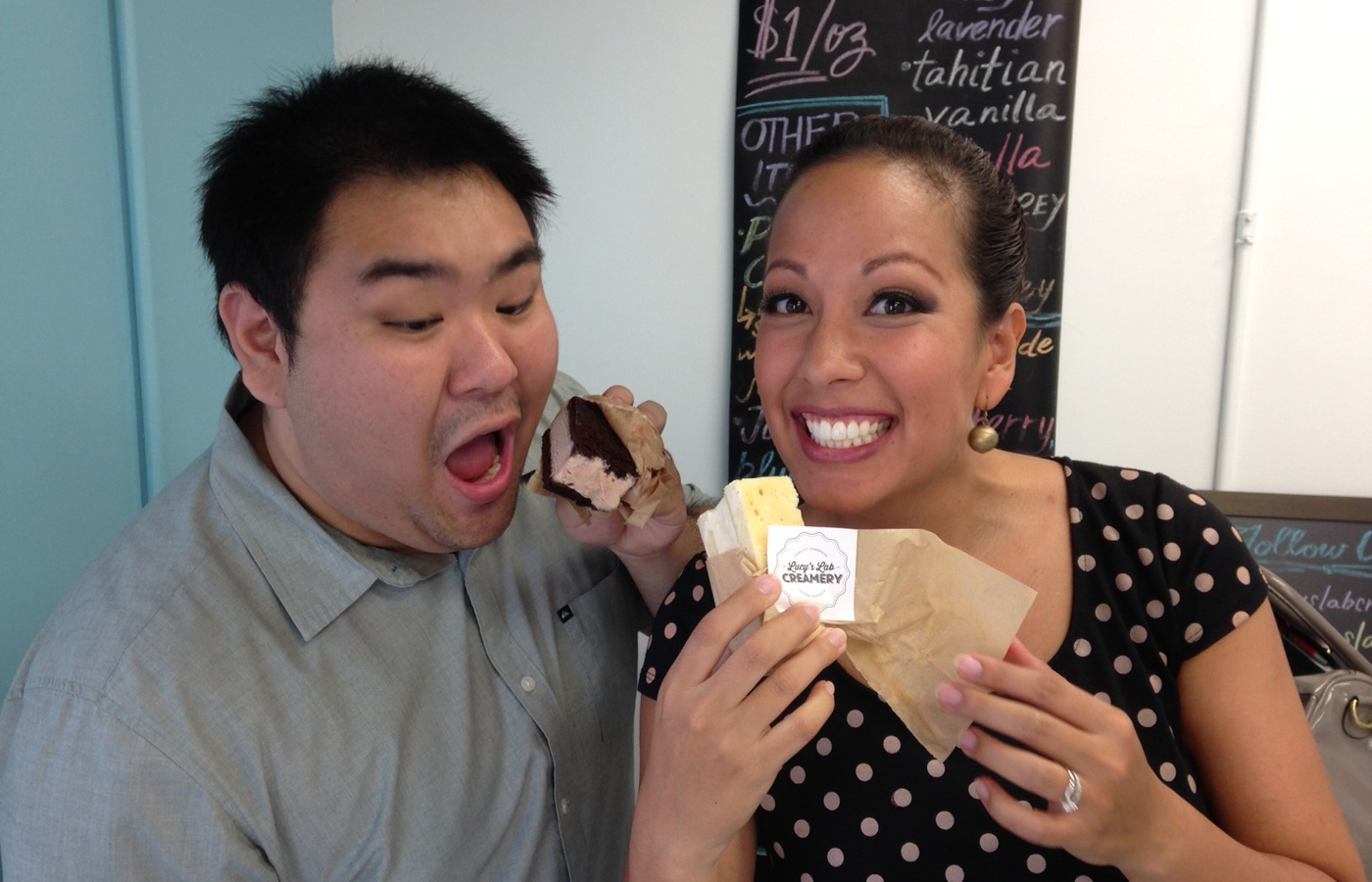 The Pan de Creme ($4.50) is a unique treat with a pan de sal (Filipino bun) that's cut in half and slathered with your choice of jam (strawberry, blueberry, mango or Nutella) and ice cream (any of their available flavors) and warmed in a panini-esque machine. The result is a fast-melting, cake-like treat that's equal parts messy and filling. We didn't particularly enjoy this, although we felt it was a novel idea. The pan de sal is much too dense of a bun to use in this dessert and it dilutes the enjoyment of eating a decadent ice cream treat.
The menu features two ice cream sandwiches ($4), a chocolate containing Nutella ice cream sandwiched between double fudge chocolate cake and a Tahitian vanilla between white cream pound cake. By far, we preferred the chocolate Nutella with its decadent chocolate flavor both in the cake and the ice cream. We demolished it while the Tahitian vanilla sat on the counter.
Olena and Chuggy at Lucy's Lab
(video by Bianca Bystrom Pino)
Take a further look at Lucy's Lab:
Lucy's Lab Creamery
Picture 1 of 7
Lucy's Lab Creamery's official grand opening will be held on Wednesday, Aug. 27, with a half-off special on the entire menu between 5-9 p.m.
There's no designated lot for the shop, although there is street parking along Kamakee and surrounding streets. The parlor is only a couple of blocks from Ward Centers and Ward Theatres.

Lucy's Lab Creamery
435 Kamakee St.
lucyslabcreamery.com