Something new: Kono's Honolulu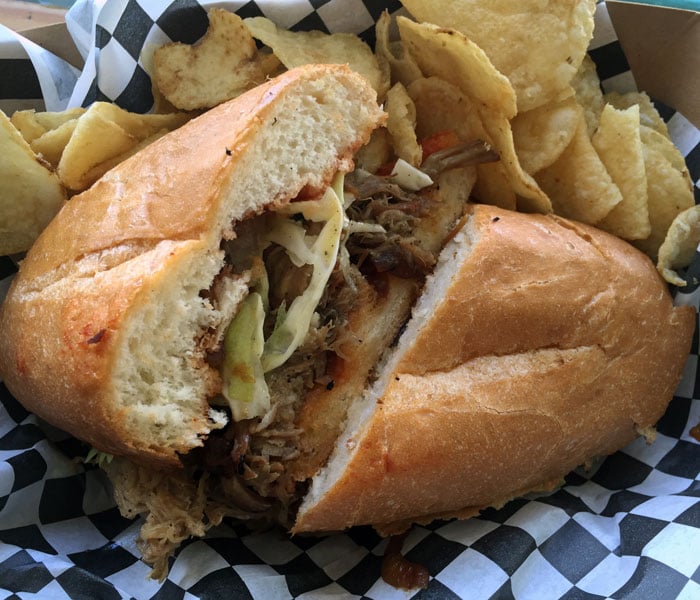 During my time living in San Diego, I had more than my fair share of succulent pulled pork. Now that I'm back in Hawaii, the cravings kick in from time to time.
Friends would rave to me about their feasts at Kono's, known for smoky, flavorful kalua pork, but since it's in Haleiwa I had yet to go. So you can just imagine my excitement at discovering that Kono's opened a second location two weeks ago on Kapahulu Avenue. To say that I was drooling in anticipation would be an understatement.
As soon as you walk in, you'll see the Tattoo Corner — a wall where people who get the official Surfing Pig logo tattooed somewhere on their body are honored and given a Kono's 25 percent discount for life.
Kono's cooks its signature kalua pork for more than 15 hours in Haleiwa and delivers it to Kapahulu, where breakfast and lunch are served all day. The menu is much the same as Haleiwa's: wraps, sandwiches and an extended milkshake selection – close to a dozen options, to be exact.
Signature items include Chuns, one of the most popular breakfast bombers — which is a catchier way of saying breakfast burrito. Chuns' juicy pork and thick chunks of bacon, together with the other savory burrito elements, epitomize hog heaven. The seasoned potatoes and strings of melted Jack and cheddar cheeses blend with all that meat, and I relish every bite.
If you want something meatier (pun intended), go for the signature Old School Sandwich ($9.29), another popular item. It comes filled with 12-hour pulled pork, homemade guava BBQ sauce, grilled onions and slaw on a toasted French roll and is served with Maui potato chips. I love all the elements, especially that guava sauce, and the French roll is fresh, crispy and not overdone.
The Smoked Turkey Ranch Club ($9) is tasty, but not my favorite item. Let's be real, if you're going to Kono's, you gotta have that famous pulled pork.
Be sure to save room for dessert, specifically the Mud Pie ($6.50). After just one sip I'm hooked: The homemade milkshake is all coffee and caramel with chewy OREO cookie chunks — thick, rich and creamy but not ridiculously large, so there's no guilt trip. The chocolate walls satisfy my sweet tooth even more.
Kono's Honolulu is open daily from 7 a.m. to 2:30 p.m. Be sure to check out the takeout menu for discounts and follow Kono's Instagram for promos (when I went, you could score 10 percent off any purchase of $15 or more). Takeout is popular, but there are a few tables and countertop seating so you can chow down while watching the Kapahulu traffic crawl by.
So how does Kono's stack up to my memories of awesome pulled pork BBQ in SoCal? Suffice it to say that anytime I'm craving the legit stuff, I know exactly where to make a pit stop.
Kono's Honolulu
945 Kapahulu Ave.
892-1088
Open daily, 7 a.m.-2:30 p.m.