Something new: KatsuMidori Sushi Tokyo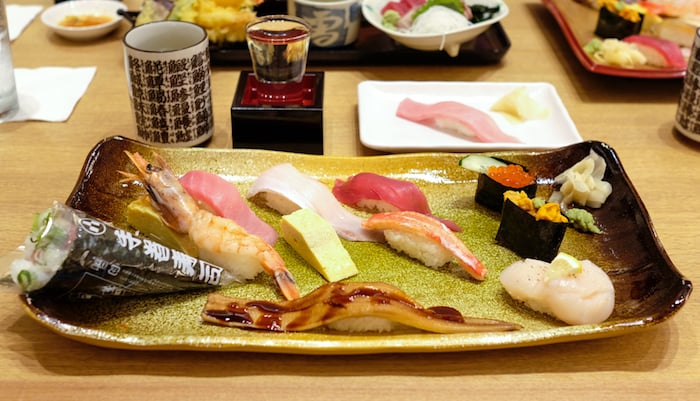 By Thomas Obungen and Dale Yasunaga
You may have heard about the deal that can be had at KatsuMidori Sushi Tokyo, the latest uber-popular Japanese chain to open on Oahu. Foodies are abuzz about the $5 otoro (fatty tuna) nigiri, $1.50 salmon and hamachi and the impressive, well-priced sushi sets at this new spot in the Hawaii Prince Hotel Waikiki. It took us an hour to get a call through during lunchtime last Friday, and the earliest dinner reservation they had was for this week.
In Tokyo, KatsuMidori is known for fresh, high-quality seafood at a reasonable price. There's a conveyor belt, but not for sad, pre-made sushi that goes round and round. Sushi chefs behind the counter make your order fresh; the conveyor belt delivers it to you. So does KatsuMidori's Hawaii outpost live up to its reputation? That was the question Dale and I sought to answer when we walked in Friday night.
Ordering the flagship Yokozuna set makes Dale excited and anxious. It's $35, which breaks down to a mere $2.50 per sushi item, in a full-service restaurant. We're talking otoro, chutoro, uni, ikura, abalone, scallop – and that's not even half the items. Will he be pleasantly surprised or in dire need of Pepto Bismol?
The plate arrives. The cuts of fish are generous. Dale tries the hotate (scallop). It smells fresh. And it tastes … just as fresh! Subsequent pieces erode his skepticism. The quality reminds him of the conveyor belt sushi at Sushi Zan Mai in Tsukiji Fish Market: surprisingly delicious for a reasonable price.
Verdict: Mitch's Sushi has thicker cuts, but KatsuMidori's Yokuzuna wins in the value department. Mitch's "Matsu" set runs $36 for 10 pieces. KatsuMidori offers an additional four bites here, at equal if not better quality.
Continuing with the sumo theme, the second largest sushi platter is the Ozeki. For $27 it features eight pieces of nigiri, two gunkan rolls and a handroll. A la carte, this plate would cost $33 so there's good value in ordering a set. You also have the choice of adding on a hot or cold soba and tempura set for $5 more, which is also a great deal.
For about $2.50 apiece average, in a restaurant in a major Waikiki hotel, it would be hard to beat the price. I also appreciate less common options that can be had a la carte, including engawa (flounder fin), whelk (sea snail), kazunoko (herring roe) and ankimo (monkfish liver). You won't find a slice of Spam or hot dog at this kaitenzushi (conveyor belt sushi) spot.
The cuts of fish are noticeably thinner, however, they are much longer than I've seen elsewhere so they appear to be generous. That said, the ratio remains spot on, but the rice could improve. My favorite pieces are the chutoro (medium fatty tuna), uni, unagi and hotate. Compared to sushi I've had in Japan, the variety and freshness are right on the money.
Verdict: Get this if you can't finish the 14-piece Yokozuna. The value and freshness motto holds true.
You've got to hand it to the sushi chefs at KatsuMidori: Their rolls are works of sushi art. The Dragon Roll is a showstopper – the entire restaurant turns to gawk when it's delivered to our table.
A saucy strip of unagi forms the head, back and tail of the dragon, which is draped over a shrimp tempura, maguro and avocado roll to form the body. The dragon's pearl is made with salmon "poke" that's overly dressed with sesame oil, covered with slices of avocado and garnished with flecks of gold leaf. Details like the tako sucker and ikura eyes and lobster antennae whiskers make this a statement piece, but it leaves much to be desired.
The overwhelming sweetness of the kabayaki sauce takes over much of the flavor profile save for the sriracha mayo mixed in with the filling. We also find ourselves struggling to finish the roll as we've gone through most of our sushi sets.
Verdict: Skip the rolls and stick to the classics.
KatsuMidori lists otoro nigiri on their Japanese menu at ¥500 or roughly $5 apiece. We are happy to find the same applies here in Honolulu, while other sushi shops in town sell it at $10 apiece. The difference may be in the portion, which goes unnoticed as it melts in your mouth with the same ease.
Verdict: It's $5 otoro, you seriously can't go wrong here. Get it. Or get the set with four pieces each of otoro and chutoro and a negitoro roll for just $28.
The Katsu Gozen is a great option for those who aren't looking for a sushi or sashimi heavy meal. The plethora of small dishes and flavors is definitely reminiscent of Japan.
Verdict: This set showcases the non-sushi side of the kitchen and is a good value.
Nihonshu onegaishimasu! The sake selection is impressive with at least 15 labels at varying price points from $9 a glass to a few bottles well over the $150 mark. I opt for a glass of Tedorigawa's yamahai junmai, a rare sake type. It surprises me with how easy it is to drink and how well it goes with my set – oishikatta!
This is not your neighborhood Genki sushi. The restaurant is beautifully constructed, adorned with wood throughout. There's an iPad with a foolproof ordering system at each table that's serviced by an express delivery system. Just remember to push the button to send the tray back.
For the price, KatsuMidori will at least meet your expectations and may well exceed them. The chefs hold the quality and freshness of their seafood to a high standard and you reap the benefits of that. Service is still getting its footing but as with other Japanese chains, that should work itself out.
We're just glad we can get quality sushi without hitting triple-digit territory – even the omakase is just $60! It's worth the drive to Waikiki and with free validated parking in the garage or $1 per hour at the meters, we'll definitely be back often.
KatsuMidori Sushi Tokyo
Hawaii Prince Hotel Waikiki lobby
100 Holomoana St.
Tue-Sun 11 a.m. – 2 p.m. and 5 p.m. – 10 p.m.
Closed Mondays
946-7603