Something new: Izakaya Kei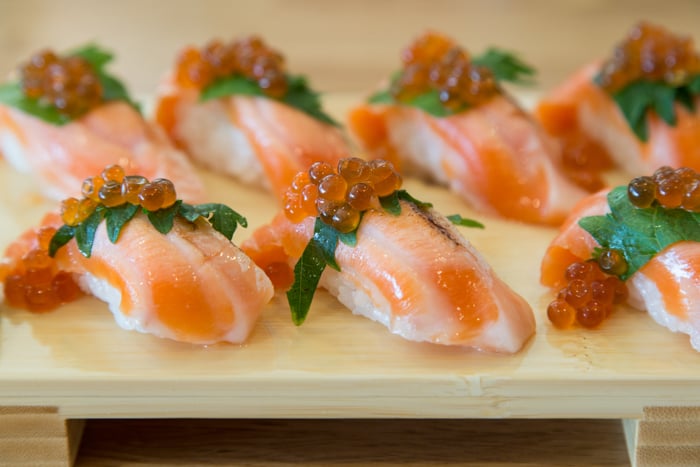 There's a new izakaya in the Pearl Kai Shopping Center down the street from Pearlridge Center. Open since April 28, Izakaya Kei is a welcome addition since the closure of Off the Wall in the same spot. You'll find izakaya staples like slow-cooked kakuni pork belly, hiyayakko (chilled tofu) and hamburger topped with grated daikon oroshi, plus an extensive sushi and sashimi menu with madai, uni and chutoro.
First-time restaurant owners Jessica Sasaki and Jason Yokoyama grew up in Aiea and after finishing work at different bars and restaurants in town, always found themselves eating in town, since few places in central Oahu stay open late. Their aim was to open an izakaya with a solid food and drink menu that stayed open until midnight. The chefs they hired have serious Japanese experience under their belts at places including Izakaya Nonbei, Torae Torae, Morimoto Waikiki and Doraku.
I'd recommend getting there early. Even though Kei just opened, the 40-something seats fill up at dinnertime.
Parking in Pearl Kai is usually tight since many of the businesses stay open quite late.
After trying a good portion of the menu, our tab for eight came out to $325 or about $40 per person.
Izakaya Kei is also the commercial kitchen for Sasaki and Yokoyama's new meal program project, Healthy Made Meals. The two-in-one approach helps lower food costs and increase efficiency for both businesses.
Izakaya Kei
Pearl Kai Shopping Center
98-199 Kamehameha Hwy
Mon-Sun 5 p.m.-12 a.m.
Happy hour 9 p.m.-12 a.m.
808-726-8741