Something new: Hale Ohuna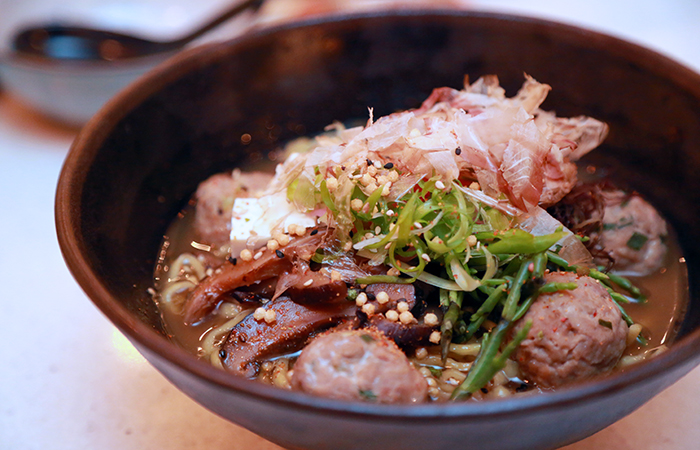 After months of anticipation, I heard a rumor that Lee Anne Wong's long-awaited sake, shochu and whiskey bar and restaurant was soft opening over a week ago. Fanboy that I am, I gathered a few friends with the intent of trying the (whole) menu. But when we arrived at Hale Ohuna, it was closed for a private dinner for those involved in its creation.
Sad fanboy. I had followed Wong's rise to stardom since the very first season of "Top Chef," attended every one of her pop-ups at Taste in Kakaako and even got invited to a Salon Supper where she was the featured chef at a family-style meal. When we found out Hale Ohuna's official first day would be last Friday, we vowed to come back then.
Hale Ohuna is an intimate two-story restaurant in Kaimuki where Salt Kitchen & Tasting Bar used to be, just steps from Wong's Koko Head Cafe. Last week Frolic's Melissa Chang got a sneak peek at the interior and shared interviews about the space, artists and purveyors.
On Friday the doors were open and I was able to eat my way through a decent chunk of the food menu and sip my way through a tiny fraction of the impressive drink menu. Hale Ohuna is definitely worth a try, especially for those of you who love whiskey, sake and shochu.
To kick off the night, we ordered a Mauka cocktail (refreshing with lemongrass and tamarind), a chilled carafe of one of my favorite sakes, Sohomare Brewery's Heart and Soul tokubetsu kimoto junmai, a Beet-beet-ahh-toot-toot cocktail (I'm only identifying it for the photo, I didn't taste it) and Uchinanchu (my choice since "Uchinanchu" means Okinawan and I'm a quarter; the drink was sweet and creamy from the Okinawan sweet potato in it).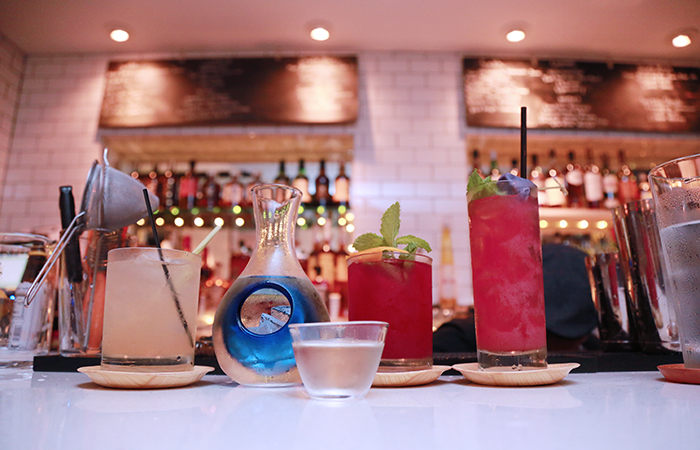 We started the food portion of the festivities with the kawa gyoza ($12), which replaces the traditional wrapper with crispy fried chicken skin. The added crunch and flavor from the chicken skin made this dish especially sinful and worth the extra calories. I hope this isn't too graphic, but I spent a good amount of time sucking the savory juices and sauce out of each kawa gyoza as I savored each piping hot bite.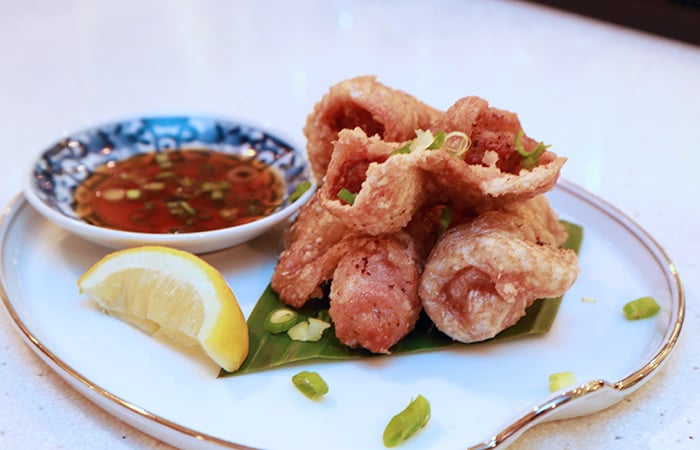 Next we ordered the Okinawan dynamite skins ($12), sweet Okinawan potato skins which were rich and filled with tender bites of seafood.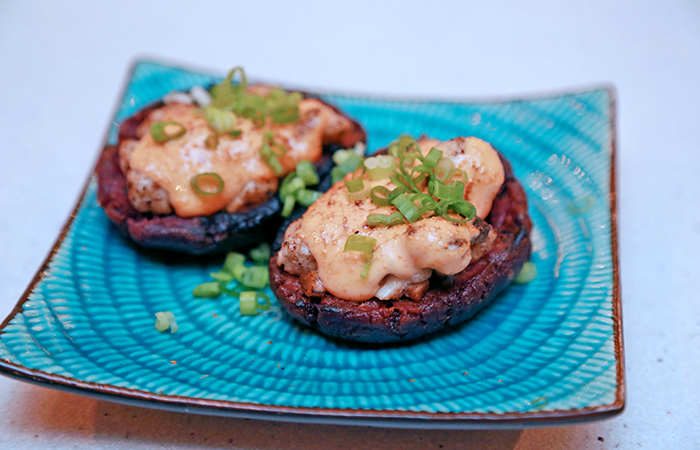 My favorite dish of the night was the pig face musubi ($9). I knew from the second I saw it on the menu that I would love it. I've had other pig face dishes around the U.S. and every time, the rich porky flavor shines through the crisp. Here, each bite is loaded with a burst of hot, crispy pork, the bite of mustard seeds and pickled cucumbers and the peppery zing of shiso rice. This was so good, we asked our server to bring another.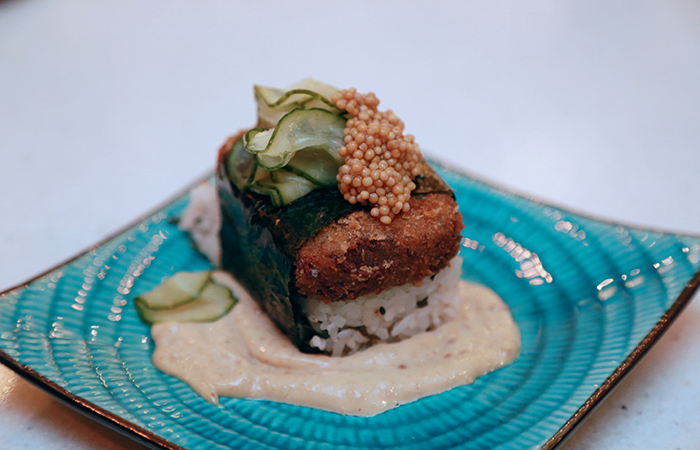 The ichiban (number one) lamburger ($18) is an eight-ounce Niihau lamb patty loaded with spicy tempura cheese, miso red onions, Ho Farms tomato jam and house pickles all on a challah bun. The soft bun is a great choice for the multitude of toppings and textures. A signature aspect of Wong's cooking is generous helpings of tasty garnishes on nearly every dish. Each element adds another dimension of flavor and texture to this juicy burger.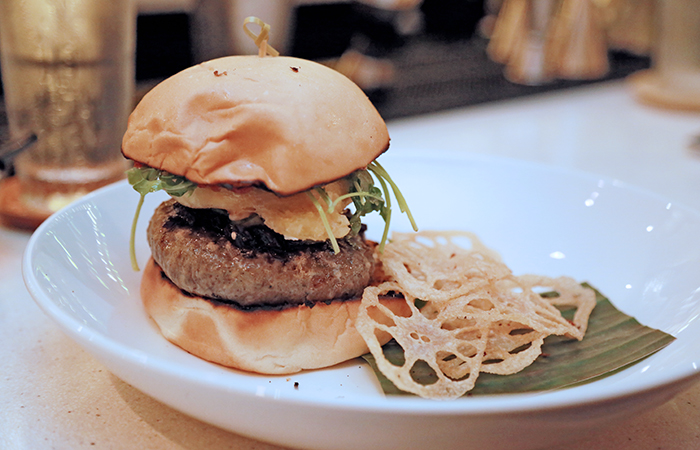 We were getting full. We managed to order only three of the six noodle dishes.
Lucky we live HI ($15 — Wong's menu doesn't bother with capitalization much) is one of the best cold noodle dishes I've ever had. The brilliance is in the tomato dashi where a hint of acidity from Ho Farms tomatoes and the salinity of the broth meets the bold, earthy flavors of radish, basil, garlic and arugula. Top it off with a bit of Hawaiian Fresh Farms goat cheese and you've got a tasty vegetarian dish.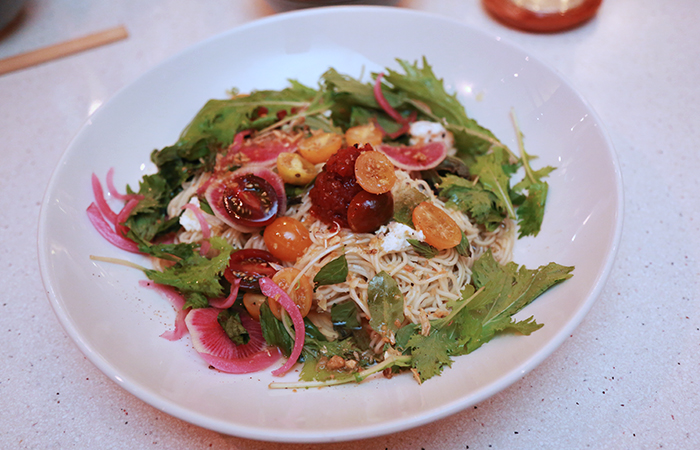 I'm a sucker for umami and the akule tsumire ($19) is loaded with it. It's built on a base of charred onion miso dashi, with ogo added for a clean ocean flavor. Mushrooms and bonito shavings take this bowl to an even higher plane of umami-dom.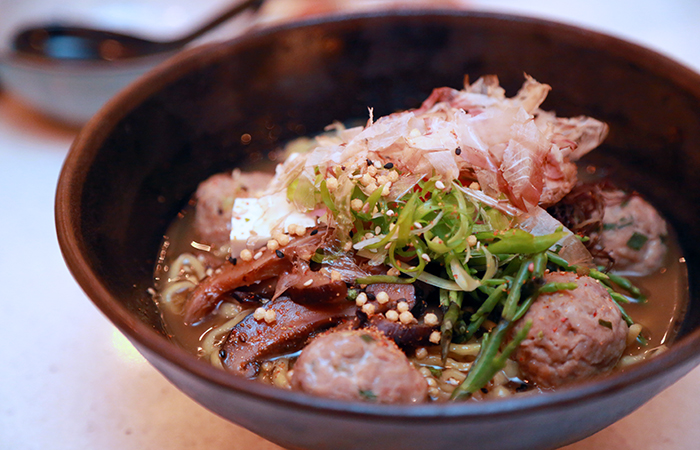 The Elima pua'a ramen ($20) is a Shinsato pork bone broth topped with miso-braised pork belly, kalua pig, chicharron, onsen egg, Tokyo negi, benishoga, wakame and heart of palm in a black garlic kotteri broth. Truthfully, this dish wasn't my favorite because the broth lacked the sultry flavors of a kotteri, though the garnishes really shine.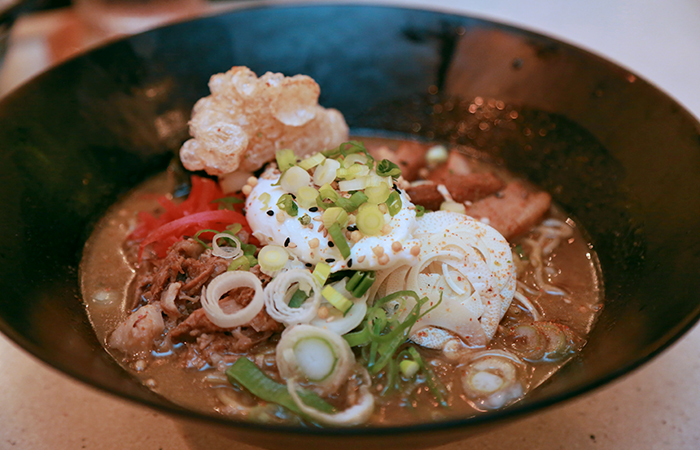 We were more than full. But our bartender, Yuki, convinced us to order dessert.
If you're looking for a lighter, less sweet dessert option, Mama Yamane's mango haupia topped with Makaha mango and coconut ($7) is for you. The cool, refreshing dessert was especially good in the midst of this muggy weather.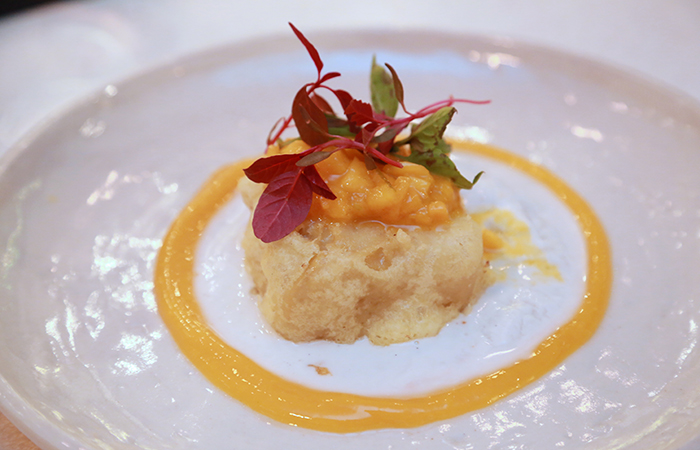 The second dessert was even better. It was comforting. The Madre chocolate koshihikari rice pudding brulee ($8) is a smooth, semi-sweet dessert with Madre's bitter dark chocolate and a crunchy brulee top. I love how the desserts aren't overly sweet.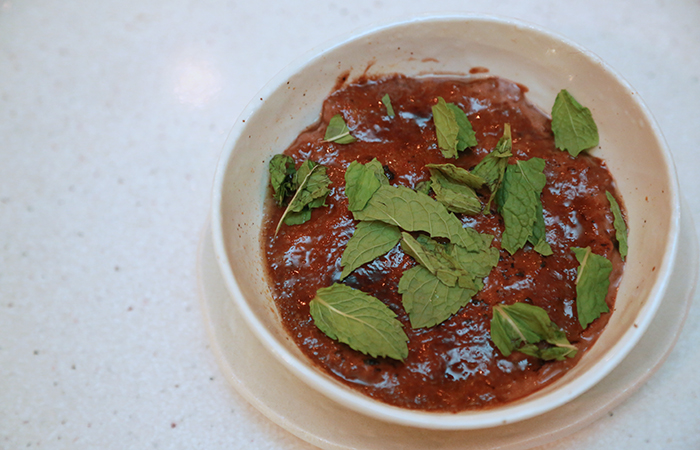 Sake lovers have 41 labels to choose from, including Dewazakura Ichiro, Tedorigawa's Silver Mountain yamahai junmai and Kokuryu's Black Dragon junmai ginjo. I looked through three pages of just sake and decided this might be a great pau hana spot for me and my friends. The one complaint I have is that Otokoyama, my favorite sake, can only be ordered by the bottle.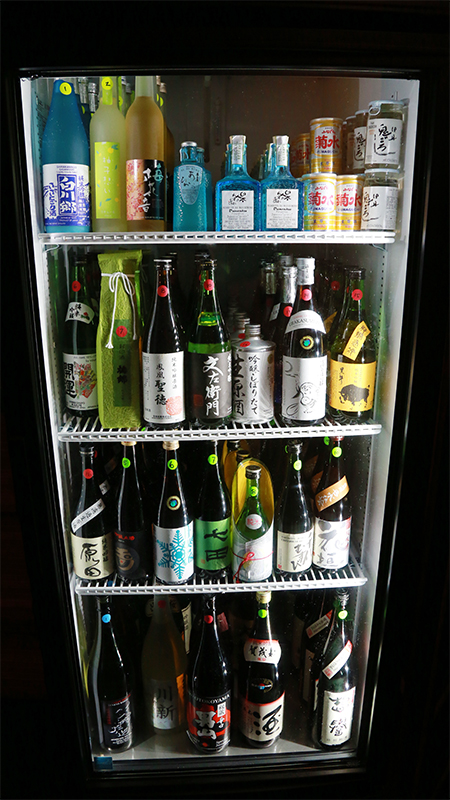 The whiskey selection rivals the sake and features Japanese, Scotch, American and Irish varieties. Whiskeys of note include Hibiki, Nikka, Oban, Whistle Pig straight rye and Parker's 8th edition.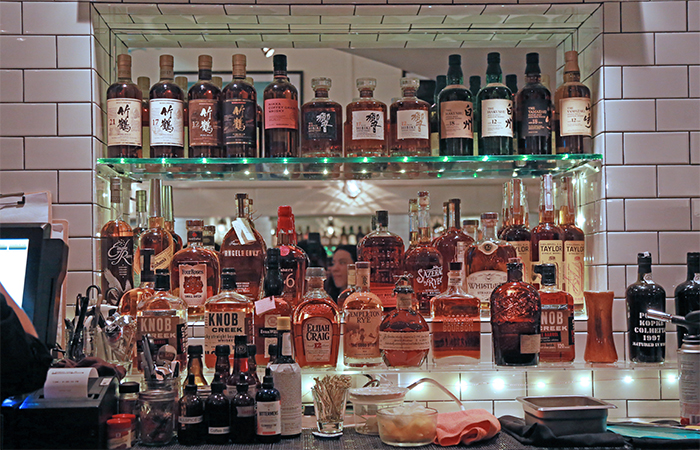 Overall, Hale Ohuna is an intimate sake, whiskey and noodle house with great food and an even better liquor selection. I will be back very soon.
Hale Ohuna
3605 Waialae Ave.
808-744-7567