Something new: Downtown's Bar Leather Apron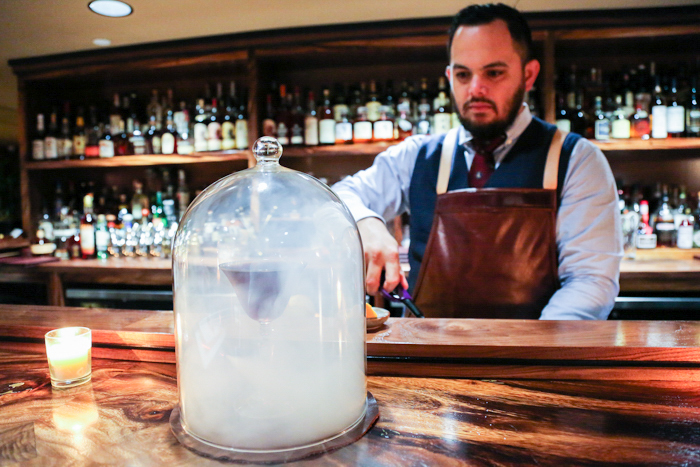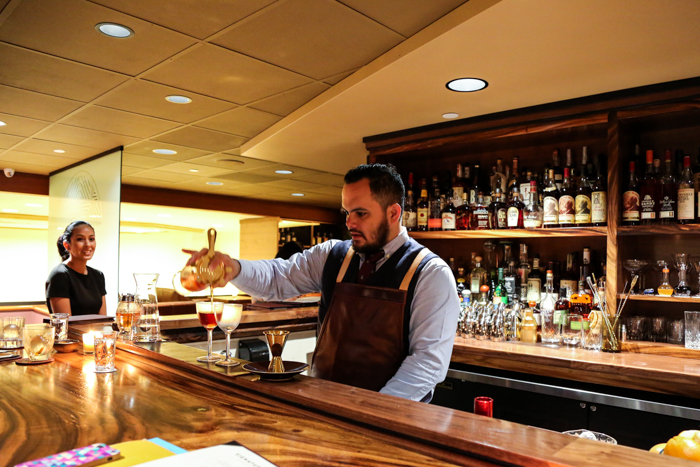 Calling all cocktail lovers: One of Hawaii's top mixologists, Justin Park, formerly of Manifest, has opened a cocktail bar in Topa Financial Center's old Mezz 127 space. Park and his partner Tom Park, whose Leather Soul sells high-end men's shoes, have created an intimate experience where handcrafted cocktails rule.
Bar Leather Apron opened at 3 p.m. Monday to a crowd looking for the first sips of Park's famous cocktails. Food pairings by Livestock Tavern will come later.
The six-seat bar is the focal point of the 40-seat space. A glass case is stocked with highly allocated whisky including a 25-year Yamazaki single malt whisky (online price: over $2,000). Behind the bar is an impressive collection of whiskys and other spirits.
A seat at the bar won't come cheap: Cocktail prices there are $12 to $20; if you sit in the lounge, they're $12 to $16. It's the cozier experience of talking to the mixologists and having a custom cocktail whipped up that accounts for the premium. Park, by the way, has won the World's Best Mai Tai award and placed at the World Cocktail Competition.
Oh, and no reservations by phone. It's all by email (the link's in red toward the end).
We ordered the Matcha Old Fashioned, a combination of Weller Antique 107, Japanese green tea, "wasanbon" sugar (a fine-grained, high quality Japanese sweetener) and mineral water.
Grant: The matcha flavor is accentuated by the golden wasanbon to create a smooth cocktail for tea lovers.
Maka: I enjoyed that the slightly bitter and earthy matcha flavor came through. It was well balanced; no one element overpowered the others, you could taste it all.
The cocktail that caught my eye was the "Tavern Keep Treasure," a whisky cocktail smoked in a glass bell before serving.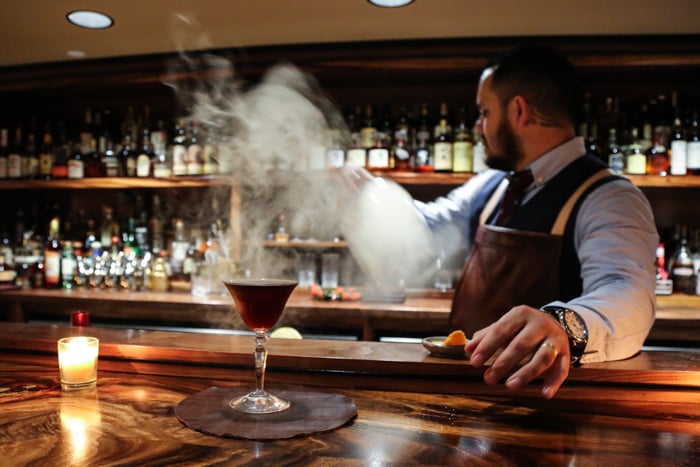 Grant: The smoked wood imparts a rich aroma to the Basil Hayden's bourbon-based libation. The inclusion of fruit elements (antica formula, maraschino, orange and angostura bitters) adds levels of flavor best enjoyed in slow, small sips.
We also tried Park's spin on a "classic" and ordered a daiquiri. It's made with locally produced Ko Hana aged agricole rum and served with a stick of Ko Hana's sugarcane to chew on.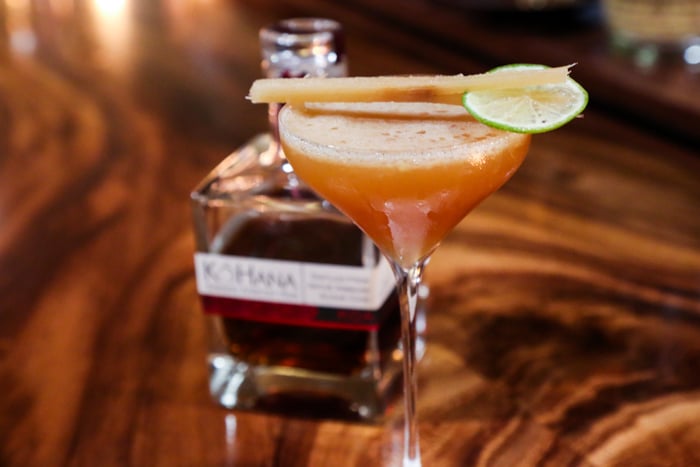 Maka: This ended up being on the sweeter side. As the small serving glass implies, this cocktail is best in small sips.
To score a seat at the bar, email info@barleatherapron.com to make a reservation.
Bar Leather Apron
Topa Financial Center
745 Fort St.
Suite 127 A
524-0808
BarLeatherApron.com
Mon-Thurs 3 p.m. – 2 a.m.
Fri 3 p.m. – 2 a.m.
Sat 5 p.m. – 2 a.m.