Something new: Bethel Street Tap Room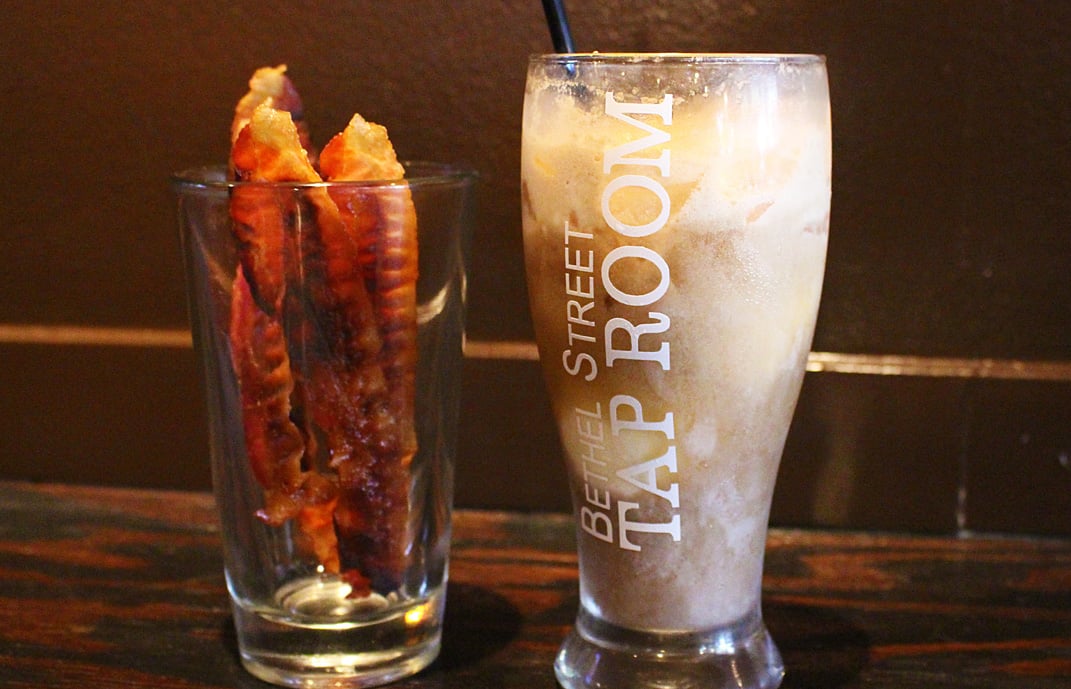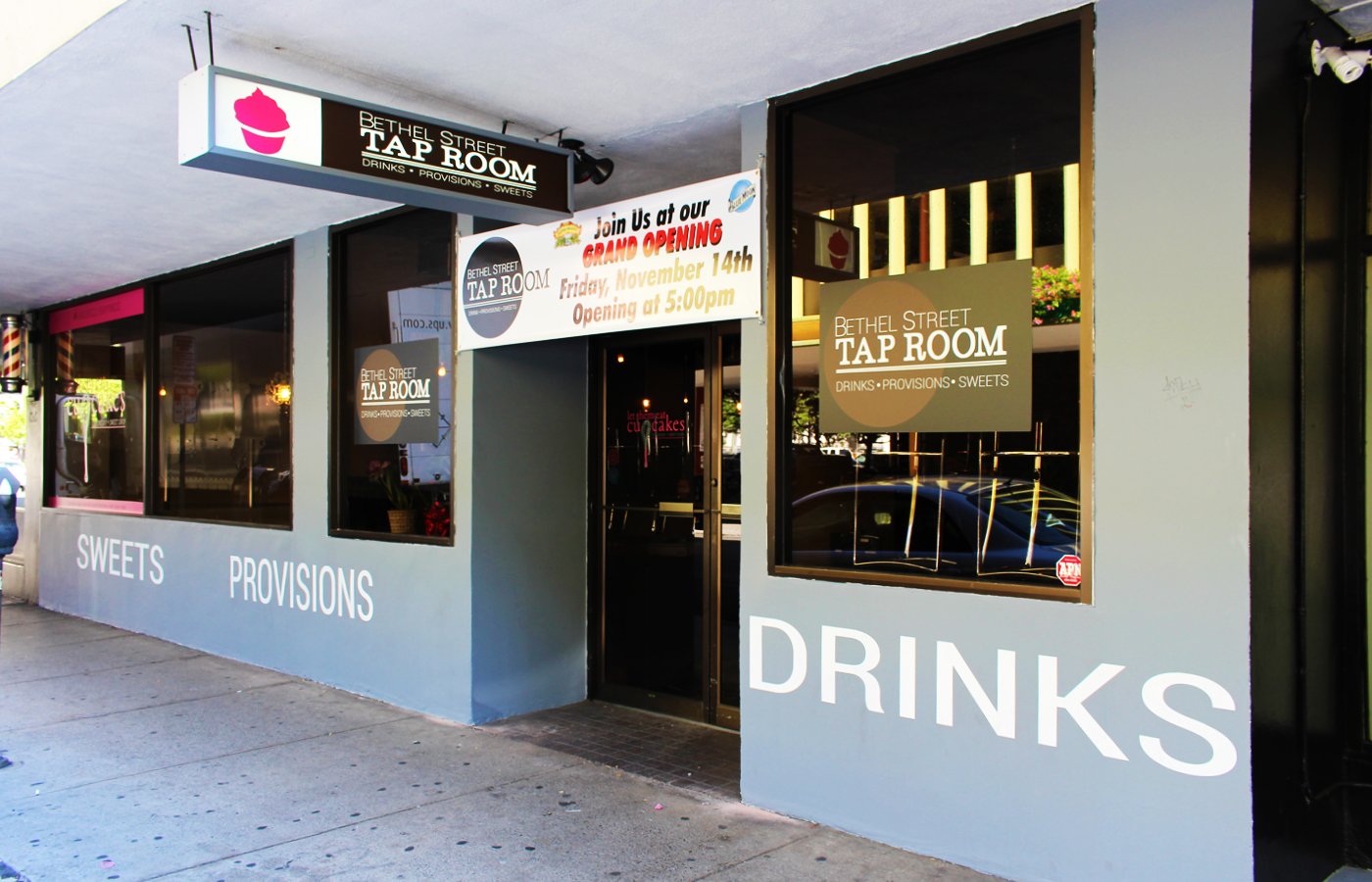 The sudden and unexpected shuttering of Rakuen Lounge left a large vacancy in downtown's nightlife and bar scene. Interested in who would take over this prime space, I kept walking past the storefront for an indication of what was to come. A curious sign promising drinks, provisions and sweets was posted, while murmurs of a bar serving complimentary bacon at happy hour along with cupcakes and beers kept appearing on my Facebook and Instagram feeds.
Those enticing teasers have finally come to fruition with the recent launch of Bethel Street Tap Room. Let Them Eat Cupcakes owner Kawehi Haug (a former Honolulu Advertiser entertainment/food writer) teamed up with Kim Potter (of Laughtrack Theater Co.) and Karen Winpenny (an organizer of the Waikiki Spam Jam) to transform the former sushi bar into a cozy and inviting cupcake/sandwich shop during the day and lively bar at night.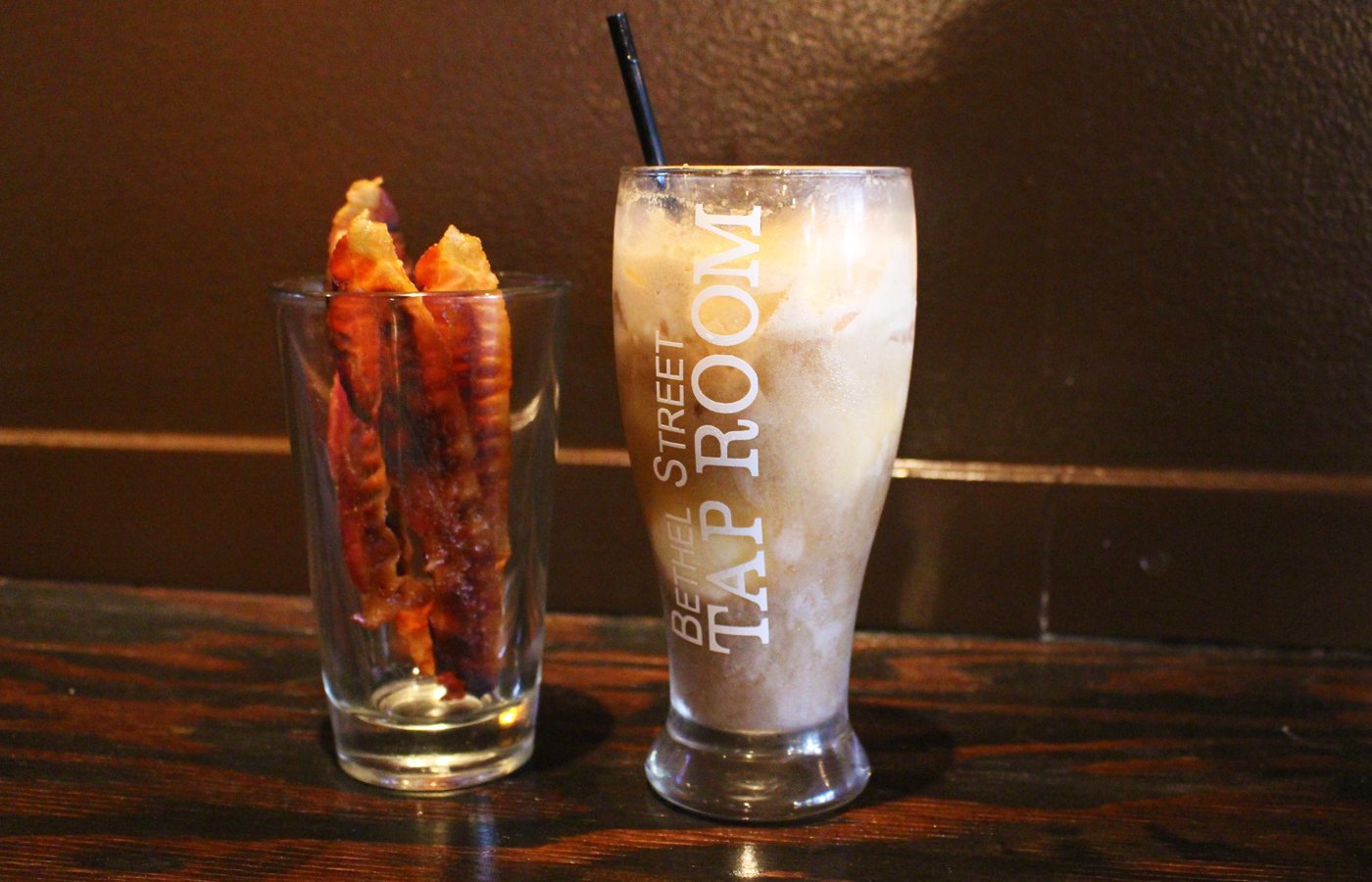 Leveraging their worldly experiences, the team has assembled a tasty menu of sandwiches and hearty appetizers to complement the sweets, inventive cocktails and brews. Tapping into her fond memories of living in Germany, Haug created a list of beer cocktails, including a Bavarian inspired "radler," a drink made popular by cyclists mixing a light lager with a fizzy lemon-lime soda like Sprite resulting in a refreshing, chuggable concoction. Potter, meanwhile, added fully loaded hoagies wrapped tight in butcher paper, which reminded me of the popular Chicago sandwich maker, Potbelly. I was surprised to find out that Potter spent the better part of a decade in the Windy City and likened the Bethel Street sandwich creations to the Potbelly franchise as well.
Bethel Street Tap Room opens at 9 a.m. for cupcakes, which are available through the night; serves lunch from 11 a.m. to 2 p.m.; happy hour (with complimentary bacon) from 4-6 p.m.; and dinner from 6 p.m. until closing.
Working downtown myself, I see this as a destination when wanting a filling, satisfying lunch, with offerings like the "BIG Bird" hoagie ($9) — loaded with a generous serving of turkey breast, muenster cheese, lettuce, tomato, mayo and the secret ingredient, dill vinaigrette — or the "Little Piggy" ($9), stuffed with kalua pig, havarti cheese and caramelized onions on a lightly toasted hoagie roll with chips and homemade pickles.
The homemade pickles are a must, with the crispness of a Vlassic, but unique pickling juice with the right amount of tang and sour. According to Potter, not only do the pickles hit it big with customers, but the pickle juice is used in the house special dirty pickle and dirty bleu martinis and can be ordered as a chaser for Jameson shots. One of the quirky details: They're installing a self-serve dispenser for the pickle juice along the bar.
During happy hour, there's free bacon and everything's $1 off. At dinner, try the bacon cheeseburger dip ($8), a thick, hot dip of melty cheese and ground beef topped with crispy bacon and served with both French bread and potato chips. For the adventurous drinker, there's the house "root beer," a cocktail of Coca-Cola, vanilla ice cream and Jeremiah Weed's sarsaparilla whiskey providing the classic root beer flavor.
Overall, Bethel Street Tap Room is a great spot for friends to gather for quality and affordable bar food, beer cocktails and some of the best cupcakes in town.
Bethel Street Tap Room

Bethel Street Tap Room
1153 Bethel St.
808-531-2253
Bethel Street Tap Room on Facebook
Monday-Friday 9 a.m. until close (closes as early as 10 p.m. if slow; 2 a.m. if busy)