Something new: Banan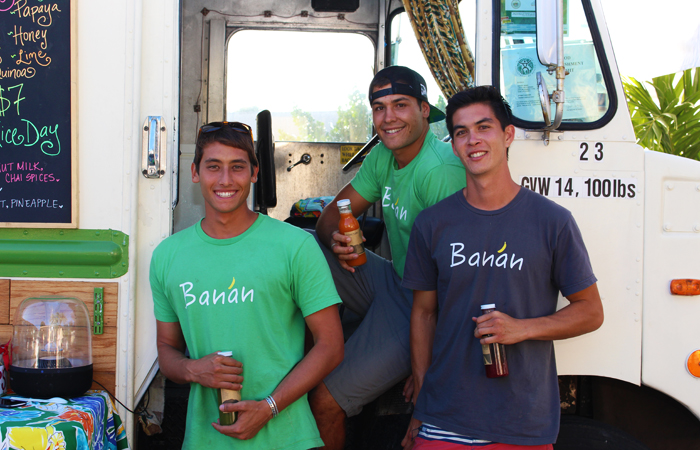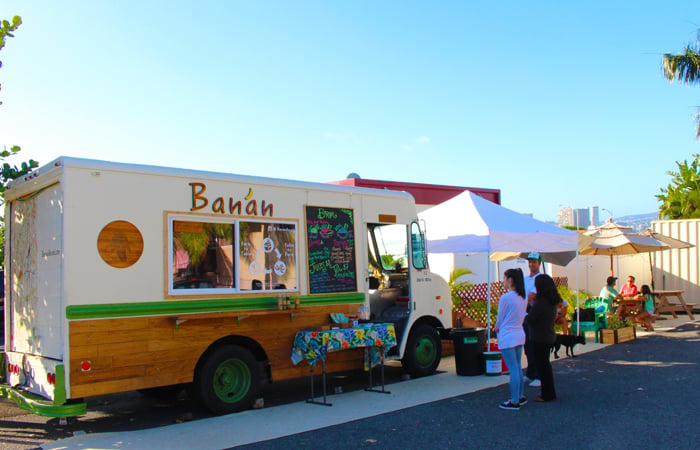 Photos of a new food truck called Banan started scrolling through my Instagram feed this week, leading me to check out the refreshing treats that are stirring up social media buzz. Located on Monsarrat Avenue, adjacent to the Coffee Bean & Tea Leaf near Campbell Avenue, Banan opened for business on Jan. 3.
The specialty here is a frozen banana treat that's become a popular and healthy alternative to ice cream and frozen yogurt around the country. Banan is run by four Punahou grads — Matt Hong, Luke Untermann, Zak Barry and Galen McCleary — who reunited after attending college on the mainland. After learning that Hawaii is one of the few states that commercially grows bananas, the four friends moved home to launch the venture with the goal that it would not only take off as a business, but help promote sustainability in the islands.
Local frozen bananas are the base of their desserts. When blended, a frozen banana becomes thick, creamy and sweet, much like soft serve. Banan serves up this cold banana treat in a variety of flavors, including pineapple coconut, acai, basil and ginger mint. After selecting a flavor, you pick a cup ($5), papaya boat ($7) or bowl ($9, includes sliced bananas and puffed quinoa), then choose such toppings as pineapple, coconut flakes, sliced bananas, papaya, honey, lime and puffed quinoa ($0.50 each or three for $1).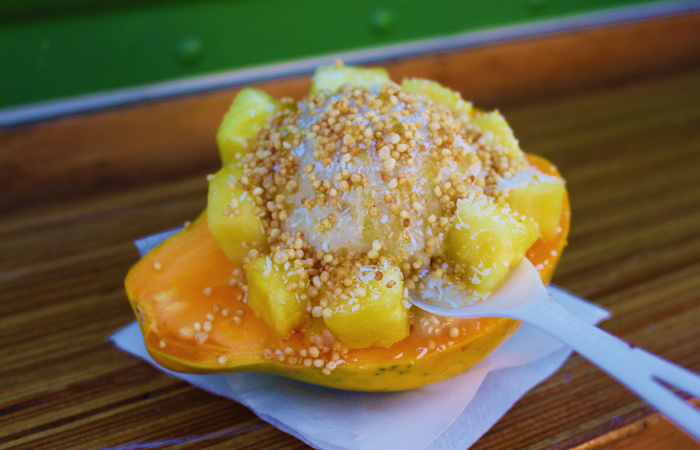 I tried the pineapple coconut in a papaya bowl with fresh pineapple, coconut flakes, honey and puffed quinoa ($8). it was a large serving that easily could be split by two people. I found the creamy banana base very refreshing; it didn't melt like ice cream. And the papaya boat was not just a handy way to hold the banan, but a tasty ending to the dessert.
I also tried the acai flavor, which was surprisingly delicious. I'm not a huge acai fan because it can get very tart, but the naturally sweet bananas mellowed the strong acai flavor, making for a well-balanced treat.
Banan also sells cold pressed juices ($8) and a kava root tea ($7). The team's love for pineapple and ginger is apparent in each of the beet, green and citrus juices. The 'Awa Nice Day Kava is a relaxing drink of kava root, coconut milk and chai spices. According to the guys, it leaves your mouth slightly numb after a bottle.
Not only is Banan promoting farm-to-table principles by locally sourcing their bananas, but they've implemented a table-to-farm idea, where all compostable materials (empty papayas, food scraps, bowls and napkins) are taken to Kunia Country Farms to be reclaimed back into the soil.
Anyway, take a look at this newcomer to the city's food scene:
Banan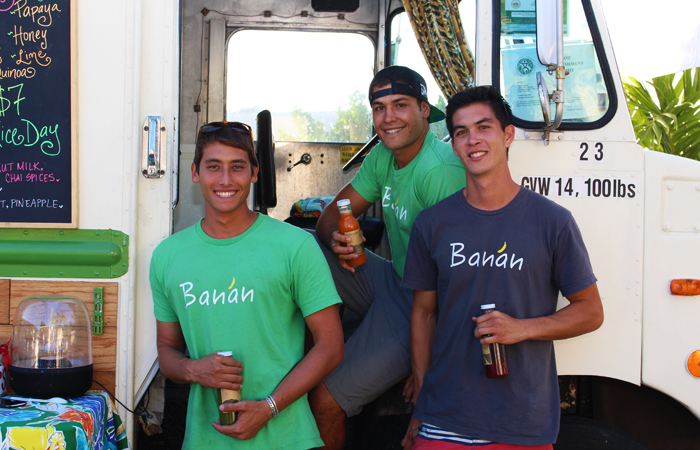 Banan
3212 Monsarrat Ave.
Monday-Friday 11 a.m.-6 p.m.
Saturday-Sunday 9 a.m.-6 p.m.
bananbowls.com