Something new: Aloha Tofu Town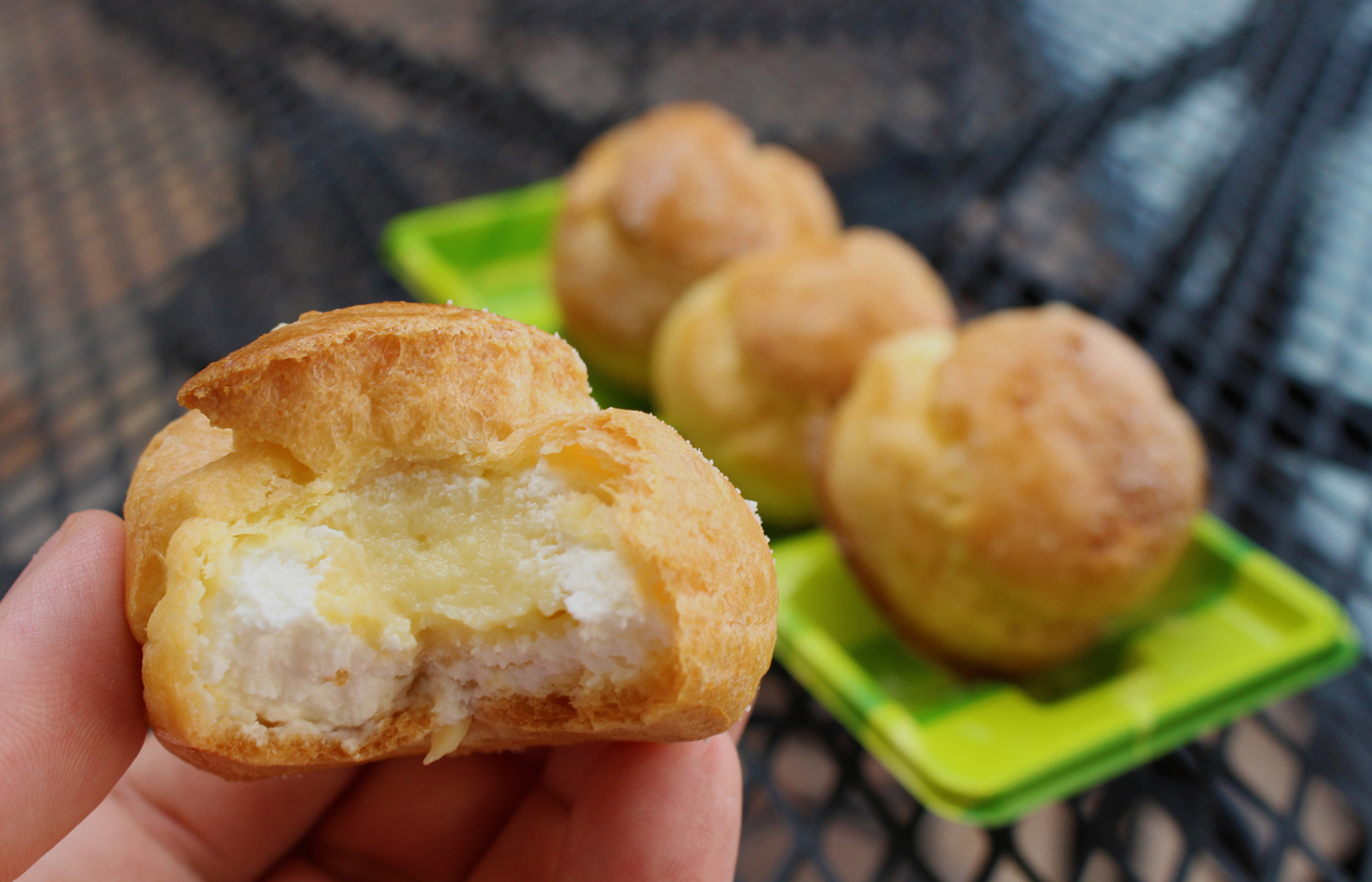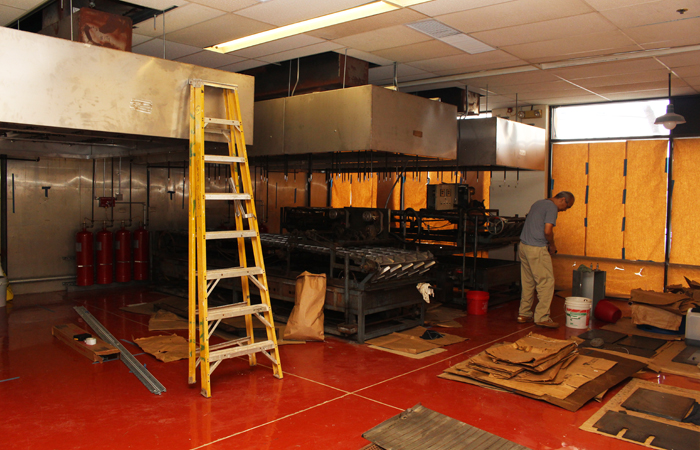 Until recently, I never really thought the words "tofu" and "plate lunch" belonged in the same sentence. They seem like opposite ends of the spectrum: One is healthy and the other, not so much. Then I heard Aloha Tofu had opened a plate lunch place — and it was supposed to be very good. I headed to Dole Cannery the first chance I got.
It turns out that after Kanai Tofu closed in 2011, Aloha Tofu owners Paul and Misa Uyehara looked for a location to step up production of their aburaage fried tofu skins and discovered a 5,000-square-foot space at Dole Cannery. That's good news, since Aloha is a third-generation family business and one of the few remaining local tofu makers. And since customers had been asking to buy prepared tofu dishes (Aloha puts a lot of tofu recipes on its website), the Uyeharas created a cozy takeout spot for plate lunches, bentos, musubis and sweets.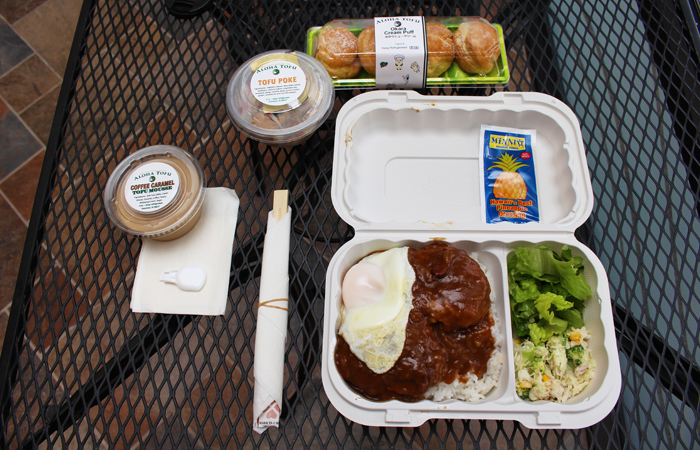 I found Aloha Tofu Town in the same building as the Dole Cannery Theaters and Tachibana Enterprises golf shop. Customers can park in the theater parking and get two hours of free validation. Since opening on Jan. 6, Aloha Tofu Town is open only for lunch (for now) from 11 a.m. til 2 p.m. I asked if they had plans to serve dinner, since movie-goers (myself included) would love a spot to grab a bite. Misa Uyehara's response was promising: "We hope to allow other restaurants to serve meals out of our kitchen as a pop-up restaurant space," she said.
Tuesday's special was an Aloha Tofu loco moco. Tofu is mixed in with ground beef to form the two patties that come in a regular order ($8) topped with an egg and a hearty demi-glace. The patties are incredibly tender, unlike a pure beef patty that tends to get very firm when cooked. The loco moco retains a strong beef flavor that is enhanced by the thick and savory demi-glace poured all over. Had I tasted this when making my Top 5 loco moco list, it would definitely rank up there with the best.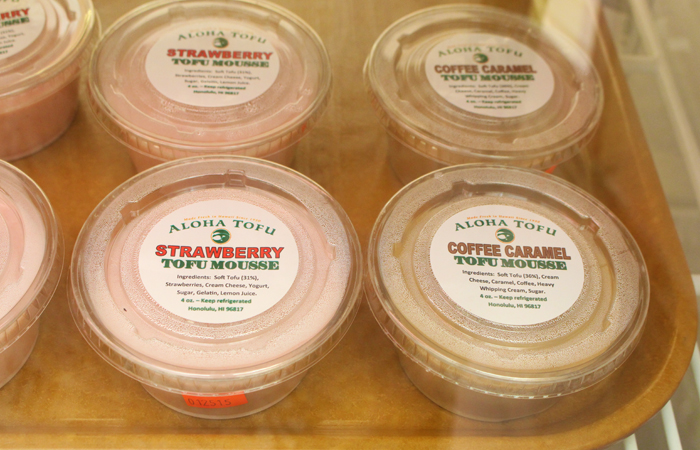 Along with the loco moco, I sampled the tofu mousse, okara cream puffs, tofu poke and sesame soybean musubi.
The musubi is the best musubi I've had in Hawaii. Mochi rice is mixed in with your standard grains, and the rice ball is then flavored with an umami-packed sauce of seaweed, sesame oil, shoyu, sake, mirin and dashi.
I was pleasantly surprised by the airiness of the sweets — then found out they were crafted by the masterful hand of a former pastry chef at Tokyo's elite Hotel Okura who is best known for serving her cheesecake to the emperor of Japan.
Uyehara notes that they are hoping to expand their menu after they work out the kinks of getting the factory up to speed. She is especially looking forward to roll cakes.
I'm impressed with the quality of the food at Aloha Tofu Town. Each item is meticulously prepared to a high standard and satisfies. The only downside is their selection could be bigger, but that will come with time. I hear good things about their Aloha Friday bentos (they take pre-orders via phone or fax) and look forward to enjoying one this Friday.
Aloha Tofu Town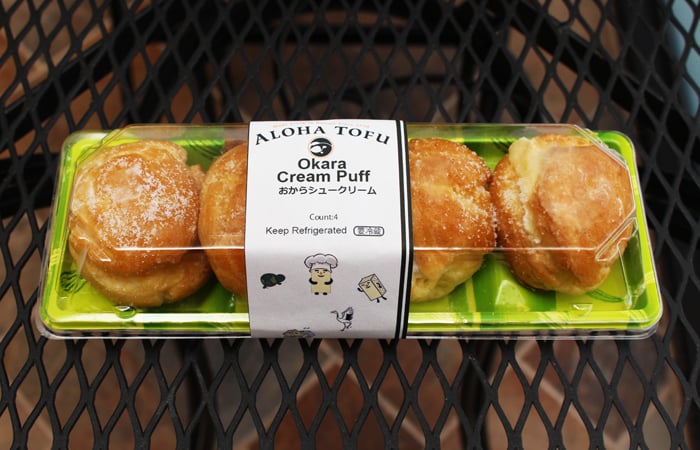 Aloha Tofu Town
735 Iwilei Rd.
Monday to Friday 11 a.m. to 2 p.m.
808-845-2669