Something new: Aloha Cones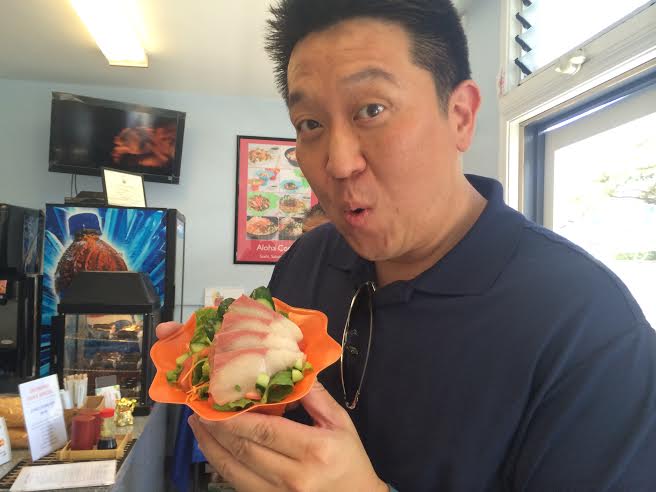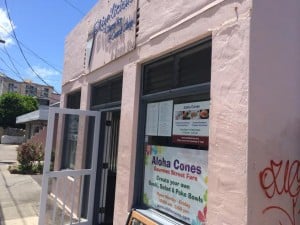 Just when you thought Honolulu's poke market couldn't get any more saturated, along comes Aloha Cones. Located in the humble pink building on Kinau Street between Beretania and the H-1 off-ramp, Aloha Cones specializes in poke bowls, sushi bowls and salads with high-quality fish. But not just bowls: It serves them in shave ice flower cones. After a friend told me about this, I had to check it out.
Your first glance might make you nervous. There's just a one tiny bench inside and one outside, so you're not likely to dine in. And the Shigalicious shave ice counter that shares the space might make you wonder if you're in the right place.
But that's where the synergy happens. Put in your order, and they'll grab a cone from the shave ice counter and fill it with savory goodies. I have to admit that taking lunch outside to eat was not only convenient but fun. You can also opt for traditional takeout boxes.
And my next question: Can you trust a place that serves poke in shave ice cones to provide quality fish? Luckily, the answer is a definite yes.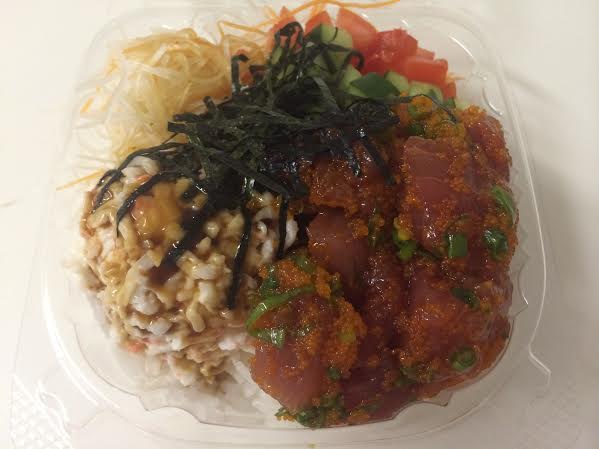 I had to try one of everything on the menu, so I ordered the hamachi sashimi salad, wasabi masago poke bowl, unagi sushi bowl and a sushi set that was the special of the day. All mini orders are around $6 (full orders are $9 to $10) and the daily sushi special was $9. The poke and sushi bowls came with crab salad, diced cucumber and tomatoes and a tasty daikon garnish over sushi rice. I was able to try all of my favorite types of fish and I have to admit that I was pleasantly surprised. The poke was super fresh and delicious and the fish was of high quality, better than I've had at other affordable sushi restaurants. I also thought the crab salad and vegetables were a great complement to the fish.
Parking is a little bit of a challenge (there are a few spaces in the back), but given the prices and quality, I will be going back to satisfy my frequent poke and sashimi cravings.
Aloha Cones
725 Kinau Street
808-861-0888
Hours: 10:00 am to 2:00 pm Mondays – Saturdays
http://alohacones.com
More posts: Something new
Ethiopian restaurant in Kapahulu
Baker Dudes