Something new: Aloha Beer brewery and tap room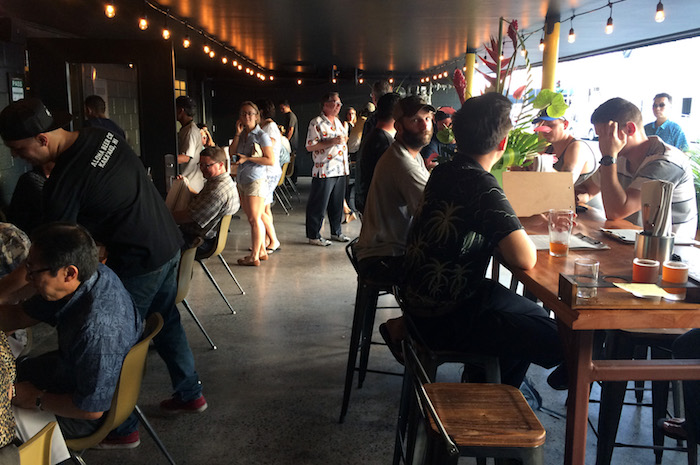 By Will McGough
Special to Frolic Hawaii
The line was out the door Thursday evening when Aloha Beer Co. tapped its kegs in its brand-new location on Queen Street in a much-anticipated revival.
A few minutes after the 4 p.m. opening the taproom was already half-filled, the vibe and chatter swelling around me. The crowd ordered so many samplers of Aloha's 10 new beers that the crew ran out of the racks that hold the small glasses. That's a good sign for the new incarnation of Aloha Beer.
You might remember its old location on Nimitz, an operation now referred to as "Big Aloha." It closed in 2013, struggling from organizational issues. At the time, some of its beer was being brewed in California.
Dave Campbell, director of brewery operations and a Hawaii craft beer veteran, says the new Aloha Beer is so different that he considered changing the name. "Once people come in, they'll see," he says. "This place was designed through a brewer's eyes. Everything in here reeks of craft, and all our beer is going to be brewed right here in Hawaii from now on."
He's right. Though the styles are reminiscent, the new recipes taste better and are more in-tune with modern-day, complex craft beer. Two of my favorites were the Brown Under, made with Australian hops, and the Hop Lei IPA, whose aroma, while not overpowering, hits you gently like a "hop lei" around your neck.
The taproom is where you find the main bar. Its rustic industrial design has standouts like an old mechanic's rack, 1960s bowling alley chairs and beer-nerd artwork, like the patent for the pull-tab can.
But my favorite section is the outside seating, which Campbell calls the carport. The taproom feels like a craft beer pub; the carport is Hawaii in a nutshell—having a cold one under the roof, watching the world go by.
Beyond the beers are extensive food and cocktail menus. Brad Miller, formerly of Monkeypod Kitchen, heads up the only cocktail program at a local brewery. It helps give Aloha a "zero veto factor," he says, meaning that friends with different drinking interests could all gather there. Personally, I don't think Miller is giving himself enough credit. Some cocktails incorporate Aloha's beers, and the Smoked Fatty is made with rendered fat that is shaken in and then removed to "provide a mouthfeel."
The food menu was created by Robert McGee of Pono Pork (and formerly of Whole Ox Deli and 12th Avenue Grill). All the food is cooked in a food truck that's parked in the warehouse. Since pork is what McGee is known for, I recommend the Smoked Butt Sandwich, which is smoked for 24 hours and served open-face ($12). Locally made bratwurst and currywurst are also featured, as well as a build-your-own steak fry snack with topping options such as meaty gravy, gruyere fondue, and lamb shavings.
Aloha Beer is two blocks from the Historic Honolulu Brewing and Malting Company Building and close to the former site of Primo's Cooke Street brewery. These two dominated Hawaii's beer scene, especially during the war, when mainland import of beers stalled. Campbell hopes the presence of Aloha and other nearby craft breweries can help reestablish Kaka`aka as the center of the Hawaii beer world.
One other nerdy and endearing thing I wanted to share with you: Campbell's late stepfather used to work in the exact same building until 1992, for a company called Royal Hawaiian Paba Tan. When you walk in the front door, look down and to the left. You'll see old track marks on the floor. That was the outline of his office. Behind the seats against the wall, where that office would have been, they buried a capstone of photos and mementos in his honor.
There's one more treat to come in about a month when Aloha opens a cocktail lounge on the second floor. It's going to be modeled after a gentleman's club with a cigar lounge feel: plush seating, vinyl records, a fireplace and a mounted deer head. We'll tell you more when the time comes.
In the meantime, go and show these guys some aloha. They deserve it.
Aloha Beer Company
700 Queen St.
544-1605
4 to 10 p.m. Monday to Wednesday
4 to 11 p.m. Thursday to Saturday
Parking: Free in the lot on the Ewa side of the brewery after 5 p.m.; street parking before 5 p.m.
alohabeer.com