Something crispy: Tonkatsu Tamafuji
Tamafuji is not your average katsu joint.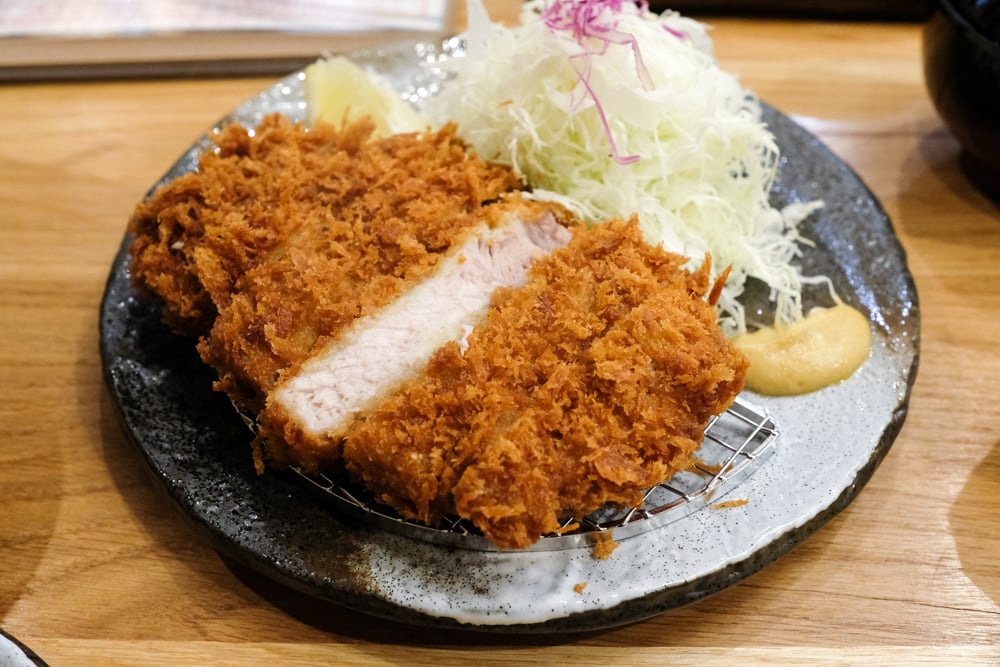 Wow. Just when we thought Honolulu's appetite for Japanese chain restaurants was satiated, BOOM. Hokkaido's Tonkatsu Tamafuji opened Saturday on Kapahulu with succulent pork cutlets and bottomless bowls of premium rice and shredded cabbage. Something tells me we're not full yet.
Tamafuji is not your average katsu joint. Everything from the menu book to the dishware and, of course, the ingredients reeks of quality and the prices reflect that. But don't let this discourage you from experiencing some of the best tonkatsu in Hawaii.
It all starts with a steaming hot, slightly perfumed towel for your hands – a very nice gesture that gets high marks in my book. I came in during the opening weekend as the staff was getting their bearings, however, I was very happy with the attentive service and their willingness to suggest items from the menu.
Each teishoku set includes your choice of miso soup (red or white, with clams, Japanese negi leeks or tofu) and premium rice. The selection includes white, mixed rice with clams and dashi, or five-grain with a hint of wasabi. The best part? Rice (and cabbage) is unlimited and you may select among all types. After placing your order, you get a small mortar and pestle so you can grind freshly toasted sesame seeds for your tonkatsu sauce, which you also have a choice of.
---
SEE ALSO: Farmers market finds: Katsu sandwiches at Kakaako
---
Three dishes brimming with umeboshi, takuan and pickled baby nasu from Hokkaido also arrive, giving you a sense that this place does not mess around. Unlimited tsukemono pickles? Hai, onegaishimasu!
Sauce fanatics will love the fact they can go hog wild with two different tonkatsu sauces. The red pot contains the sweeter style which is reminiscent of apples and tomatoes while the blue pot holds the tangier, vinegary Worcestershire-style sauce. Both are equally oishii – I ended up using them to dress my katsu.
---
SEE ALSO: Best chicken katsu: Our Top 5
---
Now for the main attraction, the tonkatsu! The menu is divided up by pork loin, pork tenderloin, shrimp katsu, oyster katsu and various combos, rice bowls and side dishes. We're focusing on the pork for now.
Your hunger level will determine the size you choose. I order the Goldilocks portion of 8.5 oz (basically half a pound) – not too big and not too small. When it arrives, I am shook. This is massive for one person, but I gulp and hope I won't die.
I take a bite … and experience pure and absolute bliss as I sink into my chair. My eyes dart around the room looking for Charlotte's web because man, this is some pig! Both the juicy cutlet's interior and its fluffy fried exterior are just remarkably well done.
---
SEE ALSO: Chicken is the star of Pearlridge's new tonkatsu curry joint
---
There are several reasons why this tonkatsu is superior. Tamafuji uses jyukusei pork loin that has matured for 15 days, allowing the meat to become tender and the juices to concentrate, enhancing the flavor. They also make their own panko breadcrumbs, by aging La Tour Bakehouse pullman loaves for four days and pulverizing them as needed. Additionally, the blend of oil is proprietary and the katsu is fried in large copper pots for even cooking.
My second bite is as blissful as the first. This thick slab of pork is cooked perfectly end to end and there is virtually no toughness. The breading sticks very well to the pork.
Why is it that tonkatsu sandwiches are so appealing? I mean, I order one knowing I already have half a pound of pork on my ticket. The tenderloin is basted in tonkatsu sauce before it's cocooned in the same soft pullman bread with the crusts cut off – very Japanese. The verdict? I could eat these all day long.
---
See also: #TrashyGourmet: Furikake Spam, chicken pot pie, youtiao shoyu hot dog
---
Unfortunately, the same cannot be said about longtime katsu king Tonkatsu Ginza Bairin. Compared to Bairin, Tamafuji's katsu is juicier, porkier and delicately crispier. Both suffer from a soggy bottom, but that is to be expected when steam and crispy food cross paths.
Plus, your dollar goes farther on Kapahulu than at Bairin. Bairin's 180g (6.3 oz) thick-cut tonkatsu set runs you $24, while the equivalent set is $19.50 at Tamafuji.
As a longtime fan of Bairin, I am shocked to declare there's a new katsu king in town and his name is Tamafuji.
Open weekdays, 4 p.m. to 9:30 p.m., and weekends, 11 a.m to 2 p.m. and 5 to 9:30 p.m., closed Tuesdays, 449 Kapahulu Ave., (808) 922-1212, https://tamafuji-us.com/, @tamafuji.honolulu