Sodas, Ginger Beers and Other Non-Beer Beverages from Honolulu Breweries
Beer Lab Hawai'i, Bitter Root Brewery, Maui Brewing and Ola Brew have a variety of tasty brews that will keep you sober.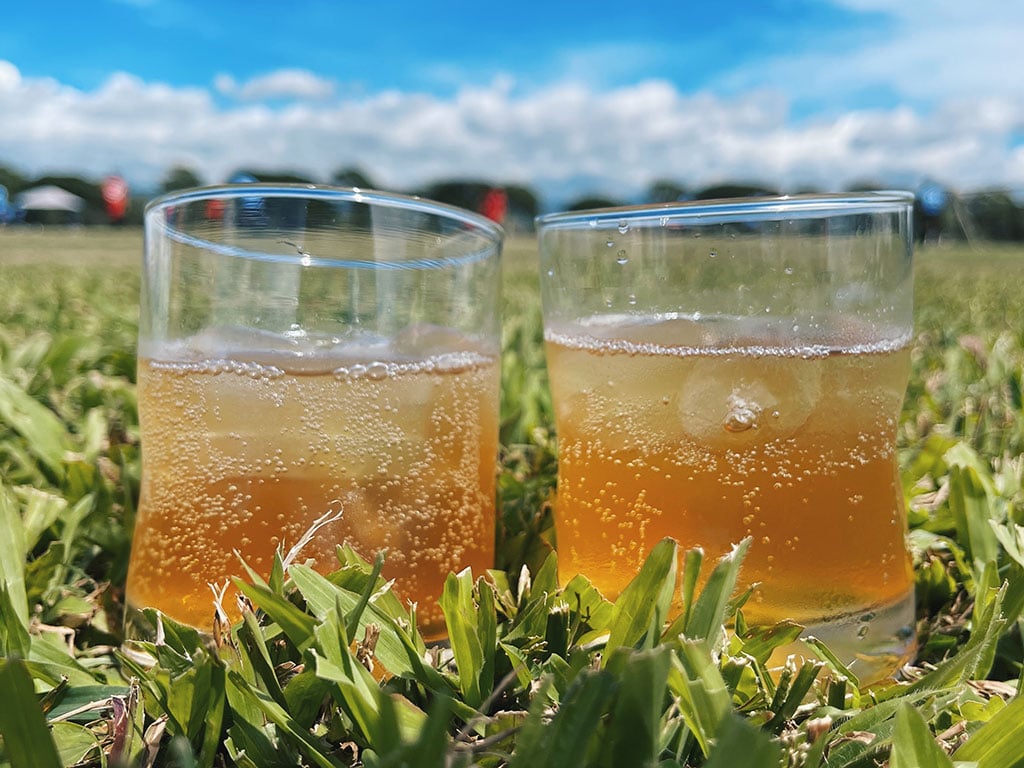 Breweries, by definition, make beer. In Hawai'i, though, a few of them produce alternative drinks, some without beer, others made using similar brewing techniques to beer but with different ingredients. So whether you abstain for your health or because you just want to have a fun time while staying sober, it's a good bet you'll find a locally produced drink there for you. Here are some examples of new things to try:
Beer Lab Hawai'i's Kombucha & Jun
As Beer Lab Hawai'i's name implies, this brewery is all about experimentation. You can find two related beverage types on draft at its three locations: kombucha and jun (subject to availability). Kombucha is a fermented, light effervescent sweet black tea. The drink has live cultures of probiotic organisms that aid in digestion. With a negligible amount of alcohol (usually 0.5% alcohol by volume or less), Beer Lab adds other flavors for a refreshing treat. As of this writing, the brewer has two on tap: Multi Gummy Kombucha with gummy worms, gummy bears and Sour Patch Kids; and The Refresher Kombucha with cucumber, lemon and mint. Prices are lower than beer at 4 ounces for $1.50 or a full 12 ounces for $4.50; growler and crowler fills are also available. If you want to cut the carbs or alcohol of a beer, ask your bartender to recommend a blend of kombucha with one of the beers on tap (especially complementary sour ales). Related to kombucha, jun is a naturally fermented drink made with green tea and raw honey. It also has live cultures of probiotic organisms. As no other breweries in the state currently make either of these drinks, it makes for a unique tasting experience. This one more rare, so keep your eyes peeled for these releases.
---
Bitter Root Brewery's Hard Ginger Beer
Founded by four University of Hawai'i at Mānoa graduate students as a hobby, Bitter Root Brewery (BRB for short) is currently pouring its O.G. Original Ginger Beer on draft at golf tournaments and other events on O'ahu. The O.G. recipe was developed during a fermentation biochemistry class by Nick Sinclair. Coming in at 6.5% ABV, it packs a double bite with the locally grown ginger (price is by donation). Sinclair, Mark Oandasan, Angel Valdez and Nick Cetraro are starting a fundraising campaign in the next few months as they plan their brick-and-mortar brewery and taproom. Their mission is to create 100% locally made beverages with all locally sourced ingredients in partnership with local farmers, students and small businesses. Future drink selections include chile ginger beer, turmeric ginger beer and mushroom ginger beer.
---
Maui Brewing Company's Soda
Soda, pop, soft drinks; regardless of what you call the classic bubbly beverages, many breweries offer non-alcoholic varieties to make dining experiences inclusive for the whole family. For those with a sweet tooth, Maui Brewing Company makes two sodas: The Island Root Beer is brewed using cane sugar, local honey and Hawaiian vanilla, and along with cane sugar and local honey, the Island Ginger Beer is made with locally grown ginger. Cans ($2 single or $10 four-packs on average) are available across the state and are great options for cocktail mixers (bonus, Maui Brewing Company also has a distillery, Kupu Spirits). The sodas are also available fresh from the tap at the company's four locations.
---
Ola Brew Co.'s Hard Tea
Ola Brew from Kailua-Kona got its start with fruit and fruit juices. While it has expanded since to include brewing beer, cider and seltzers, it continues to make other uniquely-Hawai'i beverages. Its range of organic hard teas are brewed using Kona coffee leaves as the base and all come in around 4.3% ABV. The three flavors are Hawaiian Lemongrass Mint, with locally grown lemon grass; Hawaiian Orange Zest, with locally grown oranges; and Hawaiian Tulsi Berry (also known as holy basil, tulsi berries are common across the Pacific). While all are available on tap at Ola Brew's taprooms in Kona and Hilo, the cans are also widely available at grocery and liquor stores statewide ($3 single and $12 six-packs on average).