Shokudo's Honey Toast Just Got Crazy with New Monthly Milk Cereal Flavors
Starting this month: Huge bowls of ice cream and honey toast in flavors like Fruity Pebbles, Lucky Charms and Cocoa Krispies.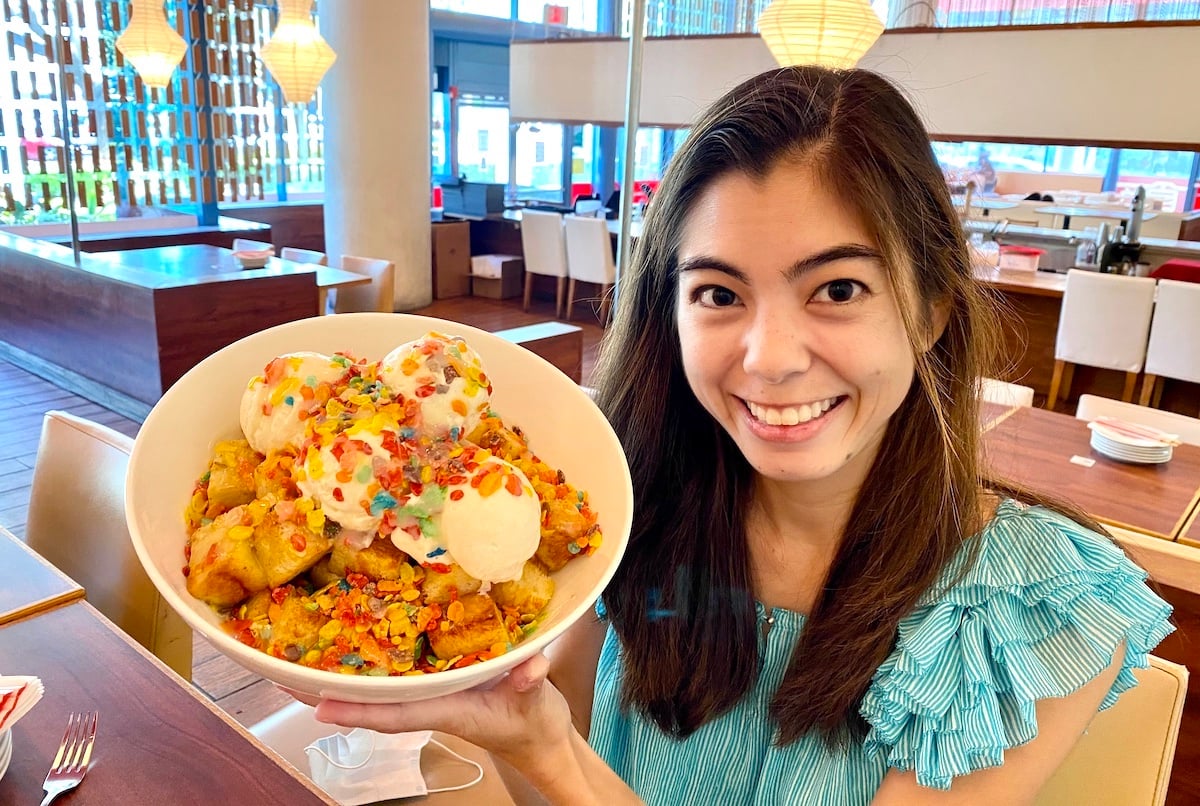 What kid doesn't love cereal? My fave was Lucky Charms—I would diligently eat all the cereal first and savor the pile of marshmallows at the end. So you can imagine my excitement when I saw Shokudo Japanese Restaurant's Instagram post announcing a new Milk Cereal honey toast series.
Shokudo usually introduces a new honey toast flavor every March to celebrate the restaurant's anniversary. Now, starting with Fruity Pebbles honey toast in April, the eatery plans to feature a new cereal-inspired honey toast every month for the rest of the year.
This deconstructed milk cereal honey toast differs from the original in several ways. First off, it's massive: Instead of a two-slice stack topped by ice cream, this version has four scoops of Roselani ice cream and three slices of Japanese white bread toast in an $18 bowl meant for four to six adults. Plus a good sprinkle of Fruity Pebbles, of course. And this one's minus the crusts, which Shokudo operations director Justin Mizufuka says most people leave behind anyway. "Eating a bowl of sugary cereal in the morning as a child is nostalgic," he says. "We want to take our customers back to that moment."
The house-made milk cream sauce is the game-changer, inspired by the sugary milk that's left at the bottom of the bowl once the cereal is gone.
This is a birthday party all by itself, whether you're eating with friends or, like me, indulging solo at a preview tasting. The cubed toast pieces are spongy-soft while maintaining a slight crisp, and liberally coated with sticky, sweet milk cream sauce reminiscent of melted ice cream. The cereal doesn't get soggy, even after the bowl has waited out 15 minutes of questions and photo-taking. And the Fruity Pebbles at the bottom stay crunchy long after the ice cream has melted. It's a colossus that practically dares sweet tooths and dessert fiends to dig in.
In coming months, there'll be flavors like Lucky Charms, Cinnamon Toast Crunch and Cocoa Crispies. Talk about magically delicious.
Open Sunday to Thursday from 11:30 a.m. to 10 p.m., Friday and Saturday from 11:30 a.m. to midnight, 1585 Kapiolani Blvd., (808) 941-3701, shokudojapanese.com @shokudojapanese