Shirokiya's newest shop has loaded fries with attitude
Ono Fries' crazy toppings include chicharrones, different cheeses and housemade chili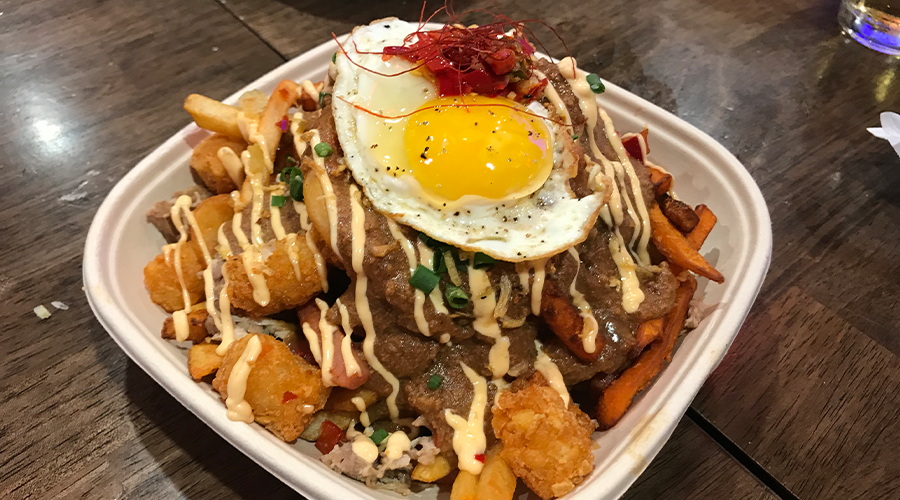 As a college student, I get tired of the same old, straight-cut fries. My university cafe serves potato wedges from time to time, but even those get meh. So I'm always on the lookout for places that serve fries with a little more pizzaz. I'm talking about fries loaded with not-so-common toppings, like lechon kawali and bacon.
What if I told you a place like this exists in Shirokiya?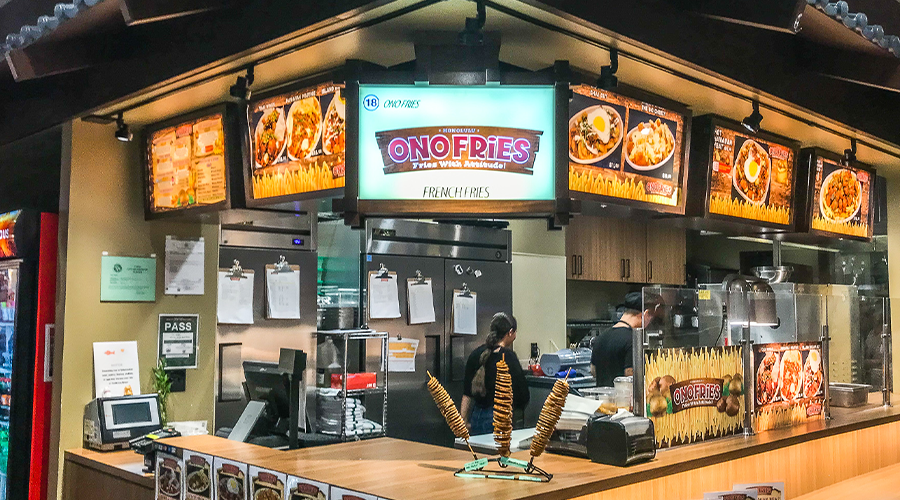 In the middle of the Japanese food maze is a fried potato heaven. Ono Fries is in the aisle next to Takoyaki Yama-chan. If you see the spiral sticks of potatoes on the counter, you've reached the right place. Ono Fries is Shirokiya Japan Village Walk's newest stall. It opened at the beginning of July and is still a hidden gem. We got treated to a media tasting.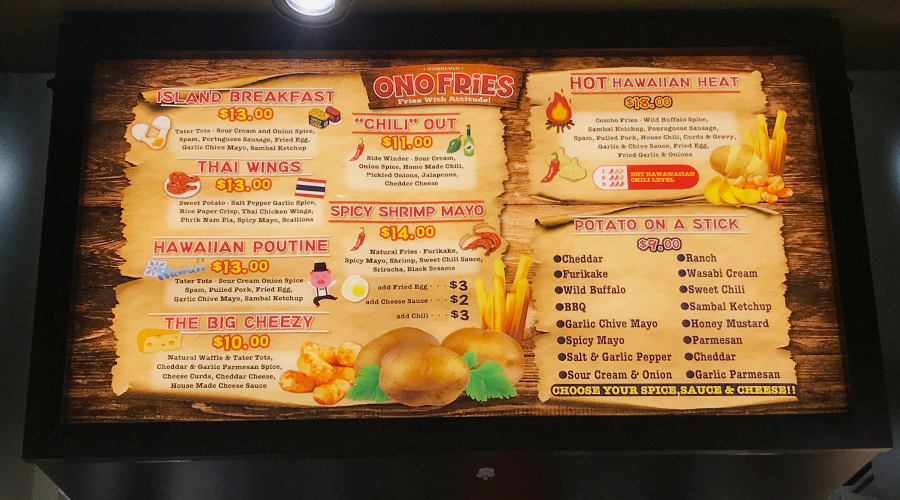 The shop has seven specialty fries on the menu. You can also get the trendy Potato on a Stick, a spiralized potato seasoned with the spice of your choice. Eventually, Ono Fries plans to offer customized options where you'll be able to choose your own fries, toppings and sauces.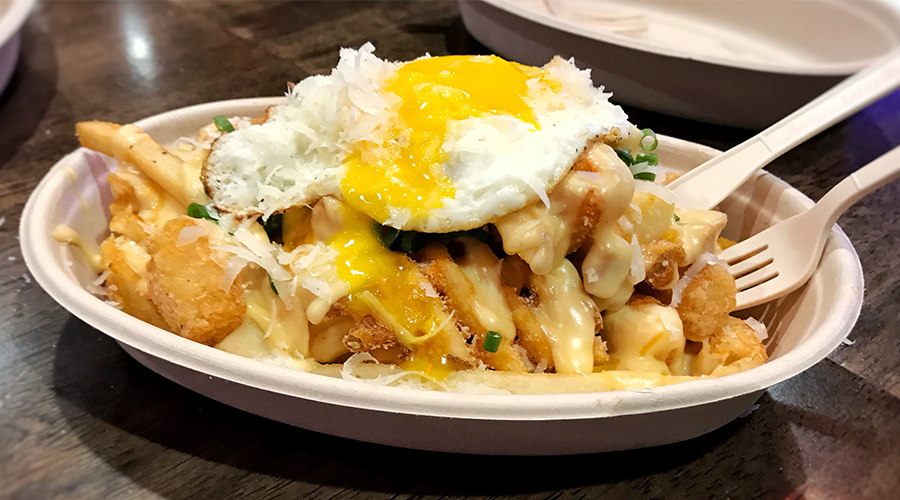 If you're like me, cheese on any food is a weakness. Just thinking about the Big Cheezy ($10) makes my mouth water. Picture natural-cut fries, waffle fries and tater tots seasoned with cheddar and garlic parmesan. Cheese sauce made in-house smothers the fries, and there's a huge serving of cheese curds and cheddar cheese. As the grand finale, Pecorino cheese tops off the dish. If you're feeling extra, add an egg for $3. With four cheeses and three different cuts of fries, the Big Cheezy sounds overwhelming, but it's not. Each bite has a unique texture and taste, thanks to the different fries and cheeses. This is truly the 2.0 version of cheese fries.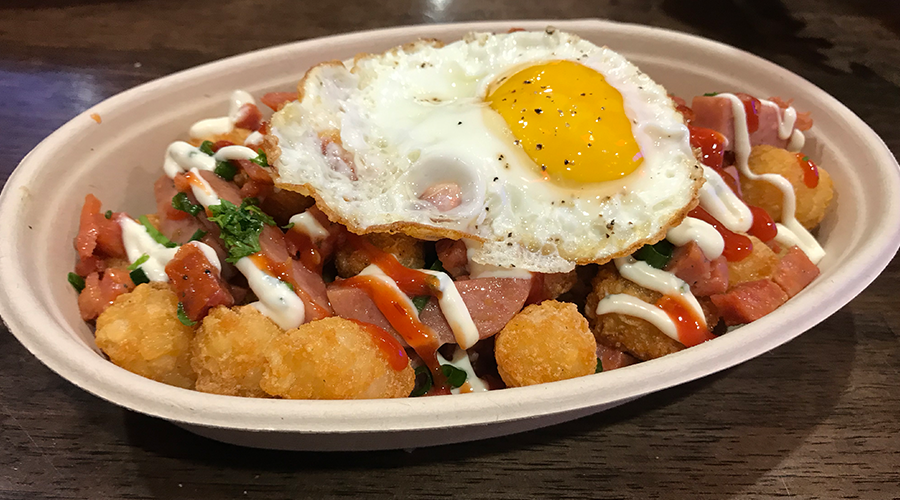 The Island Breakfast ($13) is the embodiment of comfort food. Imagine local-style fried rice, but with tater tots. This dish can satisfy your breakfast craving way past the morning. It comes with local breakfast essentials like Spam, Portuguese sausage and a fried egg. Crispy tater tots seasoned with sour cream and onion spice ties the dish together.
Each bite of Spam and Portuguese sausage reminds me of the Saturday morning breakfasts of my childhood. The tater tots make me think of weekend brunches in college. Since rice for breakfast is a foreign concept on the Mainland, tater tots are my go-to side. Eating this makes me feel like childhood me is merging with college me. I will definitely be sneaking in Spam and Portuguese sausage to the cafeteria to recreate this concoction when I go back to school.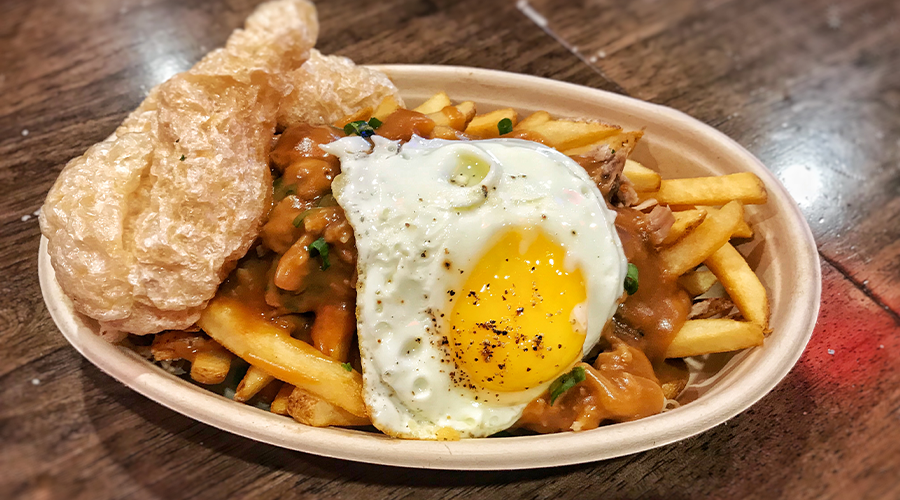 This is the Hawaiian Poutine ($13), a local twist on the Canadian staple. It starts with natural-cut fries with a generous portion of kalua pig. Somewhere in that pile, there's a mound of cheese curds. Then comes the star of the show: Brown gravy is poured all over the plate, drenching everything. Freshly fried chicharrones are the crowning glory. Yes, Ono Fries makes pork rinds right there in the stall.
The Filipino in me couldn't help but gasp in excitement at the sight of the chicharrones on top. If I could have, I would have replaced the fries with more chicharrones. This dish is super savory and is not meant for light snacking.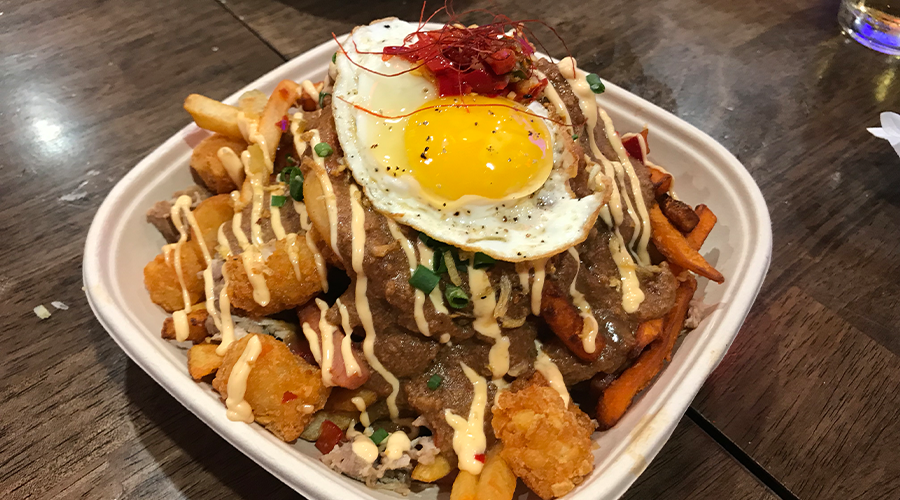 If you're sharing with a large group, get the HOT Hawaiian Heat ($18). It's a two-and-a-half-pound mountain of everything Ono Fries serves, so get ready for a long list. There's a solid base of natural-cut fries, tater tots, waffle-cut and sidewinder fries (curly fries' thicker cousin), all seasoned with wild buffalo spice. Then come the meats: Portuguese sausage, Spam, pulled pork and chili. Sambal ketchup, garlic and chive sauce are drizzled on top. Finally, fried garlic, onions, chili pepper flakes and a fried egg complete the dish.
This is called HOT Hawaiian Heat for a reason. Three spice levels are available; my fries are at level two heat. I love spicy food, but I couldn't tolerate this well. It's not spicy enough to make my eyes water, but each bite builds up a slow burn.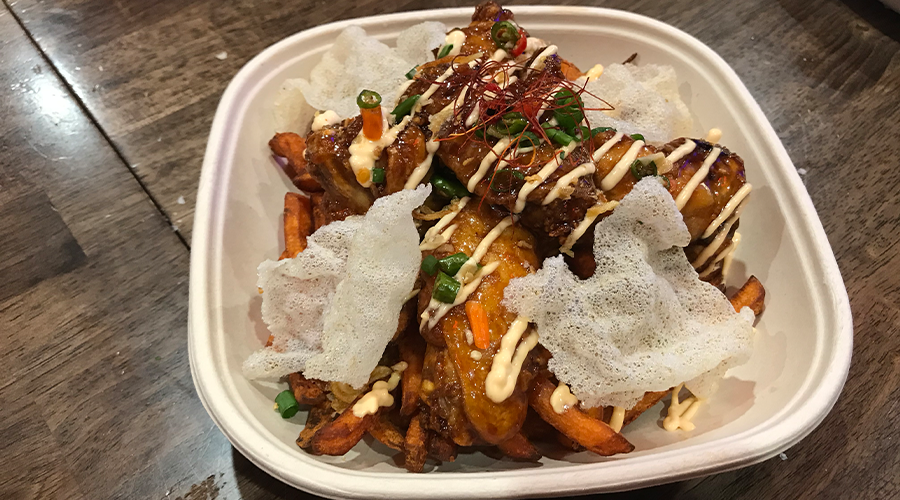 Other notable dishes include Spicy Shrimp Mayo (fried popcorn shrimp drizzled with sweet and spicy sauces, $14) and Thai Wings ($13). If you're a fan of sweet potato fries, the semi-spicy Thai-inspired chicken wings pair nicely with the sweeter fries and the deep-fried rice paper topping adds an extra crunch. For a more traditional option, Chili Out's ($11) thick sidewinder fries don't get soggy in all the chili. Plus, Ono Fries' house-made chili is beanless, a win for non-bean lovers like myself.
Now I can rest assured knowing that next time I come home from school, I have a go-to spot for fries. If you're 21 or over, grab a seat near the beer garden and enjoy your loaded fries with a cold one for the ultimate comfort combo.
Ono Fries
Shirokiya Japan Village Walk
1450 Ala Moana Blvd.
973-9111
onofries.com/#section-home
Daily10 a.m.-10 p.m