Shaka or no shaka? Da 7 new snacks we tried
Teriyaki chips, boba popcorn, Bubbie's new ice cream: What they going think of next?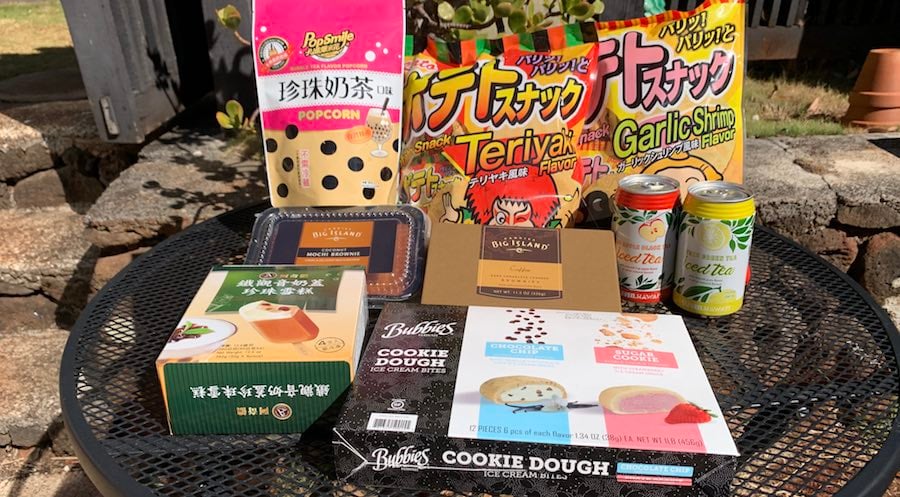 I love it when companies come out with fancy twists on familiar snacks. But will these new experimental-kine snacks have staying power? Read on for find out my 411 on seven snacks that make you wonder: What dey going tink of next?
Da ratings
Double shaka: Supa-ono! So addictive. #nomonomoono
Shaka: Ono. Chance 'em! Try this for your own good.
No shaka: No ono.
Oolong Tea Boba Ice Cream Bar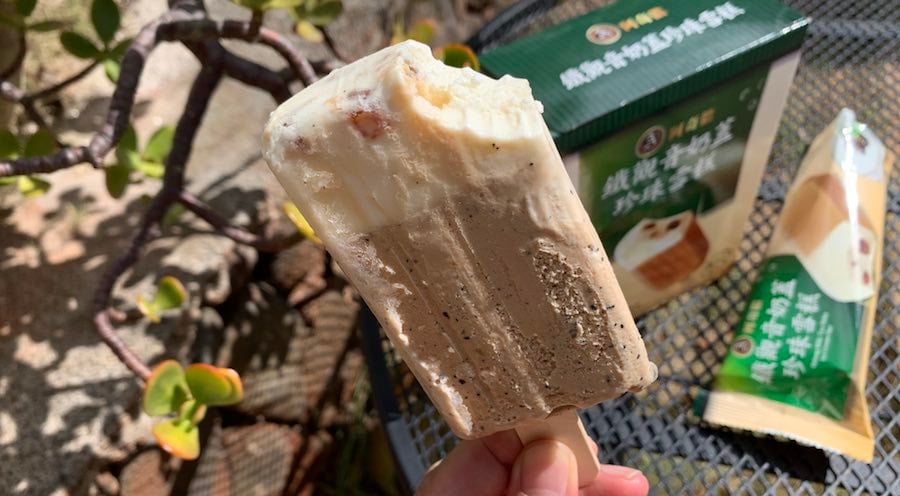 I wuz curious if this wuz gonna blow up and be mo' bigger than da Brown Sugar Boba Ice Cream Bar that Frolic's Thomas Obungen wuz raving about? Could this be da next big ting? Took me super long for find Thomas' brown sugar one cuz wuz sold out at Palama Market and 7-Eleven for da longest time, so I took a chance and bought one WHOLE BOX, in case no can find later.
This one I got at Foodland. It's less sweet. Da sweeter, creamier part stay on da top and da oolong part stay on da bottom. I kinda wish they had halved it da long way so you could enjoy da two parts simultaneously. I only got to enjoy da combination when eating da middle part. As I eat these boba bars, I'm starting to tink I like boba more in ice cream than in drinks. If you enjoyed da brown sugar boba one, I tink you would appreciate this one too. It's like chocolate and vanilla, right. One no need be bettah than da oddah. We can love both.
Where: Foodland
Cost: $7.99
Rating: Shaka
See also: What I found at Palama Market: Brown sugar boba ice cream bars
Big Island Candies Dark Chocolate-Covered Coffee Brownies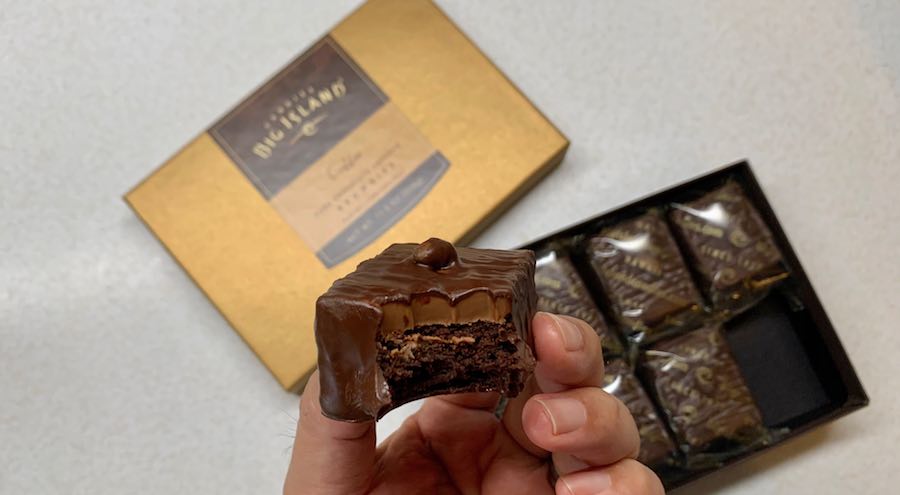 Back in da day, before Big Island Candies came to Ala Moana Center, they used to be only in Hilo. Christmastime I would order their Milk Chocolate-Covered Peanut Butter Brownies and their Chocolate-Covered Mint Brownies from their mail order catalog for give to friends. Naturally I would order extras in case. For um, emergency gifts. People wuz always super happy for receive da brownies cuz back then people wuz only familiar with Big Island Candies' shortbread cookies.
I still get excited when they come up with new stuffs. These new Dark Chocolate-Covered Coffee Brownies nevah disappoint. I really enjoyed da combination of dark chocolate and Kona coffee. I like how wuz even extra fancy because each one had one coffee bean in da center. This is one high-class brownie, brah. Da perfect gift. . . for others. And for yourself too.
Where: Big Island Candies
Cost: $15.50
Rating: Double shaka
See also: Broke da mouth: Who makes da best chocolate-covered coffee bean?
Big Island Candies Coconut Mochi Brownie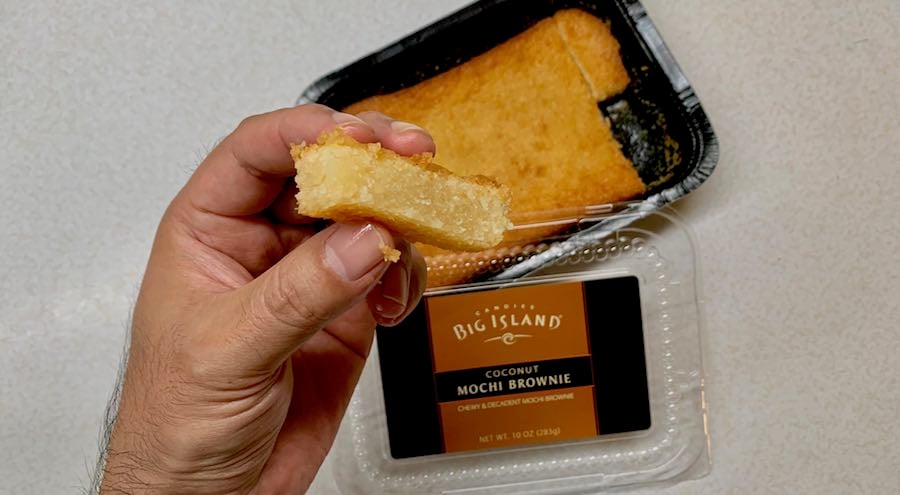 I kinda wondered what this would be like. Would it just be like butter mochi? Cuz that would make it just really expensive butter mochi.
Because it's almost like butter mochi, it's hard not for make da comparison to regular butter mochi. It definitely wuz different. Wuzn't as chewy as butter mochi. Had some chewiness from da shredded coconut inside, but I kinda wished it leaned more toward mochi than brownie in terms of da texture. I asked my butter mochi expert friend Chloe, who claims for make da best butter mochi, what she thought. All she said wuz "Hmmm, interesting." So I asked her, which one you raddah have, this or butter mochi? She immediately responded, "Butter mochi of course!" And I tink I agree.
Where: Big Island Candies
Cost: $12.75
Rating: No shaka
Fuji Apple Black Tea Iced Tea and Yuzu Green Tea Iced Tea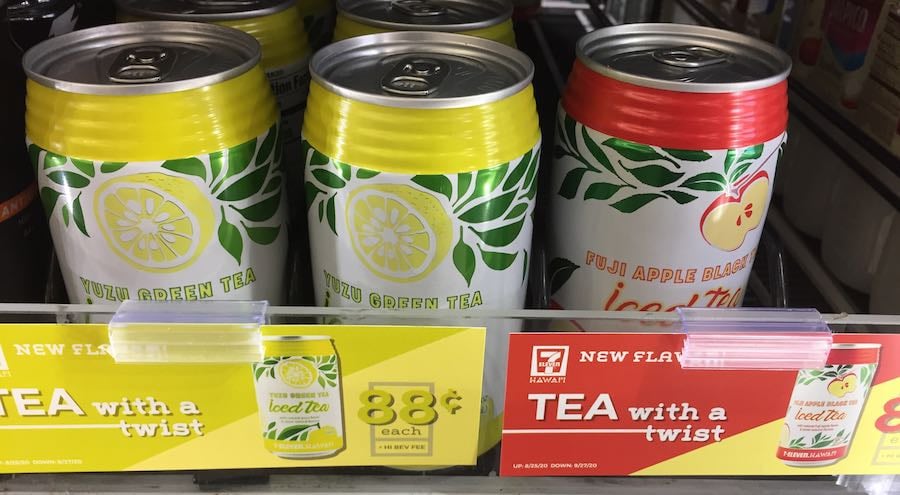 It's like they invented these fancy tea drinks just for me! I no normally go to fancy kine tea joints, cuz I hate being presented with uku-too many tea options. How I supposed to know what goes with what and how much sweetener I want? My worry is I going choose junk and waste my $5. So when I saw these 7-Eleven Hawaii exclusive canned drinks I wuz down for trying 'em. I figure 7-Eleven must've perfected their formulas, right? Plus at only 88 cents a can, das not bad.
I dunno how they did 'em, but da Fuji apple one tasted like Fuji apple. And da yuzu one even had notes of mandarin orange like real yuzu. With roughly half da sugar of one can of Pepsi, these had just da right amount of sweetness. While they wuz both good, I tink I preferred da Fuji Apple Black Tea one. But da one I tink I would've liked da most is if they had made one third option, Yuzu Black Tea! So until they come out with that, maybe you might actually see me at one of those fancy tea places.
Where: 7-Eleven Hawaii
Cost: 88 cents
Rating: Shaka
PopSmile Bubble Tea Popcorn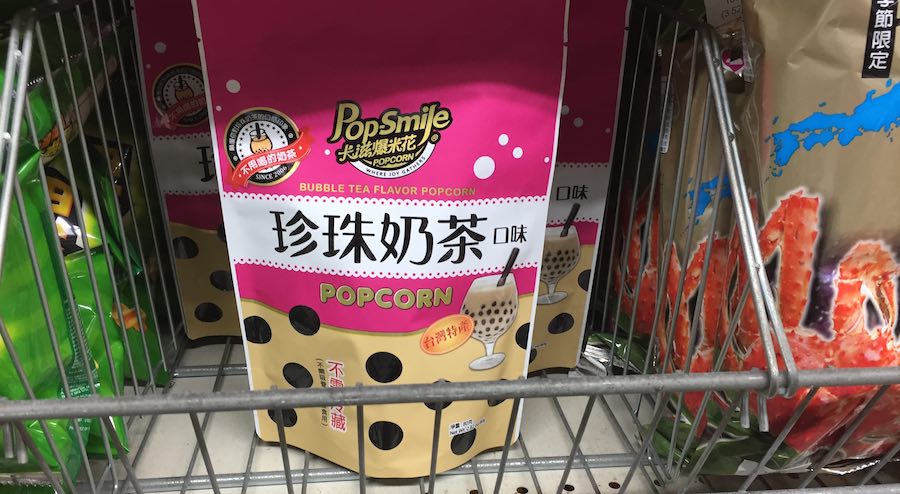 K, so I not da biggest popcorn fan, like I NEVER eat popcorn at da movies. Cuz I know already what buttered popcorn tastes like. But if get one new flavor of Primo that I nevah had before, I ALWAYS chance 'em. Cuz I curious, I like know if going taste like what it's supposed to taste like.
When I saw this one, I wuz definitely intrigued. What's even more amazing is I found this at Fisher Hawaii. They even had da whole line of Magi Planet Popcorn. Last Christmas, it wuz super hard for find. I loved their Takoyaki one so much that I went to da warehouse in Halawa for get 'em for my friends. Anyhow, kudos to da Fisher Hawaii snack buyers. They really know their stuffs. This PopSmile brand Bubble Tea Popcorn from Taiwan nevah disappoint. It definitely tasted like bubble tea. Unreal!
Where: Fisher Hawaii
Cost: $2.39
Rating: Shaka
See also: Unusual-kine snacks you find at Fisher Hawaii
Teriyaki Chips and Garlic Shrimp Chips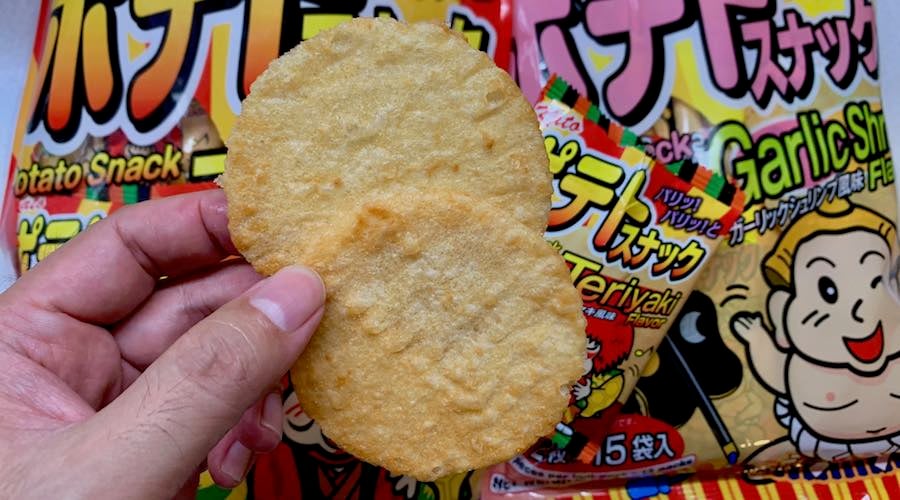 Ever wonder what would happen if kakimochi and potato chips had one baby? Well, they'd have one super onolicous tasting baby that you wanna take to your man or woman cave and just devour. I swear, these teriyaki chips turned me into one snack monster, brah! They wuz sold in packs of two and I intended to share, but I pounded da whole two bags by myself. When I posted on my Facebook how good these wuz, my FB friend Dani Nakamura Awakuni told me I gotta try da garlic shrimp one too. So I did. Da garlic shrimp one might be too garlic salty for some people, but I liked how it wuzn't overly shrimpy like how shrimp chips is sometimes. I love da bold flavors for both.
When I went back another time, da ting wuz on sale and da cashier with one Russian-like acccent kept raving about da chips. I wuz already paying for it and I told her, I know, it's good yeah. But she felt compelled to tell me how she doesn't eat chips, but she loved these. And how her husband brought some to work and it disappeared just li'dat. And she kept talking. In fact if you go there now, she might still yet be talking about these chips.
Where: Office Depot
Cost: Sale till they run out, 2 two-packs (same flavor packaged together) for $8
Rating: Double shaka
Bubbies Cookie Dough Ice Cream Bites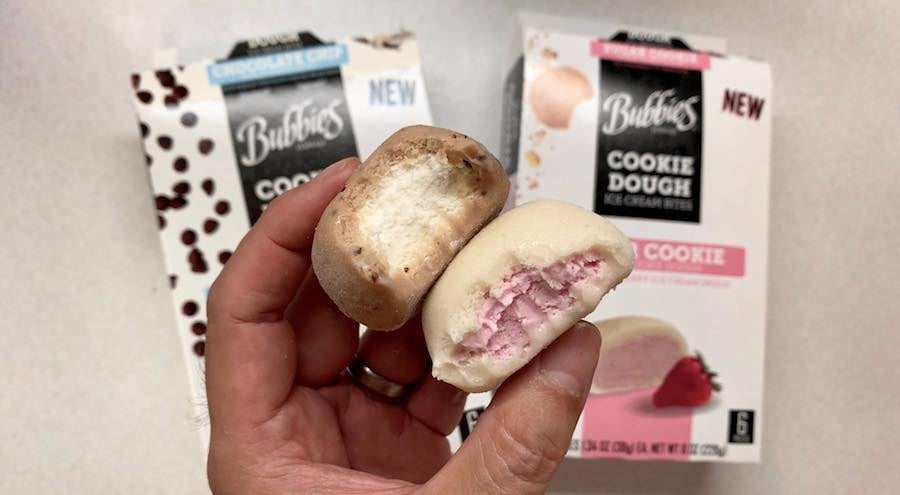 When I first heard about this couple months ago online I no could wait. I wuz all like, wow lau lau, Bubbies is one local company, but how come places on top da continent getting this first? I wuz super happy when I finally found 'em at Sam's Club. They only had two of da four flavors: Sugar Cookie and Chocolate Chip. Da two they nevah have wuz Brownie Batter and Birthday Cake. I wanted so badly to come to Bubbies' defense. Cuz these wuz getting lotta flak on top Bubbies' Instagram.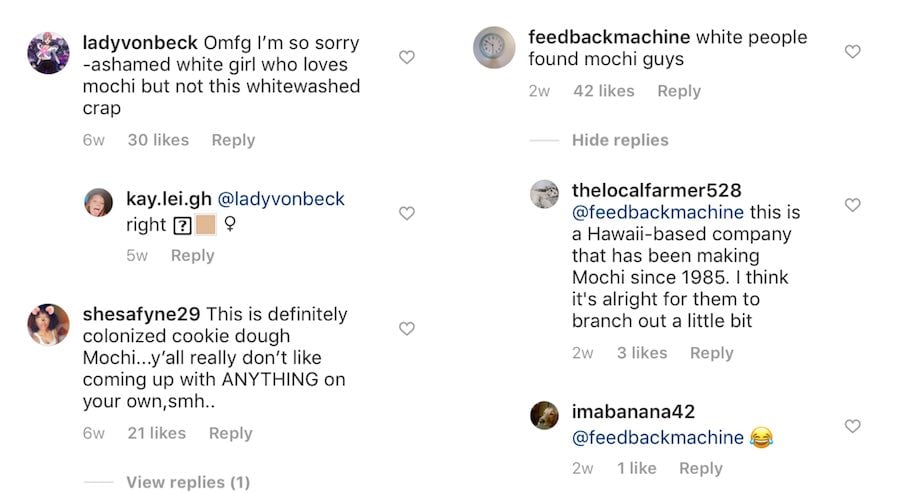 Didn't these people know that Bubbies wuz making mochi ice cream since around da beginning, definitely making more flavors than anybody else? In my mind this would be one totally new product that wuz capitalizing on da frozen cookie dough fad das going on now. But I noticed in da ingre-da-ments, da ting had rice flour. Who makes cookie dough with rice flour? So I checked what Ben & Jerry's wuz using for their frozen cookie dough chunks. They use wheat flour.
Still, I believed this would taste like cookie dough. It did not. Basically it looks da same like Bubbies mochi ice cream. Da outside wuz little bit sweeter, little less chewier and kinda chalkier than their regular mochi coating. I looove Bubbies' mochi ice cream. These, not so much. I didn't care for da chalkiness. So in da end, I find myself in alignment with da haters. Is Bubbies trying for market their product to continental people who are averse to trying mochi? After tasting this, I kinda tink das their goal. Stick to regular Bubbies MOCHI ice cream.
Where: Sam's Club
Cost: Two-pack for $9.28
Rating: No shaka