Shades of Shave Ice: Kaimana Shave Ice Hale'iwa
Fresh fruit syrups and cloudlike ice in the backyard of a family-owned North Shore spot.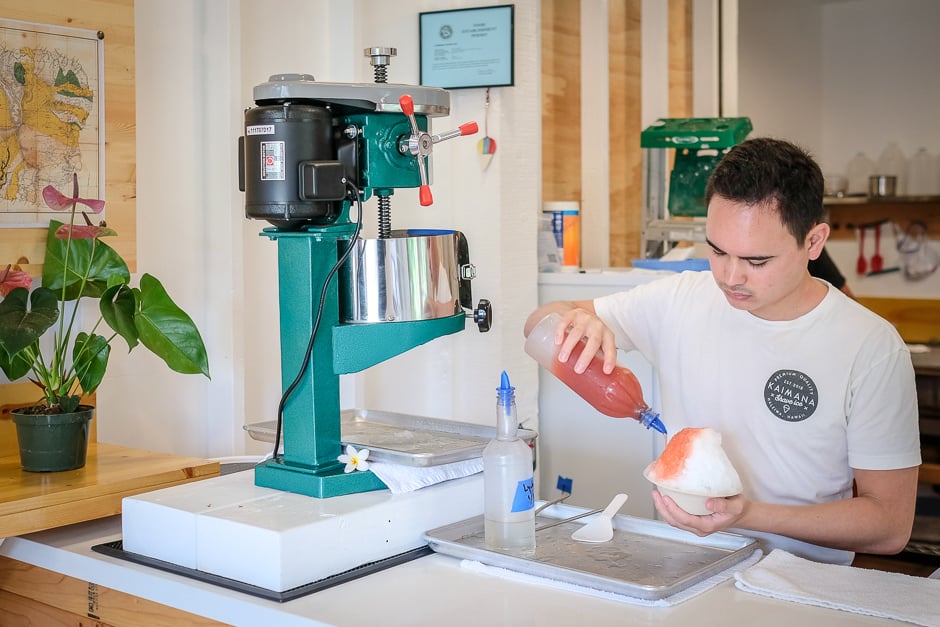 Shades of Shave Ice explores the rainbow of expressions of our favorite summertime treat. From its ethnic origins to farm-fresh flavors and must-have toppings, we're spotlighting O'ahu's shave ice scene one or two shops at a time.
View this post on Instagram
In this episode of Shades of Shave Ice, we beat the heat on our drive to Hale'iwa Town with a visit to Kaimana Shave Ice. Past the throngs of visitors at the food trucks off Kamehameha Highway, we find the tiny shop perched near what looks to be a residence. Indeed it is: The North Shore-native Nowicki brothers grew up in the house attached to the shop they now run.
Kaimana serves up one size of shave ice with your choice of one or two freshly prepared small-batch syrups, with a few local-kine toppings for a bit extra. Flavors like mandarin, liliko'i, coffee, lychee and açai rotate and, when draped over the fluffy ice, result in a next-level shave ice—ultra fresh and not too sweet. The liliko'i syrup is just thick enough with a formidable tang and sweet finish; add mandarin orange for a Hawaiian Sun taste-a-like. The bowls melt fast so don't wait too long taking pictures. Then head to the lush backyard, complete with a pond and loads of shade from a big tree.
Parking is in the food truck lot 200 feet to the left of the shop. Show your kama'aina ID for free parking.
$5, toppings range from $0.50 to $1, open Monday and from Wednesday to Saturday, closed Tuesday and Sunday, (808) 721-5553, 66519 Kamehameha Highway, @kaimanashaveice