Save the date: Pinch of Salt for the Holidays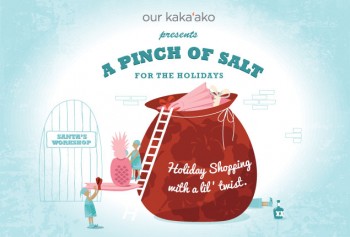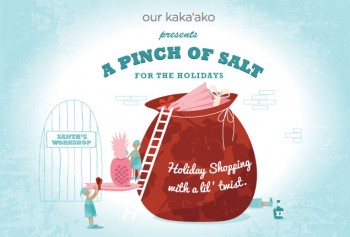 Popular local designers and vendors will be showcasing their fashion, gifts and more on Sunday, Dec. 7, at Pinch of the Salt for the Holidays in Our Kaka'ako.
The pop-up shopping event — designed to be an alternative to hitting the malls over the holidays and supporting local businesses — runs from 11 a.m. to 4 p.m. at the warehouses at 445 and 449 Cooke St. (where Honolulu Night Market takes place). Along with shopping, there will be food, entertainment and family activities.
Featured retailers: Sig Zane, Salt Liko, Kira Hawaii, Andy South, The Cut Collective, A.Wattz Dezigns, Hiilani Hawaii, Nak on Wood, Megumi, Happy Town Hawaii, Mojo Barbershop, Wrappily.
Featured eateries: Onda Pasta, Pinwheel Hawaii (ice cream sandwiches), Beyond Burgers
Featured Entertainment, Activities and Amenities:
• Live holiday music and performances, including Christmas caroling by Hawaii Opera Theatre's Orvis Studios
• Santa's Workshop interactive display
• Holiday-decorated Our Kakaako Lego® model
• Gift-wrapping station
• Limited edition Our Kakaako tote bags