Rose Veal Has Made Its Way to Hawai'i Menus
In Waimea on Hawai'i Island, Mahiki Ranch raises a different kind of veal.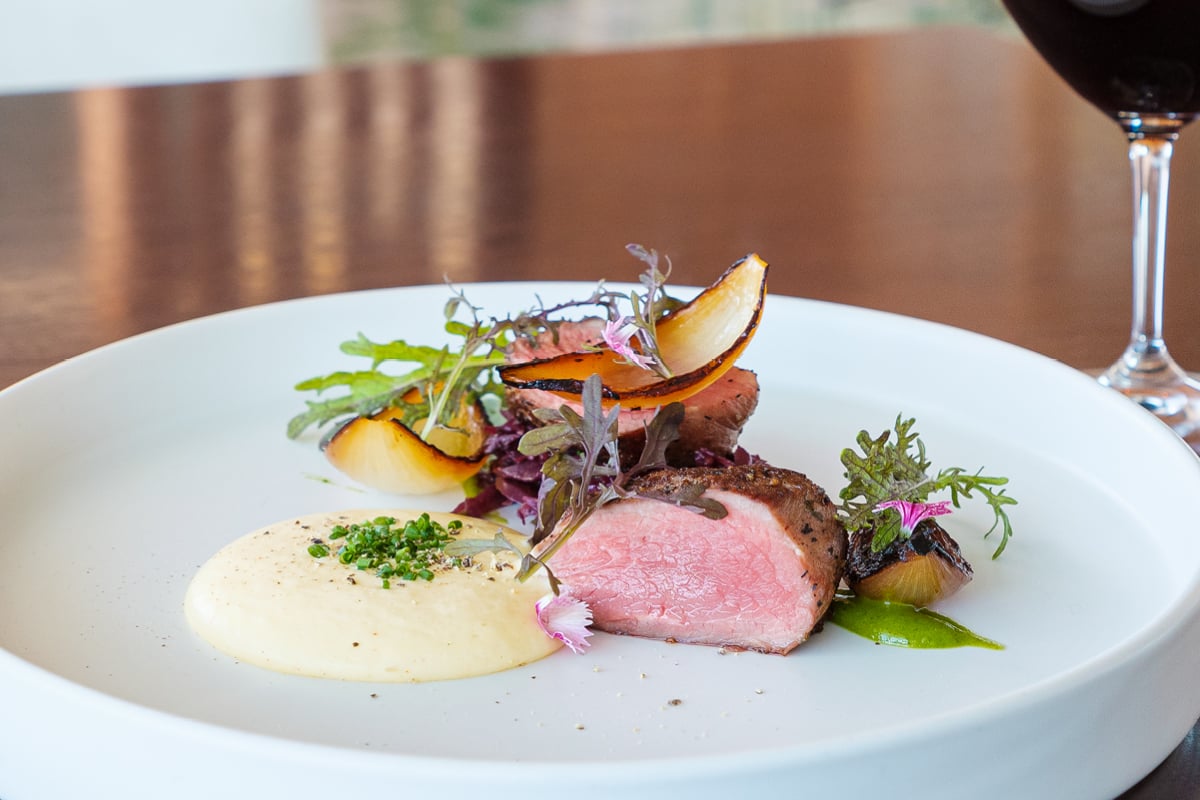 Forget what you think you know about veal, at least when it comes to Mahiki Ranch's. Instead of separating animals from their mothers at birth and confining them in crates, calves for Mahiki Ranch's rose veal are raised hormone- and antibiotic-free on pastures on Hawai'i Island. Find the veal in tender meatballs at Mud Hen Water; as strip loin served with béarnaise mousseline at La Vie; breaded and fried into a schnitzel lightened with liliko'i's tang at Fête; kiawe-smoked or even raw in a tartare at Nature, where chef Nae Ogawa buys the entire animal for her dishes.
Keith Gendreau and his wife, Allison Holt Gendreau, started Mahiki Ranch in Waimea about 20 years ago. They recently brought back rose veal to Hawai'i's market, a continuation of an experiment that started and abruptly ended about a decade ago. (Some may remember when it was marketed as Hawai'i red veal.) Because the animals are raised on grass, with access to their mothers' milk, the meat has a redder hue than the ivory or light pink of the more common milk-fed veal, and has a mild flavor. To raise the rose veal, Keith says they "select the best calves we want to keep in Hawai'i," and then feed them "the best grass that we have" on pastures that Parker Ranch once fertilized by helicopter. And having an ideal climate helps too. But what makes a good calf? A certain musculature, size and even demeanor. It turns out, just like humans, when you keep out the bullies, the whole herd is less stressed.
Mahiki Ranch raises the animals to less than a year old and about 500 pounds, versus the traditional age and market weight of about 2 ½ years and 1,200 pounds. (Mahiki Ranch also raises full-grown animals and sells calves to feedlots in the continental U.S., which helps it hedge its bets against the uncertainties that come with time and a volatile beef market.)
Raising beef in Hawai'i for the local market is anything but simple—witness the rise and fall of various ranches and companies over the years—but Keith tries to keep Mahiki Ranch's philosophy straightforward: "to have happy cows, happy calves, good grass, good water and focus on quality as opposed to quantity," he says.
Traditional veal is usually a byproduct of the dairy industry, as a market for the male calves.