Roll with It: Happy Belly Joins Pearlridge Food Truck Lineup
Think jumbo katsu burgers, loaded tater tots and country-fried steaks with chunky chorizo sauce.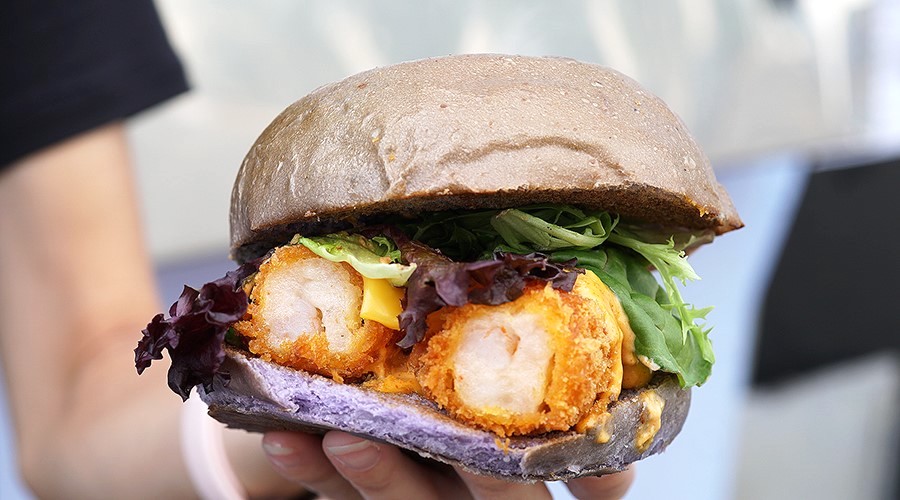 Roll with It is Frolic's new series about new food trucks we've seen out and about. We're tracking them down and trying dishes to bring you the 4-1-1.
After parking at events around O'ahu for the last year, Happy Belly Eatery now has a permanent spot. The Asian fusion food truck recently opened for lunch in the parking lot near Sears at Pearlridge Center. Think jumbo shrimp katsu, kim chee burgers and tots, pork chops with chorizo: All of it reflects chef-owner Joyce "JB" Magbual's stints at places like Highway Inn and Aloha Salads. And the name Happy Belly? "That's how I want my customers to feel after they eat our food," Magbual says.
---
SEE ALSO: Roll with It: Nico's New Food Truck in Kaka'ako
---
The menu
At a glance:
Meat- and shrimp-centric menu of contemporary local favorites served up as plate lunches, burgers or a wrap. Fry tots come three ways, including with kim chee or chimichurri steak.
We recommend: 
Shrimp katsu burger ($6). Two pieces of delicately fried shrimp are sandwiched in a light, soft taro bun. The shrimp katsu looks like the Goliath version of the fried ebi you find at Japanese restaurants. There's a satisfying crunch, even with the slightly sweet unagi drizzle.
Country fried steak with house-made chorizo gravy ($10). The beef cutlet is tender with a crunchy exterior, but it's the chorizo gravy that makes me stop chewing—it's thick, chunky and laden with chorizo chunks. I'm doing a happy dance in the middle of the parking lot.
Happy Mix ($15), a combo plate featuring jumbo shrimp katsu with unagi sauce and house kim chee sour cream, and a choice of Honey Sriracha chicken or Asian style-breaded chicken with unagi sauce and house-made spicy sauce. The Honey Sriracha chicken is crispy, with a sweetness like mochiko chicken and a mild spice level.
---
SEE ALSO: You Can Find Smash Burgers in this Used Car Lot in 'Aiea
---
How It Rolls
Where: Pearlridge Center – Sears parking lot, 98-1005 Moanalua Rd., 'Aiea
When: Daily 10 a.m.-5 p.m. or until sold out
Preorders: Call (808) 223-8978
Payment: Credit card or cash
Follow: @happybellyeatery
---
SEE ALSO: Chicken Is the Star at Pearlridge's New Tonkatsu Curry Joint
---