Restaurant Week at International Market Place starts Monday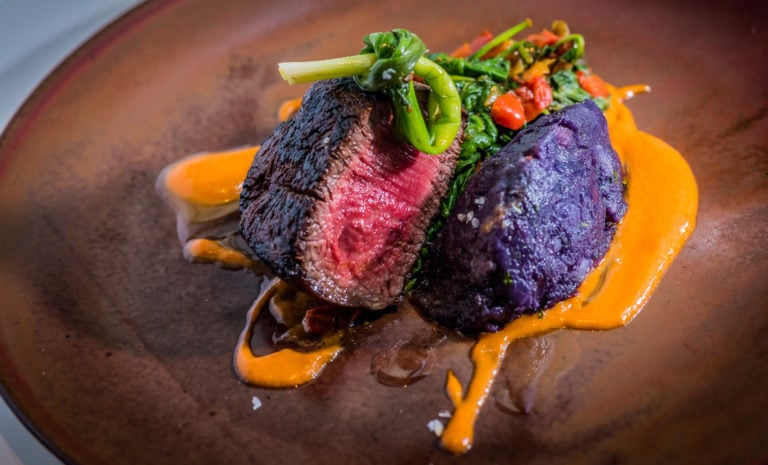 Sponsored
Great news for my fellow food lovers: We don't have to wait until November for Restaurant Week! International Market Place is starting one of its own from April 10 to 16, showcasing special prix fixe menus from Eating House 1849, Flour & Barley, Goma Tei, Kona Grill, Stripsteak and Yauatcha.
Prix fixe menus are a good way to try multiple items on a restaurant's menu, for less than the cost of the individual dishes. Plus they take the guesswork out of ordering. International Market Place has also planned fun food events for the week, including a poke bowl contest and mixologist battle.
All the restaurants are offering their Restaurant Week deals in addition to their regular menus.
First Course
• Fried Cauliflower and Brussels Sprouts with toasted pine nuts, golden raisins and balsamic
Second Course (select one)
• Portuguese Style "Paella" with shrimp, clams, chicken, Portuguese sausage and spicy chorizo Kamuela tomato sauce
• Local Catch of the Day Kamameshi, a Korean-style rice blend
Dessert (Family Style)
• Honaunau Cinnamon Dusted Malasadas with Koloa Rum Sauce
$48 per person excluding tax and gratuity; additional $25 wine pairing optional
Daily 11 a.m. – 10 p.m.
924-1849
First Course (select one)
• Tomato Caprese made with Ho Farms vine-ripened tomatoes, fresh mozzarella, salsa verde and balsamico
• Arugula and Kale Salad with oven-roasted tomatoes, mushrooms, artichoke, shaved parmesan, toasted pine nuts and balsamic vinaigrette
• Meatballs made with "grandma's style" beef, veal and pork, plus tomato sauce, parmesan and salsa verde
Second Course (select one)
• Margherita Pizza Rossa with mozzarella and basil
• Calabrese Pizza Rossa with meatballs, Italian sausage, prosciutto cotto, mozzarella, chili and salsa verde
• Kalua Pork Pizza Rossa with slow-roasted pork, mozzarella, onion, roasted tomatoes, avocado cream and cilantro
• Genovese Pizza Bianca with roasted chicken, basil pesto, mozzarella, pecorino, brussels sprouts and pancetta (pictured)
• Shrimp and Penne Alla Vodka featuring jumbo shrimp sautéed with a vodka and creamy tomato sauce, tossed with penne pasta and crispy basil
Third Course (select one to share)
• Chocolate Mousse made with an Oreo crust, mandarin oranges, housemade whipped cream, candied macadamia nuts and chocolate pearls
• Cannoli featuring crispy pastry shells filled with a sweet, ricotta-mascarpone cream and garnished with pistachios and chocolate chips
$35 per person excluding tax and gratuity; add $35 for wine or beer pairing
Daily 11 a.m. – 11 p.m.
892-2993
Appetizer (select one)
• Chicken and Shrimp Lettuce Wraps with Bibb lettuce, cucumber salad and spicy sesame vinaigrette
• Greek Salad with tomatoes, red onions, cucumbers, red peppers, Kalamata olives, oregano, feta cheese and herb vinaigrette
• Picasso Roll with spicy yellowtail, avocado, yellowtail, jalapeno, cilantro, togarashi, sriracha and yuzu ponzu
Entrée (select one)
• Macadamia Nut Chicken with house mashed potatoes, seasonal vegetables, shoyu cream and pineapple-papaya marmalade
• Kona Churrasco featuring flank steak, chimichurri sauce, house mashed potatoes and seasonal vegetables
• Lemon-Garlic Shrimp Penne with parmesan, baby arugula, roasted tomatoes, lemon cream and garlic bread
Finisher (select one)
• Fudge Brownie with vanilla bean ice cream, chocolate, caramel and vanilla cream sauce
• Passion Fruit Crème Brulee with passion fruit-infused custard
$30 per person, excluding tax and gratuity
11 a.m. – 11 p.m. Sundays – Thursdays, 11 a.m. – 12 a.m. Fridays and Saturdays
756-9591
First Course (select one)
• "Instant Bacon" with a tempura oyster and black pepper-soy glaze
• B-L-T Wedge with Nueske's bacon, bleu cheese, herb-buttermilk dressing
Second Course
• 8 oz. Filet Mignon served with Okinawan purple potatoes, matbucha sauce
• 20 oz. Angus rib eye (add $25)
• Add on – Chef's Favorites: Mashed Potatoes and Chives (add $13), Black Truffle Mac and Cheese (add $16), Brussels Sprouts and Cider Glaze (add $14)
Third Course
• Devil's Food Cake with Kona Coffee Mousse
$49 per person, excluding tax and gratuity; add $25 for wine pairing
11:30 a.m. – 10 p.m. Sundays – Thursdays; 11:30 a.m. – 10:30 p.m. Fridays – Saturdays
800-3094
Prix fixe menu:
• Hot and Sour Soup with Chicken
• Baked Venison Puff
• Har Gau
• XO Scallop Dumpling
• Pork and Prawn Shui Mai
• Kona Kampachi with Homemade Soy Sauce
• Jasmine Tea Smoked Pork Ribs
• Stir-fry Hawaiian Baby Pak Choi with Garlic
• Egg and Scallion Fried Rice
• Dessert
$58 per person (minimum of two people), excluding tax and gratuity
Daily 11 a.m. – 11 p.m.
739-9318
Prix fixe menu:
Tan Tan Ramen with small char siu fried rice and two pieces of chicken tatsutaage (Japanese style fried chicken)
$15.95
Daily 10:30 a.m. – 10 p.m.
664-0363
Other Grand Lanai Restaurant Week events:
POKE BOWL
To kick off Grand Lanai Restaurant Week, International Market Place will host the first-ever Poke Bowl in the Queen's Court, from 5:30 to 6:30 p.m. on Monday, April 10. Emceed by KreyZ Oshiro from Island 98.5's Wake Up Crew, two Grand Lanai restaurant chefs will prepare tastings of traditional and specialty poke dishes for attendees. Guests will also receive a complimentary International Market Place cooking apron while supplies last. This event is free and open to the public.
F(L)IGHT CLUB MIXOLOGY MATCH-UP
Join Stripsteak Waikiki for its popular F(l)ight Club series at 7 p.m. on April 10. Mixologists Raymundo "El Matador" Delgado of Stripsteak and Jen "The Shake Master" Ackrill of Sky Waikiki and Top of Waikiki will battle to concoct the best cocktail. The night will feature a custom four-course menu created by executive chef Ben Jenkins, paired with handcrafted cocktails from each contender for $135 (excluding tax and gratuity). RSVP at events@stripsteakwaikiki.com.
SHARE YOUR #MARKETPLACESTORIES
Experience brick oven pizza at its finest. Enter for a chance to win a pizza-tossing and -making party for six guests at Flour & Barley – Brick Oven Pizza. To win, share your best Grand Lanai Restaurant Week foodie photos on Instagram with #MarketPlaceStories and tag @intlmktplace from April 10-16. For complete rules visit www.grandlanai.com.
SIGN-UP & WIN
Subscribe to receive International Market Place e-mails at www.GrandLanai.com for a chance to win a $500 dine-around package at Grand Lanai restaurants. For complete rules visit www.grandlanai.com.
TREE HOUSE DINNER
Listen to KSSK (92.3 FM) all week long for the opportunity to win an exclusive dinner in the iconic banyan Tree House, hosted by Stripsteak Waikiki. The original tree house was home to International Market Place's founder Donn Beach, better known as Don the Beachcomber, serving as his office and later a local radio station.
Where to park: The IMP parking entrance is at the intersection of Kuhio Avenue and Walina Street (look for the signs and the giant ramp). You'll need a minimum purchase of $10 at any merchant to get validation. Validated parking is free for the first hour and $2 for each additional hour. After the third hour, the standard parking rate of $2 per 20 minutes applies.
Valet is also offered at a flat fee of $5 in addition to applicable parking rates.
International Market Place – Grand Lanai
2330 Kalakaua Ave.
Honolulu, HI 96815
www.GrandLanai.com