HONOLULU Family Recipe: Easy Banana Muffins
Celebrate National Banana Bread Day with this simple, kid-friendly recipe that uses ingredients you probably already have.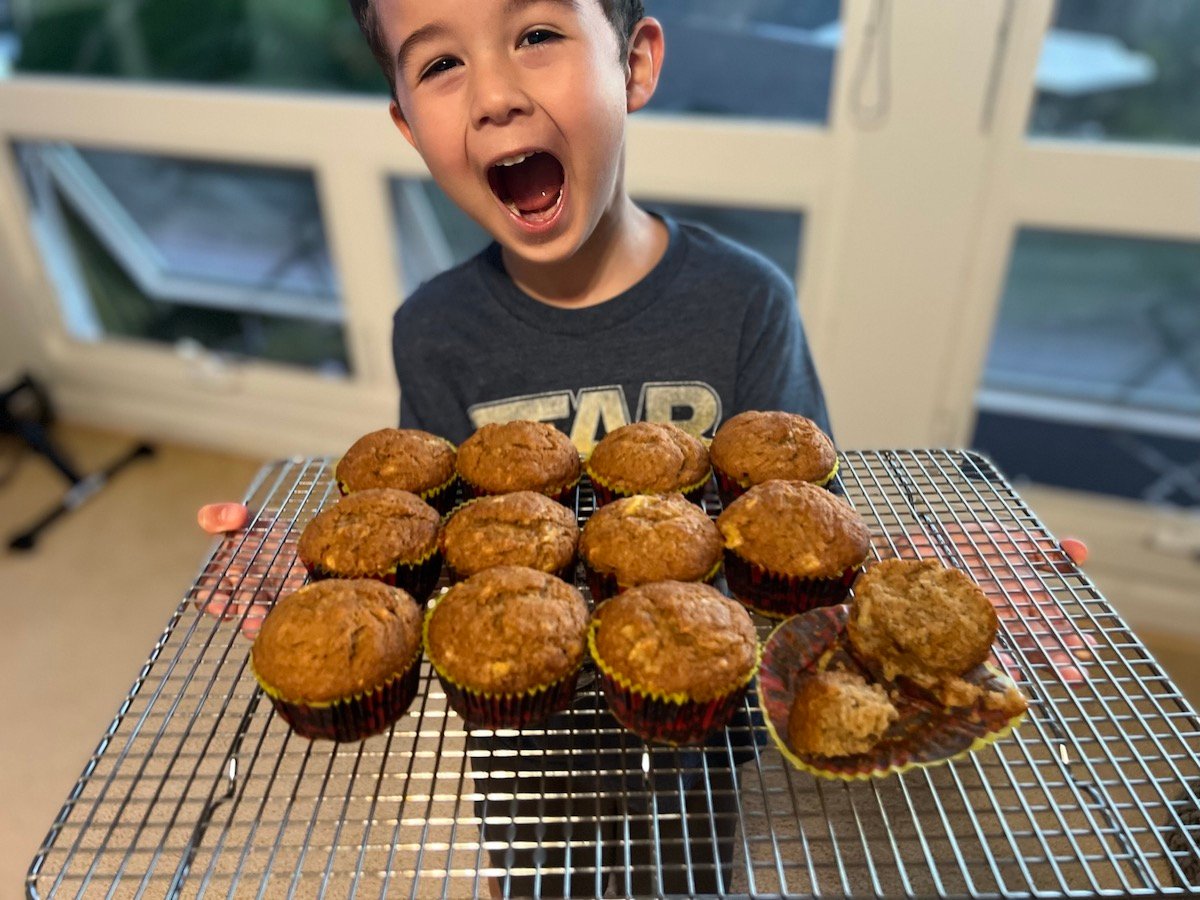 I'm a sucker for banana anything—bread, muffins, pancakes, pudding, pie. Same goes for my 5-year-old son, Landon. This affinity for all things bananas led us to plant apple banana trees in our backyard, so we have a pretty steady supply of the potassium-rich fruit. (We prefer apple bananas, which are sweet and have a slight tang.)
Today (Feb. 23) is National Banana Bread Day, which means we have a really good excuse to whip up our favorite quick bread. And because it's so easy to make, your kids can help in the kitchen. Landon did almost everything, from mashing the bananas (we used Pampered Chef's Mix ʻN Chop masher) to scooping the batter into the muffin pan. I just measured out most of the ingredients, finished some of the mixing and scooping, and popped the pan into the oven.
The beauty of banana bread—which exploded in popularity during pandemic lockdowns—is that most recipes are versatile and forgiving. You can add spices like nutmeg and cinnamon or fold in nuts, chocolate chips, even cookie butter. Some recipes call for crushed pineapple and shredded coconut; others use zucchini or rolled oats. And just about any banana bread recipe can be turned into muffins.
SEE ALSO: Hawai'i Family Breakfast: Banana Pancake Recipe
This recipe—inspired by one I found on Sally's Baking Addiction—is so simple, and you probably have all of the ingredients in your kitchen already. The milk adds some moisture—I've even used sour cream or yogurt, too—and the cinnamon adds warmth and flavor. Be generous with your bananas; don't skip on this part. Apple bananas tend to be milder in flavor—at least to me—than other varieties of bananas, but it's all we had.
If my 5-year-old can do it, anyone can!
Easy Banana Muffins
Inspired by a recipe from Sally's Baking Addiction; makes 12 large muffins
Ingredients
6 T. butter, softened or melted
2/3 cup brown sugar, packed
1 large egg
1 tsp. vanilla extract
2 T. milk
1 1/2 cups all-purpose or whole wheat flour
1 tsp. baking powder
1 tsp. baking soda
1/2 tsp. salt
1 tsp. ground cinnamon
3 large ripe bananas (or 6 small bananas), mashed
OPTIONAL: 1 cup chopped nuts (walnuts, pecans, macadamia nuts) or 1 cup chocolate chips
Directions
Preheat oven to 425 degrees.
Mash bananas—we used apple bananas from our yard—in a small bowl. You want to have about 1 1/2 cups total of mashed bananas. You can use frozen bananas—I usually do—but be sure to blot them with a paper towel to remove the extra water.
Beat melted butter, brown sugar, egg, vanilla extract and milk (we used heavy cream because that's all we had!) in another bowl. Add mashed bananas.
In another bowl, whisk flour, baking powder, baking soda, salt and cinnamon. You can add 1/4 tsp. of ground nutmeg, if you want.
Combine the wet and dry ingredients until blended. If you want, you can add nuts and/or chocolate chips. (Peanut butter chips are great, too.)
Spoon batter into lined or greased muffin cups. Bake for 5 minutes at 425 degrees, then reduce the temperature to 350 degrees for another 16 to 18 minutes, until a toothpick inserted comes out clean. (If you're making mini muffins, bake for 12 to 14 minutes at the reduced temperature.) Cool on a wire rack.