Raising Keiki in COVID-19: I Feed My Kids Spinach For Breakfast To Keep Them Healthy in the Pandemic
I teach my kids how to put their health first. Plus, a green smoothie recipe my kids love and a DIY template for face mask holders.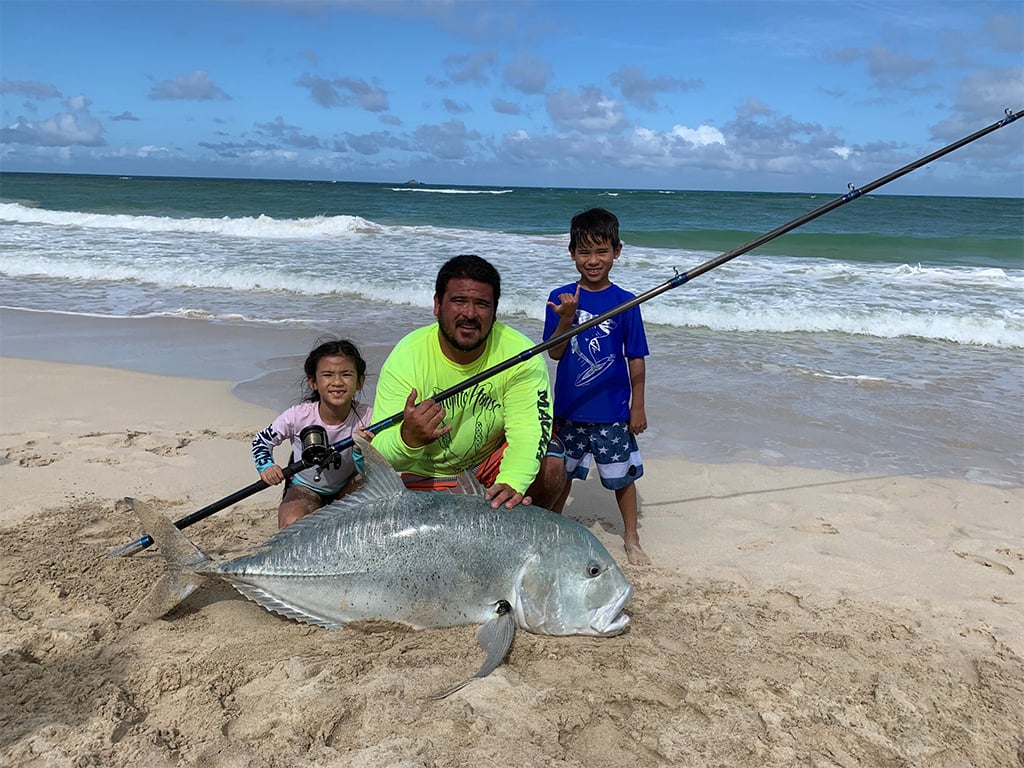 Photo: Courtesy of Tania Morimoto
Tania's husband and children caught this big fish (ulua) after schools closed in March.
Raising Keiki in COVID-19 is a series of personal reflections of parents living on Oʻahu during the coronavirus pandemic. Some articles were written by the parents, while others talked story with HONOLULU Family.
I'm a medical assistant in a mental health group and also a nurse practitioner in an emergency room. As a medical assistant, I fly once a week to the Big Island to see patients, whose caregivers sometimes have to drive two hours for their appointments with us.
When I'm working, my two children—a son who is 7 and a daughter who is 6—stay with my in-laws. I spend the night away from my kids when I have overnight shifts, so I'm thankful for their support.
I always talk to my kids about the coronavirus so they understand the risks and how to protect themselves. Their school made them research the coronavirus, and my son made a PSA video as part of his project.
The pandemic is causing big lifestyle changes for families, too. The best way to adapt to our new way of living is to put our families' health first.
We can be vigilant about being clean, washing hands and disinfecting—but we've got to watch what our families eat, too. Encourage them to exercise for a strong heart and lungs to fight the coronavirus. This sounds so obvious, but parents are busy working. We get tired, and we're not paying attention to our children as much. This is an opportunity to reset ourselves and talk to our kids about the importance of eating healthy and staying healthy.
I give my kids extra vitamins and greens every day. Every morning, they get spinach smoothies and they'll eat vegetables during lunch and dinner. When we have pizzas or pastas, I'll throw in extra vegetables for healthier options. We go through greens pretty fast. I buy two tubs at a time from Costco. And bananas, oranges and apples are cheaper than most fruits. They're just as healthy.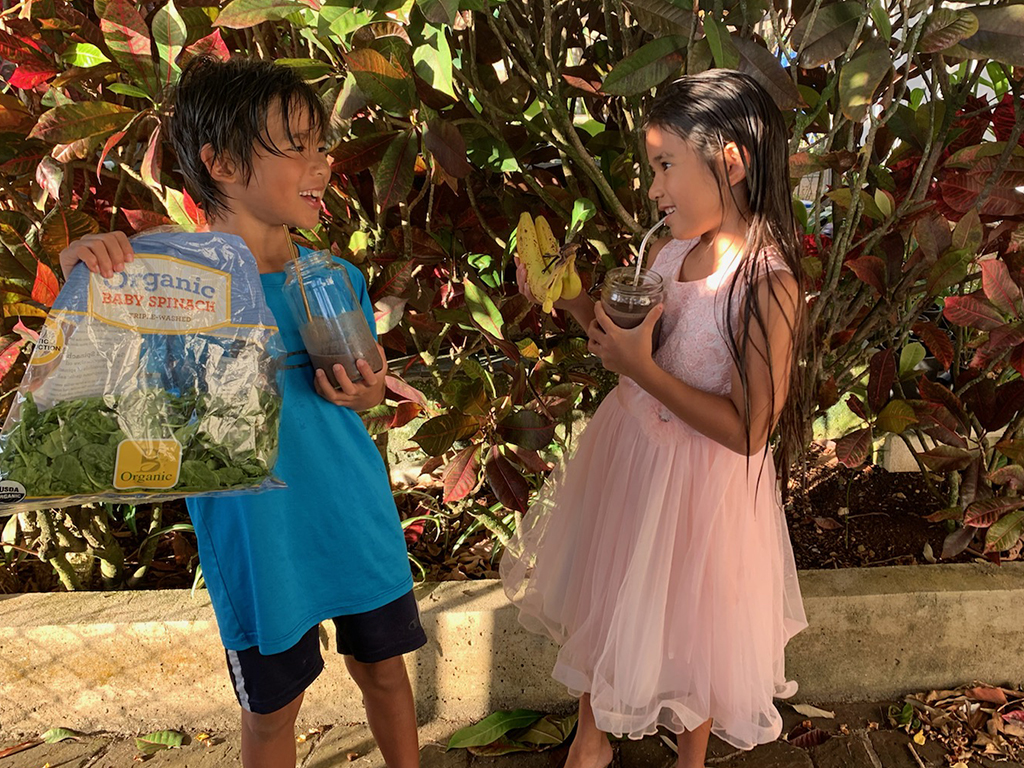 Photo: By Tania Morimoto
Now, it takes me one hour to go to Costco, and another to wipe down and put away all the groceries when I return home.
My husband is a fisherman. The kids went fishing with him the other day and caught a big ulua off the south shore of Oʻahu! That's why I'm not too worried when the meat industry talks about a nationwide shortage. We don't have a lot of meat at home.
I keep my kids at home as much as possible and try not to take my kids anywhere where they can get exposed. We still go running outside to exercise, but I make them wear masks. I'm making special headbands for them right now. The headbands have buttons on each side, where the kids can attach their masks. When the kids run, they can hang their masks on the buttons, or pull up their masks as needed.
Like most parents, I'm concerned about germs and bringing home the coronavirus. When the mail arrives, I leave it untouched for a few days and disinfect it before opening. I use essential oils to clean the rooms.
Even the dog gets more baths now!
---
Tania's Green Smoothie Recipe
2 large handfuls of fresh spinach and kale mix (wash very well)
1 regular-sized banana
1 cup soymilk (or dairy or nut milk)
1 tablespoon peanut butter (or almond, soy nut or sunflower butter)
1 handful of ice
A drizzle of honey for sweetness.
Blend in a blender until you like the consistency and enjoy!
Template For a Headband to Attach Face Masks