Raising Keiki in COVID-19: As Parents With Home-Based Businesses, We Knew How To Work From Home With Kids (Sort Of)
Emotional bank accounts and big balloon breaths, plus other tips from parents who run home-based businesses.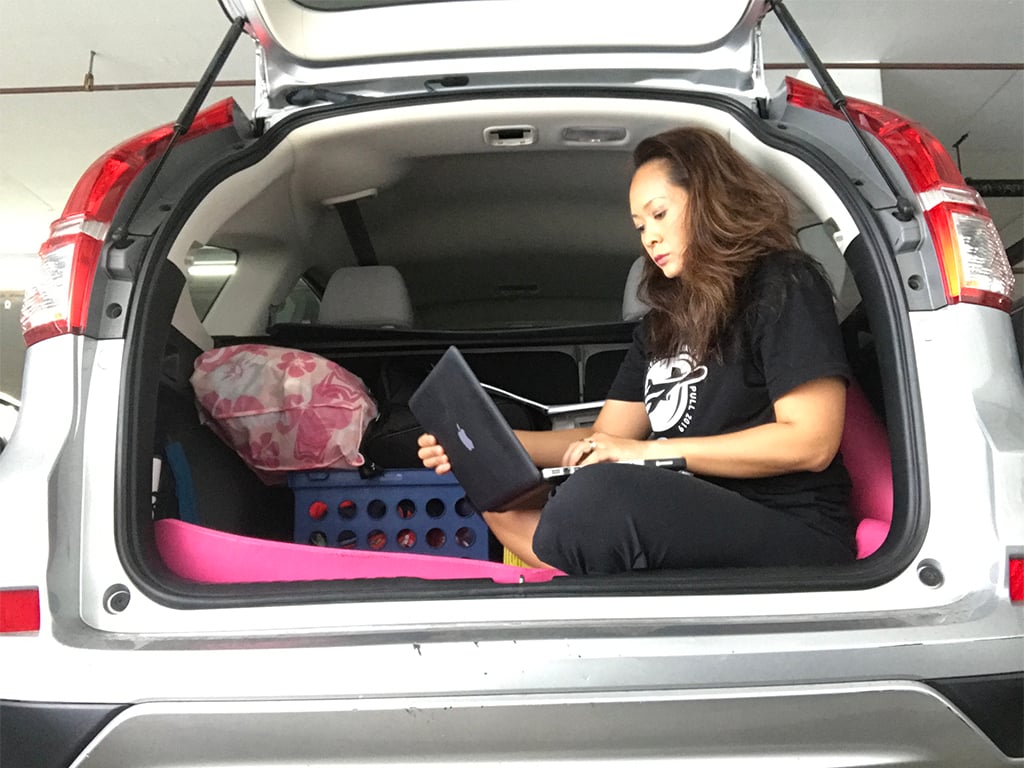 This was my new office during the stay-at-home order. My new "colleagues" (husband, daughter and dog) were upstairs at home.
Raising Keiki in COVID-19 is a series of personal stories of parents living on Oʻahu during the coronavirus pandemic. Some articles were written by the parent, while others told their stories to HONOLULU Family.
I'm sitting inside the trunk of my SUV, writing this article about parents working from home during the two-month stay-at-home order that began March 23 in Hawaiʻi.
My makeshift office is cramped but it has windows and natural lighting. Plus, it's a quick elevator ride from the desk in my "real" home office, now occupied by my dog and daughter who are on a Zoom meeting with classmates. (My husband is with them. I didn't outsource child care to the dog).
I know I'm a privileged parent who can work from home, and I am humbled by my peers who work in critical industries—mail delivery, government, health care, grocery stores, law enforcement and transportation. (Find their stories in "Raising Keiki in COVID-19.")
These tireless parents come home from work every day, taking great pains to shield their kids from the coronavirus, while my biggest pain is in the shoulders from sitting too long inside a trunk.
---
SEE ALSO: For essential workers seeking child care, please visit "Hawaiʻi Statewide Essential Child Care," regularly updated by People Attentive to Children (PATCH).
---
Until there is a COVID-19 vaccine, work-from-home culture will continue to be a normal way of life for many parents. Businesses in Hawaiʻi will reopen, but employers could ask their teams to work in shifts or on designated days to enforce social distancing.
Worst-case scenario and crossed fingers this doesn't happen: Another wave of infections could send Hawaiʻi into another lockdown. At least, parents will be more prepared.
Prior to the March 23 order, my husband and I had 9.5 combined years of experience working from home while raising our daughter, who is now 10. Me, as a freelance writer before joining HONOLULU Family, and he, as owner of a sporting events company. I've done phone interviews with a toddler on my lap, met story deadlines while sitting inside a hotel bathtub on family vacations, and regularly work past midnight when the family sleeps.
Aside from his industry being in limbo, our lives weren't majorly disrupted when Hawaiʻi went into lockdown. We pulled from our bag of work-at-home tricks developed over the years.
I'm sharing some of those tricks here—one method involves our daughter's bank account, explained in Tip No. 2. I also spoke with other parents with home-based businesses. They were happy to share their best practices, too:
1. Count Your Blessings Instead of Yelling
The stay-at-home order has been frustrating for keiki who normally are in school for up to 10 hours daily. (Props to teachers!).
Are your kids talking back, crying, disturbing you or throwing toys and tantrums more than ever? Parenting book The Whole Brain Child explains the science behind children's brains, plus tips on how to coach kids through emotional breakdowns.
In a nutshell, the book's message is this: Children's brains are not fully developed until they're about 25 years old. Their half-baked brains are why keiki can drive their adults crazy. Make that, quarter-baked brains, if they're still in kindergarten.
Our kids haven't seen their friends in two months, they're distance learning on new technologies, and we parents must split time between child care and work obligations. Of course, the keiki will act up.
Instead of losing control when the kids throw fits, take deep, even breaths and try to think positive thoughts.
Maybe your toddler napped longer than usual. Perhaps your teens went all afternoon without bickering. Those hard-to-reach clients finally returned your emails. Your family is coronavirus-free. You have a roof over your head.
I realize that thousands of families in Hawaiʻi are struggling during the pandemic. If you need help, or know anyone who does, a good resource is the Hawaiʻi Children's Action Network for tips on economic aid, masks distribution, free meals for keiki and kūpuna, COVID-19 testing sites, and other services.
Also, home is not always a safe place for many children and their parents during the pandemic. Please visit the Domestic Violence Action Center website if you or someone you know needs help.
2. Build Your Keiki's Emotional Bank Accounts
This strategy is akin to "feeding the meter" in the parenting book, The Happiest Toddler on the Block. The idea is to take brief breaks at designated intervals. During these moments, give your kids quick hugs, shower them with verbal praise or positive comments. Or surprise them with a snack.
What you're doing is adding "funds" to their emotional bank accounts throughout the day. It's like depositing money into their (now rapidly plunging!) college funds. When your workday is finished, their little hearts will brim with love and help prevent a melt down at the dinner table.
My girl regularly walks into my home office to ask for hugs. Once, when she didn't come say "hi" for more than an hour, I walked into the kitchen to find her stuffing two slices of Love's bread with Starburst and mochi crunch because, "Mommy looked too busy." (I felt guilty, although I think she just wanted a candy sandwich for lunch.)
Be familiar with your kids' languages of love, too. (I lifted this tip from another fave parenting book, The Five Love Languages of Children.) Which of these love languages motivate your children?
 Words of affirmation
 Acts of service
 Gifts
 Physical touch
 Quality time
And, don't forget to feed your partner's meter, using his or her love language. Honolulu mom Beth Blaney encourages her girls, ages 10 and 13, to make pancakes (from scratch!) for their dad who has been working from home.
"As much as it drives me crazy to make a big mess in the kitchen, they love the chance to cook and enjoy delivering breakfast to their dad in his makeshift office in our guest room," Blaney says.
3. Create Boundaries Before Life Gets Out of Control
When my husband (the "fun" parent) began working in our home office two years ago, our daughter wanted to play with him all the freaking time. He struggled to please both his clients and her, until he finally put his foot down and declared his own personal space and time.
Our home office (a den with two desks) can be partitioned off by opening the doors to a utility closet and the laundry room, which are opposite each other. When the doors open, we all know he means business.
Other ways to tell kids you're busy: Hang a kid-friendly "At Work" sign or poster next to your workspace; wear a special hat or piece of clothing if the kids are too young to read; or place a toy near your workstation in anticipation of playtime later.
The last thing we want is for our children to equate "work" with feeling neglected and unloved.
4. Practice Trust, Accountability and Compassion
Regularly check in with colleagues and managers who also are working from home. Alert your team when you plan to step away from your computer for extended periods of time.
Inevitably, kids and pets will be seen and heard during conference calls and Zoom meetings. I still love this funny video of Robert Kelly, a foreign correspondent whose children and wife crashed his live interview on BBC.
Cara Oba, a mom of a 9-year-old, recommends the book, Unconditional Parenting, which prioritizes relationships above everything else. Families fight when expectations are too rigid, says Oba, a designer who runs home-based business Pa Des Chocolat with her software-developer husband.
"It helps to have flexibility and consider situations from a long-term or bigger picture standpoint," she says.
Oba advises parents to ask themselves:
Do chores at home need to be done a specific way?
How can you meet a client's needs while showing your family that you value their time, too?
Or vice versa: How can you cuddle your needy kids while on a phone call with a client or colleague?
Also, it's perfectly normal to feel anxious about the future. Reach out to trusted colleagues and friends for support. "Now that we're practicing social distancing, I'm trying to keep in touch with everyone, still, and that's my form of self-care," says Maria Kanai, mom of two keiki, ages 3 years and 9 months.
"It's better for my mental health, for sure," she adds. "Being too isolated and self-absorbed heightens anxieties, I think."
5. Have a Routine That Allows Kids to Be Kids
Draw up a daily schedule, post it to a wall and follow the routine. Most keiki—especially those who attend traditional school—need some predictability and consistency.
"Our kids need to feel like home is a safe place even though the world outside feels like it is in commotion," says freelance writer Maggie Hong, a mom of three kids ages 6, 10 and 14. "We can be calm and resilient even when we are feeling uncertain, especially when little pairs of eyes are watching us," she adds.
Also, think out of the box:
Do you and your partner work overnight shifts?
Can you tag-team on child care while the other partner works or sleeps?
Are there favorite TV shows that will keep little kids quiet for an hour daily?
Ask older children for help with younger siblings, too.
"Everything we do is about flexibility," Oba says.
She and her husband have home-schooled their 9-year-old daughter since she was a toddler. They practice "unschooling," an alternative movement that does not follow a traditional curriculum. Instead, it encourages the child's natural learning and curiosity.
Their home is set up for their daughter to play on her keyboard, plant a garden, create art with unlimited supplies, and other child-led activities.
6. Put your New "Colleagues" To Work
To encourage mommy-child bonding time, HONOLULU Family's contributing editor, Laura Dornbush, invites her 3-year-old son to sit with her while she meets deadlines.
"He loves feeling like an adult when I set up a workstation for him at the kitchen counter right next to my laptop," she says. "But, honestly, it's only a matter of 15 minutes before he's ready for the next activity or needs something from me."
Kanai found a way to keep her kids busy: She allows only one box of toys in the living room. "When it's a day where I need to work in the morning, I get out the 'special' toys from storage that they haven't played with for a while and that gives me a good half-hour or so."
Suzanne Sasaki, editor of Yoga Hawaiʻi magazine, had similar tricks for her kids when they were younger. Today, she's able to work uninterrupted, while her children, now ages 10, 14 and 17, keep themselves busy.
"I try to suggest meaningful versus menial tasks, such as caring for pets," she says. "No mother wants to be a nag!"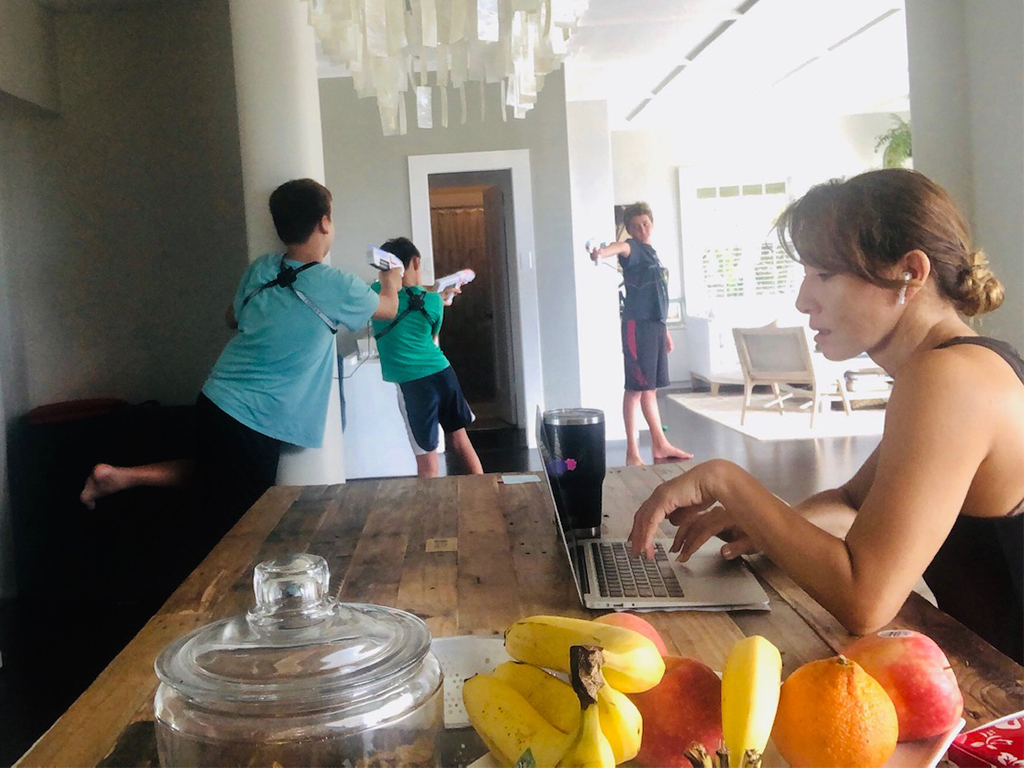 Photo: By Suzanne Sasaki
Suzanne Sasaki stays focused on work while her tweens and teens play at home during the lockdown.