Quiora's Italian fare is worth the splurge
The Ritz-Carlton Waikiki just opened a new Italian restaurant — with free validated valet parking
Update 10/26/19: The $55 family boards mentioned below are no longer available; the restaurant says they were an introductory special. Everything is now a la carte — steak for $68, pork dishes for $55 and the whole fish at market price — and sides are $7 each.
I was really looking forward to trying Quiora, the new Italian restaurant in the Ritz-Carlton Residences Waikiki, when I heard that the sous chef, Miranda Eckerfield, came from San Francisco's acclaimed flour + water and A16. I'd been lucky enough to try flour + water; I'd never been able to get a reservation at A16. That alone gave me an idea of what her experience would bring.
Sure enough, I liked Quiora so miuch that I went there twice in a week. Some of the dishes, like the carbonara and the burrata, are very familiar, but there are some unusual items, like pasta shaped like hats, that people in Hawaii have never seen before. The menu is kind of upscale, but the open-air ambience helps to dress it down, so you could be dressed up or casual and still feel comfortable. I even saw one guest come straight from the pool and borrow a shirt from the restaurant so he could dine there. From that alone, Quiora lives up to its name, which means "here and now" in Italian.
Although the dishes are made so you can have your own pasta to yourself, I would recommend eating family style so you can taste more items. If you're hungry, get one of their family boards, which features a large, shareable portion of protein with sides. Here's a look at the items I tried over a span of three visits. The appetizers and pastas are listed in order of preference.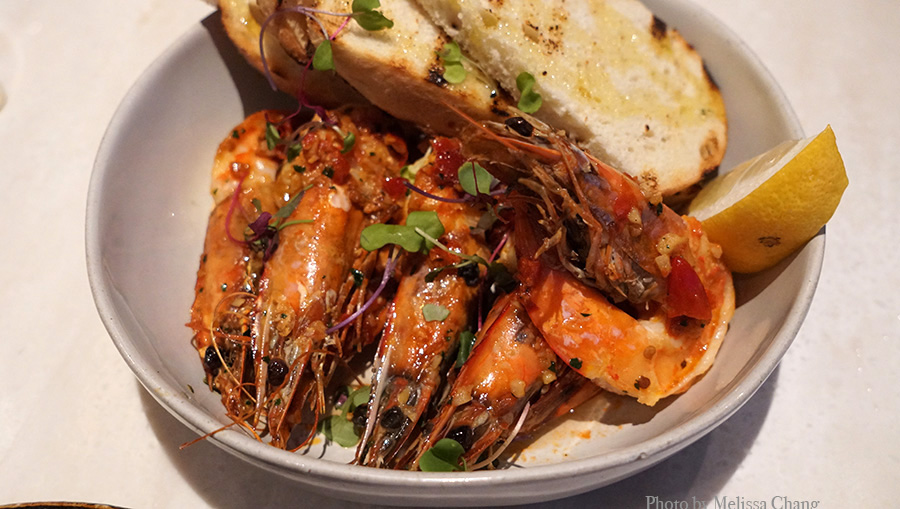 Hands down, one of my favorite starters at Quiora is the Calabrian chili garlic shrimp. You need to like spicy food to really appreciate it, though, as our friends with more delicate palates couldn't quite handle it. The shrimp is served head-on, so when you open them, the miso oozes out and mixes with the chilis and garlic to create its own spicy sauce. The shrimp itself is delicious, but that savory, fiery sauce kept us passing the bowl around so we could mop every last bit with the bread.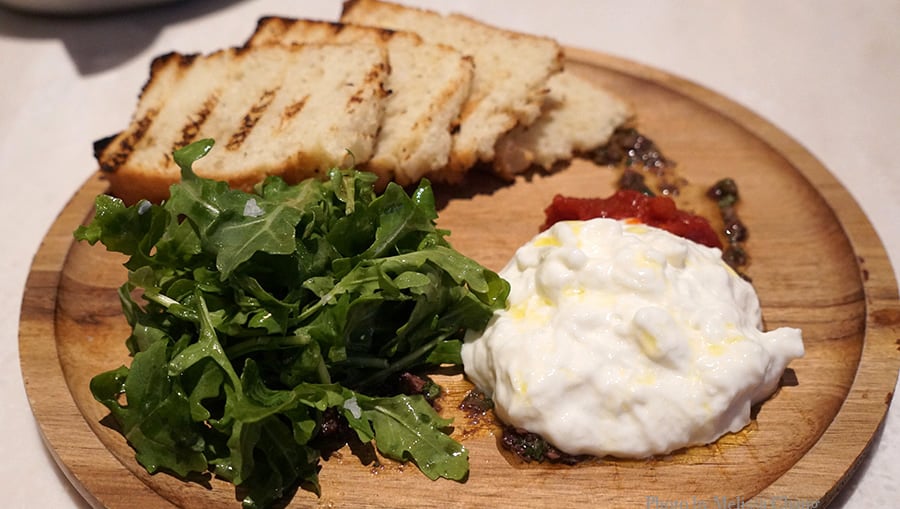 I've never met a burrata I didn't like, so of course this one is a must-order for me. It's served with house-made tapenade, tomato jam, and an arugula salad — we can't figure out what it is in the tapenade that is addictingly salty, but it goes well with the cheese. Really well. Really, really well.
I wasn't sure if I'd be into the meatball, smothered in pecorino and tomato sauce. It was actually pretty good, for you meatball lovers, and quite moist. The sauce was pretty addicting, too, as it wasn't too tart or too rich but nicely balanced enough that I kept scooping it up with my bread.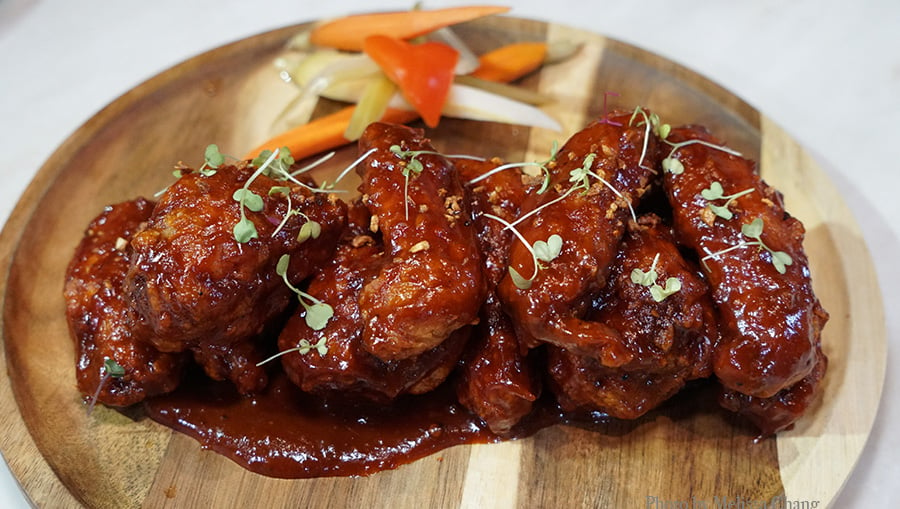 We were curious about the jidori chicken wings, which seemed a little out of place for the menu. It's in a barbecue sauce that has Asian flair, so, yes, it's a little out of place for the menu. You know what made the chicken even better? Dredging it through the Calabrian chili sauce. If they make garlic chicken wings with Calabrian chili, I'll order that!
Next up, pastas I tried and in order of how likely I am to order them again. There are two prices listed, each referring to the size of the serving.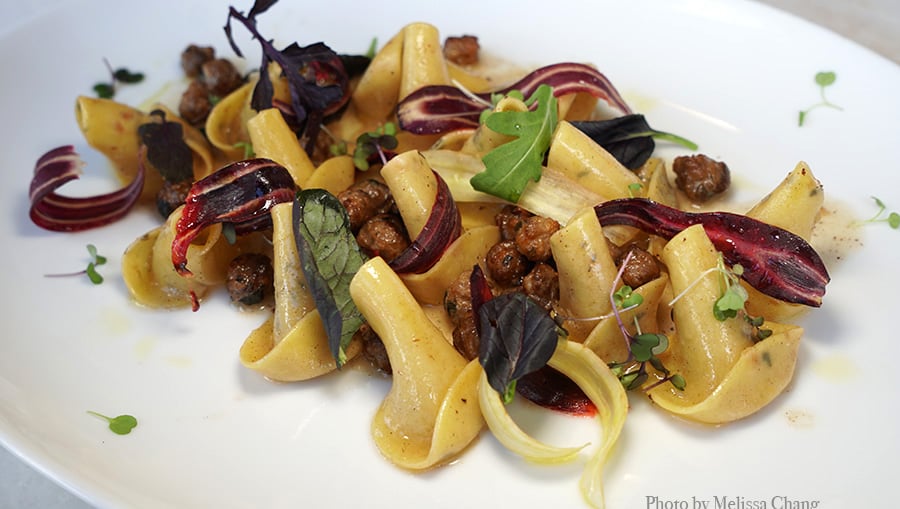 The most unique pasta dish on the menu is the cappellacci dei brigante, or pasta shaped like the hats of 19th century rebel soldiers called brigands. Here's your Italian history lesson: brigandage arose from poverty-stricken communities in Southern Italy during the unification of the country, which led to mass migrations. Many of these soldiers were revolutionaries fighting against the economic policies that caused the extreme poverty; but more importantly, some of the more violent brigands became founding members of La Mafia. As you eat this, raise a fork to Don Corleone and remember that revenge is a dish that is best served cold.
In Italy, cappellacci dei brigante is served with a lamb ragu. Eckerfield puts her take on it with little pellets of Italian sausage, then brightens the flavor with a lemon and thyme sauce. It sounds unusual, but it works well. None of the flavors dominate the dish, only complement each other. The lemon cuts the richness and saltiness of the sausage in a very subtle way.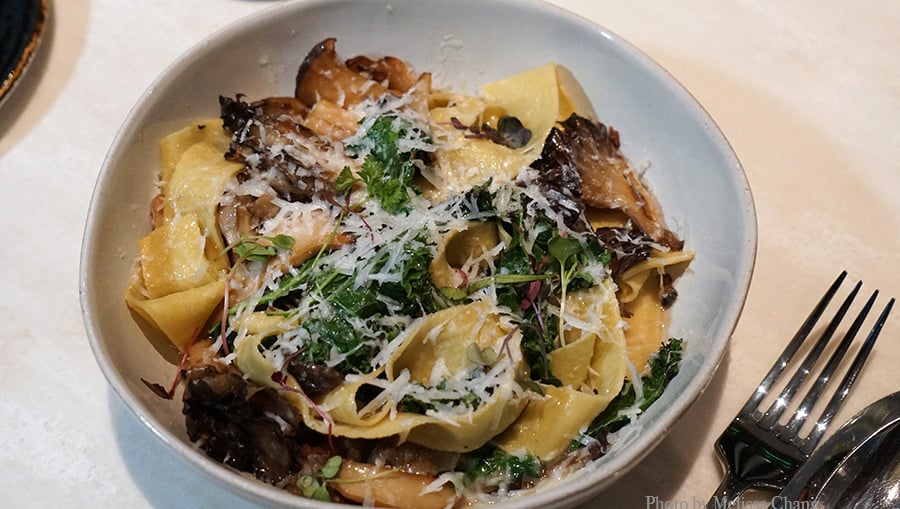 We were already ordering a family board (see below) each time we went, so instead of pork papardelle, we ordered the mushroom papardelle. This is actually a dish that I could eat by myself, no sharing. There are big pieces of Hamakua alii and maitake mushrooms as well as sauteed kale and a generous sprinkle of pecorino cheese. The dish is so simple — house made pasta, butter, garlic, salt — but tastes so darn fancy! A dish like this really shows the difference between a true chef and, well, the rest of us.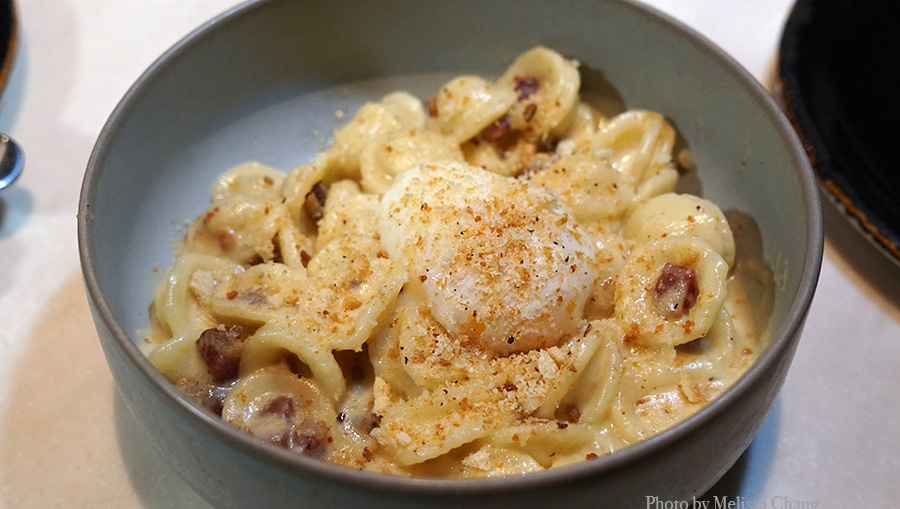 The orechietti is the only pasta that they don't make in-house at Quiora, but I'm not sure if anyone can tell or not. Executive chef Shaymus Alwin said they'll be changing that in the near future, so this photo may soon be obsolete. This is one dish by which I judge pasta restaurants, as I do make a pretty good carbonara at home. There was no question that this carbonara is better than mine, but they do break out the good stuff, like the high-quality pancetta, pecorino and parmesan (as if I could imitate this). That soft egg in the middle is a very nice touch, almost breakfast-like.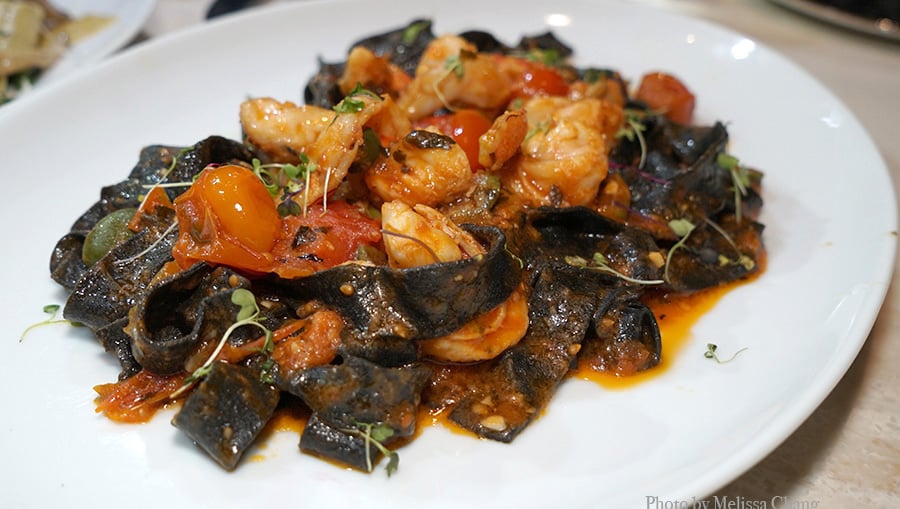 Since the tagliatelle is made in-house, it's silky soft and a beautiful contrast to the fresh pop of the tomatoes and briny olives. It's served with a generous amount of shrimp, too, so this gives the sensation of the ocean in each bite. Now, just because it's last in my pasta list doesn't mean it's bad; I liked it. Compared to the other pastas, though, if I had a choice, I'd probably order the cappellacci or the papardelle first.
Family boards are meant to be shared and are $55 each. The menu says it serves two people, but if you order appetizers and pasta and share everything like we do, this can easily stretch for four or five people. Each family board comes with your choice of two sides: polenta, chickory salad, charred garlic broccolini and country potatoes. You also get a choice of herb roasted garlic aioli, salsa verde or lemon caper butter. I hope they start serving these with all three sauces, as it's fun to see how the flavors change on the meats with each. These aren't listed in order of preference, but in order of when I tried them.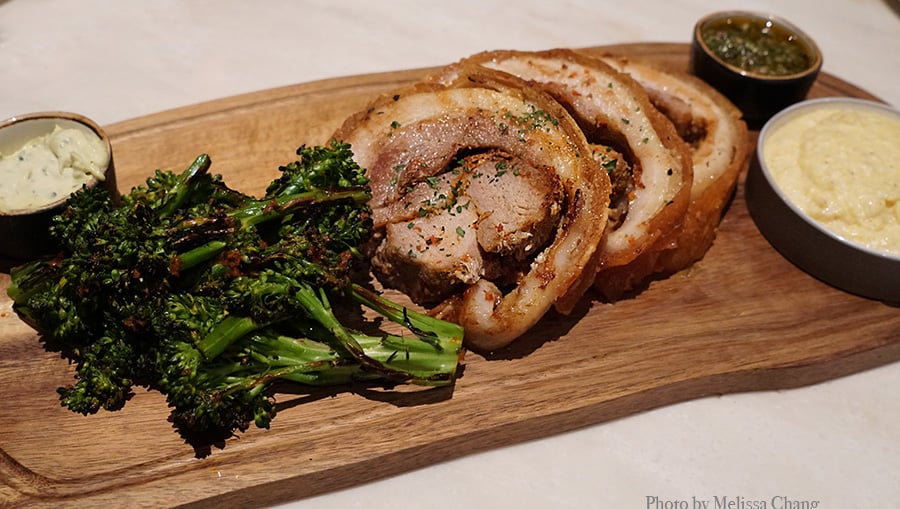 The meats include pork of the day, whole fish, bone-in steak or a seasonal vegetable. On our first time there, the daily pork was porchetta. Yes, please! This had a nice fat-to-meat ratio and best of all, the skin was nicely crunchy. I'll leave the choice of sides to you, but my personal favorite is now the polenta and the chickory salad.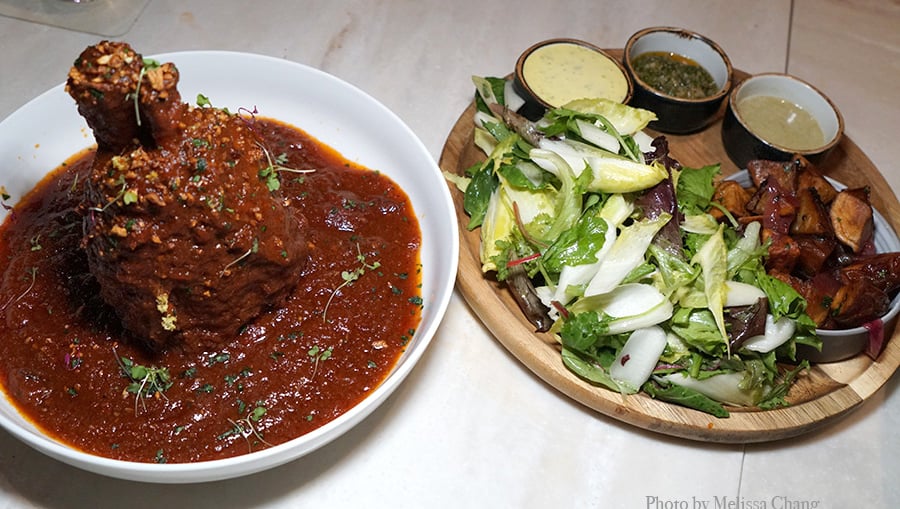 The second time we went, the pork of the day was pork osso buco. This was very unique and photogenic, but again, it comes down to personal preference. I enjoyed the flavorful tomato sauce, which was perfect for the rich pork shank. This was so large that it yielded leftovers, which was great for lunch the next day.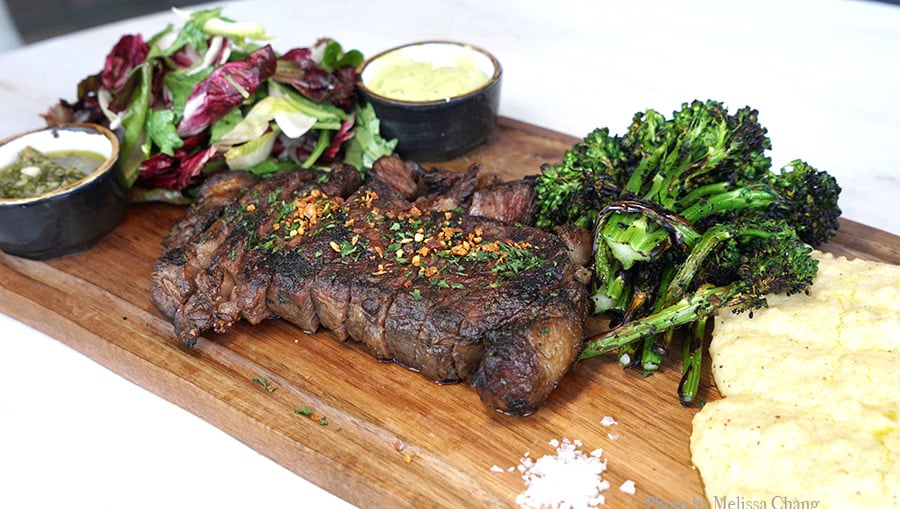 Probably my favorite was the ribeye steak, which was very straightforward, tender and moist. It's high-quality meat, so when you're sharing this with friends, you can easily cut, eat and talk seamlessly without taking time to chew it. I liked it with the salsa, but loved it with the aioli. Of the three boards, the steak would be my first choice, but that's my personal preference.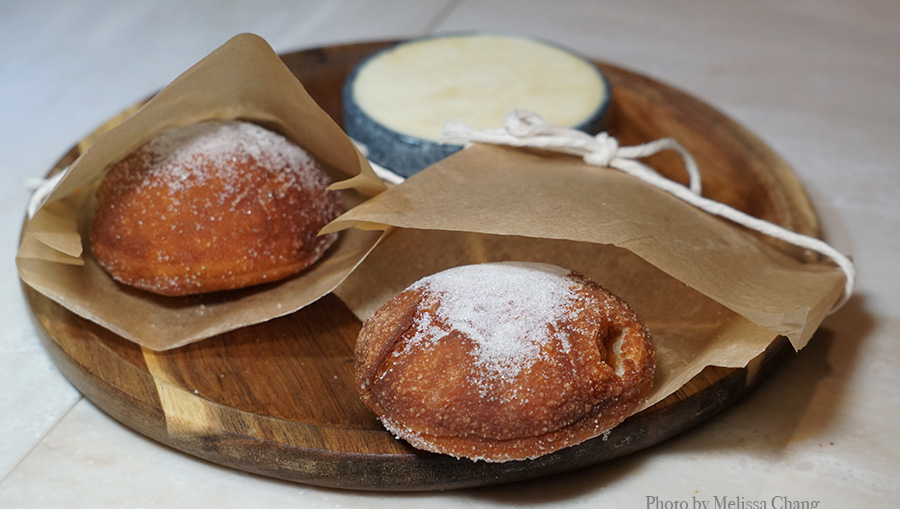 Desserts are also a matter of personal preference. Do you like cold or hot? Cakes or chocolate? I'm just showing you the two we tried so you know what they are. The bomboloni is an Italian doughnut, filled with papaya strawberry jam and served with amaro creme anglaise. It's nice and light, and not bad for sharing.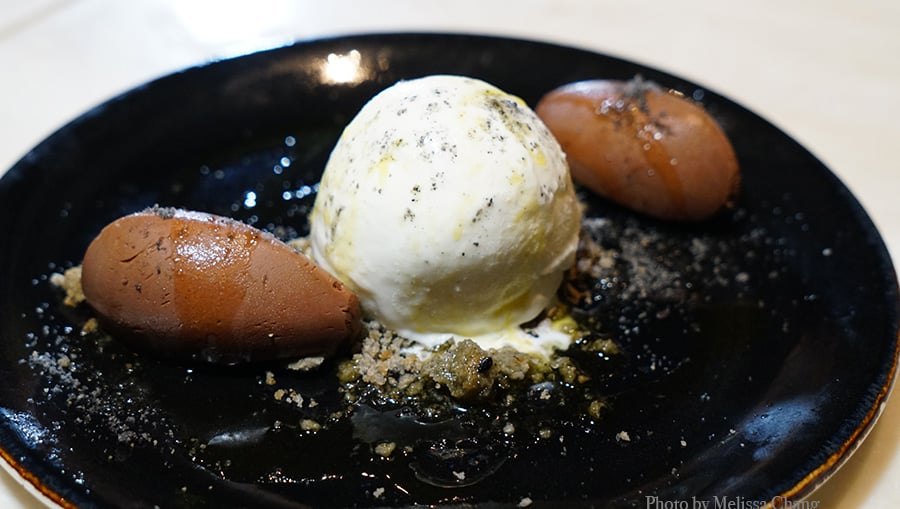 Budino is known as a thick Italian pudding, similar to a pot de creme. Here, they freeze and scoop it so it's like a thick, cold gelato, and serve it with salted olive oil cream topped with black sesame shortbread. Again, this is personal preference, but I'd just skip the budino and just get the ice cream with olive oil and salt. Never heard of eating ice cream that way? Think of vanilla soft serve and French fries. Yeah, you know what that is!
Normally, I would end a blog like this by saying "I can't wait to go back!" — but the fact that I've already been to Quiora three times pretty much speaks for itself. You can see by the prices that it's a little splurgy, but go with friends and share your dishes family-style, and the split at the end won't be so bad. When you compare it to other Italian restaurants in town, it's actually a pretty fair value, albeit a little upscale.
Quiora is open daily from 11 a.m. to 9 p.m. in the Ritz Carlton Residences. Four hours of free validated valet parking is available; just don't forget to tip.
Quiora Waikiki
383 Kalaimoku St.
729-9757