Q&A: Joanne Chang of Boston's Flour Bakery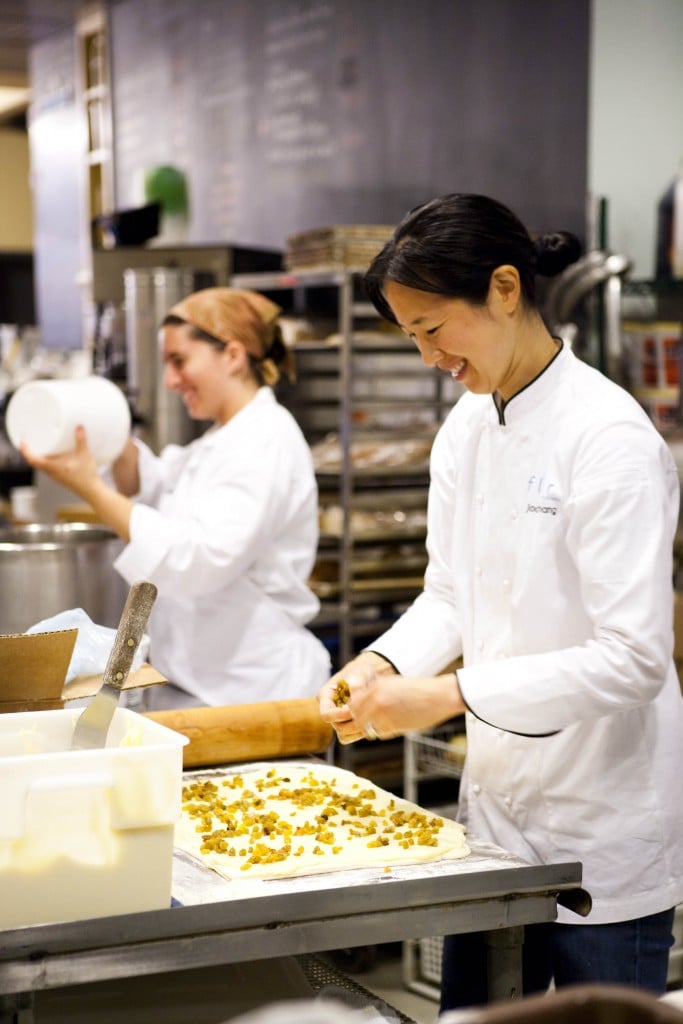 For PR people, Joanne Chang's bio is an easy sell: she's a Harvard graduate with a degree in applied math and economics who spent two years as a management consultant before trying her hand in the restaurant business, working in the kitchens of Rialto and Payard Patisserie and Bistro. Now, at 41, she has a restaurant (Myers + Chang) and three outposts of Flour Bakery, voted Boston's best multiple times by the city magazine.
This week, she comes to Honolulu, for a demo and brunch at the Halekulani on Saturday, and she'll conduct workshops for culinary professionals and KCC culinary students next week.
For almost a decade, Chang's been an idol of mine. About seven years ago, when I was leaving my tech job to pursue pastry, I chatted with her on an online pastry forum, asking for advice. Her friendliness had me besotted. A few years later, I tried stalking her at Flour, but she was out of town. Out of the failed attempt, I got a box of pastries and two lamb sandwiches for the plane ride home and an email from her saying she was sorry she missed me.
I called her before her Honolulu trip for few questions on her businesses and how she makes her bakery a Best Places to Work company in a notoriously brutal industry.
It's practically a cliché now to give up a consulting/investment banking/tech career for food. Do you get a lot of people now asking for advice?
Yeah, I really do. One of the things that's different between now and back in 1993 when I first switched: It wasn't as celebrity-chef oriented as it is now. Now, I feel like people are so enamored by what they see on TV, they're curious about how they can get involved. They want to get into the kitchen and do something that they love. That is getting more popular in the past five or six years where people are asking how they can get more into the industry.
Do you get a lot of people with a similar background—career changers—working in your businesses?
Not many … I do think that the reality is while a lot of people want to get into the business, it's not always realistic, both from a work perspective and how many hours they feel comfortable working, and a financial perspective. There is a pretty big financial difference between working in a restaurant and many other careers.
How did you do it, then?
I did it when I was really young. I think doing it at 24 is very different from when you are 35 or 40 when you have a house or kids and all that. It wasn't quite as jarring as it might be to a lot of people I talk to now, who are doctors, lawyers and leaving really lucrative positions.
Was it always the plan to open a series of bakeries and then a restaurant, or did the opportunities just come?
It all just kind of came. It wasn't a plan. The second location came when I had two people who were working for me who were not interested in leaving, but at the same time they had been doing the same thing for so long that they wanted a little more of a challenge. Opening a second location was one way for us to offer more opportunities to more people who had been with the company longer. They could take on more job responsibility. The third one kind of happened the same way. The restaurant was something my husband and I had wanted to do for quite sometime.
[For the restaurant], my husband and I are more owners that are just there to keep the general atmosphere and the culture. We spend a lot of time trying to make that a certain way, the way we want it. The day-to-day operations are not in my realm of responsibilities.
Speaking of culture, I noticed the bakery was named as one of Boston's best places to work. Restaurants and the food industry are notoriously difficult places to work. How do you achieve that?
It is definitely my priority, and one of the things I spend my time doing. I am actively at all four of the locations talking to staff trying to figure out what they need, what they might be frustrated about … We hope by creating [a good] environment internally then all of the stuff that is external comes much more easily. Then hopefully they will naturally give good service, they will care more about their natural environment and keep it clean and all that sort of stuff. We hope all that filters through.
Did this philosophy come naturally, or is it modeled after a certain experience, or in reaction to a certain experience?
I think it came naturally to me. It's always the type of environment that I personally wanted to work in. This environment doesn't work for everybody. There's a type of person that responds much better to a more traditional French type kitchen, and there's a number of different ways to run a business. This isn't the best way, it's just the way that works for me and that hopefully works for the people who work for me.
I'm sure you get asked this question a lot: how much did your management consulting experience help you when you eventually started a business?
There are definitely so many non-tangible things. It's often overlooked—especially when you have a chef who's opening a restaurant—that it's a business to run. And there are a lot of things that are business related that need to happen in order to create a sustainable restaurant, and I don't mean sustainable in a green sense, I mean sustainable to survive. Whether it's the finances or the human resources element or the customer service element. It's not just about making great food, there's myriad other things that go into the experience that also go into making the business successful. When you work in consulting, that's your main reason for being, to go into companies to try to help them be more successful. It definitely geared my mind that it's about so much more that meets the eye at first.
Pastry demo and brunch at the Halekulani, Saturday, January 21, 10:30am, $79.
Professional pastry class at KCC, Monday, January 23, 10am. Register by emailing hayleymm@hawaii.rr.com.