Preview Consolidated's luxe Kapolei theaters at a free Frolic movie night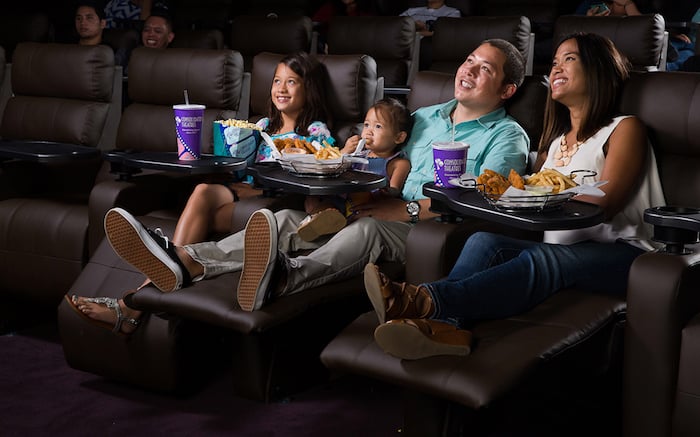 Want a chance to watch the 2014 hit foodie film 'Chef' starring Jon Favreau and Scarlett Johansson in plush reclining seats while munching on upscale new concession snacks? With digital projection on wall-to-wall screens and immersive Dolby Atmos surround sound? All for free?
Consolidated Theatres' luxe Olino movie
complex at Kapolei's Ka Makana Alii is set to open in a few weeks, and we're giving away 36 pairs of tickets to a special preview night on Wednesday, Oct. 12. Just sign up below for our Frolic Hawaii newsletter by 4 p.m. Wednesday, Oct. 5, 2016. Even if you're already a subscriber, you can still fill out the form to enter. We'll randomly select the 36 winners.
What will you win? Every winner and guest will get free popcorn, a free drink and one free item like a kimchee burger, banh mi dog or baked potato fries from the upscale new menu!
This is a special pre-opening day screening hosted by Consolidated Theatres and Frolic. Olino soft-opens to the public with discounted tickets Oct. 17 to 19, with proceeds going to the Boys & Girls Club and arts in education in
West Oahu. The theaters' grand opening is Oct. 21.
What you'll find:
• Eight theaters with all plush reclining seats
• Online reservations for those seats
• 2K or 4K resolution and Dolby Digital 3D
• New concession items created by veteran Food Network chefs Bruce Seidel and Santos
Loo
• A cafe and full-service outdoor patio for pre- and post-movie snacking – the first in the entire Consolidated chain
Frolic's special screening of 'Chef' starts at 7:30 p.m. on Wednesday, Oct. 12. Good luck and hope to see you there!