Pork. Belly. Burritos: 3 reasons you need Senor Pake in your life
This wacky new hawker stall at Maunakea Marketplace puts a Chinese twist on Mexican food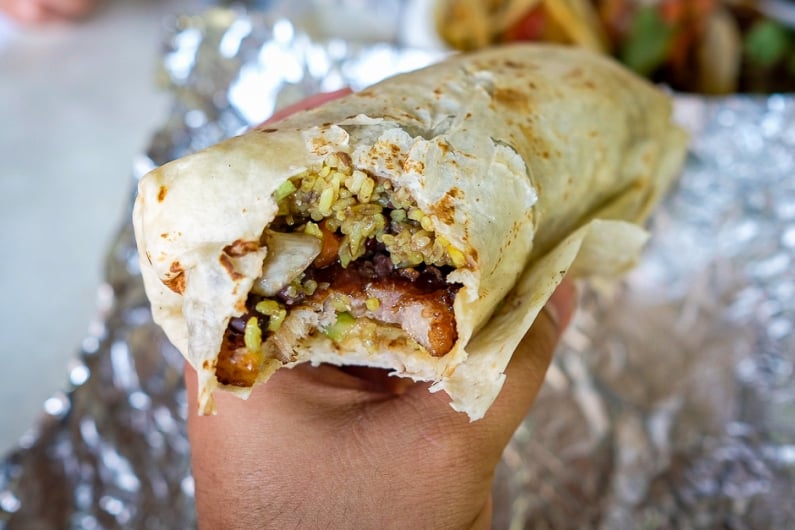 Editor's note: Senor Pake is closed at Maunakea Marketplace as of Dec. 31, 2019. Follow @senorpake on Instagram for announcements on their pop-up series.
More than a decade has passed since bulgogi tacos and kimchi quesadillas first hit the streets of LA. One tweet with an address, and hipsters would queue for hours at Roy Choi's Kogi trucks. It was worth the wait.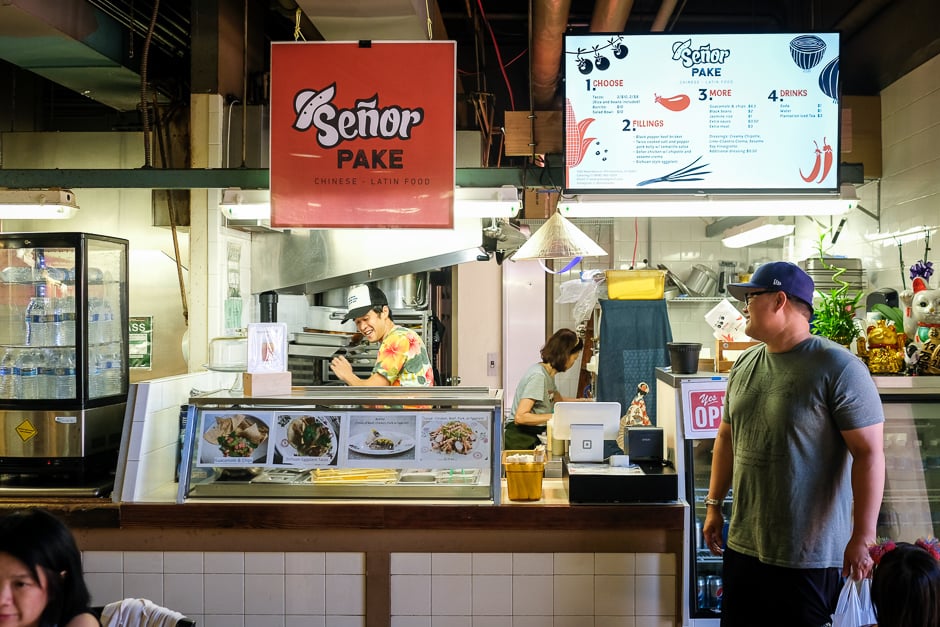 At Chinatown's Maunakea Marketplace, the crowds that lined up for everything from Laotian salads and Filipino chicharron to Japanese okazu dishes are gone. But there's hope: A new hawker stall called Senor Pake could turn things around with its exciting spins on Chinese and Mexican food. If it catches on, it has the potential to attract more spunky vendors.
At four weeks in, Senor Pake gets its lunch rushes from foodies and nearby workers, but in general there's not much of a line yet. It deserves one for three solid reasons.
No. 3: Vegan Sichuan-style eggplant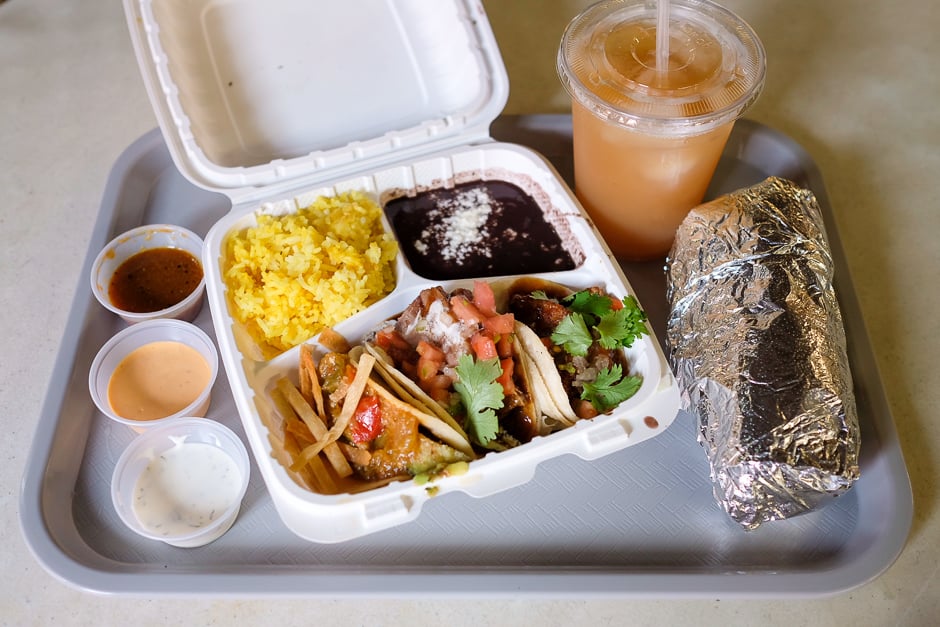 Senor Pake, a.k.a. Lawrence Lau, told me that when his classmate Jennifer Hee from Juicy Brew found out he was opening a taco shop, she challenged him to make a vegan option (sound familiar?). The result is a braised Sichuan-style eggplant topped with crispy tortilla strips. While not numbingly spicy, it still has oomph from ginger, garlic and scallions and all the heartiness of a meaty protein.
Have it on a taco (two on a plate with rice and beans for $8 or three for $10), in a burrito ($10) or on a salad bowl ($10). If I could have it as a side over the Mexican jasmine rice, I'd hit it every visit.
No. 2: Black pepper beef brisket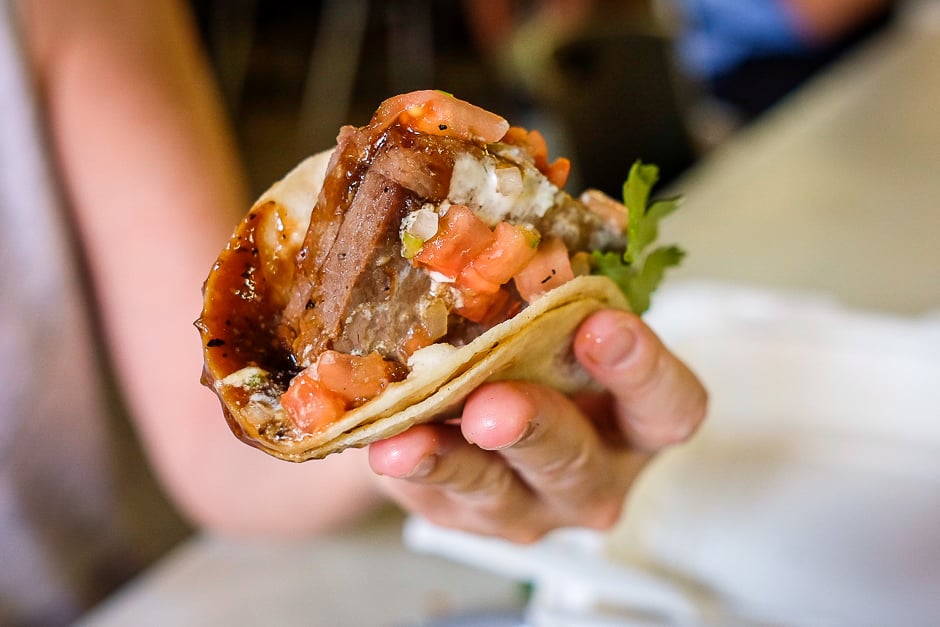 It's difficult to cradle the two slabs of beefy brisket on the tiny tortillas. Slicked with a homemade black pepper sauce, this is the option for diehard meat lovers. Unctuous and savory with an unmistakable tinge of shaoxing, it's brightened up with a sprinkle of tomatoes and an onion garnish. If you don't plan on working after lunch, get the brisket in a burrito which also has a healthy dose of rice and black beans.
Buenas noches, baby.
No. 1: Salt and pepper pork belly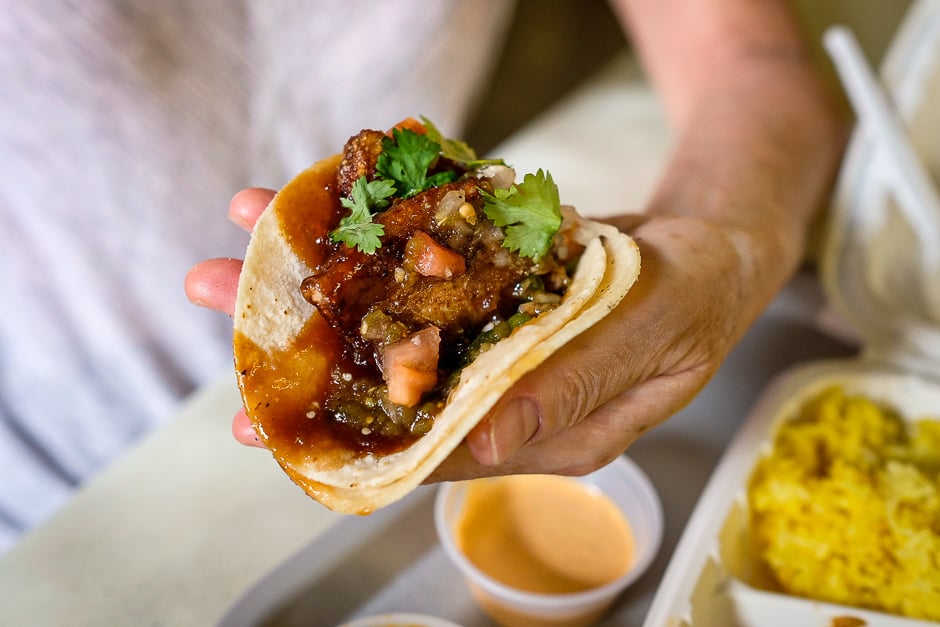 You've had tacos and you've had pork belly, but chances are you haven't had a pork belly taco like this. Lau roasts his pork whole and only when it comes time to serve will he slice it up and fry each portion to order to ensure it's hot and crispy.
If you're inclined to eat your meal as a package, then it's the burrito you want. The half-pounder is wrapped up with rice, black beans, three slices of garlicky salt and pepper pork belly and a mild tomatillo salsa. You can tell this tortilla is maxed out because it doesn't have those extra wheaty bits tucked in at the ends. I was surprised to find that every bite from the first to the last had a little bit of everything in it – no searching for pork belly or rice or beans.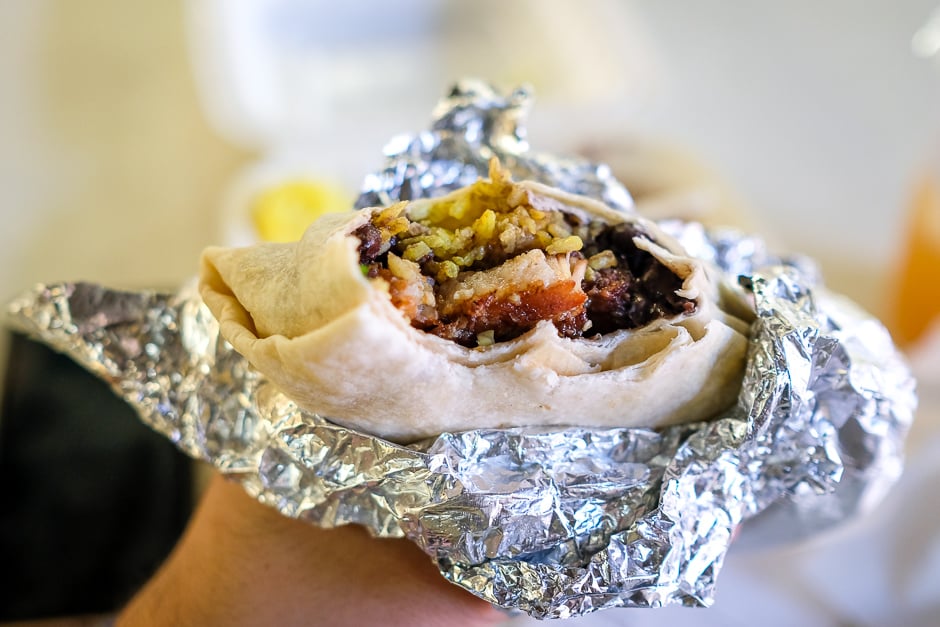 Lau plans to add ready-made desserts along the lines of haupia topped with fresh tropical fruit from the market, and his wife is begging him to make horchata slushies (yum!). He also plans to add seafood options to his lineup … I'm personally lobbying for honey walnut shrimp tacos. He posts specials on Instagram when he has a chance, so give him a follow.
One bite of any of the above and it's clear he's got some cred in the kitchen. Prior to chefing it up at Morimoto Asia and Momosan in Waikiki, Lau cooked in a few restaurants on the Las Vegas strip for several years before moving back home. Today he and his aunty run the shop which used to be Masa's Sushi. Oh, and did I mention he attended the Culinary Institute of America? Yeah, he's got cred.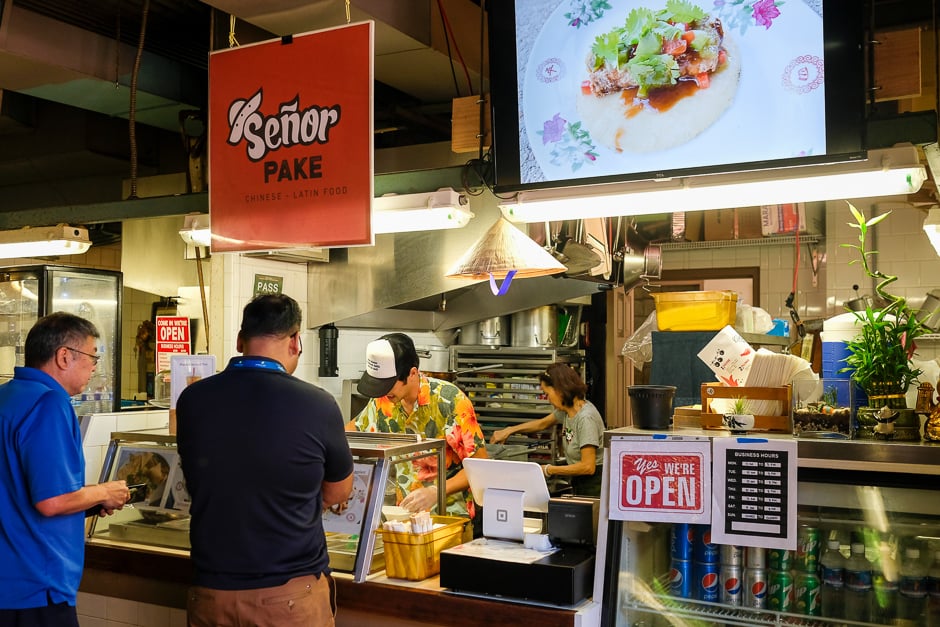 In case you're wondering exactly where Senor Pake is in Maunakea Marketplace, it's inside the food court next to the mauka entrance closest to Pauahi Street. Its gleaming white tile and steel hood form a beacon for the hungry people milling about. My advice: Go towards the light, get the pork belly burrito and experience some lunchtime bliss.
Senor Pake
inside Maunakea Marketplace
1120 Maunakea St, Ste 111
Chinatown
Instagram
Mon – Sat 10 a.m. – 3 p.m.