Pop-up brunch with rising star chef Anthony Yang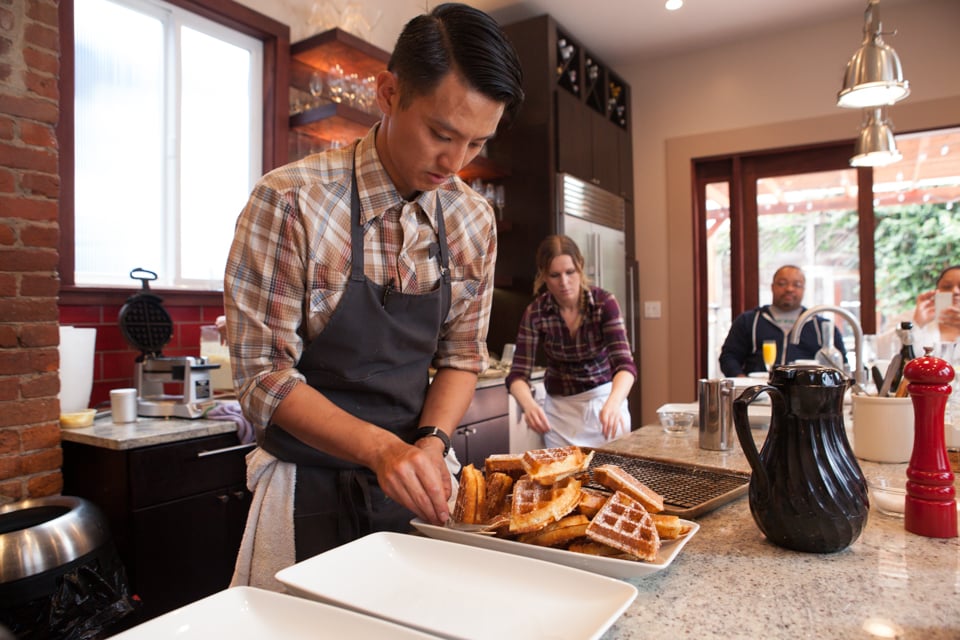 Rising star chef Anthony Yang of San Francisco, formerly of Per Se, Adour by Alain Ducasse and Michael Mina, is coming to Honolulu to collaborate with Pili Group for a two-day pop-up brunch on July 12 and 13.
Under My Umbrella and Pili Group (with local chef Mark Noguchi) are presenting the brunch, called Ante Meridian, which will be a four-course prix fixe meal featuring seasonal local ingredients prepared with a Bay Area flair. The menu includes a first course of Kona coffee-flavored granola, local organic yogurt and taro/date jam; course two features macadamia nut brioche bread pudding, brown butter roasted pineapple and vanilla creme fraiche. In the third course, Yang will prepare Koshihikari rice porridge, togarashi braised pork, homemade pickles and poached egg, and then round things up with his black truffle waffles
The brunch will take place at 2970 E. Manoa Road and costs $45/person. There will be two seatings for the July 12 brunch (10 a.m.and 1 p.m.) and one on July 13 at 10 a.m. Visit eventbrite.com to purchase tickets.
I had a chance to talk to Yang about the brunch collab, pop-up life and his famous black truffle waffles.
How did this brunch come to fruition?
Chef Chris Kajioka (Vintage Cave) came down to Aziza for a pop-up and introduced me to Mark Noguchi. We realized we all went to culinary school together, but we didn't know each other at the time. I helped at the Aziza event and ended up thinking how cool it would be to do a pop-up in Hawaii. I've been to Hawaii before for a vacation but never cooked in the islands.
Tell me about your current pop-up venture, Ante Meridian.
Right now the pop-up happens every other Sunday at a house in Mission (in San Francisco). The owner of a Victorian home called Naked Kitchen at 945 Valencia has opened their space for pop-ups. We currently use an app called Sosh to sell tickets to our four-course brunch. It's the only brunch you can buy a ticket to. I don't like standing in lines for brunch, so we decided to sell tickets so you can just come and enjoy without having to wait.
What is this black truffle waffle everyone is talking about?
I don't want to hype it up, but it's good. Ever since I started doing the pop-up, the black truffle waffle is a dish I always make. I put yeast in the batter so it turns out really crispy without being too thick or dense.
What's on the agenda for your trip out here?
I'm not a planner at all. When I travel, either my fiancee or my friends will decide what we're doing. I like to stumble on places that nobody has heard of, the little spot that really surprises you. I'm very lucky to have friends like Chris and Mark show me around.
What are you eating while you're in town?
I really want to check out the Pig and the Lady, I've been hearing lots of great things about his restaurant. My uncle owns a place called Eastern Paradise, a Korean/Chinese spot that we're going to check out. Chris talks about MW Restaurant, I have another friend Nick who works at Mavro too who will take care of us.
What's next for you?
I'm going to keep on doing pop-ups and eventually open a real breakfast place.