Poke and pupus: Foodland's new restaurant is a good catch
Redfish in Kakaako opens Thursday with poke bowls up front, cocktail lounge and pupus in back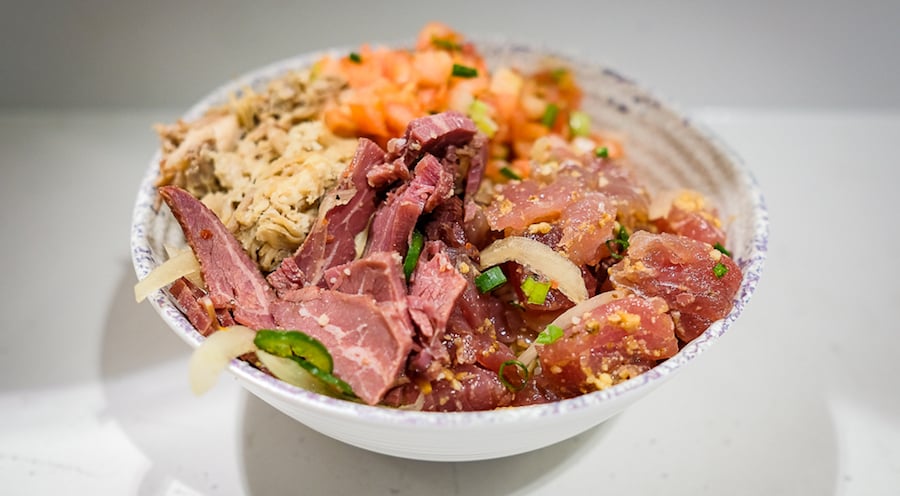 Foodland is closing out the year on a high note: Foodland Farms Pearl City opened a few weeks ago to nonstop crowds and tomorrow, Dec. 12, their new poke restaurant opens in the hippest corner of Honolulu. Redfish Poke Bar will have a poke bar with 26 rotating varieties including two exclusive flavors — ginger scallion hamachi and vegan beet poke — plus a full-fledged cocktail lounge with serious pupu grinds.
Foodland's first restaurant is a fusion showcase of the supermarket chain's local prowess and knack for crafting delicious things. We got an early taste at a media event Tuesday night.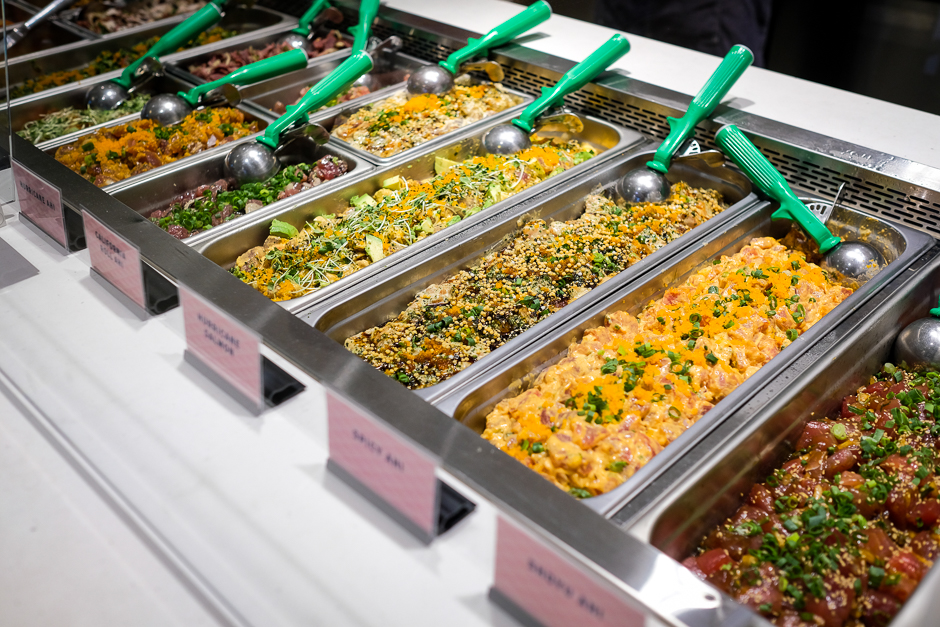 Walk in and you're greeted by the ubiquitous poke counter. You can build a bowl with your choice of rice or salad base, 20 flavors of poke, sides like kim chee and pickled garlic, and unlimited toppings from kabayaki eel sauce to fried shallots. One poke choice is $11, two choices $14 and your first side is free. You can also order poke by the pound or have it plated up for snacking with a frosty beer at the bar. Foodland says all the ahi here is fresh from the auction. It joins other options like hamachi, salmon, tako, tofu and beets in a poke choices ranging from California roll to classics laced with inamona and limu seaweed.
See also: Foodflash: Foodland is opening a poke restaurant in Kakaako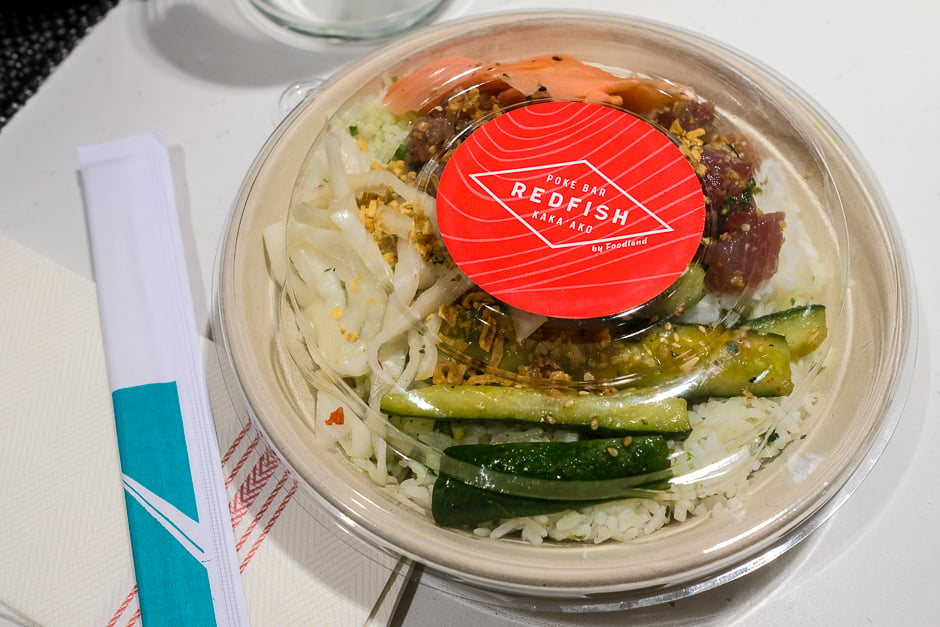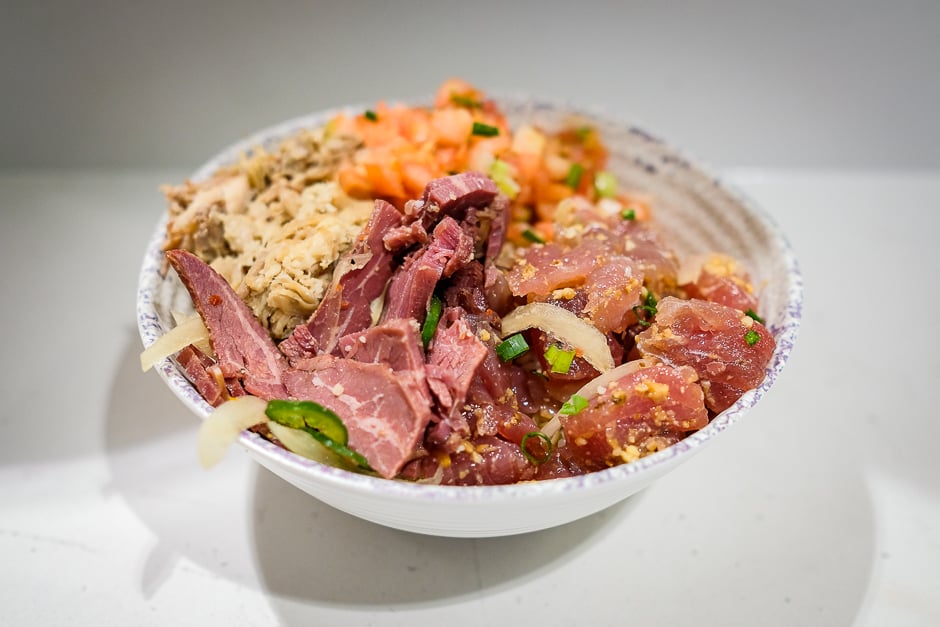 Redfish's three signature bowls are hearty and ono. The Kanak Attack Bowl adds kalua pig, lomi salmon and pipikaula to your choice of poke. The Rising Sun is inspired by chirashi and includes egg, edamame, avocado, ikura and pickled veggies with your poke choice. The Seoul Bowl is a Korean-inspired bowl that tacks on banchan, kim chee and gochujang sauce.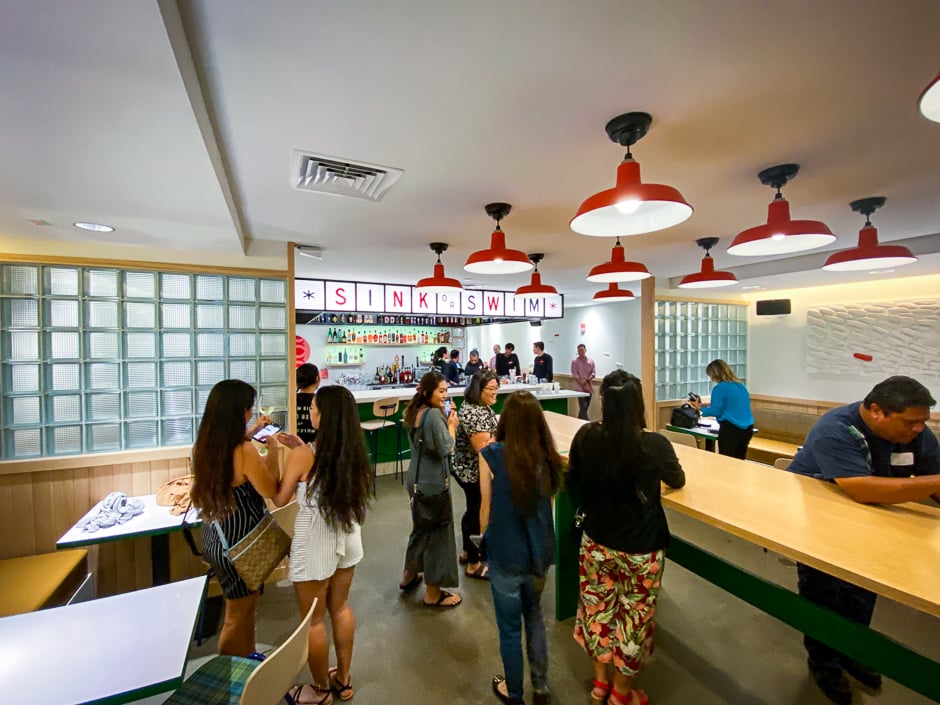 Down the hall, pau hana crowds will find mixologist Matt Rosskopf's menu of cocktails inspired by crack seed. Rock Salt Plum ($14) is a bitter-forward play on the crack seed favorite with a housemade white li hing syrup, Giffard rhubarb liqueur and Hangar One Mandarin vodka. The Lemon Peel pisco sour ($14) also features li hing syrup but is tamed by egg whites — I'll have this again, all day. The Momotaro is a peachy number with a hit of Tomoe Ame syrup — enjoying the hanabata days flavor of the soft sweet with the melting wrapper as an adult is so much more fun. You can even have the bartender mix you up an omakase drink based on your preferences for $15.
See also: New Foodland Farms Pearl City is OMG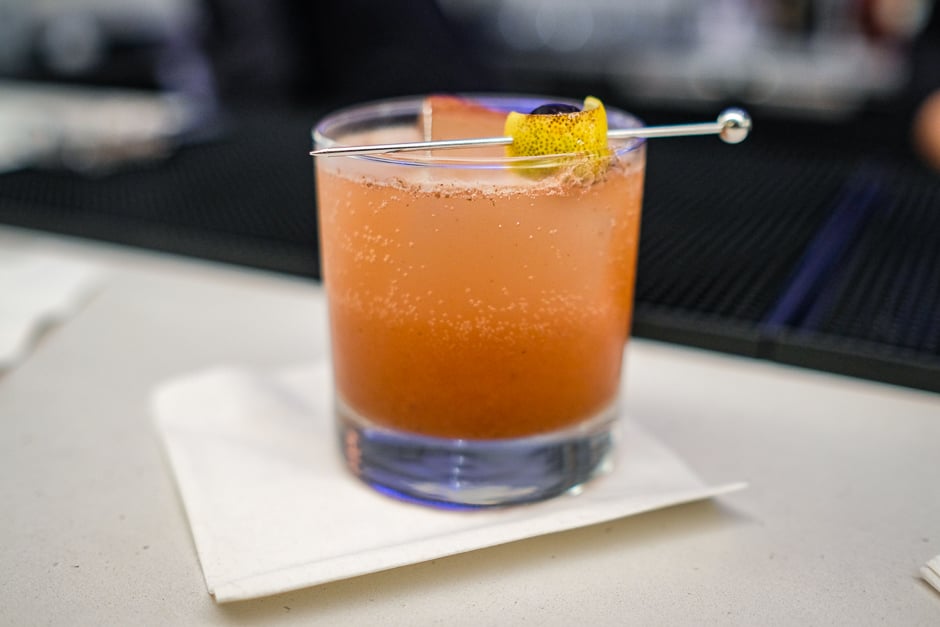 Beers are local, of course, from Honolulu Beerworks, Maui Brewing Co. and Beerlab. They're all $8 on draft while cans are $7 each, including Ola Brew's new lemongrass hard seltzer. Wines curated by R. Field range from Coeur Clementine rose for $9 a glass or $31 a bottle, to a Foxglove cabernet sauvignon for $12 a glass or $42 a bottle. You can even get one-cup sake in the form of two junmai ginjos from Amabuki — strawberry and sunflower ($12 each).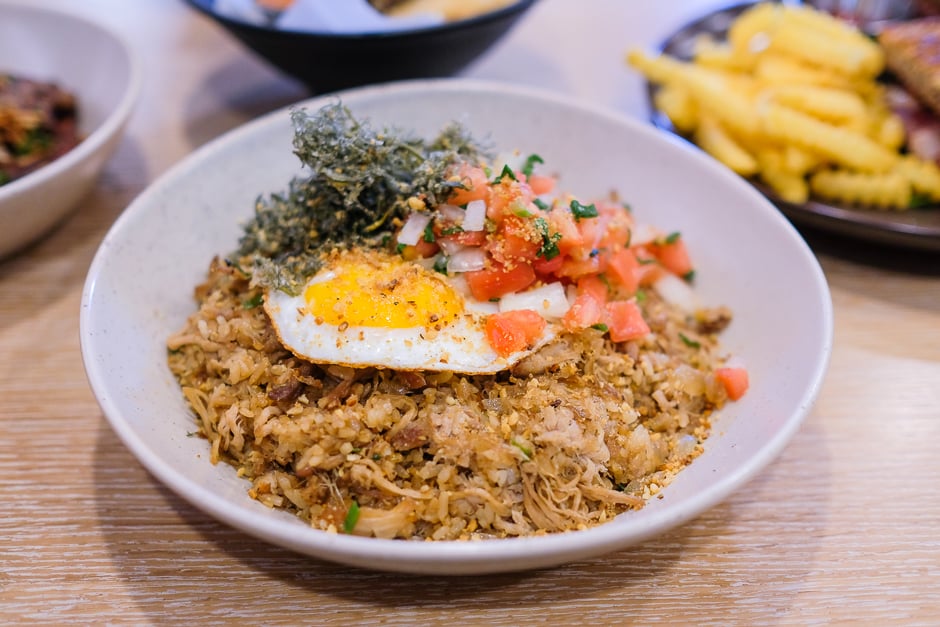 The 36-seat bar-lounge is cozy, but you'll need to bring some buddies for the shared plates. The kalua pig fried rice ($14) is a pure a Hawaii-style poke with fried limu, sesame oil, inamona and garlic. Pair it with a plate of kiawe-guava wood smoked meat ($13) or pulehu shortribs ($16) finished with a bright chimichurri and sweet pickled onions. I couldn't stop slurping samples of the tan tan Okinawan soba noodles with grilled lemongrass chicken ($14).
See also: Kakaako's red-hot food scene mapped: Foodmap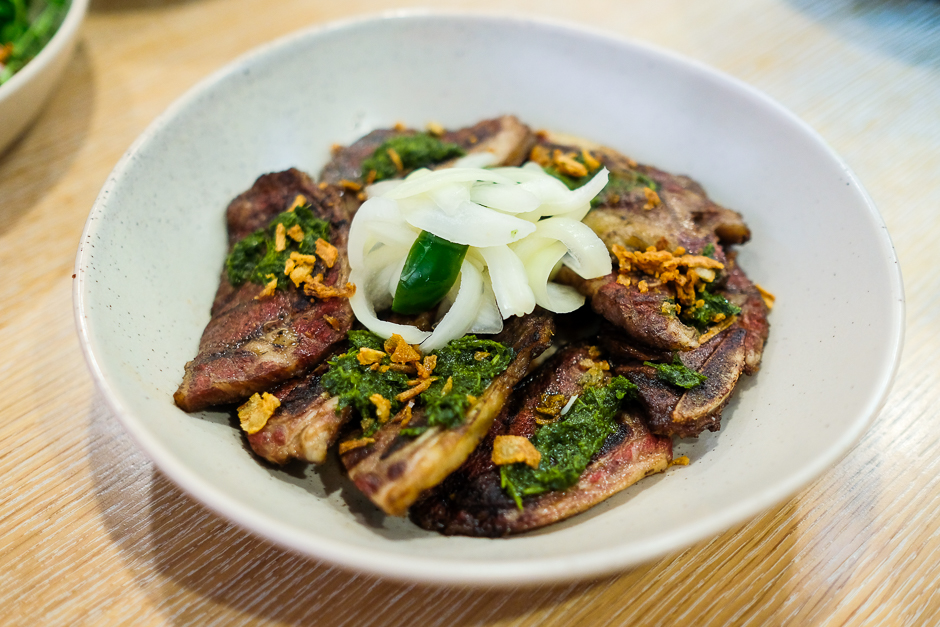 Chef Reid Matsumura is an alum of former industry haunt Home Bar and Lounge and while pupus are his forte, lunch dishes are worth a try. Of note, the large beef burger ($15) is almost entirely local, made with Kunoa beef, Ma'o Farms sassy greens, Kamuela tomato and a salt-and-pepper bun from This is It! bakery down the block. Also recommended is the B.A.A.L.T ($16) or bacon-ahi-avocado-lettuce-tomato sandwich with a zingy yuzu kosho aioli. Both are served with crispy crinkle fries and can be had to-go or for dine-in like all items on the menu. Meaning you can order lounge eats to go at the poke counter.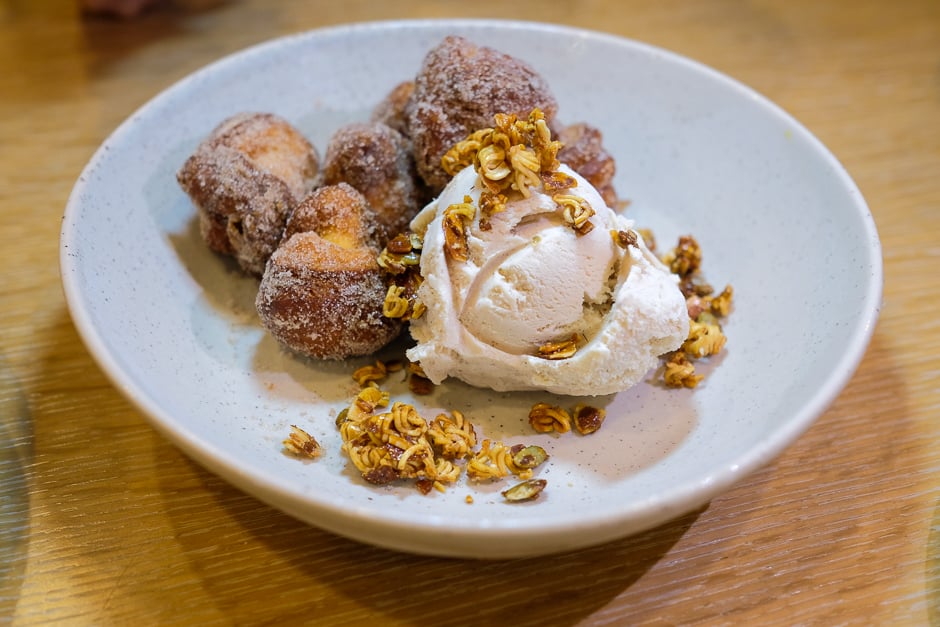 One standout was dessert: Malassadas ($8) with a big ole scoop of horchata ice cream is reminiscent of Cinnamon Toast Crunch cereal. These crispy balls of fried dough come topped with a genius garnish they're calling "fish food" in a portion large enough for at least two.
For just 1,500 square feet, Redfish packs a punch. With poke bowls for the lunch crowd, crack seed cocktails and wines for pau hana, pupus and shared plates for dinner and poke to go anytime, it's a perfect catch for Kakaako.
Redfish Poke Bar by Foodland
Salt at Our Kakaako
685 Auahi St.
Kakaako
Poke counter: Daily 10:30 a.m. – 8:30 p.m.
Lounge: Sun – Wed 10:30 a.m. – 12 a.m., Thu – Sat 10:30 a.m. – 2 a.m.
www.redfishpoke.com