Our Top 5: Ultimate poke bowls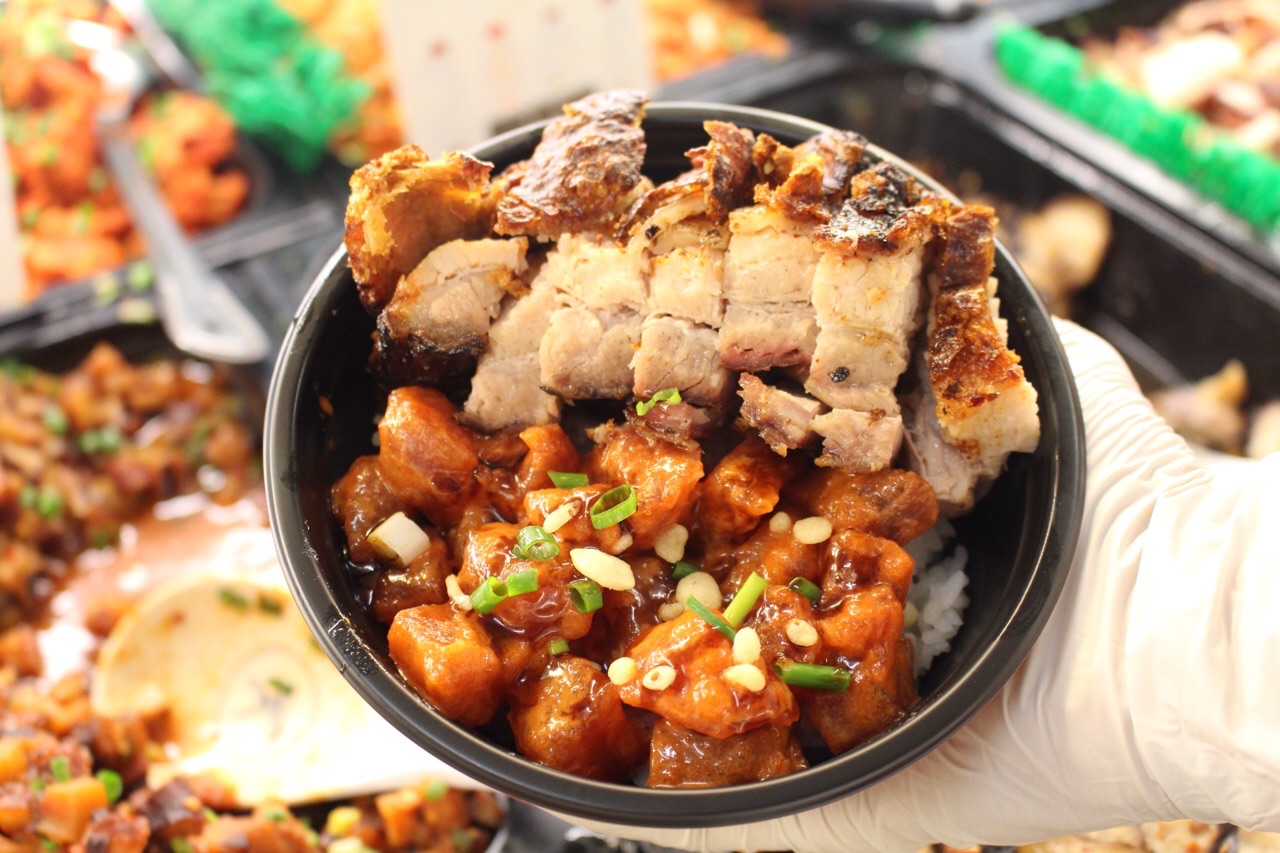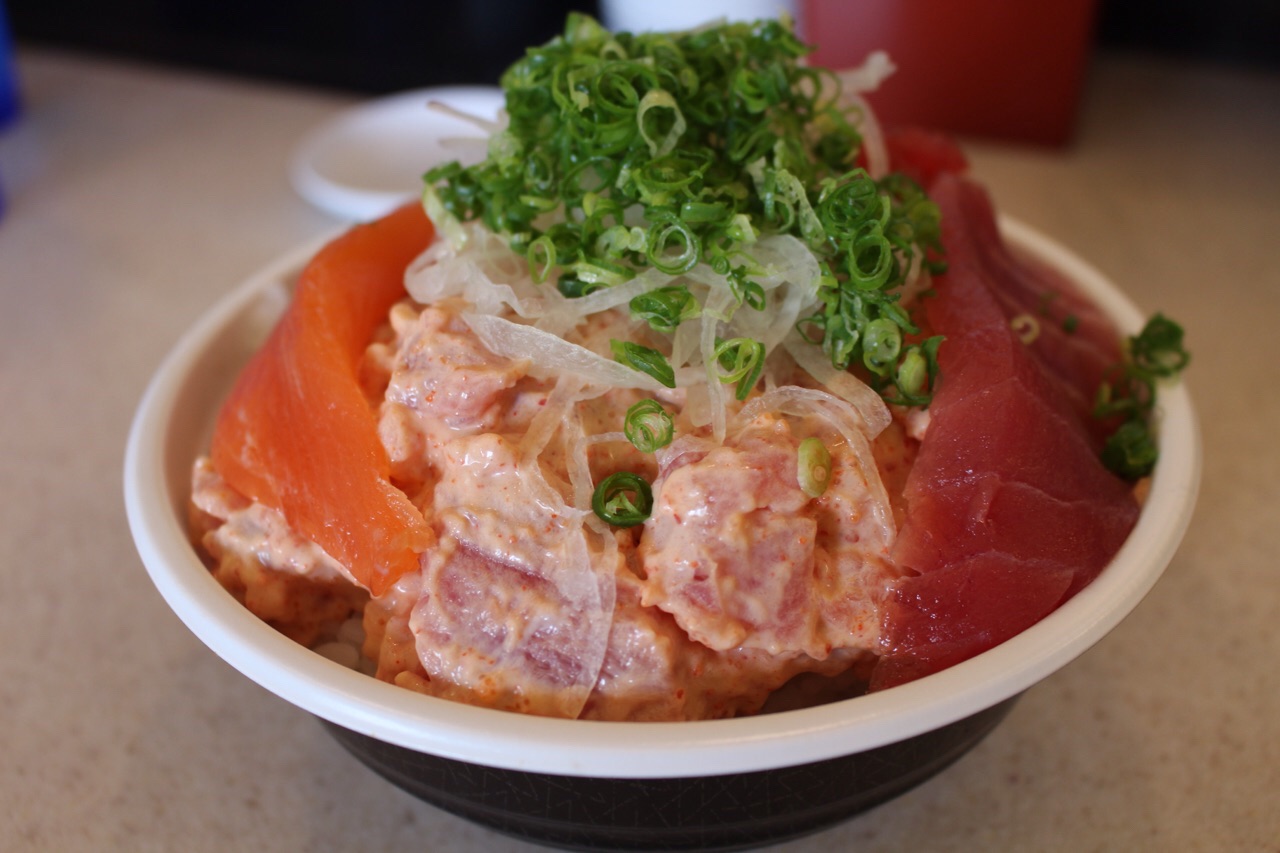 Think poke bowls are for wimps? Think again. There's a whole big genre out there that goes way beyond fish and limu over rice. If you're looking for over-the-top bowls, that's what we've got: Our top 5 ultimate poke bowls.
What were our criteria? The bowl had to have lots of other stuff in addition to the poke. It didn't matter if the rice was plain white, sushi rice or a mix of different rices. The fresh, well-cut, well-seasoned fish and other toppings determined whether a bowl made the list.
From Kapolei to Kaneohe, these five will change the way you think about poke bowls.
No. 5: Sushi Bay, Mixed Don, $9.50
This hidden gem in Kapolei Shopping Center is known for generously portioned sushi and fresh fish options that draw lines at lunch and dinner. The Mixed Don comes with a scoop of spicy ahi and simple, perfectly seasoned ahi poke, along with large slices of fresh ahi and salmon. Sprinkled with green and white onions and served atop a heaping bowl of sushi rice, it's a perfect grab and go.
Sushi Bay • 590 Farrington Hwy, Kapolei • 808-693-9922
No. 4: Local Boy Sushi, Big Braddah Bowl, $15
In Kaneohe, just before Windward Mall, Local Boy Sushi took over the space once occupied by Lee's Drive Inn. The Big Braddah Bowl lets you choose five toppings from seven options: spicy ahi, smoked salmon, ahi poke, kalbi, kalua pig, smoked meat and unagi. Scoops of your choices are placed over brown rice along with a shrimp tempura. I loved the ahi poke, and the smoked salmon would make a nice dip with crackers. The $15 pricetag also includes a drink, but heads up: The photo makes the bowl look a bit larger than it actually is.
Local Boy Sushi • 46-026 Kamehameha Hwy, Kaneohe • 808-398-9366
No. 3: Poke On Da Run, Poke Bowl, $12
I found the big bambucha of poke bowls in Pearl City. Another hidden location, Poke On Da Run is known for poke bowls that are so big they come in a rectangular clamshell. Each "bowl" comes with a choice of shoyu ahi, tako and/or spicy ahi poke. For the same price you can choose one, two or all three.
The poke is extremely fresh and sometimes even made to order. It is scooped atop a bed of white rice sprinkled with furikake and then drizzled with kabayaki sauce, the contents overflowing the container. The spicy ahi poke is perfectly cut, well-seasoned, not too spicy and nice and creamy.
Poke On Da Run • 909 Lehua Ave., Pearl City • 808-478-1454
No. 2: Alicia's Market, Ultimate Poke Bowl, $9.95
Just the thought of Alicia's Market makes me salivate. The Kam family store in Kalihi makai is famous for its poke, roast pork and old-time homemade snacks. It also makes a mean poke-plus bowl. You go in wanting one of the multitude of poke choices, but the sight and scent of the char siu, roast duck, top sirloin and suckling pig will change your mind. No problem, because Alicia's lets you pretty much customize your poke bowl with anything you want.
Ask for the ultimate poke bowl and you will get spicy ahi with roast pork. The ahi is firm with a slight hint of spiciness, and the roast pork is crispy, salty, crunchy and moist all at the same time. At only $9.95 you'll want to buy two.
Alicia's Market • 267 Mokauea St., Kalihi • 808-841-1921
No. 1: Fresh Ahi off the Boat, Local Poke Bowl, $9.50
You've probably never heard of Fresh Ahi off the Boat. It's tucked off Keeaumoku Street across from HMSA, an oasis in the midst of Korean bars and bustling traffic. The fish is literally fresh off the boat and perfect, with no sign of chewy muscle fibers or tendons. In addition to an impressive assortment of ultimate poke bowls with an array of toppings, there's a choice of sushi rice, brown rice or black rice (the black rice mixture has great texture and flavor and is healthier for you).
The Local Poke Bowl (pictured) comes with spicy ahi or shoyu poke, homemade lomi salmon and fresh kalua pig, plus a side salad or a bowl of miso soup. You can taste the freshness of the ahi, and the lomi salmon is a nice complement to the salty, moist kalua pig. I also can't stop thinking about their Tsunami Bowl, which has shoyu poke, teriyaki and spicy mayo glaze, purple onions, jalapeño, radish and cucumber for $9.75. At Fresh Ahi off the Boat, a poke bowl is so much more!
Fresh Ahi off the Boat • 815 Keeaumoku St. #J101, Ala Moana • 808-352-4755