Our Top 5: Restaurants for Chinese New Year
Picks from dining on a budget to living lux.
It's a known fact that my family are true Chinese foodHEEs. Chinese food makes at least a weekly appearance on our table, and whether it's takeout from our favorite mom-and-pop, dim sum for weekend brunch or a special celebration, the nine-course meal is why I can no longer fit in some of my most treasured jeans.
So with Chinese New Year kicking off Friday, this is a perfect time to share my favorite Chinese spots—from budget to lux and everything in between!
Best plate lunch: Lagoon Chinese Restaurant
Around the corner from Honolulu International Airport, Lagoon is the perfect place to pick up a plate lunch to tide you over on a long flight. Some of my personal favorites include: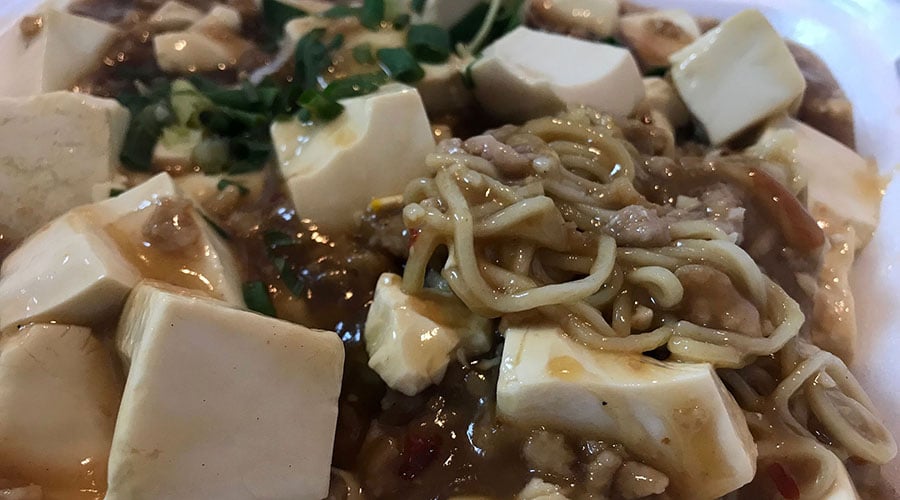 Mapo tofu over hot rice is sure to leave any hungry tummy content. Imagine kicking that up a notch by ladling it over freshly made egg noodle—truly broke da mouth satisfying.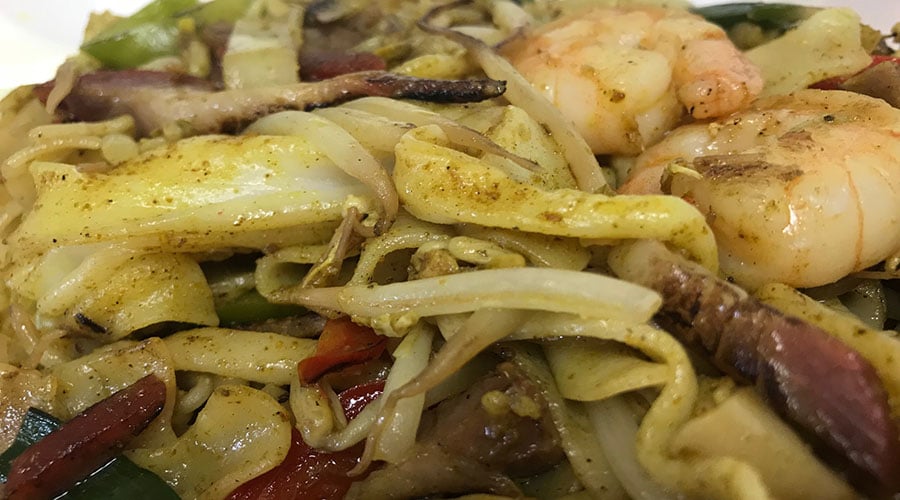 That's right, not the usual mai fun—at Lagoon, you can order Singapore noodles with the fatter rice noodle made in-house daily. This simple switch alters the dish entirely, as the fat noodle with the curry seasoning yields a mouthful of flavors with each bite. If you're not in the mood for meat, order this without the char siu pork.
Lagoon Chinese Restaurant • 2628 WaiWai Lp. • Airport • 839-0808 • Daily 9 a.m.-8 p.m. • lagoonchineserestaurant.com
Best casual dine-in: On On Chinese Restaurant at Kapahulu
On On Chinese Restaurant is great for a casual gathering or takeout for a potluck. Here's an insider tip: Most restaurants typically offer jai only during Chinese New Year, but On On offers this tasty vegetarian dish ($10.50) year-round. Some other must-try dishes include: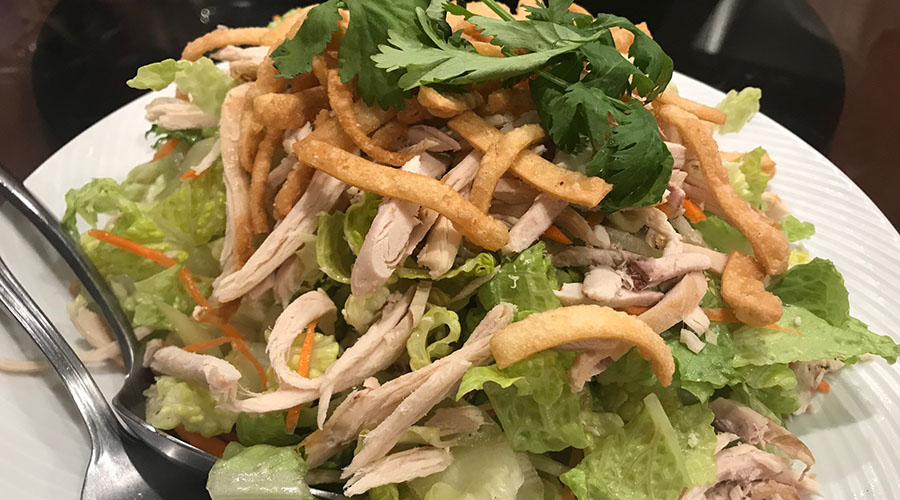 The incredible taste screams guilty pleasure, but this salad is light and rather healthy. It's tossed in a secret sesame oil dressing that leaves your taste buds watering for more, but with few enough calories to get you excited about fitting those jeans again!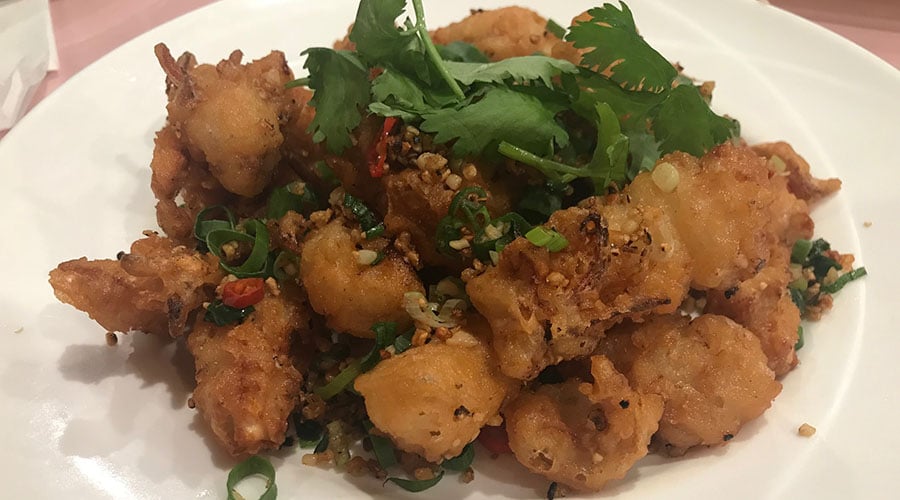 Batter is everything to me when it comes to deep-fried dishes: When it's too heavy, it can obscure the taste of the star ingredient. At On On, the lightness of the batter complements the taste of the squid and its seasonings. (Pro tip: Once the squid is gone, scoop the remaining fried garlic chips, green onion and chili pepper onto hot rice—pure satisfaction. Just be prepared to smell of garlic!)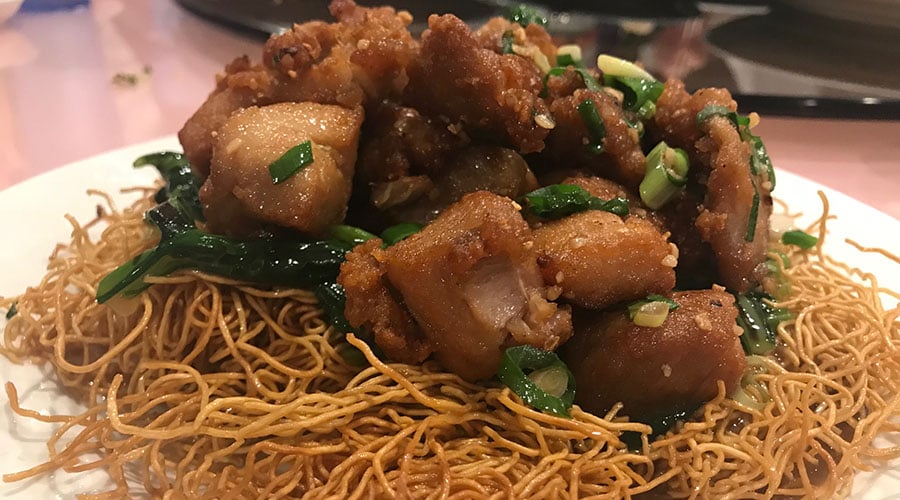 The frustration with cake noodle is that you have to pick between a square that's overly fried or a soggy square soaked in gravy. On On's version is a twist on the classic minute chicken cake noodle, with the perfect balance of crunchy and soft noodles. If you're into tradition, the noodles are not cut, so they really do symbolize long life!
On On Chinese Restaurant at Kapahulu • 909 Kapahulu Ave. • Kapahulu • 735-4557 • Daily 10 a.m. – 9 p.m.  
Best in Chinatown: Little Village Noodle House
This gem in the heart of Chinatown is great for a quick lunch with coworkers or a reprieve from weekend grocery shopping. Little Village offers a unique array of dishes, some of them not seen on any other menu.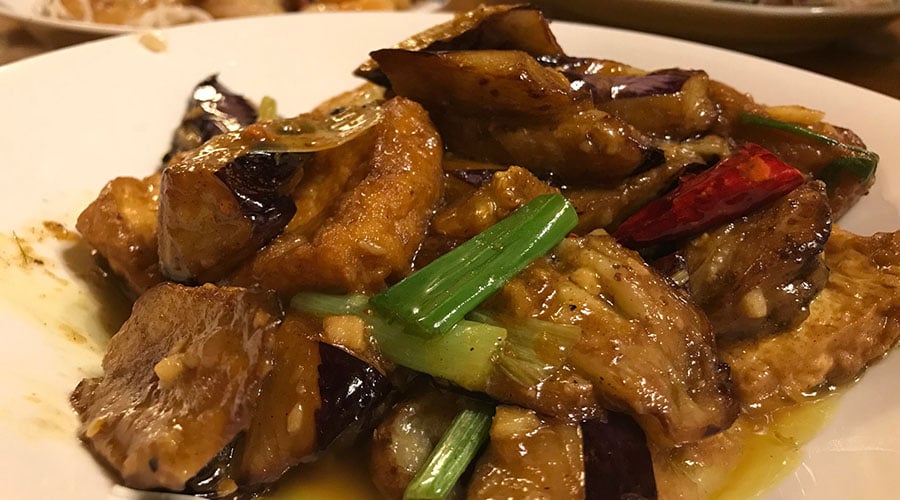 Fresh eggplant and tofu stir-fried in a creamy curry sauce make for a delicious vegetarian dish. The hint of curry flavor doesn't overpower the tastes of the star ingredients. A definite favorite of mine.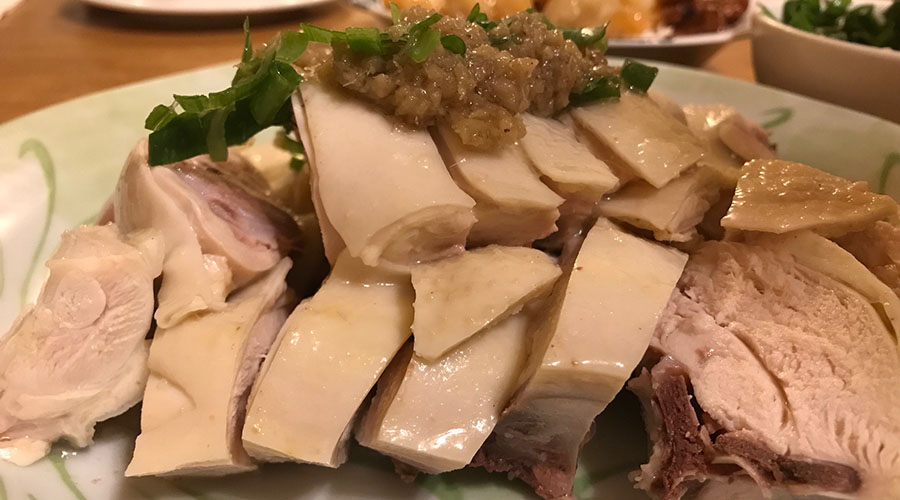 Finely chopped green onion mixed with grated ginger, sesame oil and house seasonings make this dish amazing. Eat this with a bowl of hot rice and your stomach will be smiling for days. They serve the ginger green onion topping on the side, so everyone can adjust the amount to taste.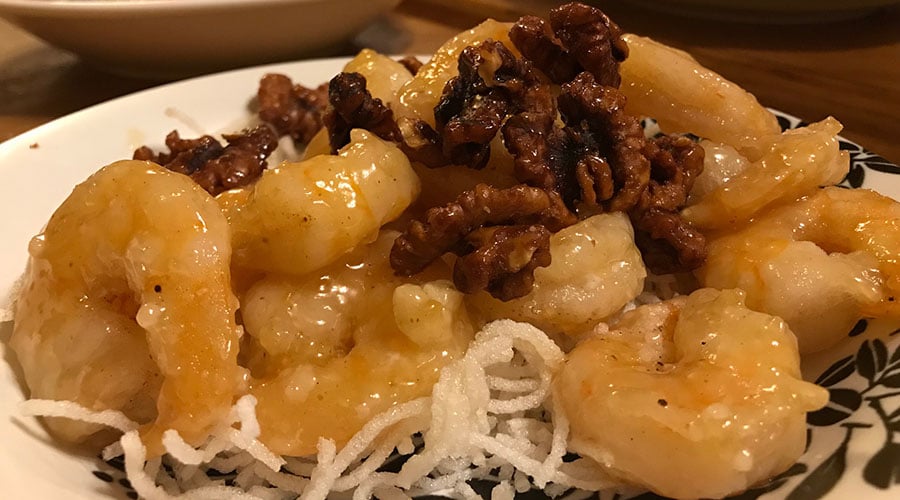 It's easy to overpower the delicate flavor of shrimp with a heavy mayonnaise-based sauce, but this dish makes you feel as though you've hit the jackpot. A garlic scallion cream sauce and a light coating of batter masterfully accent the shrimp's natural flavors, with roasted candied walnuts adding a perfect complement.
Note: Little Village has special Chinese New Year menus for tables of 4 ($168) and 10 ($338) that include jai, Imperial Winter Soup, seafood lettuce wraps, kau yuk with steamed bun, honey walnut shrimp, steamed gai lan, Fire Cracker Chicken, crispy skin roasted duck and custard tapioca. Offered until Feb. 17, 2018.
Little Village Noodle House • 1113 Smith St. • Chinatown • 545-3008 • Monday-Thursday 10:30 a.m.–9:30 p.m., Friday, Saturday and Sunday 10:30 a.m.–10 p.m. • littlevillagehawaii.com
Best hidden secret: Beijing Chinese Restaurant
One of Waikiki's hidden secrets, this spot in Royal Hawaiian Shopping Center has some of the island's best Cantonese cooking, showcased in the ambiance of a classic Chinese restaurant. Menu favorites include: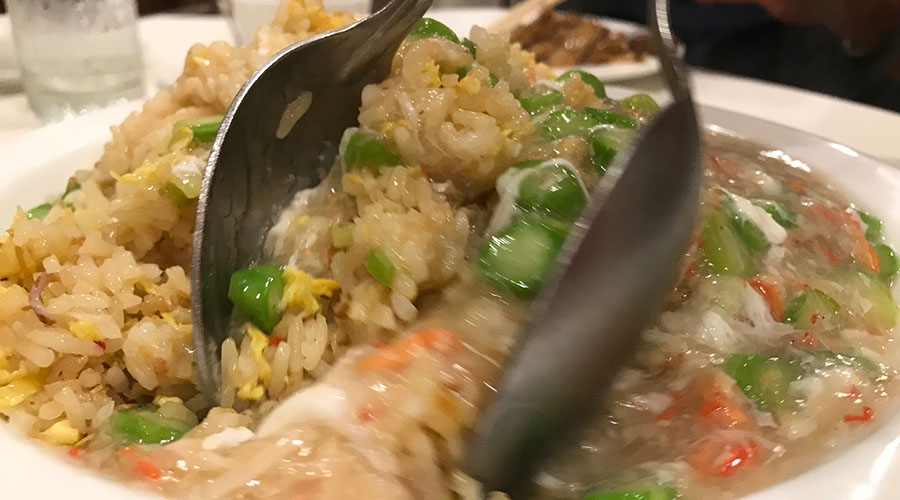 If you haven't indulged in the goodness that is XO sauce, my friend, you have not fully experienced the essence of Chinese cooking. I first encountered XO sauce on a family trip to Hong Kong but discovered that it's extremely rare to find it by the bottle in Hawaii, so you can imagine my joy when I discovered this dish! XO sauce is made from dried scallops, red chili pepper, jinhua ham, dried shrimp, oil and salted cured fish—a powerful combination that will leave you salivating for more. Beijing mixes it with egg and asparagus to create a gravy that is poured over fried rice.
Prepared tableside, this dish lets the tenderness of the filet mignon speak for itself. It's no exaggeration to say that the meat practically melts in your mouth.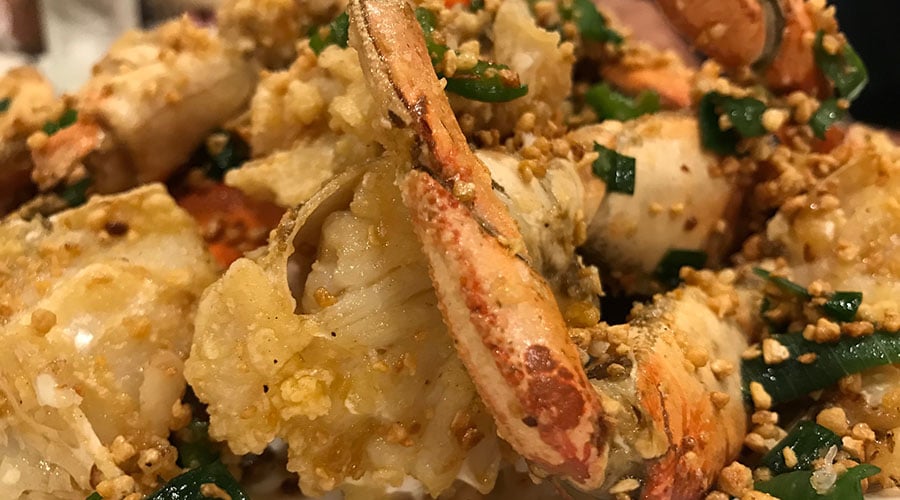 Lightly battered crab and roasted garlic—that's all that's in this dish, and it's an explosion of flavor. The chefs' masterful seasoning enhances the natural sweetness of the crab so you can taste it in all its seafood glory.
Note: Beijing's special New Year's dishes include deep-fried stuffed crab claw ($8.25), poached live Hawaiian prawns ($68), fried prawns coated with salty egg yolk ($28), New Year jai ($22), braised sea cucumber—6pieces ($50), steamed stuffed sea cucumber ($60), braised pig's feet with angel hair ($28), fried half-chicken Hong Kong style ($50), braised lobster e-mein scallion sauce ($88) and deep-fried mochi balls ($8). Chinese New Year menu will be available Feb. 16-25, 2018.
Beijing • 2301 Kalakaua Ave. • Waikiki • 971-8833 • Sunday–Friday 11:30 a.m.–9:30 p.m., Saturday 5–9:30 p.m. • beijinghawaii.com
Most Instagrammable: Yauatcha
Ambiance, presentation and location at International Market Place's Grand Lanai make Yauatcha perfect for a family splurge or when you want to impress a date. This is one of the few restaurants offering quality dim sum in the evening, with dishes that are delicious and guaranteed to score you likes on Instagram. Must-try items include: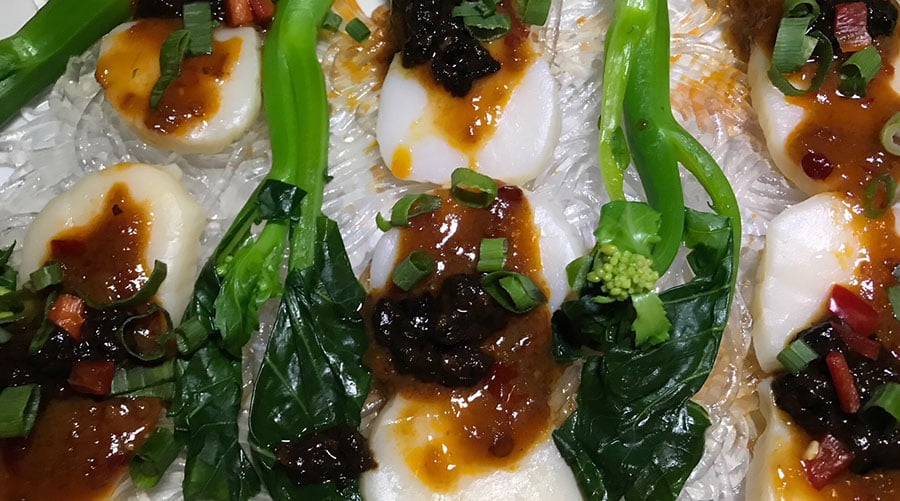 Though spicy, the seasoning does not overpower the delicacy of the scallop or the black bean sauce. And if you've cooked glass noodles, you know how difficult if can be to achieve the ideal consistency and firmness. Yauatcha does an incredible job.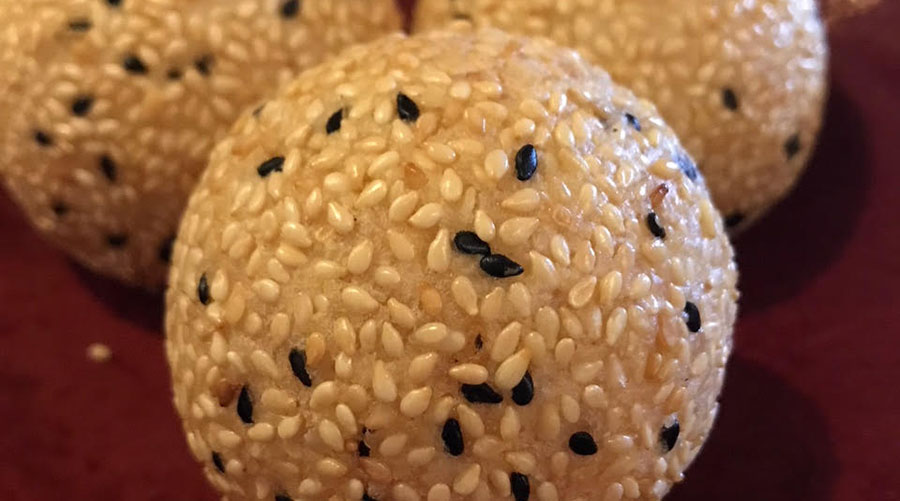 A salted egg yolk is a twist on the classic black bean jindui. The yolk is a wonderful balance of salty and savory, a nice way to wrap up a satisfying meal with a cup of warm jasmine tea!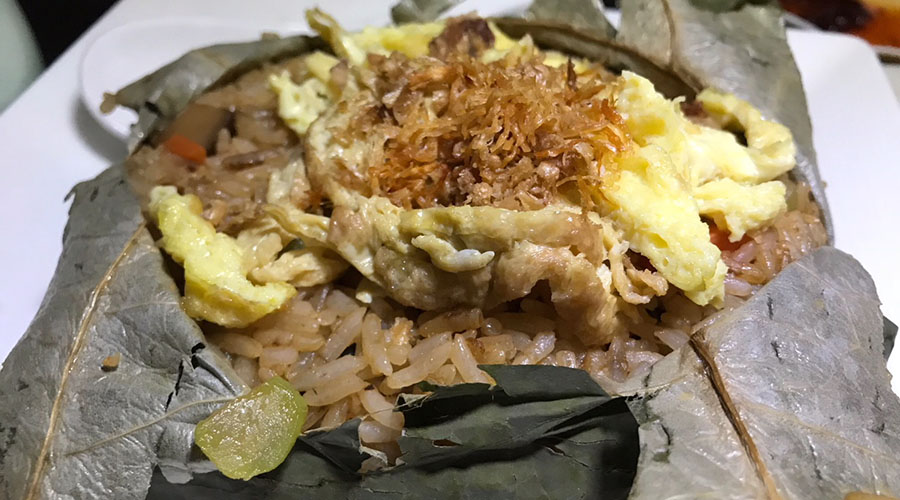 We've all been to Chinatown and had sticky rice wrapped in ti leaf. This dish is a sophisticated modification featuring a light, airy fried rice in a lotus leaf. The presentation is stunning and the seasoning of the rice is subtle but satisfying. Served alone or with accompanying dishes, it's a definite must for the table.
Note: Special Chinese New Year menu items include steamed Dover sole roll ($10), Golden Fortune Prawn in lime sauce ($16) and stir-fried duck breast with hazelnut in mala sauce ($20). Be sure to head down before March 4, 2018 for these!
Yauatcha • 2330 Kalakaua Ave. • Waikiki • 739-9318 • Sunday-Thursday 11 a.m.–10 p.m., Friday and Saturday 11 a.m.–11 p.m. • yauatcha.com/waikiki/
Wishing you a year of wonderful #foodHEEadventures! Kung hee fat choy!
Check out more rankings on Our Top 5 page.
---
Former Miss Hawai'i Chinese enjoying post-pageant feasting to its fullest with a current SEEfood diet. A strong believer that food is a means for connecting people of all places and cultures. Follow me on my journey @foodheeadventures on Instagram!

We love it when readers contribute Top 5 rankings! Email your idea to editor@frolichawaii.com.