Our Top 5: Pumpkin spice treats that aren't latte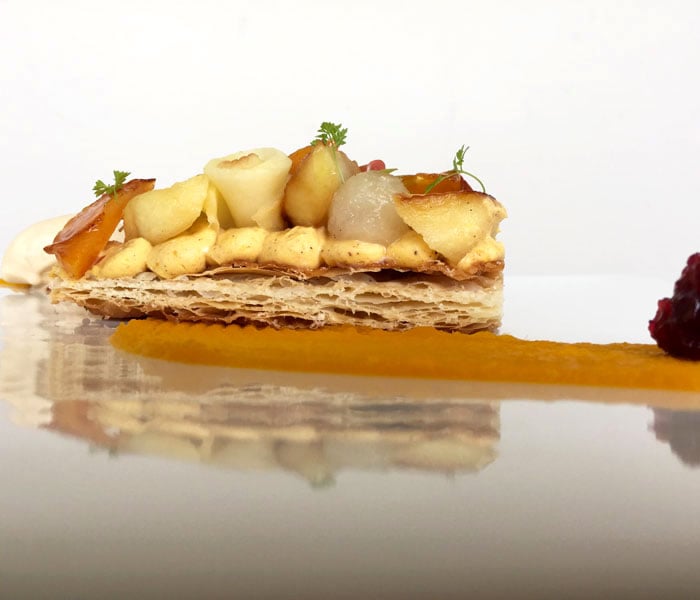 Thank goodness for the Alley. Their pumpkin crunch square is not only one of Honolulu's iconic desserts, it's also waiting for me in the dessert case all year round.
Not so with five of the six pumpkin spice treats on this Top 5 (yes, there's a tie): They're seasonal, redolent of fall and Thanksgiving and all that – meaning you only have a few more weeks to indulge in these cinnamony, nutmeggy bites.
No. 5: Pumpkin pie bread pudding, Chocolate + Vanilla Bakery, $4
On any given day at this Kaimuki bakery, you'll find bread pudding in flavors like matcha, salted chocolate caramel, ube and chocolate chip. But I make a special trip just for the pumpkin pie version.
Traditional pumpkin pie won't cut it after this sticky indulgence of slightly mushy bread pudding with a strong pumpkin flavor. Right now the bread pudding features a vanilla glaze, but a cream cheese one is coming soon.
Hosting Thanksgiving dinner this year? You can call Chocolate + Vanilla to pre-order. Trust me, you won't miss the pie.
Chocolate + Vanilla Bakery • 1115 12th Ave. • Kaimuki • 737-2462
No. 4: Pumpkin cheesecake, Cake Envy, $6
Cake Envy's pumpkin cheesecake appears periodically throughout the year, but less often than other flavors like the ever-popular salted caramel cheesecake. The pumpkin flavor is subtle and the texture so fluffy and light, it's almost like eating pumpkin-infused clouds. The vanilla cookie crust adds a unique touch.
The best part: Slices are petite, so you won't feel guilty or weighed down after devouring one. Or two.
Cake Envy • 1129 Bethel St. • Downtown • 599-8900
No. 3: Pumpkin spice latte, Via Gelato, prices vary
The only thing better than pumpkin spice latte is pumpkin spice latte in gelato form. Via Gelato currently has a pumpkin flavor rotation: pumpkin pie, pumpkin spice and pumpkin spice latte flavors, all available on different days.
Pumpkin spice latte is creamy with a mild pumpkin flavor and the sweet fragrance of cinnamon. Regardless of the size you get, you can mix and match flavors. So if you're indecisive like me, you can try one of the pumpkin flavors along with a longtime favorite.
Via changes its lineup daily, so stalk their Instagram to see when the next pumpkin flavor is available.
Via Gelato • 1142 12th Ave. • Kaimuki • 732-2800
No. 2: Fall pop tart, MW Restaurant, $10.50
Pop tarts appeal to the inner kid in all of us, but you'll never look at them the same way once you try MW's fall pop tart. This seasonal item has all the quintessential fall flavors.
I don't even know where to begin. The puff pastry is light and flaky and the kabocha flavors pleasing and balanced. The fruits, each prepared in a different way, add a refreshing sweetness, and the dulce de leche ice cream is insane. I couldn't imagine a more glamorous take on pumpkin pie cheesecake — it's fun, comforting and oh so haute.
If you can't make it to MW, pastry chef Michelle Karr-Ueoka has a line-up of pumpkin, apple and pear desserts at downtown's Artizen for the next week, including pumpkin brulee cheesecake and kabocha and carrot cake crunch.
MW Restaurant • 1538 Kapiolani Blvd. • Honolulu • 955-6505
Tied for No. 1: Pumpkin kouign amann, b. Patisserie, $6
b. Patisserie debuted their pumpkin flavor on Halloween and will be selling it through Thanksgiving. This spin on the bakery's signature item takes the flaky, crispy, buttery kouign amann and adds a thin layer of pumpkin pie filling throughout. It's autumn in your mouth.
Plan to eat it warm right there at the bakery, or use a toaster oven to reheat once you get home … if the pastry makes it home.
b. Patisserie • 2330 Kalakaua Ave. • Waikiki • 931-6105
Tied for No. 1: Pumpkin crunch square, Stage Cafe, $4.25
Dear Alley pumpkin crunch square,
You've met your match. Stage Café has come out with a seasonal cousin that's love at first bite.
Yes it looks and tastes remarkably similar, but toasted pecans in the buttery crust put this one over the top — you get ample crunch in each mouthful. And with a thinner layer of whipped cream, you get more balance between the silky pumpkin layer, sweet whipped topping and pecan-studded crust. I'll definitely be gobbling up more of these before their run ends in December.
Stage Cafe • 1250 Kapiolani Blvd. • Honolulu • 237-5491