Our Top 5: Pancakes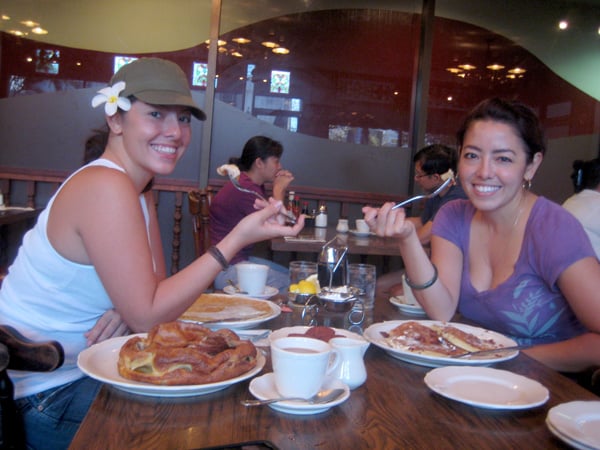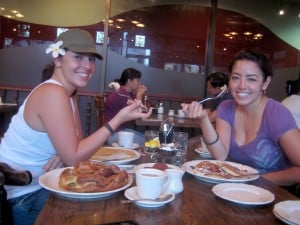 For some strange reason, Hawaii pancakes are the rage in Japan now. A few locally owned restaurants have opened branches in Japan, where customers happily endure a two-to-three-hour wait just to enjoy breakfast. Do they think our pancakes are higher quality? Do Hawaii pancakes just taste better? No one really knows what has made Hawaii hotcakes a hot commodity in Japan.
I figured this is a good a time as any to share with you (and any Japanese visitors) my top five picks for pancakes, so when people visit this, uh, mecca of globally desirable flapjacks, they know where the best of the best are. For this, I focused on locally owned restaurants, which is what Japanese tourists are looking for. This essentially tossed The Original Pancake House out of the running, and they are one of my favorites. I mostly judged the pancakes on fluffiness and on the flavor of the batter; after trying a lot of these, you come to appreciate the slight differences in batters. The ones with fancy syrups and sauces were bonuses, as long as they weren't covering up the quality of the hotcakes themselves.
Aren't all pancakes basically the same? Nope. You see, I've been a bit of a pancake snob since doing my top 10 gallery for Metromix a few years ago. You learn a lot trying the same dish at different restaurants in a short amount of time — suddenly, different qualities from each restaurant's offerings jump out at you, sometimes revealing a new favorite from the pack. Since then, I've gone back around to those 10 restaurants and re-tried the hotcakes (if they still serve them) and even tried a couple of others for comparison, but these were my top picks:
Zippy's
Picture 1 of 5
I don't know why I'm always surprised that I like Zippy's pancakes, but they are consistently light and fluffy with the right balance of flavor in their batter. My favorite way to order them is in a combo with an egg and Portuguese sausage or bacon. Consistency was key here, since that recipe has to be duplicated at all 24 locations — and you never know where you'll be when the pancake craving hits.
I do like Eggs n' Things' pancakes, but only at the Ala Moana location, not Waikiki.
The timing of my pancake picks is actually no coincidence; I wanted to post this as Moke's Bread & Breakfast is finalizing details with Sanrio Co. to open their first branch in Shibuya on Sept. 1. I'll be talking with Keola Warren of Moke's tomorrow on Hawaii: In Real Life to find out more about this exciting new chapter for their restaurant business.
Our Top 5 archive
Our Top 5: Roast pork (by Myong Choi)
Our Top 5: Burgers (by Ed Morita)
Our Top 5: Poke (by Grant Shindo)
Our Top 5: Cocktails (by Tracy Chan)