Our Top 5: Other kine shave ice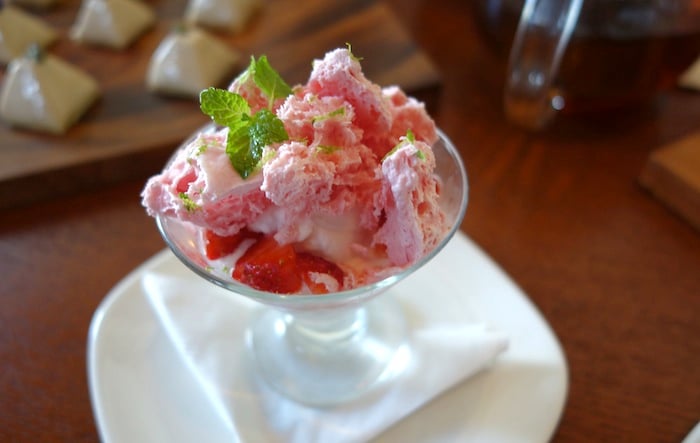 When summer temps break records and it's too hot to go barefoot on the beach, our thoughts turn to shave ice. That's just Hawaii. But choices for icy relief aren't limited to the stuff in cones that we grew up with. Thanks to our demographics and evolving food scene, we're rich in choices for other kine shave ice.
These top five picks, compiled by members of the Frolic team, are impossible to rank for that reason. They're listed in reverse alphabetical order.
The Pig & the Lady, Prickly pear and mandarin granite, $7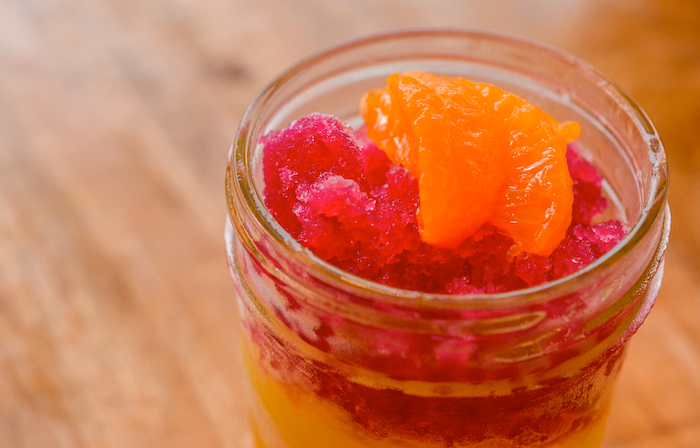 I always save room for Rachel Murai's prickly pear and mandarin granite. Layered in a jam jar over mandarin sorbet and umeshu gelee and topped with mandarin segments, this dessert is equally fun to dig into with your spoon as it is refreshing. — Thomas Obungen
83 N. King St., Chinatown, 808-585-8255
MW Restaurant, Kula strawberry "shave ice," $10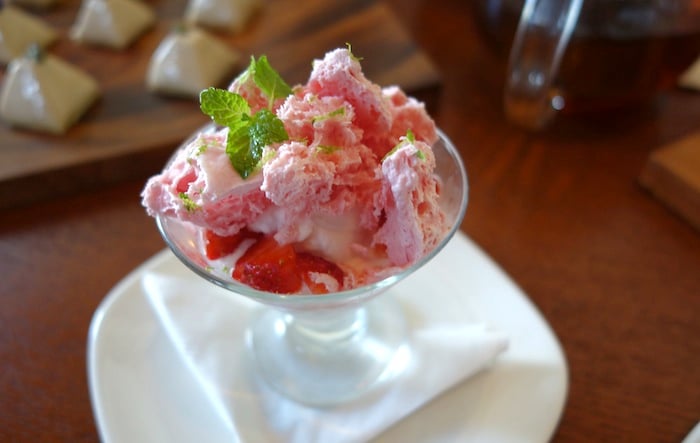 I'm obsessed with just about anything Michelle Karr-Ueoka makes, but in the summer, nothing hits the spot like her strawberry "shave ice," especially as a light way to end a meal at MW Restaurant. It has layers of flavors, textures and sensations, including haupia tapioca, strawberry kanten, mochi ice cream, strawberry-yuzu sorbet, and shaved "Hibiscus Strawberry" ice.
Despite all the labor that goes into this dessert, and all the flavors, textures and sensations, the one thing you're going to say when you inhale this is, "Wow, this tastes really good." — Melissa Chang
1538 Kapiolani Blvd., Honolulu, 808-955-6505
Magnolia Ice Cream & Treats, Mahalo-halo, $5.59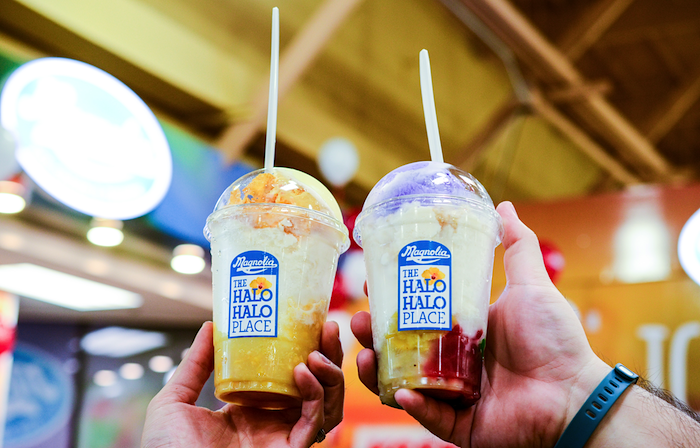 Filipinos around the world may recognize Magnolia as the name on tubs of vibrant purple ice cream in their freezers, but I'm going straight to the source for their Mahalo-Halo. The self-proclaimed "Halo Halo Place," Magnolia's first ever store serves up this icy treat along with mais con hielo using ingredients such as macapuno (young coconut) strands and nata de coco (coconut gel) imported straight from the PI.
The Mahalo-halo is layered with fluffy shaved ice and finished with a big scoop of any one of Magnolia's 18 flavors (ube is traditional but I prefer buko pandan). That's what I like about this place — there are so many options to make a halo-halo! It's worth the trek out to the Westside. — Thomas Obungen
94-050 Farrington Hwy, Waipahu, 808-676-2350
Frostcity, Thai basil coconut pineapple shave ice, $5.95 small or $7.20 regular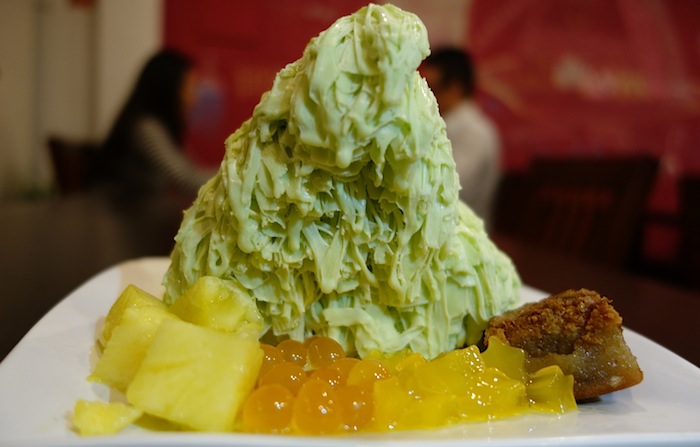 The basil hits you first, then pineapple, all cocooned in the sweet round aromas of coconut. Frostcity's creation holds all three flavors in perfect layered balance. It makes me want pho, so I make a mental note to have a bowl before my next basil shave ice.
The pale green flavor bomb is the most unusual item on a menu crowded with surprises: black sesame, spiced apple banana with caramel drizzle, cookies and cream, peanut butter and jelly, even durian. This is shave ice, remember? But not the kind you're thinking. Flavors are made from scratch, then frozen and shaved in sheets layered on top of each other. Many contain dairy, so wait long enough and the layers melt together when you smoosh them with your spoon. — Mari Taketa
2570 S. Beretania St., Moiliili, 808-947-3328
En Hakkore, Patbingsu Korean shave ice, $10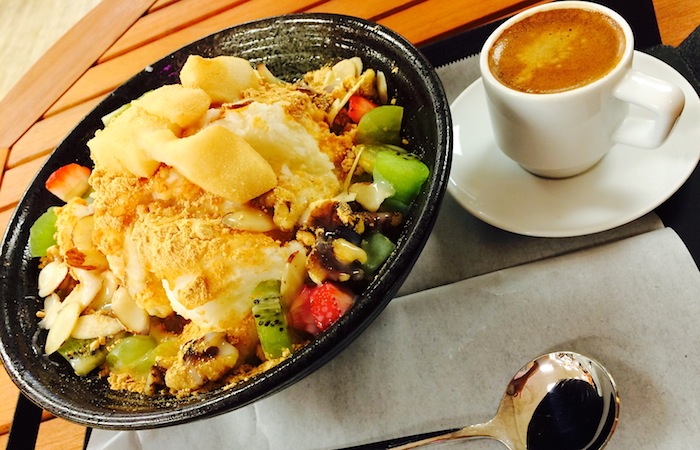 Here's what you do: Find Keeaumoku Supermarket (it's at the back of the three-story Quonset hut-type building across Keeaumoku McDonald's). Go in, turn right into the produce section, and there at the back, just past the apples, you'll see a tiny coffee bar called En Hakkore. Home of Honolulu's best Korean shave ice.
Generous in interpretation, Korean shave ice can range from delightful to godawful. Its basic elements are a mound of shaved ice, sweetened milk infused with nutty roasted grain powders, a layer of cooked red azuki beans and some fruit. (One version I had, with papaya and ice cream mixed in with the ice, was scarring.)
En Hakkore takes all this and magnifies the quantity in a full-size ramen bowl. It's topped with lobes of soft mochi and rimmed with glistening jewels of strawberry, kiwi and grape mixed with slivered almonds and walnut halves, both crunchy-fresh. And then, what you don't even have to order because it comes with the shave ice: a fresh shot of espresso, to be poured over at will. En Hakkore's shave ice is meant for two or three. My rec is to save the espresso to drink afterward. It gets cold back there behind the apples. — Mari Taketa
835 Keeaumoku St., Ala Moana, 808-250-3513