Our Top 5: Mac and cheese 2.0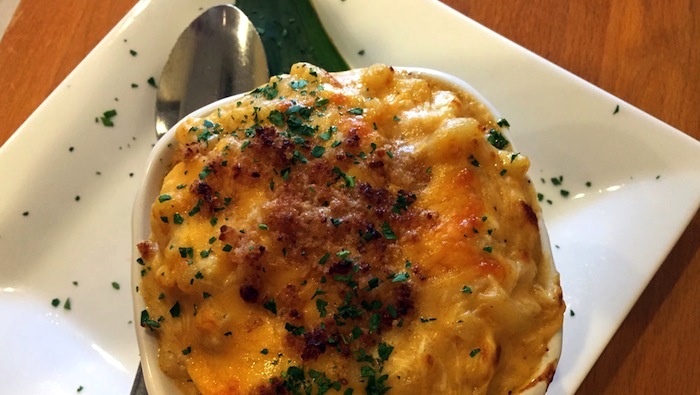 By Kelli Shiroma
Mac and cheese. Just hearing the words evokes childhood nostalgia.
After all, one of the first dishes I learned to make on my own came from that little blue Kraft box. I'm sure I'm not alone.
Now that we're all grown up, the entire world of mac and cheese beckons. And not just plain ole mac and cheese in a bowl: Now there's all sorts of ways to deliver the goods, all sorts of delicious mashups, a little (or a lot) of extra wows. What's a wow? You know it when you taste or see it.
Like in Our Top 5: Mac and cheese 2.0.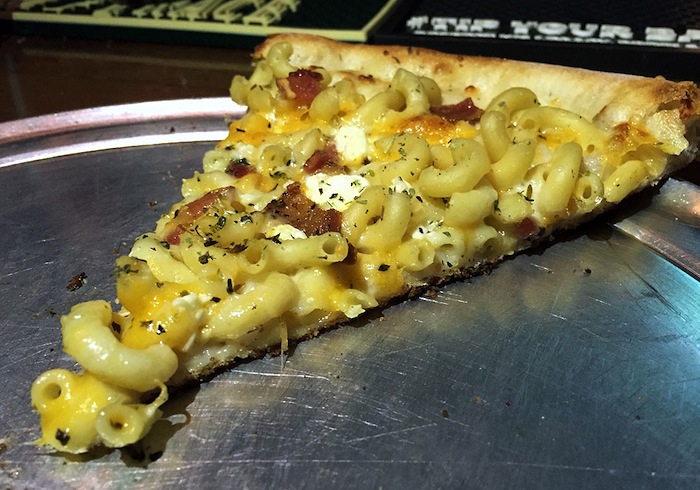 No. 5: Proof Public House, Mac and cheese pizza, $18.50
When I was living in So Cal, I discovered an extraordinary mac and cheese pizza. I still salivate at the thought of that savory medley of mozzarella, blue cheese, applewood-smoked bacon and Italian breadcrumbs. So I had high expectations when a friend told me about Proof.
When I envision mac and cheese pizza, I see strings of gooey cheese, a crispy, thin crust and curly spirals of macaroni falling off with every bite. That's exactly what you get at Proof.
Mozzarella, cheddar, feta, bacon and macaroni top this masterpiece. Feta! It's a cheese that's too often overlooked. But while there's ample cheese, the macaroni seems to be more of a topping. It's almost as if the cheese is the glue that holds the macaroni to the pizza. A rich mix of mac and cheese spread over the crust would be better.
But I like this. And I haven't found a mac and cheese pizza anywhere else on the island.
Proof Public House • 1154 Fort Street Mall • Downtown • 537-3080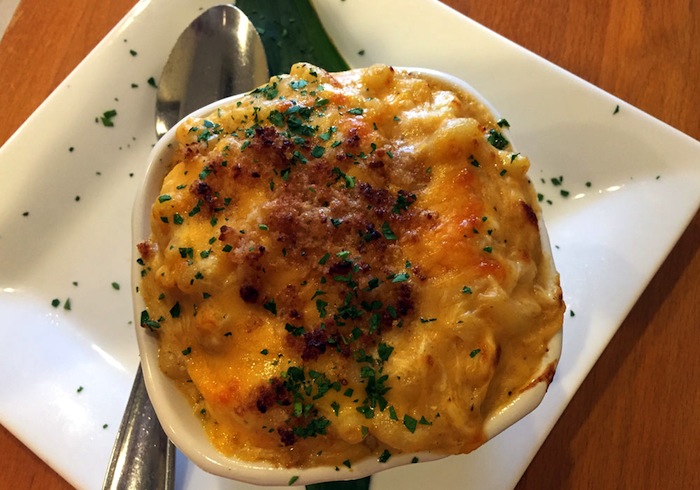 No. 4: Café Kaila, Gourmet mac and cheese, $8 small bites / $15 entrée
Mac and cheese is only available on Café Kaila's dinner menu (dinner is served Wednesday thru Friday). Here's a tip for newbies: Don't order the small bites portion because you're saving room for dessert. Trust me.
Think of the cheddar you get with goldfish — on steroids. And melted. And baked just long enough to crisp without burning. A server told me the cheddar mix on this creamy mac and cheese includes eight or nine different cheeses.
You can jazz this up with lump crab meat, chicken or hickory-smoked bacon for a slight fee. Choose crab and the meaty chunks abound. Props to Café Kaila for being so generous; the results pay off in an added flavor dimension.
Café Kaila • 2919 Kapiolani Blvd. • Market City • 732-3330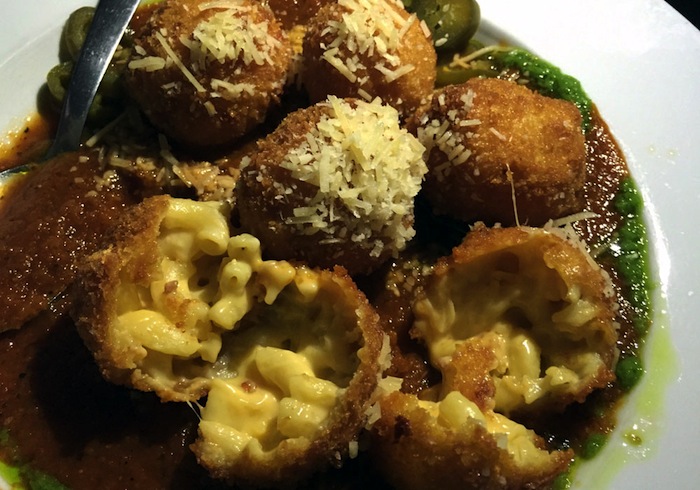 No. 3: Underdogs Sports Bar & Grill, Truffle mac and cheese poppers, $11
Underdogs' poppers are deep-fried, topped with parmesan and truffle oil and served on house-made marinara sauce. The dish comes with six poppers, perfect for sharing (if you're feeling generous).
A light batter encases each ball of creamy, cheesy macaroni, so the poppers don't taste as heavy as you might expect. The gooeyness features a cheddar cheese blend, and I revel in the truffle oil. Heat-seekers will appreciate the surrounding peppers.
Props also for a marinara that doesn't overwhelm the cheesy glory. I relish every bite, trying not to think about my arteries clogging.
Underdogs Sports Bar & Grill • 508 Waiakamilo St. • Kalihi • 888-2873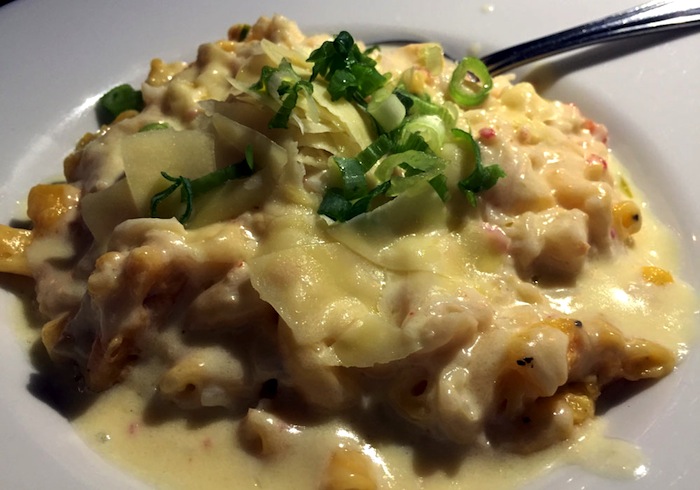 No. 2: Smith & Kings, Lobster mac & cheese, $16
There are two options for mac and cheese here — the traditional Smith & Kings mac and cheese or the lobster mac and cheese. For $3 you can add crispy pork belly or smoke-roasted BBQ pulled pork to the first. But let's talk about the lobster mac.
If you're not a huge fan of gorgonzola, this mac and cheese won't be your favorite. While the dish features five cheeses, gorgonzola dominates (the other cheeses are cheddar, parmesan, blue and mozzarella).
This isn't the biggest bowl of mac and cheese, but it's probably the richest, so it's big enough. Cheesy strings will stretch from the bowl to your chin with every bite. The lobster's not copious, it's just enough to remind you that you got seafood. The cheese leads, which is the way it should be.
Smith & Kings • 69 N. King St. • Chinatown • 537-2222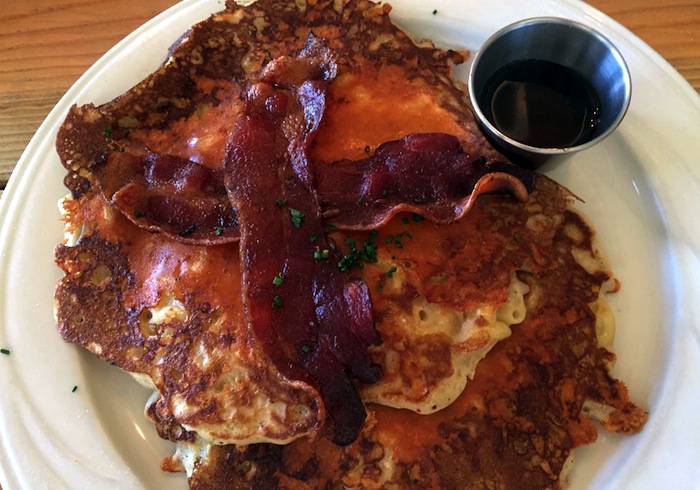 No. 1: Morning Glass Coffee + Cafe, Macaroni + cheese pancakes, $9
Pancakes are my all-time favorite breakfast fare. So if you're like me, crossing pancakes with mac and cheese is bound to induce mind-blowing results.
Three words: Get the bacon. Sure, two thin pancakes filled with elbow macaroni and aged Vermont cheddar are glorious by themselves. But they're even better with the savoriness of applewood-smoked bacon. Request your bacon extra crispy for a texture contrast with the spongy pancakes. Trust me, the bacon's worth the additional $2.
The center is truly the best part of the pancake — you get that condensed cheesy goodness, while the top is covered with a hardened layer of cheddar. The outer edges boast a thin layer of fried cheese, which I absolutely savor.
All that's topped off with a side of maple syrup, a crowning touch. Talk about a salty-sweet combo done right.
Morning Glass Coffee + Café • 2955 East Manoa Rd. • Manoa • 673-0065