Our Top 5: Leeward brunch spots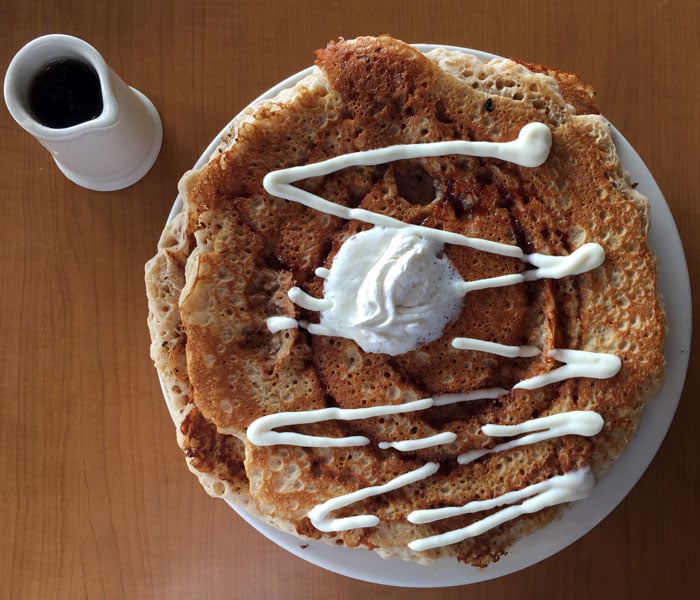 Townies have tons of choices when it comes to brunch. Living in Moanalua, though, I have the best of both worlds — it doesn't take me long to get to town, and the west side is at my fingertips.
Kapolei's My Café and Mililani's Rise and Shine are well known, but there are more gems for pancakes, eggs bennies and corned beef hash out this way that are worth the drive. Here's Our Top 5: Leeward brunch spots.
No. 5: Restaurant 604
Restaurant 604 offers a relaxing weekend brunch scene, complete with an open-air ambiance and picturesque views of Pearl Harbor. The restaurant is known for their signature homemade kalua pork hash ($13) with eggs and toast. The benedict trio ($15) is also extremely popular, as it's a sampling of 604's bennies.
My sweet tooth leads me to the cinnamon bun pancakes ($9), served with maple butter and a cream cheese drizzle. While the cinnamon flavor is light, the texture is on point: The cakes are so billowy, it's like I'm eating air. The maple syrup ups the sweetness level to sinful.
Tip: Whether you choose something savory or sweet, don't miss the kalua pork hash, which you can also get as a side ($6). The savory pork fused with the crispy hash browns takes this breakfast staple to the next level.
Restaurant 604 • 57 Arizona Memorial Dr. • Pearl Harbor • 888-7616
Brunch available Saturday and Sunday 9:30 a.m.-3 p.m.
No. 4: Kountry Style Kitchen
Located near the Ewa Beach Golf Course, Kountry Style Kitchen is an omelette haven. There are a few pancake and French toast options on the menu, but eggs are Kountry Style's crowning glory.
The endless menu options can make decision-making tough. But you can't go wrong with the corned beef hash and eggs any style ($11.75) or any of the eggs bennies.
The corned beef is love at first bite. It's perfectly crispy without losing any of the meat's juicy flavor. Always get the cornbread side — it's so soft and moist that you probably won't need the butter it comes with. If I'm not ordering the corned beef, I get the cheesy eggs ($9.25) because it comes smothered in gooey cheddar cheese sauce.
One of the best things about Kountry Kitchen: You can get half-orders on certain entrees, so you don't have to worry about blowing your diet on brunch.
Kountry Style Kitchen • 91-1001 Kaimalie St. • Ewa Beach • 689-9000
No. 3: Poke Stop
There may be various "poke stops" around the island, but this is the only one where you'll find breakfast. The Mililani Mauka location features entrees such as spicy shrimp and waffles ($10.95) and seared ahi poke omelette ($10.95). Breakfast dishes that include fish are popular, including the fried poke loco moco ($9.95), my personal go-to.
This twist on the loco moco has thick homemade gravy, rice and two eggs, any style. After one bite of that fried poke, I'm in love. There's plenty of it under the sunny-side eggs, and though the poke's fried, it's still moist and super flavorful. The fried rice is savory and laden with veggies, so I don't feel too guilty after scarfing down the entire bowl.
Poke Stop • 95-1840 Meheula Pkwy. • Mililani • 626-3400
Breakfast served until 11 a.m. weekdays, noon on weekends
No. 2: Monkeypod Kitchen
Monkeypod may be well known for their happy hour deals, but it's one of my fav brunch spots on the west side. If it's not crowded, dine outside in the patio area. It's peaceful, so you can pretend you're on staycation in Kapolei.
The Hamakua wild mushroom and truffle pizza ($18.95) is my go-to order. This thin-crust pie is on the lunch menu, which is available during brunch, so I can get my favorite pizza anytime I go.
Cheese lovers will love the generous layer of parm and the creamy white sauce. The strong garlic flavor is my favorite part, as well as the chewy mushrooms.
If you're looking for brunchier items, go for the ultra-savory brunch pizza ($16.95). It's all my breakfast favorites rolled into one — applewood smoke bacon, scrambled eggs, aged white cheddar, broccoli, potatoes, white sauce and jalapenos.
Monkeypod Kitchen • 92-1048 Olani St. • Kapolei • 380-4086
Brunch available Saturday and Sunday 9 a.m.-2 p.m.
No. 1: Countryside Cafe
Our No. 1 pick is as west as it gets — out in Waianae. But the experience is definitely worth it. Dining at Countryside makes you forget the hustle and bustle of town.
Countryside is known for signature comfort food dishes like the Corned Beef Hash Local Moke-O ($11.95) and the indulgent Walk through the Country ($10.95), which is a sampler of bananas foster French toast, lilikoi pancakes and strawberry waffles. But if you're a fan of eggs bennies, the crab cake benedict ($12.95) is a surefire winner.
I relish every bite of the fresh crab with its fried, crunchy crust. There's just enough hollandaise to enhance the crab cakes' flavor. Get the country potatoes as your side, no questions asked — they're salty, fresh and oh-so-addictive.
Take a walk in the country … I promise you won't regret it.
Countryside Cafe • 87-070 Farrington Hwy. • Waianae • 888-5448