Our Top 5: Ice cream sandwiches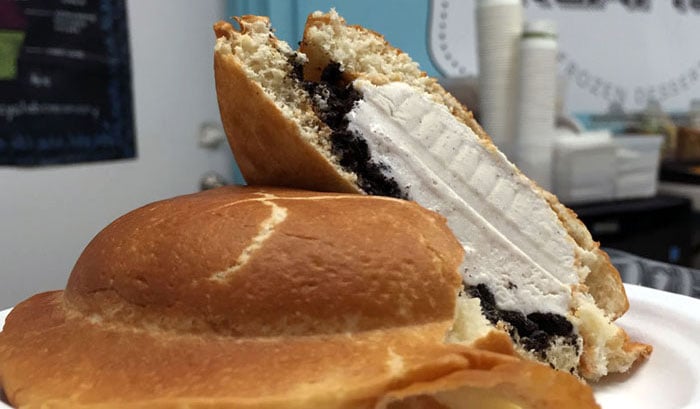 When it's muggy and hot, ice cream becomes a need, not a want. Recently I rounded up a squad of fellow dessert fiends and we hit up Volcano Shakes to indulge in the over-the-top St. Helen's Cookie Blast, which featured an entire cookie ice cream sandwich atop the milkshake itself.
What we didn't expect was for the ice cream sandwich to steal the show.
That got me thinking: Where else can I find homemade ice cream sandwiches on the island?
Ice cream sandwiches have always been one of my favorite snacks, regardless of the weather. My ideal combination sports a healthy cookie-to-ice-cream ratio, ice cream that's solid and creamy, and chewy, thick cookies.
Here's our Top 5 ice cream sandwiches to help you beat the heat.
No. 5: Lucy's Lab Creamery, $5.50
Donut ice cream sandwiches may be a So Cal dessert trend, but the pan de crème at Lucy's Lab Creamery comes close.
This is probably the most unconventional ice cream sandwich on this list because it doesn't include cookies. It's a spongy Kings Hawaiian sweet roll with your choice of ice cream, topping and spread. Lucy's Lab takes the sweet roll and flattens it in a panini press once the ice cream is inside. Then, they add the topping and spread.
All ice cream flavors are homemade and include outrageous selections like Fruit Loop Vodka and Thai Tea. Cinnamon Toast Crunch instantly wins me over with its fragrant cinnamon flecks and crunchy cereal pieces. Way to bring back memories of eating this cereal before elementary school. The peanut butter taste is strong and creamy, and I love the texture and chocolate infusion from the OREO bits.
The challenge: keeping up with the rapidly melting ice cream. The sandwich is in decent form when I get it, but because the sweet roll is warm, it's a race to the finish.
Lucy's Lab Creamery • 435 Kamakee St. • Honolulu
No. 4: 8 Half Desserts, $7.50
8 Half Desserts, which opened in late spring in Kaimuki between 8th and 9th avenues, is famous for their ice cream pies. But their larger-than-life ice cream cookie sandwiches are buzzworthy as well. All cookies and ice cream flavors are made in-house and boy, is there an interesting assortment. We're talking flavors like red plum, strawberry raspberry and mango sorbet with shoyu (you read that right).
I go for good ole cookies 'n crème. Cookie ice cream sandwiches are pre-packaged, so you just go to the freezer and help yourself. The only cookie flavor paired with cookies 'n crème on this day is almond — highly recommended by one of the regulars. I'm surprised by how well this combination works. The cookies 'n crème ice cream has finely ground cookie chunks and because the almond cookie doesn't have a strong flavor, the sandwich isn't overly sweet.
The cookies are harder and crunchier, especially since they've been sitting in the freezer. On the plus side, you don't battle melting ice cream.
This sandwich is colossal, but I finish it in one sitting because the cookie itself isn't too sweet. It's worth every penny.
8 Half Desserts • 3434 Waialae Ave. • Kaimuki • 630-0184
No. 3: No Ka 'Oi Cookie Company, $7
No Ka 'Oi Cookie Company can be found bi-monthly at the Mililani and Blaisdell Farmers Markets, selling an assortment of yummy homemade baked goods. Unfortunately their famous cookie ice cream sandwiches are only available at Eat the Street, but if you get a craving before the last Friday of the month, call No Ka 'Oi and inquire about pre-orders.
Flavors usually available at Eat the Street include OREO, Grasshopper (mint chocolate chip), Original (vanilla ice cream) and Kona Coffee. All cookies are homemade, while the ice cream is from Dave's Ice Cream.
Since OREOs are my favorite cookie, choosing this ice cream sandwich is a no-brainer. I'm surprised by how thin yet chewy the chocolate cookies are. Their consistency and fudginess remind me of a very thin brownie.
The sandwich is impressive — there must be two or three scoops of ice cream in there. It's not studded with cookie bits, but I appreciate the extremely creamy texture … as well as the fact that it doesn't melt quickly.
No Ka 'Oi Cookie Company • Honolulu • 489-2642
No. 2: Uncle's Handmade Ice Cream Sandwiches, $5-6
Uncle's Handmade Ice Cream Sandwiches is based on the North Shore, but their famous ice cream sammies are sold at various retail locations around the island.
I find a great assortment at Cooke Street Market, where Lilikoi (passion fruit ice cream, old-fashioned sugar cookies) and Honey Mac Nut (ice cream made with local honey and mac nuts between dark chocolate cookies) reign as customer favorites. After some contemplation, I go with Honey Mac Nut — if it's one of the most popular flavors, it has to be good.
The ice cream has a subtly sweet, delicious honey flavor, but the best part is the crunch from the macadamia nuts. The cookies seal the deal — for being on the thin side, they're still soft and chewy, without breaking easily. Bonus: they're dark chocolate.
While I recommend the Honey Mac Nut ice cream sandwich, I still have my heart set on trying Crunchy Peanut Butter on my next visit.
Uncle's Handmade Ice Cream • Waialua • 238-9021 • Sold at various retail locations
No. 1: ChadLou's Coffee and Tea, $4.50
ChadLou's might be famous for its coffee and cozy ambiance, but ice cream sandwiches are available at any time of the day … including at 7 a.m. when they open.
All cookies are baked in-house throughout the day. On my visit the available flavors include chocolate chip, sugar and m&m. Ice cream is locally sourced from Dave's, and the girl at the counter says ube is the most popular flavor. To my delight, the ice cream sandwiches are served in bowls to prevent messy eating.
A word to the wise: Go for the chocolate chip cookies. These are like Cookie Corner cookies on steroids — bigger, more buttery, chewier, thicker, softer and chock full of chocolate chips. Don't even contemplate getting the other flavors.
The Hawaiian Mud Pie features a Kona coffee chocolate swirl. I love the strong coffee flavor and prominent chocolate chunks. Combined with the fudgy chocolate cookie, it's a match made in heaven.
ChadLou's Coffee & Tea • 45 Kihapai St. • Kailua