Our Top 5: Hilo's hidden gems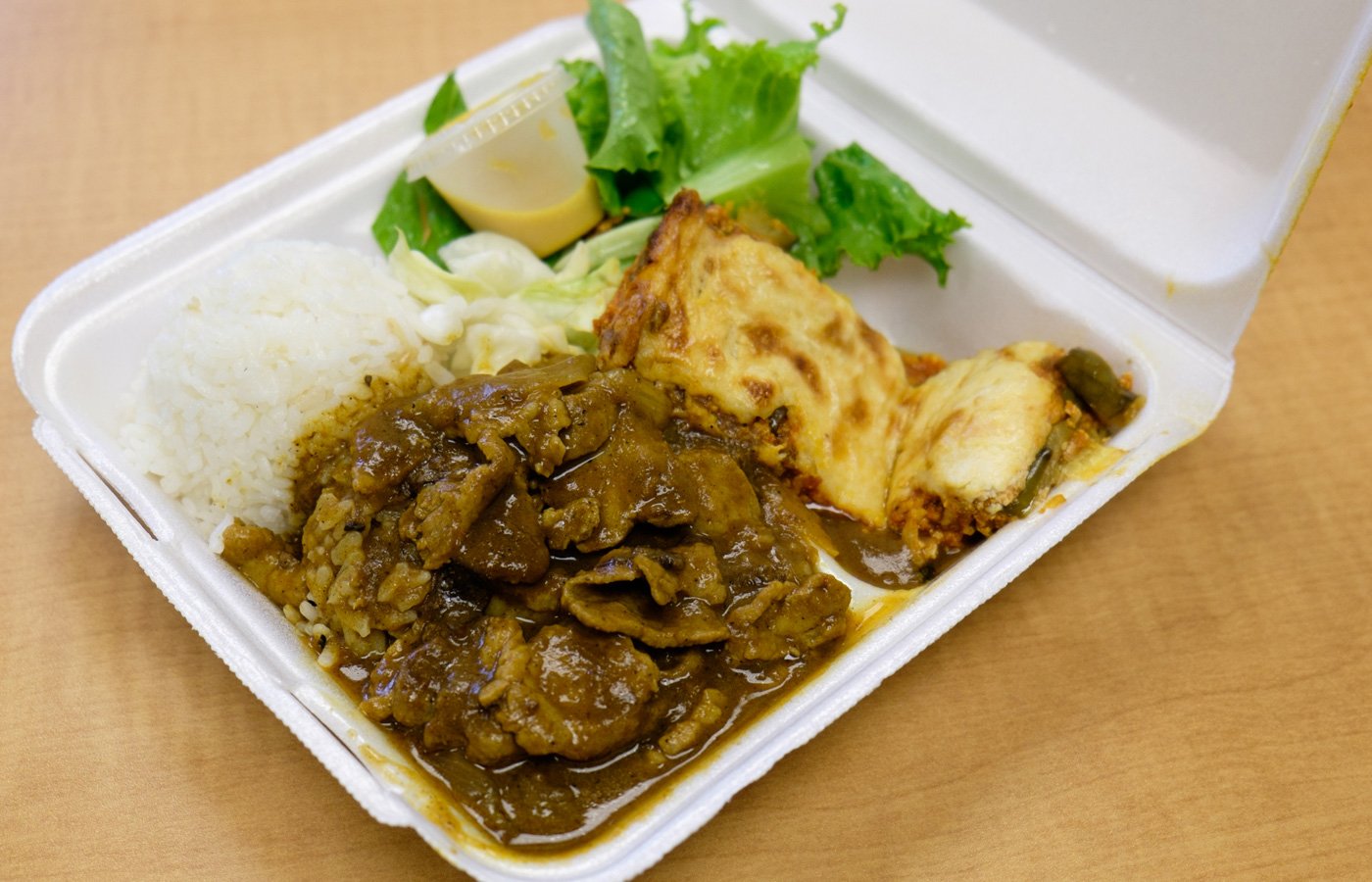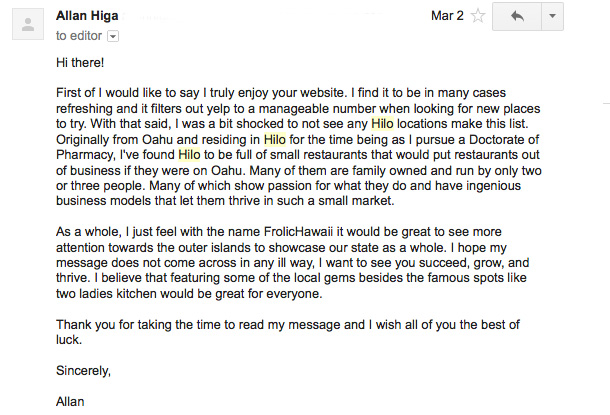 Editor's note: Early this month, we received the following email from Allan Higa: "First of I would like to say I truly enjoy your website… With that said, I was a bit shocked to not see any Hilo locations make this list. Originally from Oahu and residing in Hilo for the time being as I pursue a Doctorate of Pharmacy, I've found Hilo to be full of small restaurants that would put restaurants out of business if they were on Oahu. Many of them are family owned and run by only two or three people. Many of which show passion for what they do and have ingenious business models that let them thrive in such a small market. As a whole, I just feel with the name Frolic Hawaii it would be great to see more attention towards the outer islands to showcase our state as a whole…"
We appreciate notes like this, and asked him if he would help us do just what he asked by coming up with his own Top 5 gallery of hidden Hilo gems. With the Merrie Monarch Festival coming up next month, we knew this would not only be a timely post, but that it could definitely help us extend our Our Top 5 series beyond Oahu. He willingly accepted, adding that he has a passion for photography. Here's his Top 5 list, which we might add, we love.
By Allan Higa
No. 5: Kawamoto Okazuya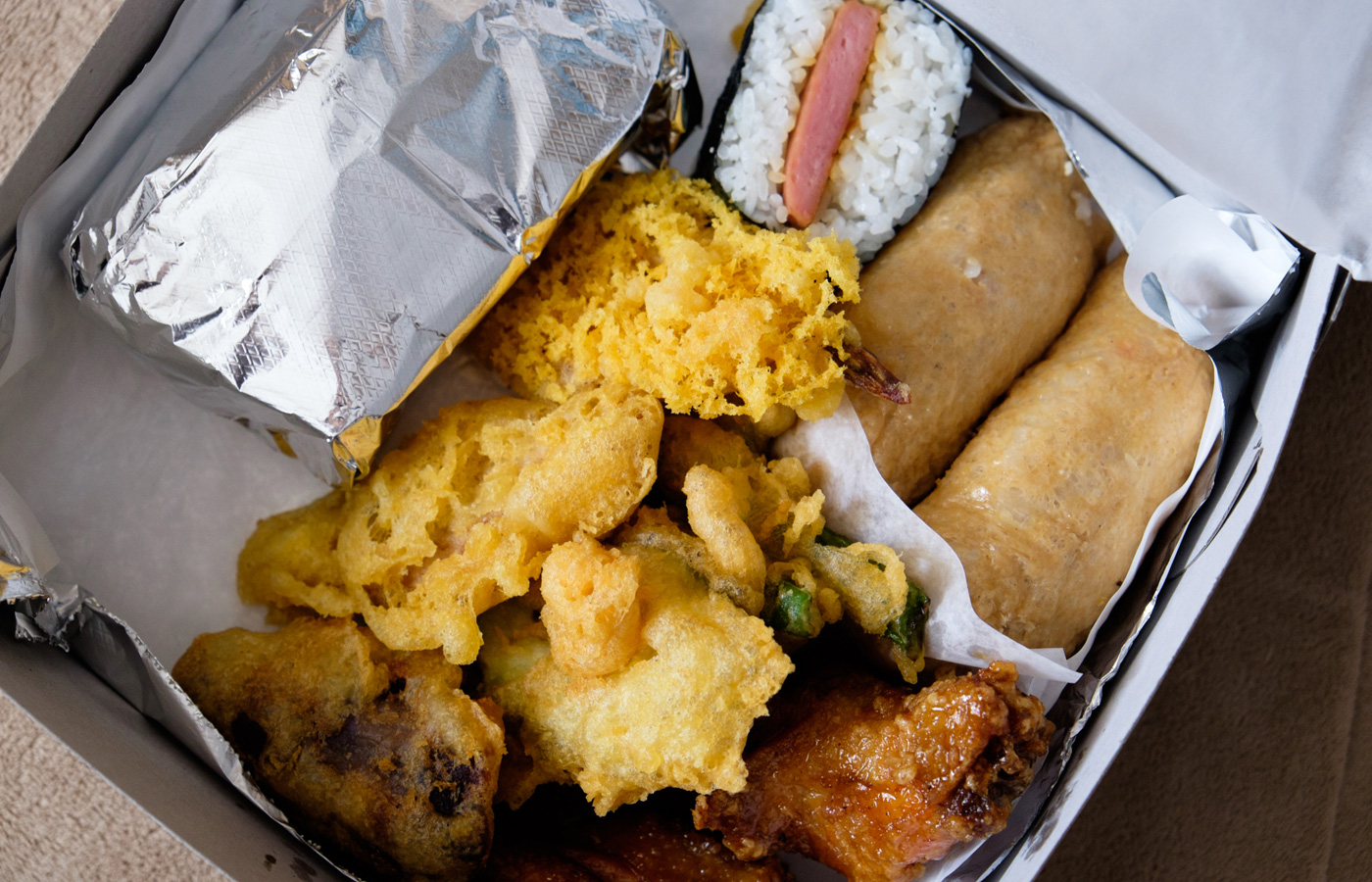 While your friends and family may tell you go to Hilo Lunch Shop for your bentos, skip that and hit up Kawamoto's instead. This spot opens up at 6 a.m.and closes when they're wiped out (roughly 11 a.m., sometimes earlier). Go early and beat the crowds to snag the nori chicken, (chicken wrapped in nori like a little musubi with the fat centered in the middle). The various tempura can't be beat as well. As far as price goes, the box in the photo was less than $10!
784 Kilauea Ave., 808-935-8209
No. 4: Tamari Japanese Lunch Shop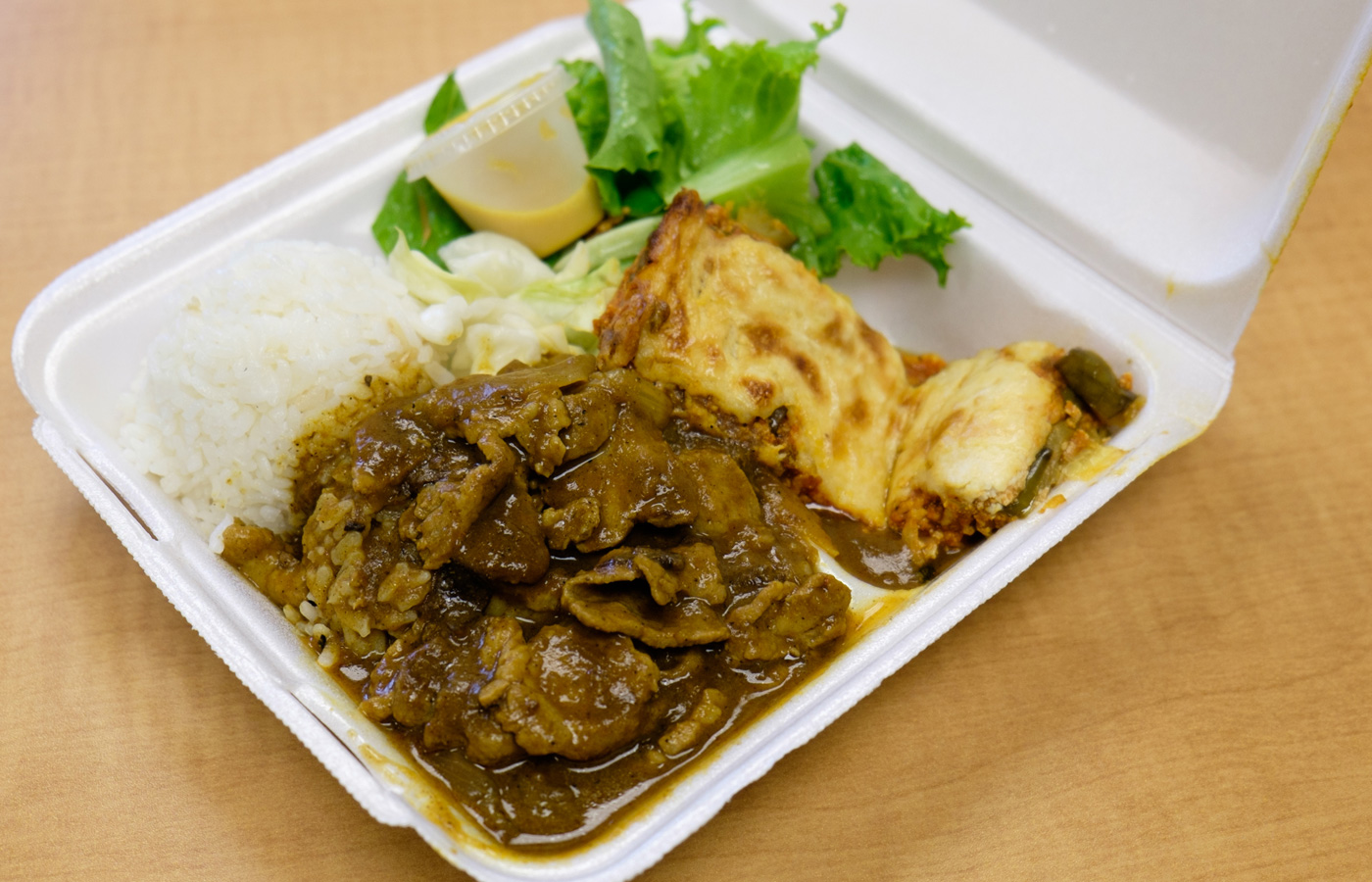 Tamari is a hidden hole in the wall some locals don't even know about. The man that runs this shop cooks everything in small batches so nothing sits very long on the warmers. From the katsu curry to the nishime, no dish at this spot will disappoint. The must haves are the menchi katsu and the veggie lasagna. Menchi katsu is a special blend of meats that is unlke any katsu you ever had. The veggie lasagna's pasta is replaced with thin layers of tofu and you don't miss the carbs at all. Best part is the price: $4 for a mini, $6 for a two-choice and $8 for a three-choice. That's unheard of on Oahu.
22 Furneaux Lane, 808-933-1323
No. 3: Sushi Ebisuya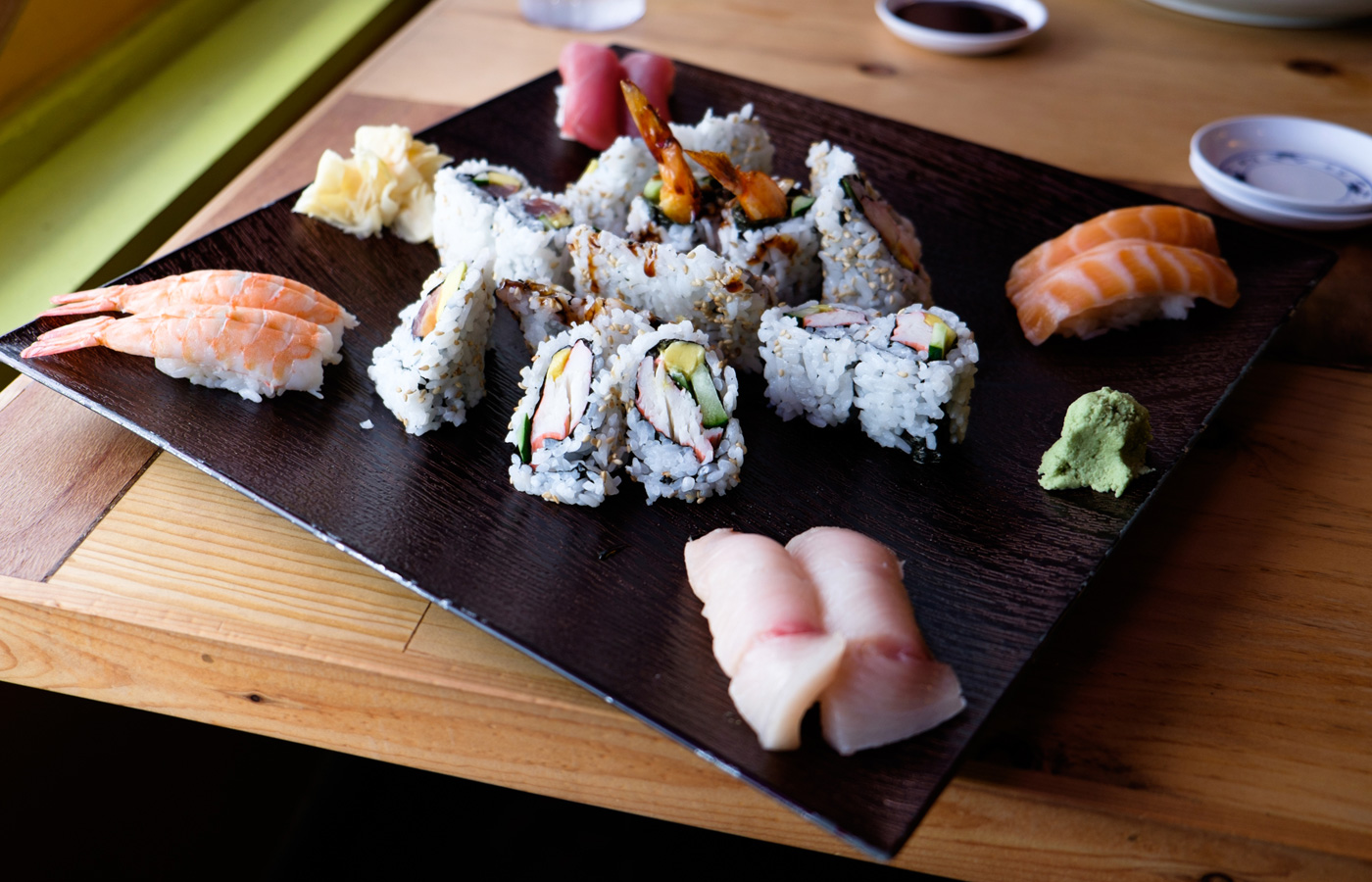 The newest sushi spot in Hilo is gaining attention among locals for quality fish at ridiculously reasonable prices. The most popular dishes are the 30-piece maki set for $17 and the 26 piece assortment for $22. Those deals are a steal, but Ebisuya isn't a one-hit wonder. Grab a few nigiri combo sets and you've got a nice meal for a date. Don't forget to try the miso soup and finish it off with Japanese cheesecake. Go early because this place shuts down as soon as they run out of food.
178 Kilauea Ave., 808-961-6840
No. 2: Liko Lehua Café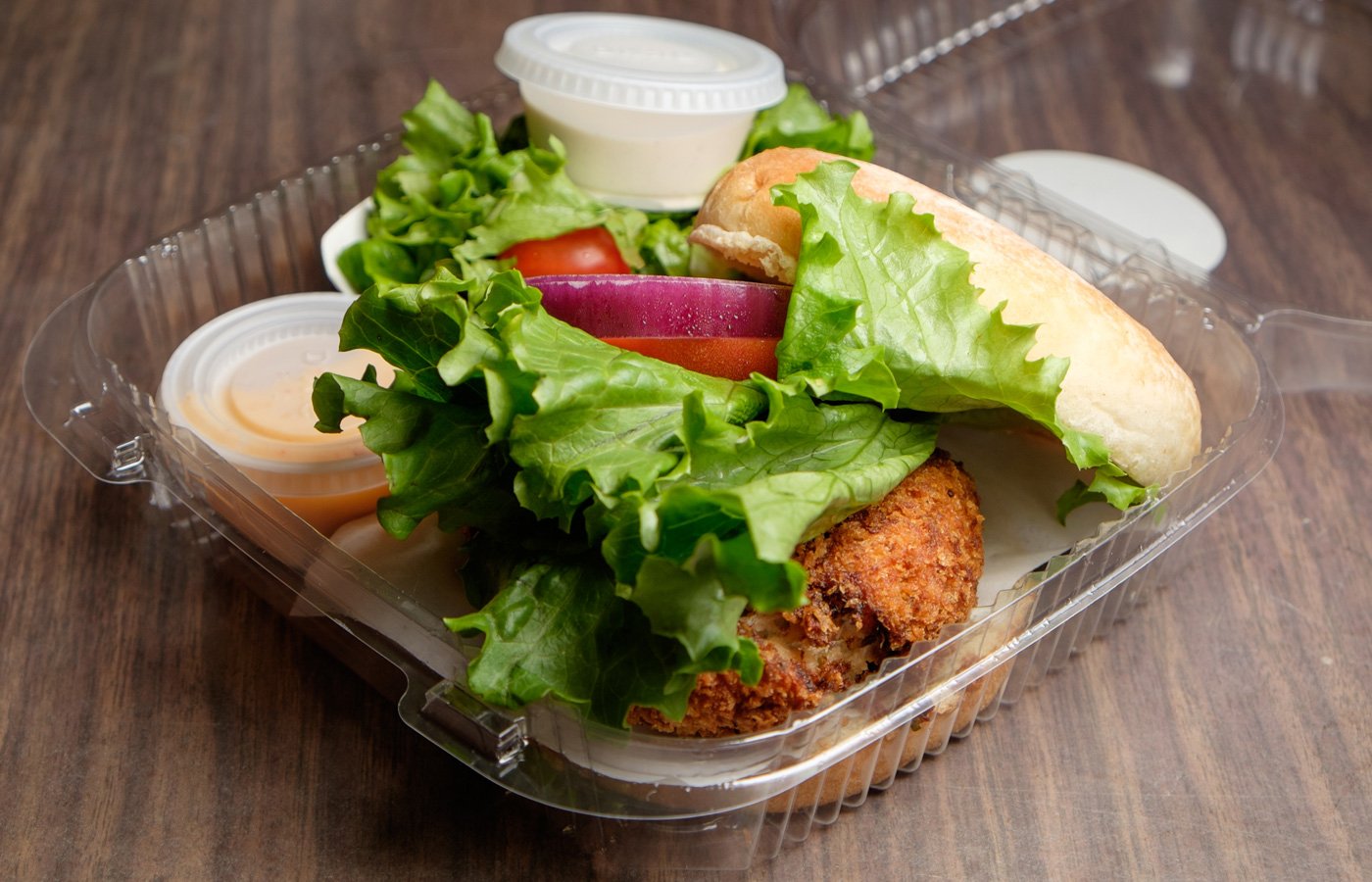 This place has only five parking stalls and no street parking, but that doesn't matter because this place has some of the best burgers in Hilo. This place always has a dish or two that makes you scratch your head, but it's not a bad thing. The laulau burger is one of those. They also have some dishes on the warmers that range from smoked meat to mac and cheese for the days you want a local plate lunch with a twist. Don't overlook the line of butters as well. Guava, lilikoi and Tahitian lime are just some of the flavors, which make for great omiyage.
177 Kaumana Drive, 808-935-7272
No. 1: Aloha Mondays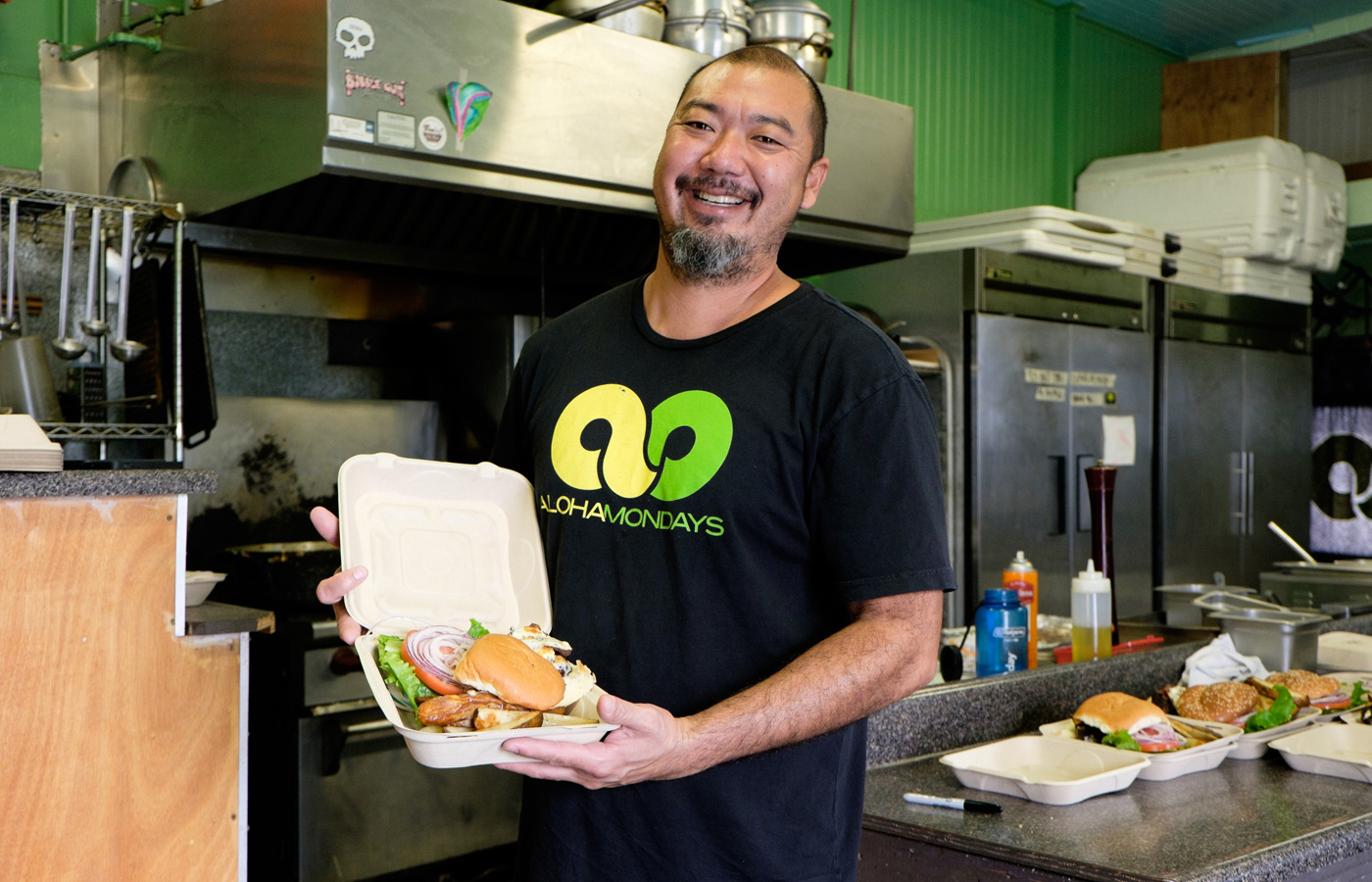 If you're a tourist, you'll never hear about this place. If you're a local, you probably haven't heard of this place either. This kitchen has no sign to draw customers in, and there's no seating. It's also takeout only. Every week Kanoa and the gang experiment in their kitchen to create a new gourmet menu using fresh ingredients locally grown and raised. The menu gets emailed to subscribers every Monday. You put your order in for either lunch or dinner for the rest of the business week, and you pick up your food straight from the kitchen. I would tell you my favorite dish, but it probably won't hit the menu ever again. If you see something that sounds great, just order it and thank yourself you did later. Recommendation: If you see a pizza on the menu. order it regardless of what's on it. The ever-changing menu of inspiring dishes and the use of locally sourced ingredients easily pushes Aloha Mondays to the top of this list, and it's going to take one hell of a restaurant to dethrone them.
1348 Kilauea Ave., alohamondays.com