Our Top 5: Fried rice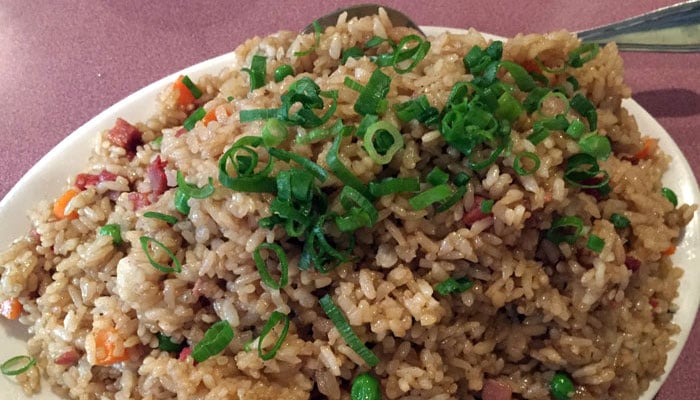 I'm a local girl who doesn't love white rice. At breakfast I'll order roasted potatoes or hash browns any day before choosing white rice as my side dish.
But there's one big, fat exception — fried rice. All bets are off if fried rice is a menu option.
My ideal fried rice is soft and bordering on mushy. It can be simple — just Spam and eggs is fine — but I'm not opposed to assorted meats or veggies. As long as it's flavorful, I'm a happy camper.
So who has the tastiest fried rice in Honolulu? Read on for Our Top 5.
Honorable mention: Bogart's Cafe, Mama's Fried Rice, $8.70
Knowing that lines often trail out the door at Bogart's, I just call in my take-out order for Mama's Fried Rice. That ends up saving tons of time and the hassle of looking for parking on Monsarrat Avenue.
The meatless fried rice has a strong shoyu flavor and mushrooms, corn and spinach interspersed here and there. The best part is the asparagus, which raises the medley to outstanding.
Bogart's Cafe • 3045 Monsarrat Ave. • Honolulu • 739-0999
No. 5: Side Street Inn, Award-Winning Style Fried Rice, $13
Side Street is known for pork chops and fried rice. Of the four fried rice options, the Award-Winning Style has no kim chee or lup cheong — just char siu, Portuguese sausage, bacon, peas, carrots and green onions. That gives it a milder flavor profile, relatively speaking, which is good when you need to balance big-flavored entrees like the spicy chicken or furikake-crusted ahi. If fried rice is your main dish, go for broke and get the Side Street Works, which has both lup cheong and kim chee.
The fried rice options are the same at both Side Street Inn locations. But Hopaka Street is less claustrophobic and you might have an easier time making weekend reservations for dinner.
Side Street Inn • 1225 Hopaka St. • Ala Moana • 591-0253
No. 4: Home Bar & Grill, Fried Rice, $11
Home Bar is crowded, noisy and parking is a pain. But I'm willing to brave all that for its greasy fried rice.
There are two fried rice options you can choose from — Big John's Spicy Kim Chee Fried Rice or the regular fried rice. The kim chee version is more popular, but it's red, spicy and hot hot hot.
To preserve your taste buds, opt for the regular. Bacon and sausage bits add a salty crunch throughout and best of all, you get a whole lotta rice for just over $10. You can kiss that diet good-bye, but every indulgent, crunchy bite is worth it.
Home Bar & Grill • 1683 Kalakaua Ave. • Honolulu • 942-2235
No. 3: Guava Smoked, Smoked Fried Rice, $6.69
You might recognize Guava Smoked from the Blaisdell Farmers Market on Wednesdays and the Kailua Farmers Market on Thursdays. Lucky for me, their Kalihi restaurant is around the block from work.
Hearty chunks of pork hamburger make this fried rice a winner; Guava Smoked certainly doesn't skimp on the meat. Chicken bits and white and green onions add to the flavor and texture. A la carte portions are sold in boats and are hefty.
Tip: Smoked pork fried rice is a hot seller and Guava Smoked tends to sell out of it on farmers market days, so place your order at the Kalihi restaurant on Monday, Tuesday or Friday. Better yet, call ahead for take-out, since even on those days it's limited.
Guava Smoked • 1637 Republican St. • Kalihi • 351-0003
No. 2: Fresh Catch, Poke Fried Rice, $5.99
Poke choices abound at Fresh Catch, but the poke fried rice is just as popular. The winning factor is the sheer amount of poke in the rice, which is soft and slightly mushy, so it's still ultra moist when I take it out of my fridge the next day.
If poke's not your thing, try the smoked meat fried rice. The two versions are neck and neck when it comes to customer favorites; it's just a matter of personal preference.
Fresh Catch • 3109 Waialae Ave. • Kaimuki • 735-7653
No. 1: My Cafe, Kuilei Veggie Fried Rice, $10.95
My Café's Kama'aina Fried Rice has bacon, Spam, Portuguese sausage and ham and is every meat lover's dream. But the Kuilei Veggie option, with mushrooms, bell peppers, corn, spinach, edamame, garlic, tofu, asparagus, onions and two eggs any style, is so savory you'll forget there's actually no meat here.
The tender 'shrooms, corn and edamame add texture, while the bell peppers give the dish some spice. The garlic flavor is strong with this one, but one bite in and you probably won't mind smelling like this all day. This fried rice is living proof that the whole can be far greater than the sum of its parts.
One more gratifying thing: The rice is steaming when it's served, and it's still steaming as I pack the leftovers to go.
My Cafe • 563 Farrington Hwy. • Kapolei • 200-5737